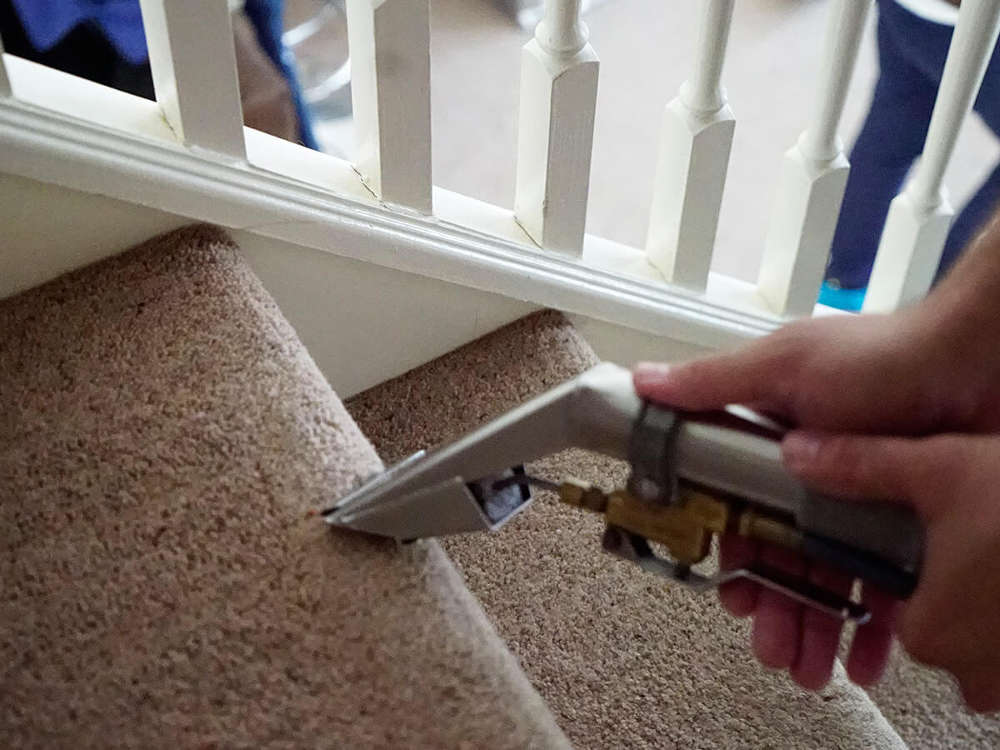 How we will handle your carpet cleaning in Baldivis
Carpets get dirtier and dirtier over time. Vacuuming them can keep them looking neater for longer. But eventually, stains and old markings build up. Fibres get flatter. Your carpets start looking more and more tired. That can be a problem - especially as levels of dirt, bacteria, and allergens start to grow in any carpet over time.
Fantastic Cleaners is the solution! Take advantage of carpet cleaning services in Baldivis which are delivered by trained, fully insured, and highly experienced professionals. Thanks to their proven methods and industry-grade equipment, they can restore your flooring fabric back to its best, prolonging its lifespan as well as breathing fresh new life into the air quality of any room in your home.
Get an instant quote
Why choose Fantastic Cleaners in Baldivis?
Fantastic Cleaners has a few special ways of delivering your service which sets us apart from other carpet cleaning companies:
Highly trained professionals
When we are delivering your carpet cleaning services in Baldivis, your floor fabric is being cleaned by an expert. Thanks to their extensive training and experience, they know exactly what they are doing. Plus, they are covered by full insurance protection, certified, and vetted.
Your expert team of carpet cleaners will take care of everything for you. They arrive and instantly get down to work. They will leave you with a refreshed - and fresh-smelling - carpet!
The highest grade of equipment
Your carpets are going to be treated to the highest grade of clean from tools and equipment which are the very best the modern industry has to offer. Not only do the products we use deliver exceptional carpet cleaning results, but they are also entirely safe for your children and pets.
Hassle-free booking
Book your service online in just a couple of clicks. Or give us a quick call if you'd prefer to speak to a real person directly. Our friendly and helpful customer service team can answer any questions you might have about the service you need. Before booking you the most convenient appointment slot.
Get an instant quote
What to expect from your carpet cleaning service
You will see your team of carpet cleaners use the hot water extraction method - sometimes called steam cleaning - when they are cleaning your carpets and rugs. We use this method because of the level of results it achieves with a huge variety of different fabric types. The process works like this:
Pre-treatment for stains
Your carpet cleaner will vacuum your carpet and then professionally assess any markings or stains which remain. Your technician will have arrived with a whole range of specialist detergents. They will select the most suitable product for your particular type of stains. Then they will apply them to the affected areas to give the best possible chance of full removal.
Some older stains may be impossible to lift. But if it is at all possible to remove stains, this method will get it done.
Powerful hot water extraction
Following the pre-treatment process, your technician will use their hot water extraction device to pressure-inject a combination of special detergent and heated water deep into the fibres of your carpet. This is then extracted, along with all of the dirt and the vast majority of bacteria and other allergens present in your carpeting. 95% of the moisture is removed as part of this process, minimising drying times.
Get an instant quote

Local Carpet Cleaners Near You
Carpet cleaning is one of our many services we have full coverage in Perth. So, you can count on local cleaning experts, who can swiftly come to your home address or place of business to perform the service and restore imaculate look of your carpets. Every area is included, but here you can see some of our top places with highest demand:
Some of the carpet cleaning locations in Perth we cover:
Frequently Asked Questions
Q: I need carpet cleaning in Baldivis in an emergency. Can I book a service on the same day?

A: Depending on days and times, we often have availability on the same day you want to book a service. If the situation is desperate, do get in touch with us right away.

Q: How long will it take my carpet cleaners to complete my service?

A: This depends on what area of carpeting your technicians will be cleaning and the general condition of the fabric in question, including if any stains are present. 30 minutes is an average time, rising to 80 minutes for several rooms and a hallway.

Q: Can you guarantee full stain removal?

A: Any carpet cleaning company in Baldivis which promises to 100% remove all stains may not be being completely truthful with you. That said, if there is any possibility of stain removal happening, we have the experts and equipment to achieve it.

Q: How long will it be before I can walk across my carpet?

A: You can so immediately. You can walk barefoot without any problems, or we can leave you a pair of overshoes to use.