After Builders Cleaning Prices Sydney
After Construction Cleaning Prices
Price per hour
Fantastic Club price
$65
Standard price
$70
*Our minimum fee is $300 for 4h of cleaning, every extra hour is $70 per cleaner per hour for non-members.
Get a free instant quote and check our availability in your area

Why not become a member of the Fantastic Club?
This gives you savings on a wide range of property cleaning and maintenance services for your home, office and garden. Check all club benefits.
Hourly Based After Builders Cleaning with the Sydney Experts
You cannot start enjoying your newly refurbished place until the builders' mess is all cleaned up, we agree! Fantastic Cleaners Sydney specialises in construction cleaning services that are designed to address all those hard-to-clean areas after the building work has been completed. Our coverage includes the city and its extended network of suburbs. We may also be able to assist you if you are located in an outlying area. Our hourly based builders cleaning solutions allow you to prioritise the tasks and customise the service according to your needs. You can combine the service with our pressure cleaning solutions to make sure your newly remodelled house sparkles inside and out.
Before rushing to book after builders cleaning, make sure that all builders and traders are done with the construction work. If the cleaners come to view the condition of the property prior to that, the final quotation might be inaccurate.
Get an instant quote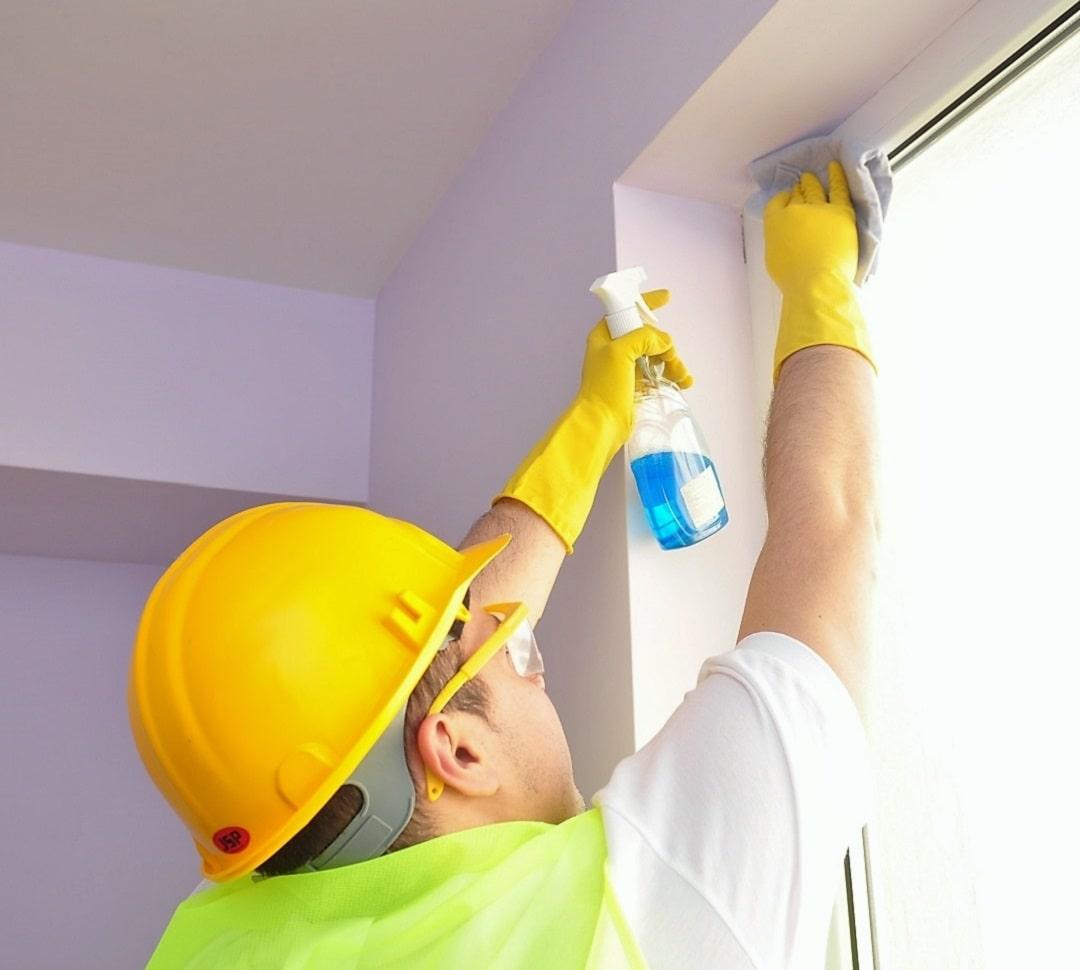 No Surprises with Our After Builders Cleaning Service
Sometimes, it is not easy to estimate how long it will take for your place to be thoroughly cleaned after a major renovation work. This is where we come in. Based on your after builders cleaning priorities, the cleaning operatives will suggest on site the number of hours you should book. This way, you can rest assured that everything that needs cleaning will be done within the allocated time. The service may include, but is not limited to, the following tasks:
The cleaners can inspect the surfaces, tiled areas, walls, ceilings, floorings, light switches, sockets and other fixtures for any plaster/paint residuals and remove them.
All surfaces will be dusted and polished: skirtings; furniture tops, chairs, tables, shelves if the house is furnished; doors, door frames, kitchen benchtops, stairwell railings, etc.
Hard floors will be vacuumed and mopped with professional detergents. For large newly built or renovated commercial properties, we may employ a specialised tile cleaning equipment (additional costs may apply).
If your house is fully furnished, your carpeting and soft furniture will be vacuumed carefully (steam cleaning is available at discounted rates).
Kitchen appliances (if present) can be sanitised on the outside.
Cupboards/wardrobes/ drawers (for furnished properties) will be wiped clean.
Window frames, tracks and sills, as well as the glass panel on the inside, can be washed and polished.
The bathroom/shower room and toilet will be sanitised and disinfected.
Builders waste removal services are also available at additional costs.
Please, note that you may request the after renovation cleaning services for individual rooms and specific areas at your home or business property.
Get an instant quote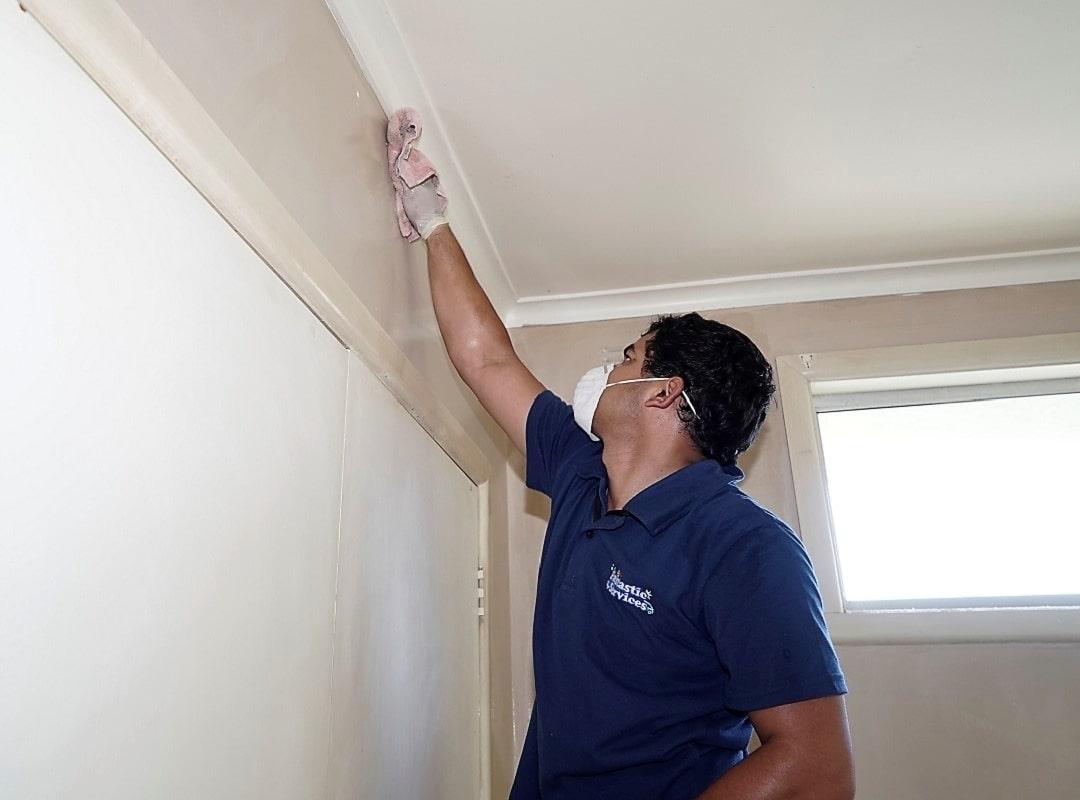 Why Count on the Fantastic Cleaners in Sydney
The after builders cleaning professionals in Sydney are well experienced in removing builders dust and soiling after the renovation project has been completed. Their attention to detail helps them spot the smallest speck of paint on your window or a plaster blob on the light switch.
The cleaners will follow your express requirements and will prioritise the tasks, according to your cleaning checklist. They are hard-working, efficient and fully insured against accidental damages. The after renovation cleaning operatives are trained to work within a set time frame, which means that you need not worry about a belated completion of the work.
Get an instant quote
Frequently Asked Questions
Q: Do you service business properties?

A: Yes. We can provide after builders cleaning services for commercial, public and residential properties alike.

Q: Can I book the service for a newly built property?

A: Yes. We will come and estimate the price on site, as well as the workload and the time that it will take the cleaners to complete it.

Q: My tiled floor is badly contaminated with plaster? Can you help?

A: The construction cleaners are experienced in removing the residuals, left after a building work, from a variety of surfaces. The plaster will be carefully scraped off the floor, which will be, then, vacuumed and mopped. You can also request a specialised tile and grout cleaning service at preferential rates.

Q: My home was refurbished and some of the furniture need a good cleaning. Can the cleaners see to this?

A: Yes. If you require a deep upholstery cleaning, we will be happy to organise this for you at a discounted price. A good vacuuming with an industrial vacuum cleaner can be a part of your after renovation cleaning service.
Q: So what is the difference between a construction cleaning and a standard cleaning service?

A: In terms of our professional approach and the areas we may need to address, there is not much difference between the two. However, the level and the type of contamination is usually different after a construction/renovation work. There may be also some builders waste that needs to be removed. Additional costs apply.

Q: Do you hold all the appropriate insurances and licences?

A: Yes. Fantastic Cleaners Sydney is a fully insured service provider. The cleaning operatives are also qualified and insured.

Q: Who do I call if there is a problem with the service?

A: Please, contact our customer care team over the phone or via the live chat option on this website.

Q: What detergents do the cleaners use? Do I need to supply them with anything?

A: The cleaners employ professional non-toxic cleaning products, which are tested for their safety. You do not have to supply anything. We can also provide our services by using bio-detergents from Enzyme Wizards (additional costs apply).
Meet our Fantastic Family