How is the Carpet Cleaning in Byford done?
Once your carpet has been in use for a while you can start to easily distinguish stains and spots from occasions and accidents. There are also high-traffic areas that form, with a duller colour and flattened carpet fibres. Spot cleaning of your carpets and rugs may work well, but at some point, it is best to hire professional help.

The hot water extraction machine our teams use, combined with their skill and expertise ensure complete satisfaction and excellent results. The carpet cleaners can easily clean most of the dust, dirt and stains accumulated on your carpets and rugs and at the same time brush the fibres and rejuvenate them.

Why choose Fantastic Cleaners in Byford?
There may be a variety of carpet cleaning companies you can choose from, but we are sure your best choice lies with us! Here are some of the benefits you will get by inviting Fantastic Services to perform your carpet or rug clean:
A quick and easy online booking system
Arrange your booking in a way that is most convenient for you. Book your service from our website, on our app or if you prefer to speak to our representatives – call us.
Trained and insured technicians
All our technicians are fully trained and highly skilled in their profession. For your peace of mind, they are also vetted and ensured.
The latest industry-grade cleaning equipment
Using specialised equipment is part of what makes us fantastic. Our machines, handled by our expert technicians, guarantee excellent results in a short period of time.
Eco-friendly detergents and cleaning methods
Stubborn and old stains often need extra work, so combined with the hot water extraction cleaning method our technicians can also use an eco-friendly detergent for each stain type.
Track your professional real-time and friendly customer service staff
Should you need any assistance with your booking or anything else, we have developed an easy tracking solution, so you know exactly when your professional is arriving. In addition to that our friendly customer support staff is only a call or an email away.
Get an instant quote
What to expect from the carpet cleaning service?
Once you have successfully arranged your service for the most suitable day and time, it is time to get your carpets and rugs cleaned. Upon arrival, our carpet technician will inspect the material type and the overall condition of your carpet or rug. Once it has been established that the most suitable cleaning method would be hot water extraction, the technicians will proceed to thoroughly hoover the area.
When the area has been prepared it is time for pre-treating all the stains and spots. Older stains may have already damaged the carpet fibre and may be more difficult to clean. They and all the other marks and spots will be pre-treated with the relevant cleaning solution, depending on the stain type. Once this has been completed it is time for the machine cleaning to take place.
Hot water is going to be injected into the fibres of your carpet and will extract it back in one movement. This allows the water to wash and collect all the dust, dirt and stain particles. The wastewaters are collected back into the machine. This process extracts more than 95% of the moisture, leaving the carpets only slightly damp. Few hours will be needed afterwards until the carpets are completely dried. The process can be sped up by improving ventilation in the rooms – open a window and the doors.
Upon request, the cleaning service can be finalised with the application of fabric protection on top, which will ensure an easier clean of any future stains or spills.
Get an instant quote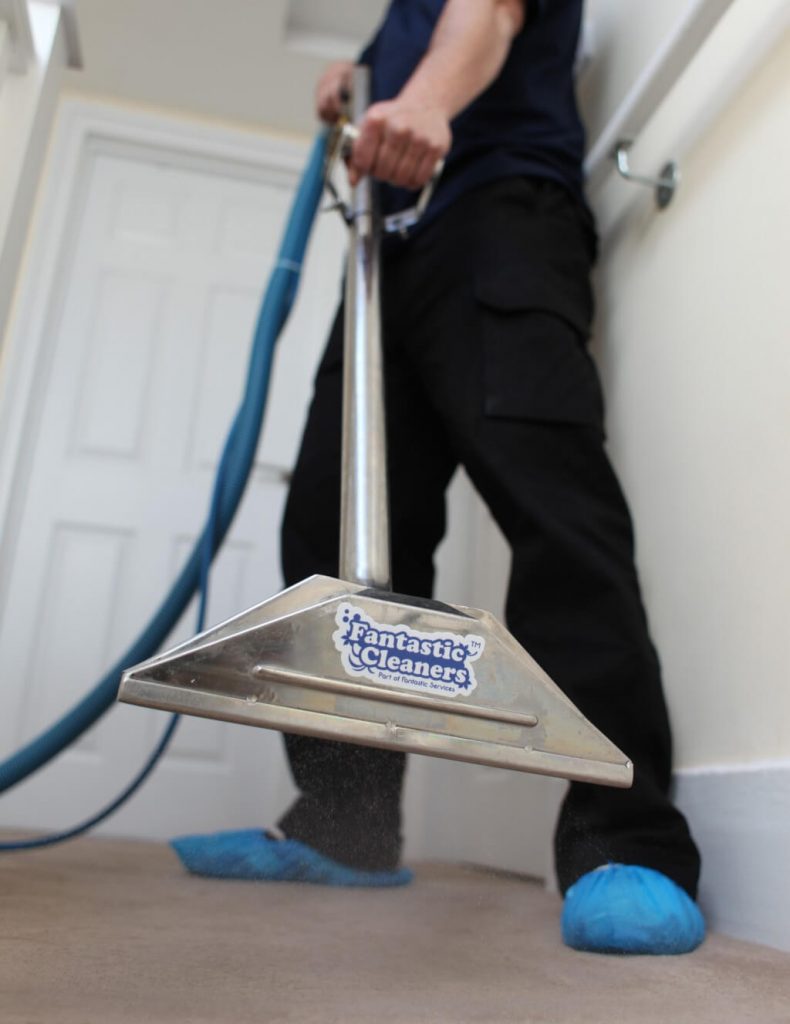 You can check more carpet cleaning service around Byford
Other carpet cleaning locations around Byford
Frequently Asked Questions
Q: Can you remove stains from fizzy drinks?

A: Any stains and spills from fizzy drinks will be pre-treated with the appropriate detergent to loosen the splatters. Generally, stains have a better chance of being cleaned if you have not used any cleaning detergents on them yourself.

Q: Can I step on my rug after you have cleaned it?

A: Yes, you can walk on your rug right after the service, but without shoes. Our technician can leave a few shoe covers for you if needed. After they have completely dried you can resume your normal use.

Q: Can I make my carpets dry faster?

A: You can open windows and doors within your property and improve air circulation, which can speed up the drying process. If you have ventilators you can also place them in the area where the carpets have been done.

Q: Can the carpet technician come on a weekend?

A: Yes, our services are available to you on weekdays, weekends and bank holidays at the same prices.