Oven Cleaning Sydney Prices
Oven cleaning prices
| Appliance Type | Fantastic Club price* | Non-members price |
| --- | --- | --- |
| Single Oven – 60cm. | $109 | $149 |
| Large cooker – 90cm. | $159 | $199 |
| Double Oven – 90cm | $139 | $179 |
| Single Oven & Range Hood - 60 cm | $154 | $194 |
| Double Oven & Range hood - 100-120cm. & Stove top - from 5 to 8 burners | $249 | $289 |
Get a free instant quote and check our availability in your area

Why not become a member of the Fantastic Club?
This gives you savings on a wide range of property cleaning and maintenance services for your home, office and garden. Check all club benefits.
Look No Further for an Express Oven Cleaning in Sydney
Have you forgotten to deep clean your oven again? Did you know that a dirty oven may harm your health? Old food spillages and oils may be inserted in your food if you're cooking it in a dirty oven. Is your kitchen filling up with smoke every time you bake? Not yet? Well, it will if you do not clean your appliance periodically! Fantastic Cleaners can provide you with regular oven cleaning in Sydney at preferential rates.
Our oven cleaning and detailing methods are efficient and industry-tested. We use professional detergents that cannot be found in the stores. The products are fume-free, safe and non-caustic detergents, as your family's health is of utmost priority to us. If an incident occurred in the kitchen, you can take advantage of our one-off domestic cleaning. If you need your entire kitchen deep cleaned, you can count on our professional end of lease cleaners.
Get an instant quote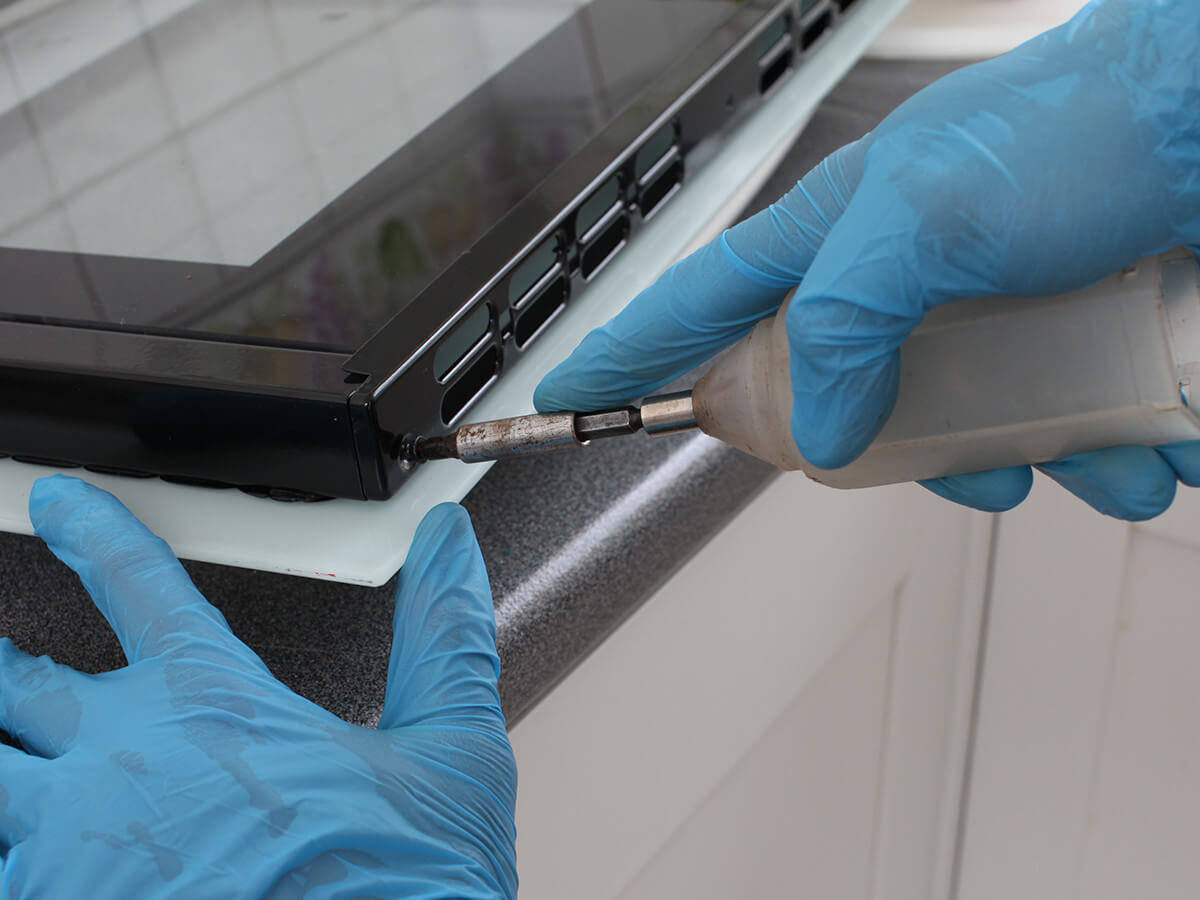 Keep Germs Away With Professional Oven Cleaning in Sydney
We pay attention to every little detail and ensure that every centimetre of the oven is left sparkling clean. Here is the step-by-step cleaning procedure we follow to ensure professional results:
Upon arrival, the professional oven cleaner will perform an inspection of your oven. He'll check if the oven is working properly and will walk you through the cleaning process.
A protective mat will be placed underneath to protect the floor and the surrounding areas.
Then, the technician will disassemble any removable parts - the oven door, racks, trays will be dismantled and cleaned individually.
The inside of the oven will be thoroughly scrubbed. The grease, food residue and carbon will be scrapped. After that, the technician will spray the whole oven interior with a degreaser including the ceiling of the oven.
The professional oven cleaner will soak the removable parts in a tank filled with warm water and a special cleaning solution.
Lastly, the technician will wipe off the excess cleaning detergent. He'll clean the outside of the oven including knobs and handles. After that, it's time to reassemble the removed parts.
When the oven cleaner is done, he'll inspect the oven to check if everything is working properly.
You can use your oven straight after the cleaning procedure. However, we recommend you turn it off and leave it to burn empty for 10 minutes to get rid of the potent smell from the cleaning detergents.
Post Oven Cleaning Tips
Did you know that regular cleaning and maintenance of the appliance actually prolong its life? A clean oven is more energy-efficient and it'll also make your food taste better. That's why we recommend cleaning your oven professionally every 6-8 months depending on usage.
Get an instant quote
Frequently Asked Questions
Q: How often should I clean my oven?

A: This depends on the frequency of use and whether your appliance has an in-built self-cleaning feature. We would advise you on cleaning your oven professionally once or twice per year.

Q: Can you also clean the range hood?

A: Yes. The range hood can be cleaned at additional cost.

Q: How long do I need to wait before I can use the appliance after it has been cleaned?

A: You can cook straight after the oven cleaning service. We would only advise you on turning the oven on high for about 10-15 minutes.

Q: Can you clean my dishwasher, as well?

A: Of course. Just let your customer support agent know about the appliances, which you would like cleaned and you will be provided with a free quote prior to making your booking.
Q: How long does it usually take you to clean a standard oven?

A: Between one and a half and two and a half hours. However, this also depends on the model, the size and on the condition of the oven.

Q: What detergents do you use?

A: The oven cleaning technicians employ eco-friendly cleaning methods and use only fume-free detergents. All cleaning products are safe for domestic use.

Q: What happens if you don't clean your oven?

A: Cooking in a dirty oven will not only have a negative effect on your food, but it can also be a treat to your health. Old food debris and grease inside the oven will reduce its efficiency, which may result in having uncooked meals. This is dangerous if you're cooking meat or fish. A dirty oven may also result in a fire hazard. Build up Food residue may start to burn while you're using the oven.

Q: Can I cancel my booking?

A: We understand that there may be a change in your circumstances. Please, let us know at least 24 hours in advance if you no longer require our service.

Q: What happens if the technician breaks something?

A: The technicians are comprehensively insured against damages. We will ensure that you are fully compensated if a problem like this occurs. Furthermore, the oven cleaners will not leave the premises before they have checked that the appliance is working properly.

Q: How do I keep my oven from getting dirty?

A: If you're cooking meals, it's inevitable to end up with a dirty oven. You can use roasting bags and aluminium foil while cooking to prevent grease to end up in the oven. You can also wi[e up the oven after every use to prevent food residue from building up. However, have in mind that you need to clean your oven professionally every 6-8 months depending on its condition.
Meet our Fantastic Family