How to arrange our Sydney BBQ cleaning service for your place
Our easy-to-use and convenient online booking form will save you plenty of time


Enter your postcode into the form
By inputting your postcode into the booking form, you have the chance to see our availability in real-time and job price.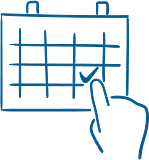 Make your appointment online
Choose the day and time best suited to your personal schedule. We will set our own schedules according to yours.


Meet the professional cleaners
You can either be at home when the cleaners come and show them your BBQ or give them a key before the scheduled day.

Why choose our BBQ cleaning services in Sydney
The shine of your barbecue grill will be restored without you even breaking a sweat.
Same-day and real-time availability for your convenience
We can clean your bbq in Sydney during the week, at the weekend, as well as on bank holidays. No surcharge either way.
Reliable, experienced and fully equipped professionals
The technicians we work with have the necessary training, tools and detergents to remove all grease from your barbecue.
Eco and pet-friendly barbeque cleaning detergents
If you have a pet or small child and are cautious about what products are used in your garden, let us know in advance.
Wide range of services to combine and choose from
Besides your barbeque, you can also have your oven, windows, upholstery and carpets professionally cleaned.
Special benefits for all members of the Fantastic Club
Get $400 worth of credits and preferential bookings when you're one of our members. Read more about the Fantastic Club.
Specialised rating system for best results every time
Our rating system assigns the best professional in your area. You will always have the best cleaners for your barbecue.
Get an instant quote
Quality BBQ cleaning in Sydney done in a professional manner
If there's one thing we Australians love, it's to have family and friends over for a nice barbecue dinner. But unless your barbecue grill is properly cleaned from old grease and grime, the food might have a funny taste to it. There is a point when the grill stops giving the food extra flavour and starts giving it impurities which are always bad for your health.
The technicians we work with can clean portable grills; grills that run on old solid fuel; 2, 3, 4 burner barbeques; gas, charcoal, and electric BBQ-s. We also cover brands like Breville, Gasmate Fortuna, Sunbeam Electric and others. As far as cleaning goes, we always place a protective mat around the unit so no impurities spill on your deck or lawn. Then we will remove the grill grates, flavorizer bars, clean them, and then clean the burners and the rest of the body. Finally, we put everything back together.
Get an instant quote
BBQ Cleaning Sydney Prices
| Appliance Type | Fantastic Club price | Non-members price |
| --- | --- | --- |
| Small BBQ (Weber Q) | $109 | $149 |
| 2-burner | $129 | $169 |
| 3-burner | $159 | $199 |
| 4-burner | $199 | $239 |
| 5-burner | $239 | $279 |
| 6-burner | $279 | $319 |
*The minimum for the service is $149, but if you buy the Fantastic Club it's $109.
Get a free instant quote and check our availability in your area

Why not become a member of the Fantastic Club?
This gives you savings on a wide range of property cleaning and maintenance services for your home, office and garden. Check all club benefits.
Why hire Fantastic Cleaners in Sydney if I can clean my BBQ myself?
You can absolutely clean your barbeque on your own if you decide to, but why waste half a day of your weekend just to get nasty grease marks on yourself? You can do anything else, and it will still be more pleasurable. On the other hand, when you book Fantastic Cleaners for your bbq cleaning in Sydney, you get:
Cleaning efficiency. The technicians are trained, equipped and experienced, so they can properly clean your bbq in 2 to 3 hours, depending on its size and condition;
Industry-standard tools and equipment specialised for cleaning any bbq unit;
A fully insured barbecue cleaning service with guaranteed results;
Flexible working schedules 7 days a week, including public holidays as well as weekends;
Test after the service has been carried out, to ensure your appliance works as good as it should;
A friendly and qualified customer service team eager to help you with your queries and concerns;
Regular assistance with the barbeque cleaning, so you can cook tasty meals for you and your family every time;
And let's not forget that booking with Fantastic Cleaners is easier than ever thanks to our booking form and online chat feature. You can also use the old-fashioned way and give us a call, we're here for you.
Get an instant quote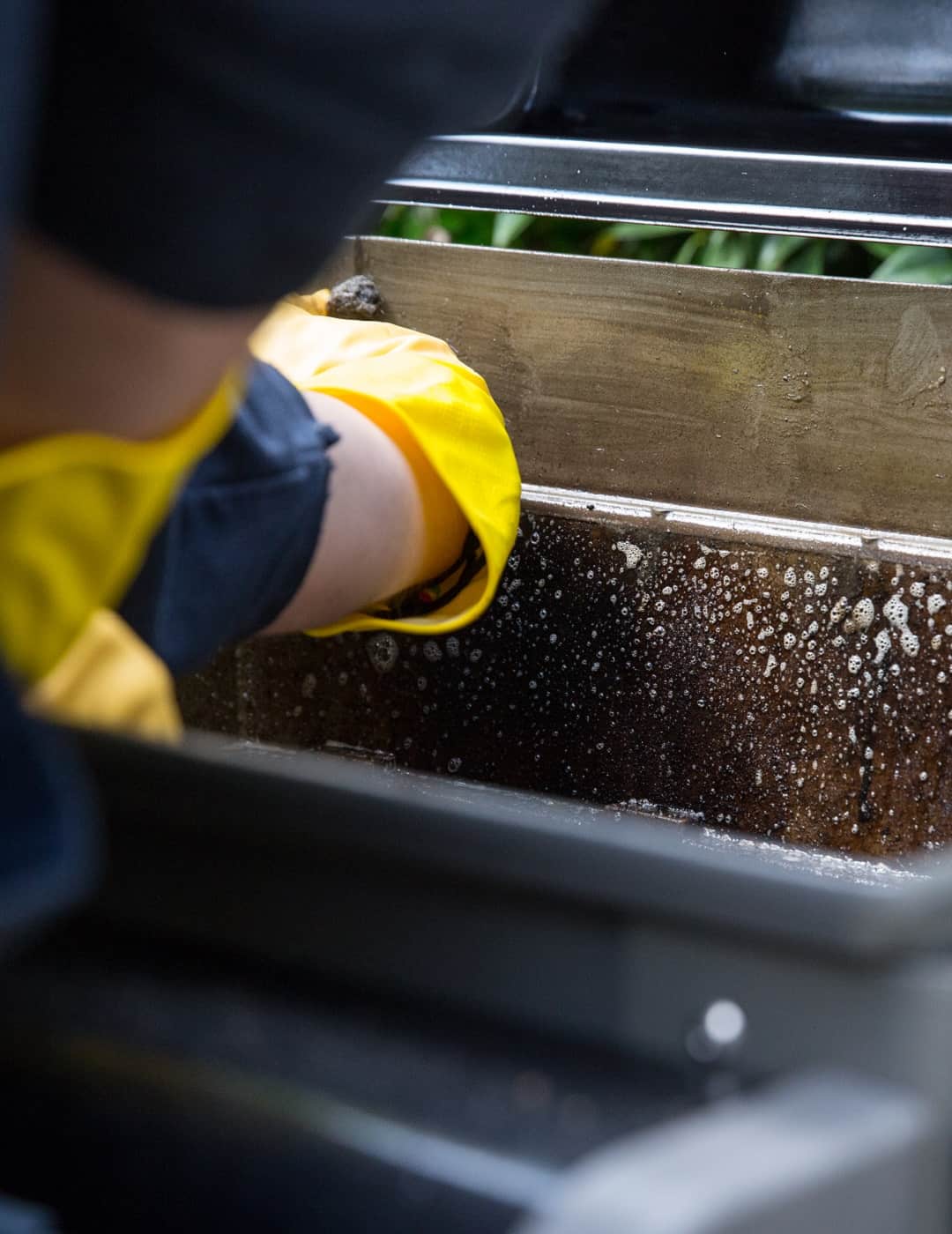 How Our BBQ Cleaning Service in Sydney Goes in Detail
The technician who comes to your home will bring all the necessary equipment, such as: different sets of wire brushes, a grill scraper, a scourer, a set of screwdrivers for disassembly and assembly, paper towels, a polishing cloth, protective oil and a protective mat for the ground. Then he will:
Cover the patio or deck around and the BBQ unit so that no grime and grease falls to the ground whilst cleaning.
Inspect the barbecue's condition.
Clean the grates with a brush.
Remove flavoriser bars and clean them from the grease build-up.
Now, after having removed the flavorizer bars, he has access to the burners, so he will clean them individually.
Afterwards, he will spray the cooking chamber with a degreaser.
Scrub the inside of the BBQ with a stiff wire brush to remove dissolved grease and burnt-on deposits.
Clean the hood and drip trays.
Rinse the surfaces, dry them and spray them with protective oil against rust build-up.
He will put everything back together.
A final polishing of the inside and outside of the appliance is in order before testing out if it works normally.
With our bbq cleaning in Syndey not only do we remove fat and grease build-up from your unit, but also the carbon deposits that affect the taste of your meals. By using non-abrasive methods, we can clear out all the impurities without damaging the cooking surfaces.
Get an instant quote
Maintenance tips after your BBQ has been professionally cleaned
Now that your barbie has been professionally cleaned and your grilled food no longer has a funny taste, you should learn a thing or two about BBQ maintenance.
For starters, clean your grill racks and grates after each use. You can easily wipe them while they're still a little bit warm. Now is also the time to remove food leftovers and splatters so they won't decompose inside the unit. Next, spray Canola oil to prevent the cast iron parts from potential rust buildup.
Replace the fat absorber in the drip tray every once in a while and keep the hood closed. That way, the grill won't get affected by the elements. And on a last but very important note, always disconnect the gas bottle before cleaning a gas barbecue grill.
Get an instant quote
Get several additional services along with your BBQ cleaning in Sydney
Take advantage of our extra services when you book barbecue cleaning.
Oven cleaning
The technician will take apart all removable parts of your oven and put them in a dip tank full of cleaning solution. While they soak, the professional will clean the inside of the oven. Afterwards, he will clean the racks and fan from the dip tank, dry everything and put the oven as it was. He will finish the job by switching the oven on to see if it works properly. After cleaning, the oven will work much better and heat up your food more evenly.
Window cleaning
The professionals we work with use telescopic poles, which allow them to reach higher-story windows easily. The poles are water-fed, and spray your window with purified water. It contains no minerals, and so leaves no streaks. Another benefit of purified water is that it keeps the windows clean for longer periods of time than regular detergents.
End of Lease cleaning
This service is designed for tenants and landlords should either need a property cleaned from top-to-bottom. The professionals will clean the entirety of your home regardless of how long it takes and always follow a checklist, so nothing gets missed. Our end-of-lease cleaning has a 100% bond guarantee. The service is guaranteed for 72 hours after completion and 120 hours if you are a Fantastastic Club member.
One-off
Our one-off services are perfect when you need spring cleaning or cleaning before and after special events. It's an hourly-based service where you say which areas of your home you want cleaned. The professionals always bring their own cleaning tools and detergents and take care of the rest as long as it's within the agreed time span.
Get an instant quote

Frequently Asked Questions
Q: How long does the service take?

A: This will depend on the condition of the grill and its size. On average, the BBQ cleaning service takes between 1,5 and 2,5 hours, but note that this is not an hourly-based service.

Q: Can you take away my BBQ and bring it back clean?

A: We only clean barbecue grills on the client's property. We cannot clean them off-site.

Q: Can you clean my indoor oven, as well?

A: Absolutely. We specialise in oven cleaning and detailing services, too. We clean the entire appliance inside and out (the hobs and the oven).

Q: Can you repair my BBQ and replace any parts?

A: Unfortunately, we can't help you with this. We only provide BBQ cleaning services.
Q: How often should I have my grill professionally cleaned?

A: It's always a good idea to wipe down the grates and remove bits of food after each use. On top of that, get a professional to clean your appliance before you store it for the winter. Alternatively, make sure you book the service before the BBQ season starts.

Q: My barbecue is on the balcony. Can you clean it there?

A: Yes, as long as there's enough space for the technician to work unobstructed.

Q: Do you replace gas bottles?

A: We cannot replace your gas bottle or any other gas-related parts.

Q: Do you clean the cabinets?

A: Yes, we clean the whole BBQ in & out, including the cabinets, bottom tray & drip tray.