BBQ Cleaning in Melbourne
Professional barbeque cleaning services in Melbourne
Use our same-day-booking slots if you can't find any other time
Protection of BBQ against corrosion build-up and vermin
Food is much healthier to eat after it's been cooked on a clean grill
The life of your barbecue is prolonged, and its efficiency improved after cleaning
Prices from $109

How to arrange your BBQ Cleaning Service
Use our online booking form to quickly and easily pick a service date convenient for you


Put your local postcode into the booking form
When the booking form knows where in Melbourne you are, it will show you the available slots and how much the service will cost.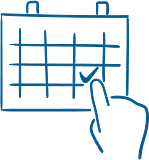 Arrange your booking online
Choose the day and time most appropriate to your personal schedule and we will take care of the rest for you.


Welcome the professional
Give the cleaner access to the dirty barbeque if you are at home. If not, we can schedule a day to pick up the key and return it another day.

Why choose our BBQ Cleaning Melbourne service
Have the shine of your barbecue restored while wasting no time and effort of your own.
Experienced, fully equipped and vetted technicians
The professionals we work with know how to remove the accumulated layers of grease and grime without damaging the surface of your barbie.
Eco-friendly BBQ cleaning solutions
If you have small children or pets who love to play in the yard, let us know so we bring the appropriate products.
Real-time and same-day availability
We can clean your barbecue during the standard work week, the weekend or even on bank holidays with no surcharge in either case.
Rating system so you always get the best possible results
This internal system of ours always assigns the best professionals in your Melbourne area, so you will always get great results no matter who we send.
Wide range of services to choose from and combine
We can clean not only your BBQ, but also your oven, carpets, rugs and a handful of other items.
Fantastic Club members get special benefits
Our members always get $400 worth of credits and preferential books. If interested, read more about the Fantastic Club.
Ready to book with us?
Barbecue cleaning services in Melbourne done in a professional manner
Family dinners around the barbecue are a tradition for us Australians, that's why your BBQ needs to be in top shape. Grime and grease build-up affect the food flavour and lower the efficiency of your cooking unit, so there's no point in postponing the cleaning any longer. Fortunately, you've already found the solution in the face of Fantastic Cleaners.
The Melbourne technicians we work with are well-equipped to clean all kinds of barbeques. Gas, charcoal, electric BBQ-s; portable grills; grills that run on solid fuel, you name it. We clean brands such as Gasmate Fortuna, Breville, Sunbeam Electric and many more. The cleaning itself always includes placing a protective mat around the unit, so no grease drips to the lawn or deck. Afterwards, the professional will remove the grill grates and flavorizer bars to clean them individually. When those are done, he will clean the burners and BBQ body. Finally, the technician will put everything back together and test out the unit.
Get an instant quote
View what our clients have to say
How much does BBQ Cleaning in Melbourne cost?
BBQ Cleaning prices
| Appliance Type | Fantastic Club price | Non-members price |
| --- | --- | --- |
| Small BBQ (Weber Q) | $109 | $149 |
| 2-burner | $129 | $169 |
| 3-burner | $159 | $199 |
| 4-burner | $199 | $239 |
| 5-burner | $239 | $279 |
| 6-burner | $279 | $319 |
*The minimum for the service is $149, but if you buy the Fantastic Club it's $109.
Get a free instant quote and check our availability in your area

Why not become a member of the Fantastic Club?
This gives you savings on a wide range of property cleaning and maintenance services for your home, office and garden. Check all club benefits.
Why you should use our grill cleaning services in Melbourne
Technically, you can clean your grill on your own if you are willing to spend several hours of your weekend scrubbing and getting dirty, but are you willing to make that kind of sacrifice? Free time is scarce nowadays and you're much better off spending it with friends and family than sweating away at your grill.
Let Fantastic Cleaners help you out with your Melbourne bbq cleaning for the following reasons:
Guaranteed satisfaction: we have many years of industry experience in cleaning all kinds of household items and not just BBQs.
Efficiency: the technicians we work with know how properly clean even the dirtiest of BBQs.
Industry-standard tools and detergents: skills combined with the proper detergents and tools make for much better results.
7-day availability: we can come and clean your barbeque every day of the week, including public holidays.
Reliable customer service agents: you can always get in touch with our customer service agents if you have questions or concerns.
Tips on BBQ maintenance: after completing the cleaning, the technician will give you tips on how to maintain and season your BBQ unit properly.
Options for regular cleaning: we can prepare your barbie for the winter and summer seasons every time, should you want it.
More free time on your hands: spend your time planning and buying the food for the family gathering instead of cleaning the barbecue grill.
Booking a Melbourne barbecue cleaning nowadays is really easy. All you need to do is pick up your phone and follow the steps in our online booking form. Or, if you prefer the tried and tested method, just give us a call, we're expecting you.
Get an instant quote

How we clean your BBQ Grill in Melbourne
The technician will bring all the necessary detergents and tools for the job such as protective oil and mat, enough paper towels, brushes and scrapers and detergents. First, he will:
Cover the surface under and around the oven. Regardless if it's grass, patio or deck, the ground will remain clean of any grease spills and spots.
Clean the grates, warming racks and grills with a stiff wire brush.
Remove the flavorizer bars and clean them.
Clean the burners under each flavorizer bar.
Polish the bottom tray, drip tray, and clean the roast hood.
Clean the chamber and dry it with paper towels.
If you have a BBQ cabinet, he will also clean it as well.
After the cleaning is completed, the technician will apply a protective oil to the BBQ so it won't catch rust.
After one final polish, he will put the BBQ back together and test the unit to ensure it works properly.
Our Melbourne grill cleaning services will remove not only grease and grime but also carbon build-up that affects the taste of your grilled food. Our non-abrasive methods will swiftly remove the impurities without damaging the unit.
Get an instant quote

How to Maintain Your BBQ After Professional Cleaning
Professional cleaning of your barbecue once in a while is definitely recommended and you can prolong the effect when you follow these tips.
Clean warming racks and grill grates from any food debris.
Remove food leftovers from the chamber after grilling.
Spray Canola oil on Enamel surfaces such as cast iron to prevent the development of rust.
After every few uses, change the fat absorber in the drip tray.
Always keep the hood closed when you're not using the appliance.
If you have a gas grill, always turn off the gas supply when cleaning the unit.
Not only will your barbie last longer with regular cleaning and maintenance, but your food will always taste much better.
Get an instant quote
Why not add additional services to your Melbourne barbeque cleaning
We can clean more things in your home than just your BBQ.
Oven cleaning
The professional will take apart all removable parts, such as racks and trays and place them in a dip tank full of cleaning solution. In the meantime, he will clean the body of the oven both on the inside and outside. Afterwards, he will clean and dry the removables, put everything back together and test out the oven. A clean oven works more efficiently and doesn't emit bad smells.
Window cleaning
The professional will clean your windows on the inside and outside. For the outside, he will use a water-fed pole which sprinkles purified water. Since this water contains no mineral deposits, it leaves no streaks and keeps your windows clean longer. The pole, on the other hand, eliminates the need for using a ladder to climb up and reach higher windows.
End of lease cleaning
This service works both for tenants and landlords. It's not is not limited in time and has a bond-back guarantee. The cleaners will stay as long as necessary and clean everything following a checklist. They are fully equipped with the knowledge and tools to clean the entire property from top to bottom, so it's ready for new tenants.
One-off
An hourly-based service where the technicians clean whatever area you want as long as it's within the estimated time period. This service is different from regular cleaning as it's performed more in depth and the technicians always bring their own detergents and cleaning supplies. It's best suited before and after special events and for spring cleaning.
Get an instant quote

Frequently Asked Questions
Q: How long does it take for the technician to clean my barbecue?

A: It usually depends on the size and condition of your BBQ. With that said, it takes around 1.5 to 2.5 hours for a trained and fully equipped cleaner to clean your entire barbeque.

Q: Do you repair barbecues?

A: No, we only offer cleaning assistance to our clients.

Q: How do you charge for the service?

A: The service is charged, based on the type, size and condition of the grill. You will receive a free quote before you book the service.

Q: Can you replace my gas bottle?

A: We don't change gas bottles or replace any other parts.
Q: Do you clean BBQ grills off-site?

A: No. We only provide cleaning services that take place on-site.

Q: Can I have my oven cleaned at the same time?

A: Yes, of course. You can book our premium oven cleaning service together with the BBQ cleaning service.

Q: Do I need to provide anything?

A: The technician will bring everything they need to complete the job. Just make sure that the cleaner has access to water.

Q: Can I change my appointment?

A: Yes, you can do this through your Fantastic account. Or you can give us a quick call/send us a message, a day or two in advance.