How much does BBQ Cleaning in Melbourne cost?
BBQ Cleaning prices
| Appliance Type | Fantastic Club price | Non-members price |
| --- | --- | --- |
| Small BBQ (Weber Q) | $89 | $129 |
| 2-burner | $110 | $150 |
| 3-burner | $145 | $185 |
| 4-burner | $180 | $220 |
| 5-burner | $215 | $255 |
| 6-burner | $250 | $290 |
Get a free instant quote and check our availability in your area

Why not become a member of the Fantastic Club?
This gives you savings on a wide range of property cleaning and maintenance services for your home, office and garden. Check all club benefits.
Premium BBQ Cleaning Services in Melbourne
We've all done it. Got on the phone to a few friends. Invited them over for a sausage-sizzle and roo-stakes get together only to realise at the last minute that our Weber grill is simply not up to the job. Well, not up to a delicious job. Right then, just don't make the same mistake this time and book your Fantastic BBQ cleaning service in Melbourne today by picking a day (and time) that suits you!
Fantastic Cleaners can restore the cleaning state of any type of BBQ grill in a space of a few hours and in time for your garden party. We work with friendly and well-experienced local BBQ cleaning technicians who simply know what they are doing, efficiently and with your great expectations in mind.


Ready to book with us?
Why Pay For a Professional BBQ Cleaning & Not Do the Job Yourself?
Good question. Any DIY cleaning efforts will of course pay off, leaving you with a barbie, free of grease and burnt food that might have got stuck on the side burners or warming racks. But at what expense? Your scarce free time and lots of hard scrubbing work. So, this is where our professional BBQ cleaning service can come in handy.
Fantastic BBQ Cleaners in Melbourne will provide you with:
Satisfaction guaranteed: With years of experience in cleaning any brand and type of grill, the specialists will clean your barbecue with high-standard results.
Effective cleaning methods: The job will be done with attention to detail by scrubbing each individual part of your appliance.
High-end tools and products: Again, when the cleaning is performed with the right tools and products, the outcome is a spotless grill for you to enjoy.
More free time: Isn't it great to spend the extra free time on party planning and food shopping instead of cleaning and scraping your barbie all morning?
7-day availability: Just choose a day of the week that suits you, including public holidays, and we'll send a local technician to do the job.
Maintenance tips: The cleaner will gladly advise you on how to make sure that your BBQ serves you for longer.
Helpful customer service: Got a question or some sort of concern? Get in touch with our helpful customer service agents!
Regular cleaning options: Make sure your barbie grill is always ready for action or good for winter storage!
It's easy to book your BBQ cleaning service with us. You only need to fill the online booking form and we'll get back to you shortly. Or if you prefer, just give us a quick call and a member of the customer care team will help you with the booking.
Get an instant quote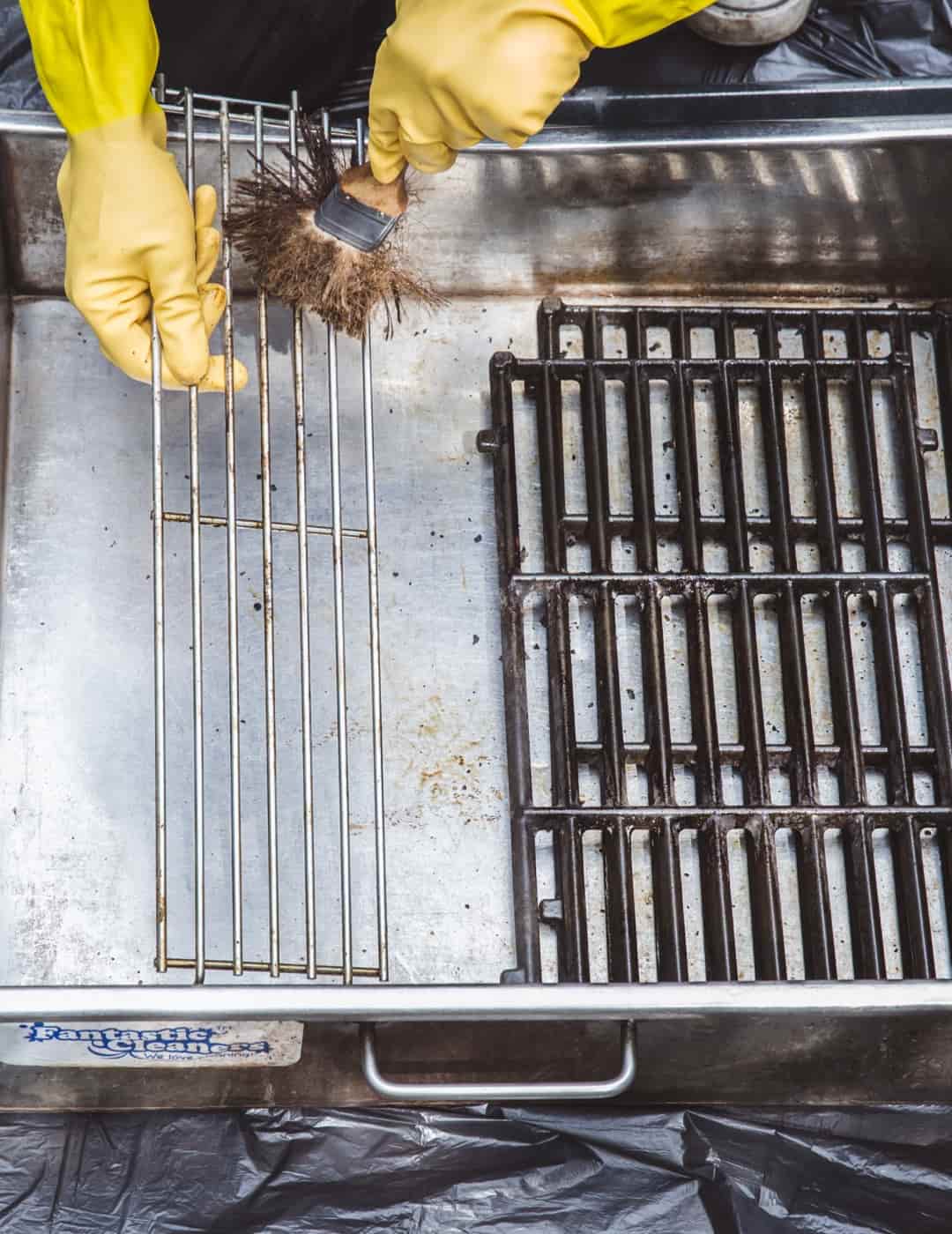 So, How Do We Clean Your BBQ Grill?
The Fantastic technician will arrive with everything he needs to clean your appliance. He will use:
Wire brushes, grill scraper and steel wool
Cloths and paper towels
Protective oil and mat
The service will go as follows:
Your patio or deck will be, first, covered with a mat so that no splashes of fat and bits of burnt food end up on the ground.
The cleaner will, then, clean carefully the grates, grills and warming racks with a stiff wire brush.
Then, he will pay special attention to each burner by removing the flavorizer bars, first.
The technician will also polish the bottom tray and the drip tray, as well as clean thoroughly the roast hood.
If your BBQ comes with a cabinet, it will be cleaned inside and out.
The inside part will be sprayed with a degreasing agent and then scrubbed, as well. The expert will afterwards rinse the chamber thoroughly and dry it well with a paper towel.
He will apply protective oil on the inside to ensure that your appliance doesn't get rusty.
Your grill will be given a final polish after all the parts have been put back in place.
Lastly, the specialist will check if the grill works properly.
Get an instant quote
What types of BBQ Grills We Can Clean
No matter what size, model or type of barbecue grill you've got, we can clean it for you and save you the time and effort. The technicians, we work with, can scrub and polish various sized Weber grills, 2-, 3-, 4-burner BBQs of any brand, grills that run on solid fuel, gas or electrics, small portable grills, etc.
And we should point out here that you can count on us to have your indoor cooker and oven cleaned inside and out, as well, by enlisting our specialised oven cleaning and detailing service whenever you need to!


Get an instant quote
How to Maintain Your BBQ after a Professional Cleaning Job
Well, although you may have your grill cleaned professionally a couple of times a year or more, it's best to give your appliance a good wipe after every time you use it.
To prolong the life of your barbecue, follow these tips:
Clean the grates and warming racks off any food bits and grease;
Remove any fallen pieces of grilled food from the chamber, as well;
Enamel surfaces or such, made from cast iron, are prone to rust, so you can spray them with vegetable oil (ex: Canola oil) after each use to keep rust at bay;
Change the fat absorber in the drip tray after a few uses;
Don't leave your grill open overnight but always close the hood to protect your appliance;
If you own a gas grill, make sure that all connections are intact and safe, as well as always turn off the gas supply when cleaning your appliance.
The above steps will help you enjoy your barbecue for years to come and ensure that your food is safe, healthy and tastes as it should.


Get an instant quote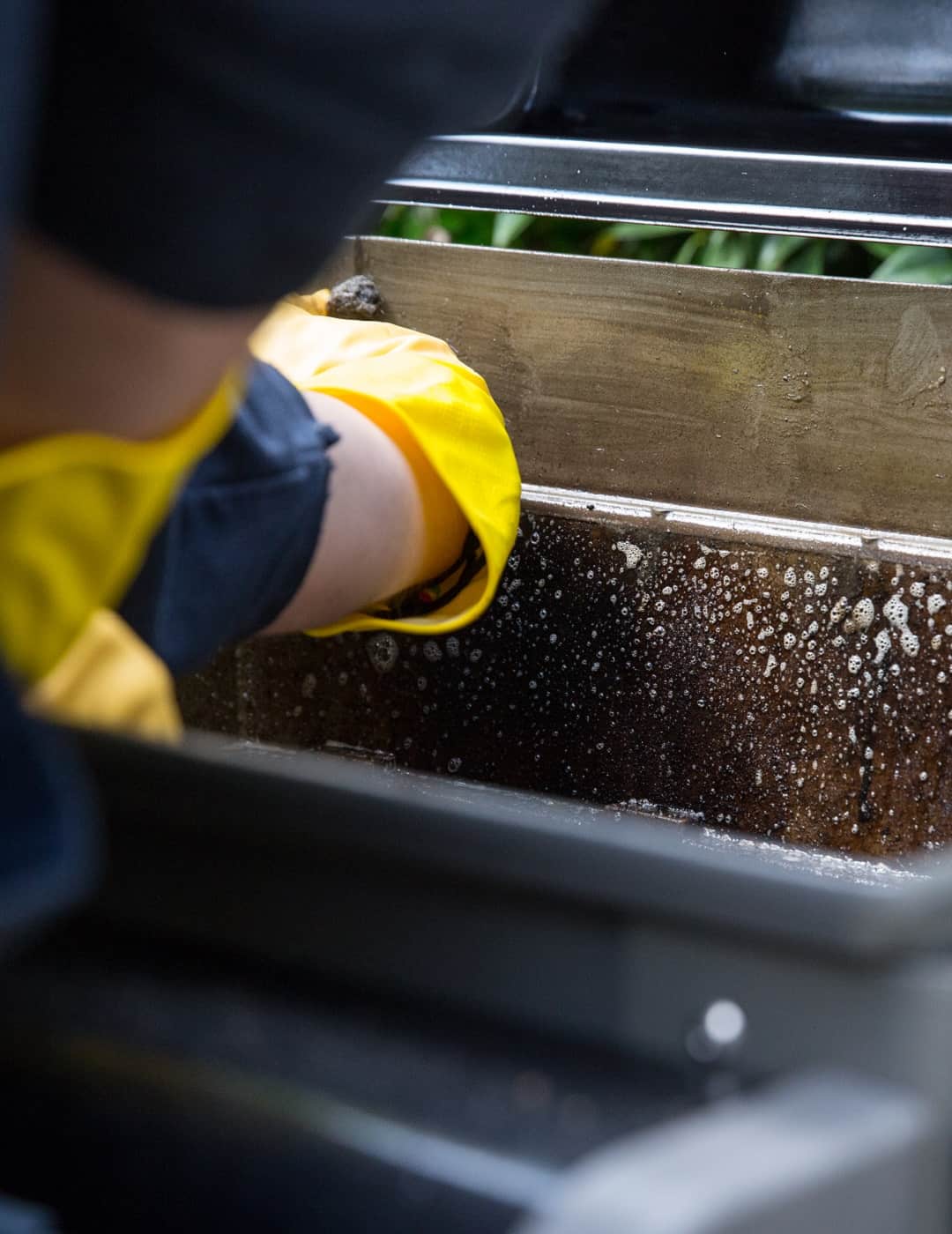 Frequently Asked Questions
Q: Do you repair barbecues?

A: No, we only offer cleaning assistance to our clients.

Q: How do you charge for the service?

A: The service is charged, based on the type, size and condition of the grill. You will receive a free quote before you book the service.

Q: Can you replace my gas bottle?

A: We don't change gas bottles or replace any other parts.

Q: Do you clean BBQ grills off-site?

A: No. We only provide cleaning services that take place on-site.
Q: Can I have my oven cleaned at the same time?

A: Yes, of course. You can book our premium oven cleaning service together with the BBQ cleaning service.

Q: Do I need to provide anything?

A: The technician will bring everything they need to complete the job. Just make sure that the cleaner has access to water.

Q: Can I change my appointment?

A: Yes, you can do this through your Fantastic account. Or you can give us a quick call/send us a message, a day or two in advance.
View what our clients have to say