Upholstery Cleaning Service in Melbourne
Get an expert to clean and freshen up your upholstered furniture in Melbourne
Flexible service for all types of furniture
Cleaning done with industry-grade equipment
Effective against a wide variety of domestic stains and odours
Carried out by vetted & insured cleaning technicians
Online booking available 7 days a week, including holidays!
Prices from $30/room

Access Fantastic discounts and offers
How to book upholstery cleaning in 60 seconds online


Enter your Melbournian area code.
Insert your area code to check our availability for weeks to come.


Configure your service
Set all the time and date specifics of your service and describe the furniture you need to be cleaned.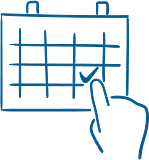 Enjoy the service!
We send fully-equipped upholstery cleaners, so all you have to do is greet them and let them do their job. After that, you can enjoy the fresh look of your soft furnishings.
How Much Does Upholstery Cleaning in Melbourne Cost?

The minimum price for Fantastic Club members starts from $75 instead of $115
| Upholstery Type | Standard |
| --- | --- |
| Armchair | $40 |
| Sofa by Seat | $35 |
| Dining chair | $15 |
Join the

Fantastic Club and get:
$400 in credits
Preferential member rates
Get $40 off the standard price for your first booking as a member of the Fantastic club for 10 different bookings within 1 year.
Exclusive seasonal deals
Real-time arrival tracker
Priority booking & case handling
Book with full benefits for any property
Deals by partnering brands
Get a free instant quote and check our availability in your area

Why not become a member of the Fantastic Club?
This gives you savings on a wide range of property cleaning and maintenance services for your home, office and garden. Check all club benefits.
Couch Cleaning by Fantastic Services in Melbourne
"It's not just a Fantastic service – it's a service carried out by fantastic people!"
Full week availability - Our splendid furniture cleaning service is available in Melbourne every day of the week, even during holiday periods.
Certified couch cleaning experts - We work with local, experienced and certified cleaners to ensure the best possible treatment for your soft furnishings.
Cutting-edge professional equipment - Our cleaners employ the latest tech in the cleaning industry – hot water extraction machines. By far, it is the most efficient and eco-friendly method for couch cleaning.
Eco-friendly cleaning methods - Besides our eco-friendly cleaning technology, we also use organic, non-toxic chemicals to restore your furniture's looks. We aim to be carbon-neutral by 2030!
Next-level indoor air quality - It's not just the carpets - your furniture can soak up odours and germs just the same! After our sofa cleaning service, your upholstered furniture looks new, and your property shows a noticeable difference in air freshness!
The Fantastic Club - Subscribe and enjoy $400 in credits, priority booking, and other privileged member benefits!
Get an instant quote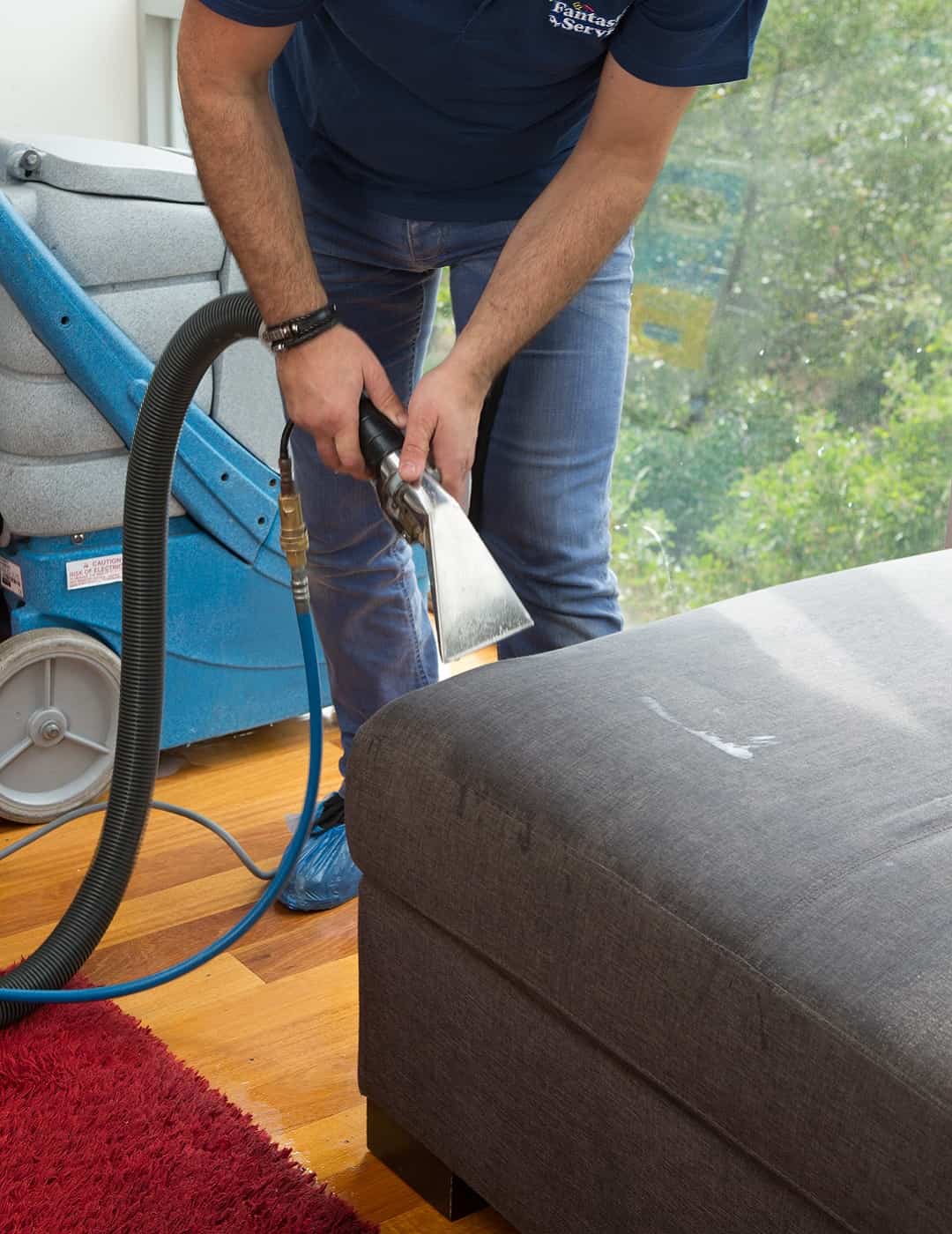 How our professional upholstery service in Melbourne works
Quick and efficient service from start to finish – including pre- and post- treatment!
A battle-ready upholstery cleaning expert arrives
On the day of your booking, we send out a professional couch cleaning expert with all the tools necessary. The pro will arrive at your address at the specified time carrying all the tools, detergents and machinery they need in their Fantastic van. Our Fantastic Cleaners always make sure to put on their protective overshoes before they enter your home.
Examination and pre-treatment
Your upholstery cleaner will get to work ASAP. They will first examine your soft furnishings and look for tough stains. Once they finish assessing the situation, the cleaner will pH-test any visible stains, then apply a pre-treating agent to loosen the stain before cleaning. Our agents always test our chemicals on a small, hard-to-reach area to avoid possible discolourations or other negative side effects.
Get a FREE quote!
Professional couch cleaning in Melbourne
Once the pre-treatment chemicals kick in, our couch steam cleaning technician will attach a special cleaning wand to the tube of their Hot Water Extraction machine. The cleaner will then slowly and carefully start going through the surface of your furniture
The cleaning wand boasts a specially designed nozzle that releases a powerful combination of hot water and effective cleaning detergents. This meticulous process ensures that even the most stubborn stains on your furniture are completely dislodged and eliminated.
At the same time, another part of the equipment – the suction attachment – is readily positioned opposite the cleaning wand. That way, the machine will take back more than 90% of the moisture plus all the dirt and grime, leaving your upholstered pieces perfectly cleaned and slightly damp but far from soaking wet. You only need to give it a few hours, and your furniture will be as dry once again.
Suintable for: synthetic/mixed fibres (polyester, wool, etc.)
Approximate drying time: 2 to 8 hours
Book couch cleaning today!


Upholstery dry cleaning in Melbourne
For delicate furniture made of natural fibers, we employ safe and effective dry cleaning methods to avoid any risks of shrinkage or deformation caused by water and high temperatures.
Dry powder cleaning
Our main upholstery dry cleaning service involves applying a special cleaning powder to the fabric's surface and gently working it into the fibers using a brush. This solution loosens embedded dirt, grime, and contaminants.
After a short period, we use a powerful vacuum to remove the cleaning powder, leaving your upholstered furnishings clean, fresh, and dry, ready for immediate use.
Low-moisture solvent cleaning
Another option is our low-moisture solvent cleaning method. This technique employs a specially formulated solvent that effectively removes dirt and stains while minimising moisture.
We apply the solvent to the fabric, agitate it with a gentle brush, and then use a powerful vacuum to extract the solvent. The result is a clean and fresh fabric with minimal moisture, allowing you to enjoy your furniture almost immediately.
Drying time: within a few minutes.
Recommended for: natural fibres like cotton, linen, wool, silk, jute, hemp and others.
Please note: our upholstery dry cleaning service is a wonderful way to refresh your furniture. However, it might not be as effective at removing stains as Hot Water Extraction.
Reserve a cleaning slot now!
Scotchgard™ Fabric Protection
Scotchgard™ Fabric Protection offers a key benefit of enhancing future cleaning effectiveness. Creating an invisible barrier, it repels liquids and stains, making them easier to clean. With just one application, enjoy long-lasting protection that keeps your upholstery looking new. It allows for quick spill and stain cleanup, reducing the chance of them becoming stubborn and hard to remove.
Scotchgard™ also safeguards against fading, discoloration, and wear caused by daily use. It is safe for various fabric types, including natural, synthetic, and leather. Protect all your upholstered furniture with a single application of Scotchgard™.
Trust our professional cleaners to apply Scotchgard™ Fabric Protection, providing lasting upholstery protection and simplifying future cleaning.
Book couch cleaning today!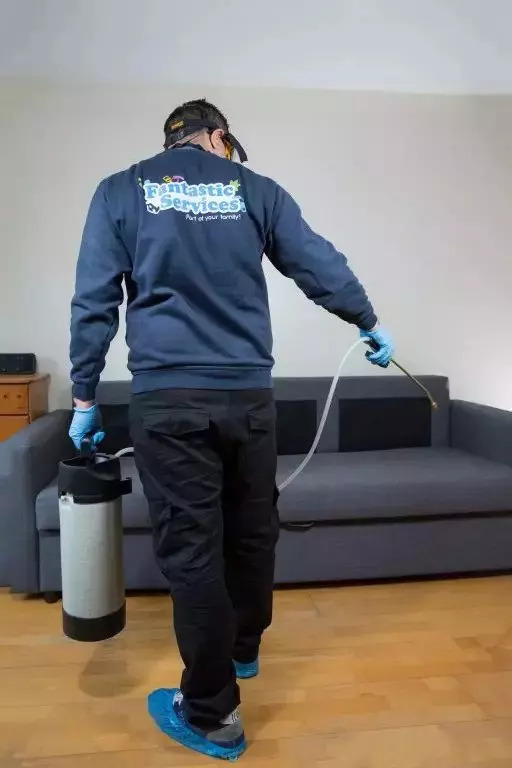 Hot Water Extraction vs Steam Cleaning
Hot water extraction and furniture steam cleaning are two distinct methods used to clean carpets, upholstery, and fabrics. Although they may appear similar, they employ different techniques and yield contrasting outcomes.
Hot water extraction involves using a blend of hot water and cleaning solution for deep cleaning. The solution is applied and agitated on the surface, loosening embedded dirt and contaminants. Subsequently, a high-pressure stream of hot water dislodges grime while a suction attachment removes the dirt and cleaning solution. This thorough process effectively eliminates stains, odors, and contaminants from carpets and upholstery.
Conversely, furniture steam cleaning utilises a small amount of water and cleaning solution, generating steam at high temperatures. The steam aids in loosening dirt and grime. However, regular steam cleaning does not employ high pressure for extraction. Instead, it relies on the heat of the steam to evaporate the water and cleaning solution, leaving the surface relatively dry. It's worth noting that hot steam can even make protein-based stains harder to remove.
A key distinction between hot water extraction and regular steam cleaning lies in the quantity of water and cleaning solution used. Hot water extraction employs a larger amount, facilitating comprehensive cleaning and sanitation of the fabric. Regular steam cleaning, on the other hand, uses less water and cleaning solution, which may result in a reduced effectiveness in removing stains and odors.
In summary, while both methods aim to clean fabrics, hot water extraction offers a more thorough approach with the use of higher water pressure and larger amounts of cleaning solution.
Combine upholstery cleaning with other services for a great deal in Melbourne
Carpet cleaning
The most effective way to maintain carpets is with professional equipment. Our team of professionals can use the same machine they bring for upholstery cleaning to take care of carpets in your lounge, hallway, and bedrooms. We also offer dry cleaning for delicate rugs and other fabric items. By combining these services, we can help boost the prestige of your home, leaving it looking brighter and smelling pleasantly fresh. Choose our team for the best carpet and upholstery maintenance services.
Oven Cleaning
Looking for a professional oven cleaning service while your couches get their due treatment? Look no further! Our team of expert technicians can give your oven the attention it deserves, ensuring it's cleaned to the highest standard. Our thorough process includes soaking all removable parts in powerful, grease-dissolving detergents and hand-cleaning the oven's body. When we're done, all the components will be rinsed, dried, and polished before the oven is reassembled and tested to ensure it's working at its best. Our deep cleaning removes any lingering odours but can also reduce fire risks and electricity consumption. Trust us to restore your oven to its original glory!
Window Cleaning
Professional window cleaning service at your fingertips. Combine upholstery and window cleaning and watch our team of experts use advanced techniques to guarantee a thorough and safe clean. For ground-level windows, we utilise a water-fed pole system that allows us to apply purified water to the glass, frames, and sills without the need for ladders. This method also ensures that no streaks or deposits are left behind, as we don't need to use any cleaning products. And for those hard-to-reach interior windows, we've got the good ol' squeegee ready to make them shine. Trust us to leave your windows sparkling clean!
End of Lease cleaning
Need help with your end-of-tenancy cleaning? Our professional team is here to take the stress out of the process. We offer flexible, fixed-price cleaning services for tenants, owners, and agents, covering everything from deep cleaning the kitchen and bathroom to dusting and vacuuming the entire property. Our experienced cleaners use top-quality products and equipment to ensure the place is left spotless. Plus, with our commitment to high standards, you can trust us to help you get your bond back in full.
Mattress Cleaning
Get a better night's sleep with professional mattress cleaning. Did you know that your mattress needs to be cleaned regularly to remove sweat, dirt, and dead skin cells? Our team of experts employs powerful yet gentle cleaning products and techniques to leave your mattress feeling and looking fresh and immaculate. Our team uses powerful yet gentle cleaning products and techniques to remove all that grime, leaving your mattress fresh and hygienic. And by combining mattress cleaning with our upholstery services, you can give your entire bedroom a fresh start. A clean mattress can make a world of difference in your sleep quality.
Frequently asked questions about our upholstery cleaning service
Q: What are the benefits of regular upholstery cleaning?

A: Our professional cleaning services restore the vibrant appearance of your furniture by removing dirt, stains, and contaminants. This not only improves the overall look but also enhances the air quality in your home by eliminating dust and allergens. Regular cleaning extends the lifespan of your furniture, saving you money in the long run. Trust us for reliable and effective upholstery cleaning to keep your furniture looking and feeling its best.

Q: Will my furniture smell wet after the cleaning is done?

A: Allowing time for proper drying is crucial for optimal results. With our Hot Water Extraction cleaning machine, over 95% of the moisture and detergents used are efficiently extracted, leaving your furniture slightly damp. Typically, it takes between 3 and 7 hours for the upholstery to dry completely. To expedite the drying process, you can enhance air circulation by opening windows or utilizing fans. After the recommended drying period, you should only experience the pleasant freshness of your newly-cleaned furniture, without any lingering smells.

Q: Does your company apply fabric protectors to sofas?

A: Yes, for a small extra fee, we offer Scotchgard™ Fabric Protector. Our cleaning professionals can apply it to your upholstery after the cleaning process. Scotchgard™ helps your furniture stay looking new for longer, extending its lifespan and preventing costly replacements. It is safe to use on various fabrics, including natural, synthetic, and leather. Even if you didn't choose Scotchgard™ during your online booking, you can simply ask our cleaners on-site, as they always carry Scotchgard™ with them. Enjoy protection for all your upholstered furniture with Scotchgard™.

Q: What is the average drying time for upholstery?

A: The drying time for upholstery can vary based on several factors, such as the upholstery type, room humidity, temperature, and the level of moisture after cleaning. It is advisable to allow your upholstery to air dry thoroughly. The drying duration can significantly differ depending on fabric type and the extent of dampness. For instance, a small damp spot may dry within an hour or two, while a larger area that is completely saturated might take up to 8 hours to dry completely.
Q: Can you remove blood stains?

A: The answer depends on the stain's age and whether it has been treated with other detergents. Older blood stains or those exposed to heat or sunlight can pose challenges during the removal process. However, with our expertise, we can typically remove at least a portion of the blood stain from your upholstery using appropriate techniques and products. Rest assured, we are committed to going above and beyond to achieve the best possible results in treating blood stains on your upholstery.

Q: What happens if one of your technicians damages my upholstery?

A: All of our upholstery cleaning technicians are fully insured against any damage they might cause to your property. If you happen to notice anything out of the ordinary, we have a full customer support team on the line for you 24/7. Simply give us a call, explain the situation and our insurance will cover you 100% if anything goes wrong.

Q: Can you guarantee that all stains will be removed?

A: It's important to note that stain removal is never a 100% guarantee. The success of the stain removal process depends on several factors, including the type of stain, the type of upholstery, and the length of time the stain has been there for. Even with the most powerful spotters and chemicals, some stains may be impossible to remove fully. Additionally, certain fabrics, such as silk or wool, may require specialised cleaning methods that are less likely to remove a stain completely.

Q: What upholstery cleaning method is best for pet urine?

A: The best method for cleaning pet urine from upholstery will depend on the type of upholstery you have and the extent of the stain. Even so, the most important factor is acting quickly. You should remove as much of the urine as possible before it can soak in and cause an odour or discolouration. Since our technicians usually arrive a while after your pet peed the couch, they carry a testing set and a range of detergents -ready to tackle any stain, anytime, any place!
Don't wait any longer – schedule upholstery cleaning today and see the difference yourself!
Book online now