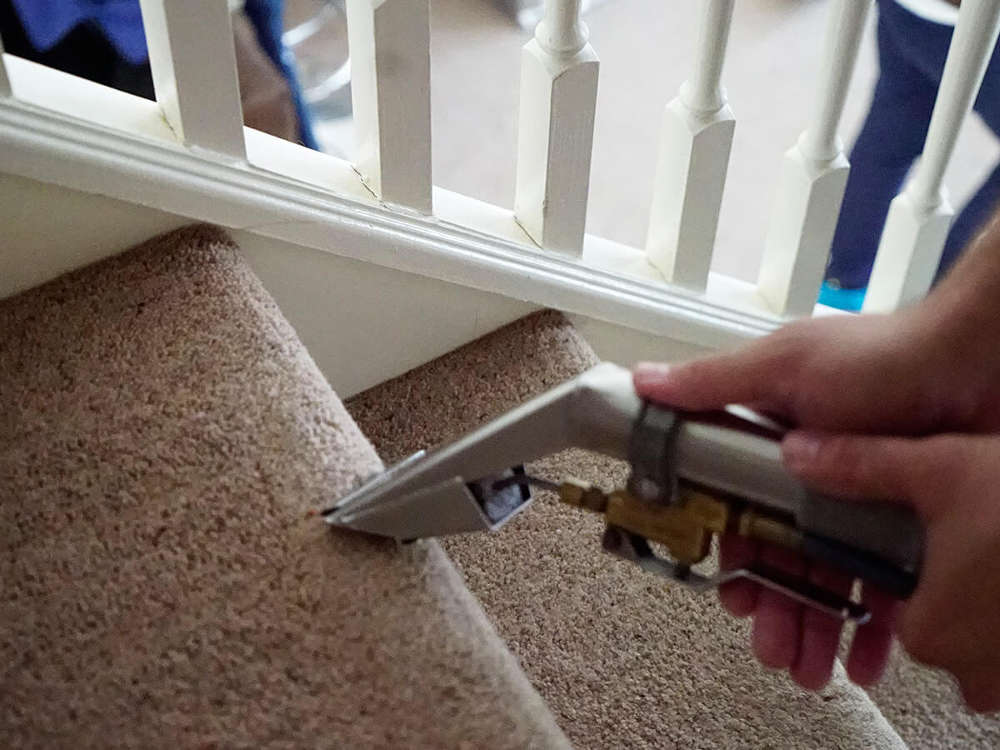 Restore your rugs with expert carpet cleaning in Alkimos
With time, floor coverings in high-traffic areas become more prone to wear and tear and discolouration. Not to mention spills and stains. Unfortunately, regular vacuuming is not nearly enough to keep your carpeting in prime condition, and trying to deal with coffee or wine stains on your own with store-bought chemicals can do more harm than good. So, why not save yourself the time and trouble and turn to a professional carpet cleaner?
Fantastic Cleaners Alkimos offers expert carpet cleaning services for both domestic and commercial properties. The technicians we work with will implement well-tried methods and use industry-grade equipment to give your carpets and rugs a vibrant look.
Get an instant quote
Why Fantastic Cleaners Alkimos is the right choice
With so many options to choose from, it probably seems hard to find the right cleaning company. So, let us share some reason why you should consider Fantastic Cleaners for all your carpet cleaning needs:
All Fantastic cleaning experts are reliable, fully insured, trained, and certified.
The professional cleaners will carry out everything for you. They'll arrive at your location and clean your rugs efficiently and effectively.
The cleaners work only with industry-grade products and specialised equipment.
All detergents used during the service are both environmentally friendly and don't pose any health risks to your family or pets.
We offer real-time availability and flexible time slots. You can schedule your service appointment quick and easy through our online booking form or our GoFantastic app.
Get an instant quote

What to expect on the day of the appointment
The service will begin with the arrival of a professional cleaning team at your property and the inspection of the type, material, and condition of your carpeting. Based on these factors, the technician will determine a suitable cleaning method.
Then, the expert will thoroughly vacuum the carpet and pre-treat any stained areas. Depending on the material of the carpeting, we use two methods of cleaning - hot water extraction or dry cleaning.
Now, let's dig into the details of both methods. Hot water extraction, as the names suggest, involves injecting hot water under pressure into the rug or carpet through a specialised machine. This method is suitable for durable materials and is effective when dealing with stubborn, old stains.
Dry cleaning, on the other hand, is applicable for more delicate carpets. This technique is done by applying a special cleaning solution throughout the piece via a bonnet cleaning machine and rubbing it deep into the fibres of the carpet or rug. This will help loosen accumulated dust and dirt, making it easier to vacuum.
Get an instant quote
Frequently Asked Questions
Q: Will I be charged if I reschedule or cancel the carpet cleaning booking?

A: We understand emergency situations may occur, however, we will appreciate it if you give us at least a 48 hours notice prior to the service, otherwise there is a cancellation fee that applies as per our terms and conditions

Q: Should I choose how water extraction or dry cleaning for my rugs and carpets?

A: Hot water extraction method provides optimal results, as long as the carpet material is durable and suitable for steam cleaning. Dry cleaning, however, is recommended for materials made 100% from cotton, wool, sisal, and other natural fibres

Q: What happens if my carpet is damaged by one of your cleaners?

A: No need to stress if something goes wrong. Our company is fully insured so you will be compensated for any unlikely troubles.

Q: What stain protection do you offer and why should I use it?

A: We recommend Scotchgard, which provides excellent stain protection in addition to expert carpet cleaning to prevent future stains.
Local Carpet Cleaners Near You
Carpet cleaning is one of our many services we have full coverage in Perth. So, you can count on local cleaning experts, who can swiftly come to your home address or place of business to perform the service and restore imaculate look of your carpets. Every area is included, but here you can see some of our top places with highest demand:
Some of the carpet cleaning locations in Perth we cover: