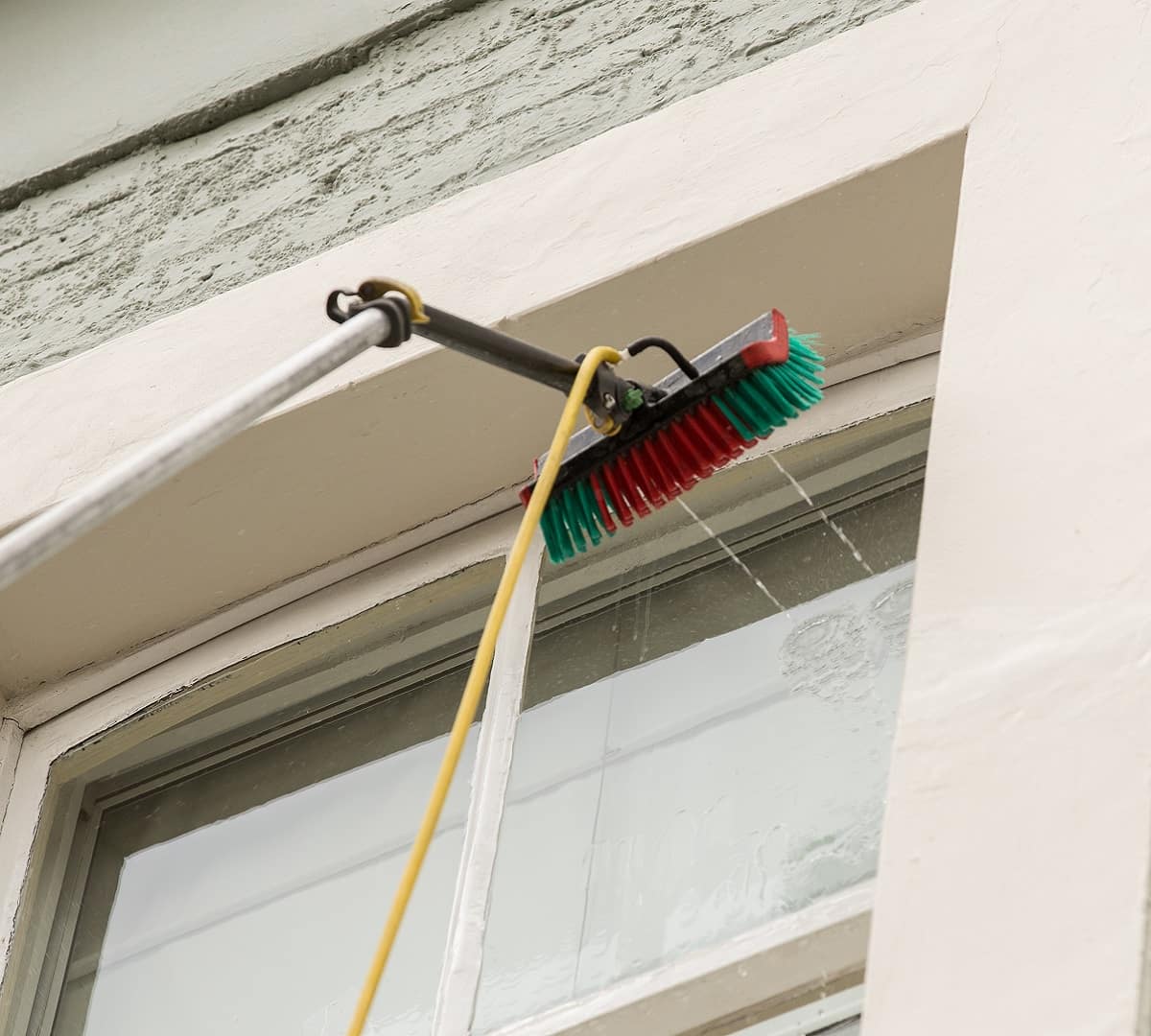 Expert Window Cleaning in Brisbane for Every Home and Office
Rely on Fantastic Cleaners' expert window cleaning in Brisbane to provide you with a better view by maintaining the windows in your home or work space sparkling clean! We work with experienced and skilled technicians, who know their trade inside out.
They use modern and effective water-fed pole window cleaning systems and traditional tools to ensure that the outside and inside of the glass is washed to a mirror-like, streak-free finish.
No trace of sticky smudges or rain/dust smears will remain on the panes after the Fantastic pros have worked their magic.
And that's not all... You can combine your residential or commercial window cleaning in Brisbane with another outdoor maintenance solution, such as our professional pressure washing assistance. Enjoy long-lasting results while saving money, as well!
Ready to book with us?
Why Maintain My Windows Clean Professionally
Well, we don't doubt your ability to wash your windows yourself. However, by booking a professional, you will get a number of benefits:
Save time - Why not spend more time with your kids instead of scrubbing your windows this weekend?
Extend the windows' lifespan - Regular cleaning prolongs the life of your windows. And admit it, how often do you bother washing them yourself?
Get a professional result - Again, DIY cleaning is never nearly enough as good as when it's been done by a pro. There is no hasty result of quick wiping that leaves windows somewhat smeared with circular marks.
Avoid the risk of injury - Windows, which are positioned a floor above the ground, are not fun to clean if they can't be opened. Avoid precarious ladders and entrust our extension pole equipment to do the job for you.
Reduce the risk of damage - A comprehensively insured technician, has the experience and know-how to complete the task with a minimum risk of damage to your property.
Cross another job off your list at a discount - The benefit of booking a cleaning service provider is that you can request more than one service at the same time, often, at promotional rates.
Get an instant quote
What Does My Window Cleaning in Brisbane Include
All window cleaners are equipped with industry-grade tools and supplies to provide our exterior and interior window cleaning services to the highest standard.
Upon request, the technician will use a water-fed extension pole system, which is designed to wash the outside of the window with purified water only, without the use of any detergents.
The experienced window cleaners rely on this method because:
The equipment can reach windows up to the fourth storey and, thus, eliminates the need for climbing up a ladder.
The job is done in a safer manner and with your privacy remaining intact.
The method allows for your windows to be left to dry naturally without any streaks or marks whatsoever.
To put your curiosity at rest, this is possible, because all impurities and minerals in the water are filtered out. Hence, the water just evaporates, leaving the glass streakless and remarkably shiny.
Interior windows and often, outside ground-floor windows are washed the traditional way - with squeegees, scratchless window scrapers, professional cleaning products and paper towel.
The pros will also do their best to carefully remove any cobwebs, as well as clean all window frames and sills to a delightful result.
Window cleaning can be included in end of lease cleaning or with builders cleaning.
Get an instant quote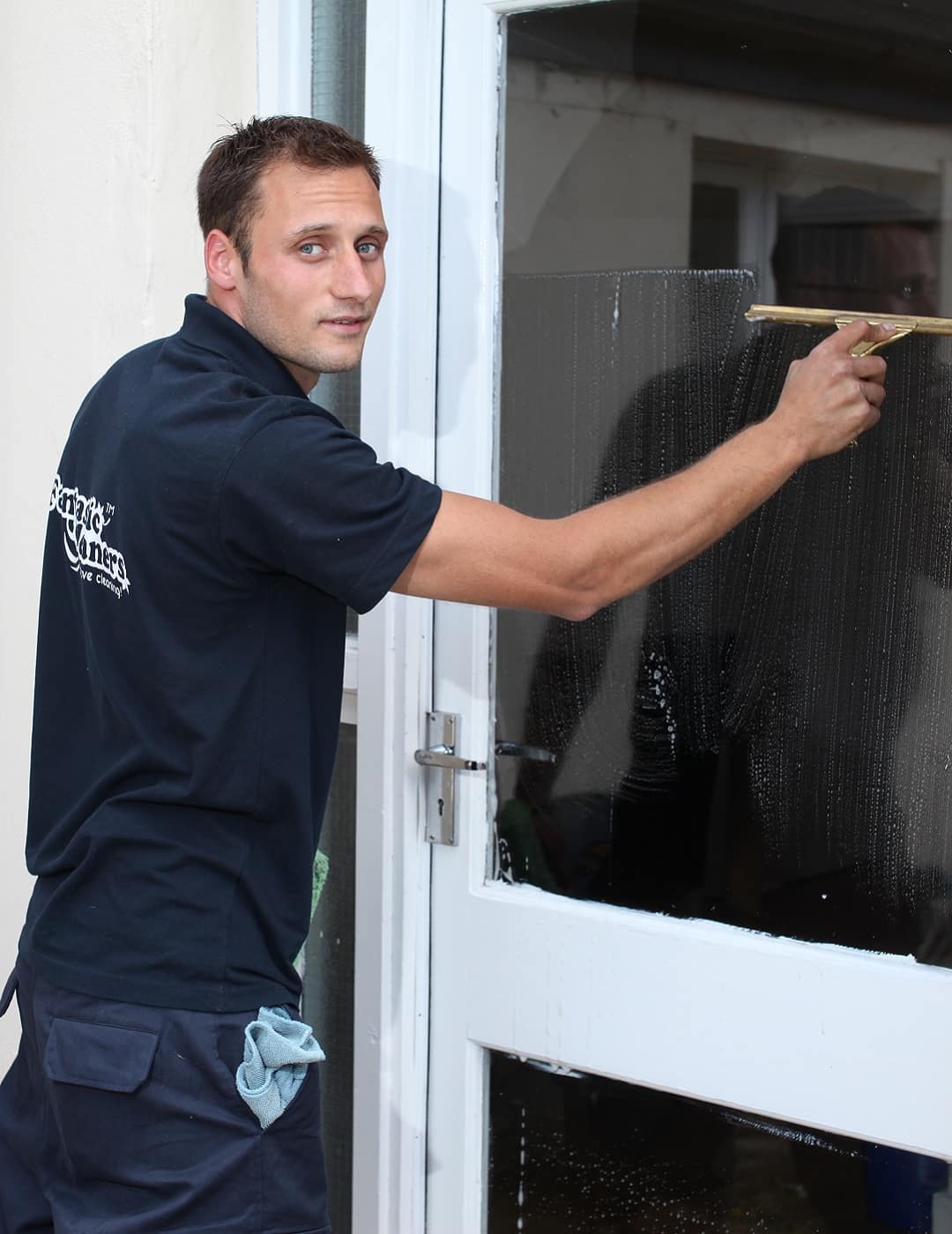 Need Commercial Window Cleaning in Brisbane?
Our company caters for the property needs of business proprietors, as well. So, whether you require regular window cleaning for your office, dental practice, restaurant or shop in Brisbane, Fantastic Cleaners is here to help.
All you have to do is contact us to specify the frequency of our visits that you think will best suit your window cleaning needs and we'll handle the rest.
Get an instant quote
Frequently Asked Questions
Q: How often should I clean my exterior windows?

A: This will depend on many factors, such as the location of your property (near the beach or next to a busy road), the type of property (residential, front shop, etc.) and more. With us, you can book a regular window cleaning service on a weekly, fortnightly and monthly basis or according to your specific needs.

Q: Do I need to cancel my appointment if it rains?

A: We'll make sure to reschedule your service in extreme weather conditions like heavy rain and stormy weather. Light drizzle does not usually prompt us to make any changes to your booking.

Q: Am I required to provide anything before the service?

A: No. The window cleaner will bring everything, required for the job. Just make sure that you clear the area from any obstacles outdoors, as well as move valuables from the sills of your interior windows, if they are going to be washed, as well.

Q: Are the window cleaners insured against damage to properties?

A: Yes. They are fully insured, so you should not worry about a thing. Please, note that the service includes a preliminary inspection of the glass panels, so any existing damage to your windows will be noted, preferably in your presence.
Q: Do you clean the window frames and sills, as well?

A: Yes, as long as they are made from PVC/UPVC or aluminium, the cleaner will wipe them clean for you.

Q: Do you clean conservatory windows?

A: We can offer the service for a variety of types of windows, including balcony windows and conservatories.

Q: Do you require running water to be available?

A: The window cleaning technicians will need access to water, so they can perform the service.

Q: I want to book a window cleaning service for the weekend? Do you work then?

A: Yes, we operate on weekends and public holidays, so feel free to contact our customer service agents and state your requirements.
Meet our Fantastic Family