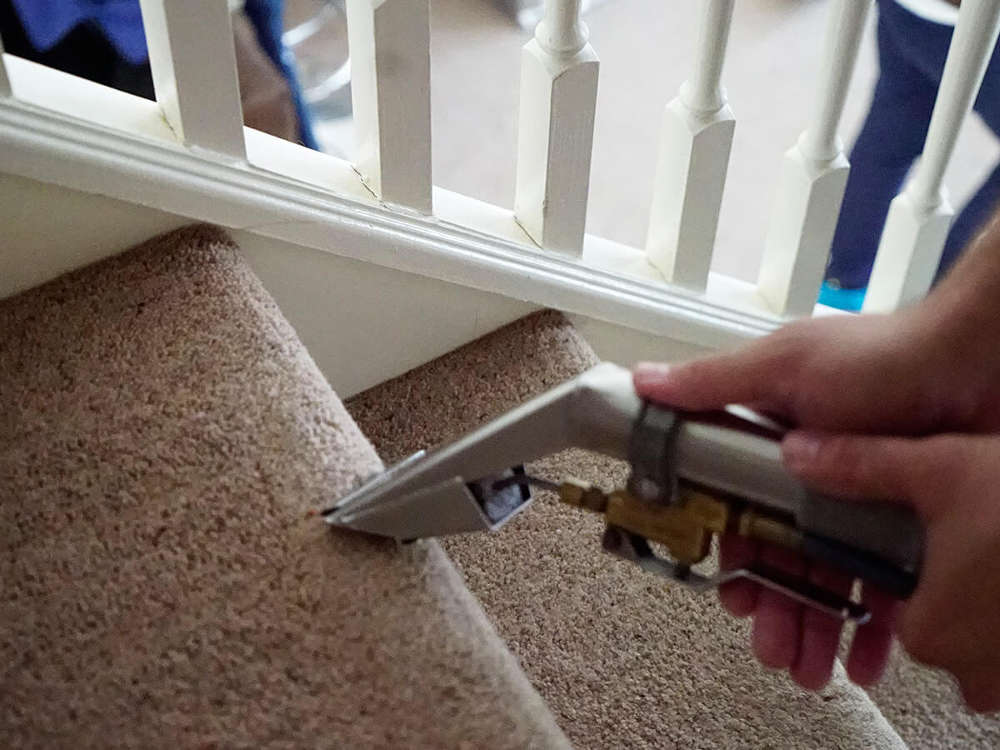 What professional carpet cleaning in Claremont will do for you
No matter where they are positioned, carpets and rugs will start to look a little worn out and tired over time. Even if you vacuum them regularly, fibres can become flattened and small - or large! - areas of soiling can gradually appear.
That's where the professional carpet cleaning services we deliver in Claremont come in. Able to revitalise tired-looking fabric, address all kinds of markings, and powerfully freshen dirty weaves, the modern industry-grade equipment we use and the highly trained professionals who use it ensure results which prolong your carpet's lifespan.
Get an instant quote
What choosing Fantastic Cleaners in Claremont means for you
Why use Fantastic Cleaners when you need a carpet cleaning company in Claremont? Our local customers tell us they use us because they know they get:
Professional carpet cleaners you can trust
When you book us, you get a trained, vetted and fully insured expert. The team that arrives to deliver your service has the extensive experience needed to assess your carpeting and select the most appropriate detergents and solutions to get the best possible results. They get to work instantly. All you need to do is put your feet up.
The latest industry innovations
Fantastic Cleaners leads the way in terms of using powerful yet eco-friendly detergents and the latest industry-grade equipment. They are some of the most effective of their kind that money can buy and perfectly safe for domestic use.
Booking appointments is easy and secure
Let us know what you need and when you need it. Our friendly customer care team can be reached over the phone or you can book online in just a few clicks. If you need to know anything about the carpet cleaning services we deliver in Claremont, all you need to do is call.
Get an instant quote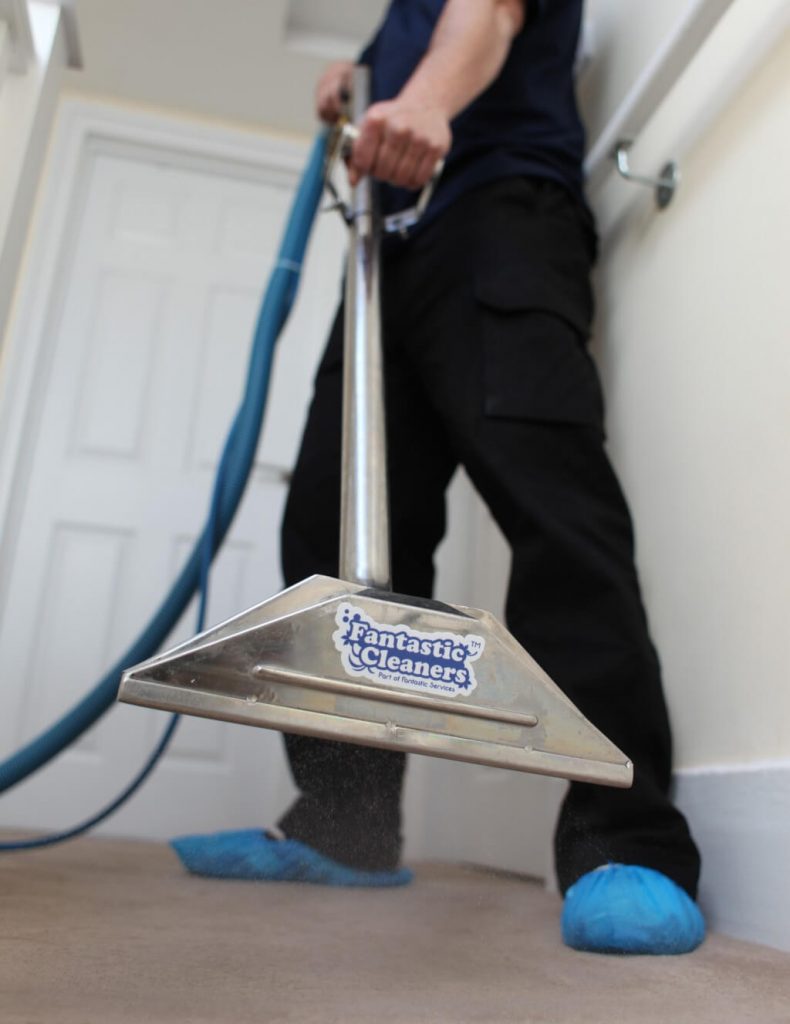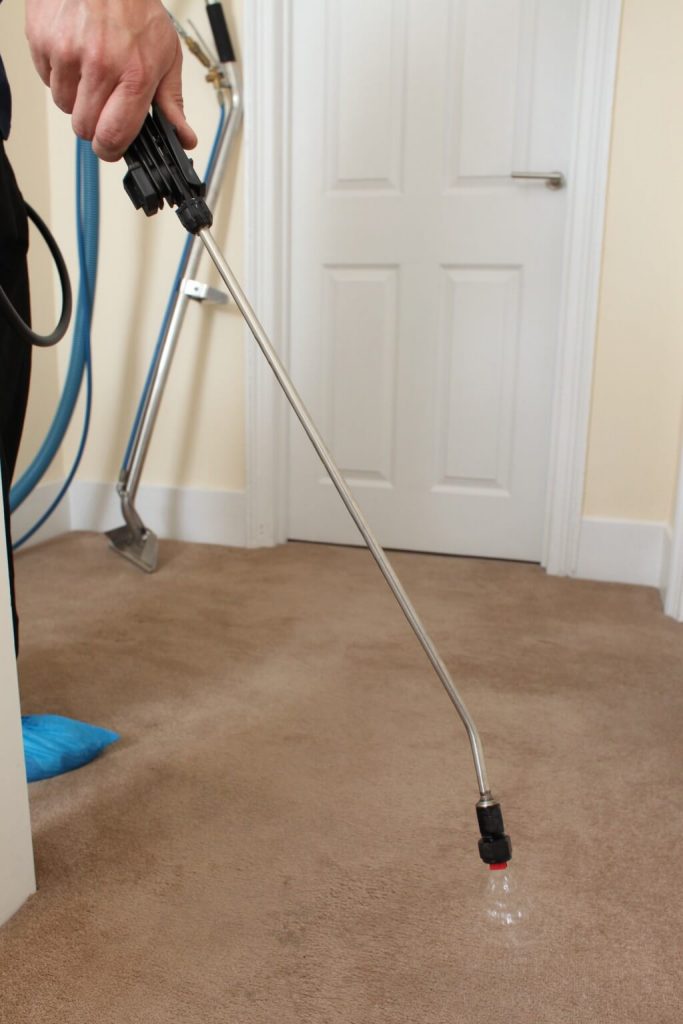 How your carpet cleaning service will happen
We use the most advanced hot water extraction equipment and specially chosen detergents in the hands of a highly experienced team. This ensures your carpets are always cleaned to the highest possible standard. That's the reason why so many local people turn to us when they need carpet cleaners in Claremont. Here's how we deliver such excellent, repeatable results:
Inspection and pre-treatment
The first thing your carpet cleaner will do when they arrive is to assess your fabric for stains and vacuum away any surface-level dirt and dust. The results of this inspection allows your expert to see where any areas of your carpeting might need to be pre-treated before your main clean happens.
This pre-treatment doesn't guarantee removal of old stains or markings caused by things like ink or hair dye. But it does give you the best possible chance of removing most common types of markings.
The latest hot water extraction techniques
Using the powerful pressure-injection technology built into their hot water extraction machine, your professionals will inject a mix of heated water and detergent deep into the weave of your carpeting. Each detergent is carefully selected from their array of options to get the best results with your specific carpet type.
After being allowed to dissolve the bonds between dirt and your carpeting, this mixture is extracted along with the vast majority of the moisture. This is a minimal-liquid process which minimises drying time.
Get an instant quote
Other locations near Claremont for Carpet Cleaning
You can combine your carpet cleaning Claremont with:
Frequently Asked Questions
Q: How long is an average carpet cleaning appointment in Claremont?

A: This depends on how large an area of carpeting you want your expert team to clean. As an example, a single room might take around 30 minutes. For several rooms and perhaps a hallway, you might allow more in the region of 80 minutes. If in doubt, please do get in touch and ask our always-ready customer care team for an estimate.

Q: Are the detergents you use safe for the children in my household?

A: Yes, they are. We specifically use child and pet-safe formulations that are also safe for the environment. Our detergents produce no toxic fumes of any kind.

Q: Will you be able to remove 100% of stains?

A: Any carpet cleaning company which "guarantees" to remove 100% stains might not be being completely truthful with you. It may not be possible to remove all stains - particularly those which are very old, or caused by substances like ink. Nevertheless, the combination of expertise, equipment and stain pre-treatment we use always achieves the best possible results. If anything can remove those stains, this can.

Q: How long after cleaning before I can walk on my carpets?

A: You can walk across your floors the moment your appointment for carpet cleaning in Claremont is finished. We can leave you a pair of protective overshoes to wear. Or you can simply walk barefoot.