Upholstery Cleaning Service in Sydney
Book a professional technician and watch your furniture brighten up with our certified upholstery cleaning service.
Comprehensive service beneficial for both natural and synthetic upholstery
Employing the latest trends in cleaning technology
Removes household difficult stains and odours
Delivered by certified & insured upholstery cleaners
Service available any day of the week, even on holidays!
From $95

Don't miss out on Fantastic deals
Book upholstery cleaning online in mere 60 seconds


Check our availability in Sydney
Apply your postcode in the box to view available slots.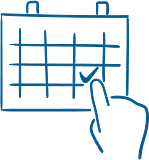 Choose a time & date
You will be presented with available dates and hours to secure an appointment.


Enjoy the rest of your day!
Our upholstery cleaners will arrive at the specified time and take care of everything else!
Upholstery Cleaning Prices in Sydney
| Upholstery Type | Standard |
| --- | --- |
| Armchair | $40 |
| Sofa by Seat | $35 |
| Dining chair | $15 |
*The minimum for the service is $135, but if you buy the Fantastic Club it's $95
Get a free instant quote and check our availability in your area

Why not become a member of the Fantastic Club?
This gives you savings on a wide range of property cleaning and maintenance services for your home, office and garden. Check all club benefits.

The best couch a Sydney-sider could ask for
"It's not just a Fantastic service – it's a service carried out by fantastic people!"
Full week availability
Exceptional furniture cleaners service on call in Sydney seven days a week, including holidays.
Certified couch cleaning experts
We only collaborate with certified local cleaners in Sydney to guarantee that your furniture is perfectly cleaned.
Modern equipment
Our experts use state-of-the-art hot water extraction machines for couch and carpet cleaning because it's both highly efficient and eco-friendly. Upgrade your cleaning game and choose our modern and thorough cleaning service.
Sustainable cleaning detergents
We aim to be carbon-neutral by 2030, so we don't stop at modern equipment! We also use natural, organic chemicals to dislodge stains and combat odours.
Improved air quality
The hygiene of your upholstered furniture plays a big part in the overall level of air freshness inside your home. With our proficient service, you will notice the difference!
The Fantastic Club
We offer special deals and discounts and $400 worth of credits to any new club member.
Get an instant quote
Upholstery cleaning in Sydney - how it works
It makes your upholstered furniture to look almost like brand new again and you'll love it
Welcome your upholstery cleaner
On the day of your service, our technician will arrive at your doorstep at the scheduled time in a fully stocked Fantastic van. Our cleaner will take extra care to protect your home by donning protective overshoes before entering.
Examining the situation
Our technician will thoroughly inspect your pieces of furniture and precisely target any tough stains with the appropriate pre-treatment products. Using a pH test to determine the best approach, they will apply a specialised pre-treatment detergent to break down the stain before cleaning. And with our commitment to safety, our upholstery cleaners always test the products on a discreet, hard-to-see area to avoid discolouration or negative side effects.
Time to clean your upholstery
After thoroughly pre-treating any stains, our professional cleaner will use a state-of-the-art Hot Water Extraction machine to deep-clean your soft furnishings. Unlike ordinary steam cleaning, Hot Water Extraction uses high-pressure water to penetrate deep into the fibres. HWE is recognised as one of the most effective deep-cleaning methods in the industry, removing dirt and grime in a superior fashion. Trust us to know what's best for your furniture.
Couch cleaning explained in detail
After some time passes and the pre-treatment breaks down the stains, our couch cleaning technician will prepare their Hot Water Extraction machine. They will put two attachments in place – a cleaning wand and a custom suction piece. Then, the cleaner will start the process, slowly going over your upholstered furniture until the job is done.
The Hot Water Extraction machine will further dislodge stains by bombarding them with a stream of detergent and hot water through the cleaning wand. At the same time, the suction piece will take in all the excess water plus whatever dirt falls off. During this entire process, over 95% of the water will go back in the machine. That way, your furniture will be left perfectly clean and just a bit damp, ready to dry in just a few hours.
Suitable for: synthetic/mixed fibres (polyester, wool, etc.)
Approximate drying time: 2 to 8 hours

*While we can tackle most household stains, some cannot be cleaned due to permanent damage to the fabric, such as stains from chemicals, paint, and acids.
Scotchgard™ Fabric Protection
Keep your upholstery looking like new with Scotchgard™ Fabric Protection. With just a single application, this powerful fabric protector will add an invisible barrier which repels liquids and stains, making them easier to clean.
Scotchgard™ Fabric Protection makes future cleaning more effective and protects your furniture from fading, discolouration and general wear and tear caused by daily use. Safe to use on various natural, synthetic, and even leather fabrics, you can enjoy protection for all of your upholstered furniture.
Ask your upholstery cleaner about Scotchgard™ Fabric Protection and, for a small extra fee, enjoy the protection that saves you money and hassle in the long run.
Get an instant quote
Hot Water Extraction vs Furniture Steam Cleaning
Hot Water Extraction and Furniture Steam Cleaning methods may seem similar at first glance, but they are, in fact, two different techniques that deliver distinct results.
Hot water extraction works by mixing hot water mixed with a cleaning solution to deep-clean carpets and upholstery. After a spot cleaner has been applied to the upholstery surface and then agitated, a high-pressure stream of hot water is used over the carpet pile to dislodge the accumulated grime. Simultaneously, a suction attachment removes all the dirt and cleaning solution from the fabric. This helps to loosen dirt, grime, and other contaminants that may be embedded in the fabric.
Regarding furniture steam cleaning, the steam cleaner loosens dirt and grime by releasing steam on top of stains. However, it does not use high pressure to extract the dirt and cleaning solution from the fabric. Steam cleaners rely on heat to evaporate the water and cleaning solution, thus leaving the surface dry. Steam cleaning is an outdated cleaning process which carries the risk of literally cooking the stains and making them worse.
Hot water extraction and regular steam cleaning are very different in the amount of water and detergents used. Hot water extraction works with more water and more detergent, which is why fabrics look so clean after the procedure. Regular steam cleaning uses less water and cleaning solution and mostly relies on heat, so it may not be as effective at removing stains and odours.
Get an instant quote

Upholstery dry cleaning
Dry powder cleaning – Get spotless, fresh furniture with our upholstery dry cleaning service. Using a specially formulated cleaning powder, our expert technician will gently work the product into the fibres of your fabric using a brush. The cleaning powder is designed to loosen dirt, grime and other contaminants embedded in the fabric.
After the application, the powder is given time to penetrate the fibres and break up any stains or odours. Then, using a powerful vacuum, the cleaner removes the solution, leaving your natural-fibre upholstered furnishings clean, fresh, and ready to use almost immediately. Trust our upholstery dry cleaning service for the best results.
Low-moisture solvent cleaning – Perfect for sensitive fabrics, this dry cleaning method uses a specially formulated solvent to remove dirt, stains, and other contaminants while using minimal moisture to avoid damaging your furniture.
Our expert technician will carefully apply the solvent to the fabric's surface, gently agitate it with a brush, and remove it using a powerful vacuum. The result is a clean and fresh fabric ready to use almost immediately.
Drying time: within a few minutes.
Recommended for: natural fibres like cotton, linen, wool, silk, jute, hemp and others.
Please note: our upholstery dry cleaning service is a wonderful way to refresh your furniture. However, Hot Water Extraction might not be as effective at removing stains.
Get an instant quote
Other services we offer in Sydney
Combine other services with upholstery cleaning to get more bang for your buck!
Window Cleaning
Expert window cleaning service carried out by experts with advanced techniques. Our window cleaners use a water-fed pole system which allows them to clean your windows, sills and frames without a ladder. Since we use purified water - we can guarantee there won't be any streaks or deposits. Our cleaners return to the basics for internal windows with a squeegee and a microfiber cloth ready to go!
Oven Cleaning
Is it time to give your cooker a professional cleaning service? You can trust our team of expert technicians to give your oven the attention it deserves. All removable parts of the oven are soaked in grease-dissolving detergents, and the body is hand-cleaned. The oven will be reassembled and tested once all the components have been rinsed, dried, and polished. In addition to removing lingering odours, our deep cleaning can also reduce fire risks and electricity consumption.
Mattress Cleaning
It's imperative to clean your mattress regularly to get rid of sweat, dirt, and dead skin cells, plus you'll sleep better due to improved air quality. Our cleaning service can leave your mattress looking and feeling fresh and immaculate. Our team of experts uses powerful yet gentle cleaning products. All that grime gets cleaned off, and the best part is we can clean your mattress and upholstery at the same time, so you can get both covered in a single appointment!
End of Lease Cleaning
Are you moving out and need help cleaning? With our professional team, you won't have to worry about anything. Our Fantastic Cleaners can deep clean the kitchen and bathroom, dust and vacuum the whole place, wash your carpets, clean your oven and more! We offer fixed-price cleaning services for tenants, owners, and agents. We use top-of-the-line products and equipment to put the place back in top condition. Plus, we'll ensure you get your bond back without a problem.
Get an instant quote

FAQ for upholstery cleaning services
Q: Can you remove blood stains?

A: The effectiveness of removing the stain depends on various factors, such as how old the stain is and if it has been treated with other detergents. Blood stains can be challenging to remove, particularly if they are old or have been exposed to heat or sunlight. Rest assured that our team of experts will use the most appropriate techniques and products to remove the stain as much as possible.

Q: Should I have my upholstery cleaned regularly?

A: Over time, dirt and grime can start building up between the fibres of your furniture. You won't notice it at first, but it will make your items look worn out and wrinkly. With our professional upholstery cleaning service, you needn't worry about that. We can restore your furniture's previous "fresh" look in one quick session. Furthermore, cleaning your upholstery can eliminate unwanted odours that may have been persistent at your home without your notice. Keeping your furniture clean also helps extend its life so you can enjoy the items you made so many memories sitting on and save on buying new furniture due to wear and tear.

Q: What happens if my upholstery is damaged by one of your technicians?

A: We work with certified local professionals who are fully insured against any and all damages. You can contact our customer support team and explain your case if there's any problem. Our insurance will cover 100% of the damage if there's anything wrong with our service.

Q: Will there be a wet smell after upholstery steam cleaning?

A: Our Hot Water extraction machine will take back almost all the water used for cleaning, so you should let the room air out after our cleaner is done. After that, you should wait between 3 and 7 hours (talk to our cleaner on-site for your particular case) for your furniture to dry completely. Sometimes, the process can take a bit longer. If your furniture gets the chance to dry out, there shouldn't be any "wet" smell.
Q: Is a fabric protector available?

A: Yes, we're proud to offer Scotchgard™ Fabric Protector at a small extra fee. Our trained professionals will apply the fabric protector after cleaning your upholstery, leaving it looking like new for longer and avoiding costly replacements. Whether you're protecting a delicate silk couch or a sturdy leather armchair, Scotchgard™ is the best option for most natural, synthetic, and even leather fabrics. Don't worry if you didn't select it during your online booking, our cleaning professionals always carry Scotchgard™ with them, so you can enjoy protection for all of your upholstered furniture. Book now and protect your furniture for the long run!

Q: How long after cleaning will I have to wait for dry furniture?

A: The average drying time for upholstery will depend on several factors, including the type of cleaning method used, the type of fabric, and the humidity and temperature of the room. Generally speaking, the Hot Water Extraction cleaning method, which uses more water and cleaning solution, may take longer to dry than furniture steam cleaning, which uses less water. Fabrics like cotton and microfiber may dry faster than natural fabrics such as wool or silk. Typically, upholstery should be dry within a few hours to a day after cleaning, but it's always best to check with our cleaner to get a better estimate of the drying time.

Q: Is stain removal guaranteed?

A: It's worth mentioning that predicting the outcome of stain elimination is difficult. The result of our stain removal technique depends on various aspects, including the nature of the stain, the type of upholstery, and how long the stain has been present. Certain stains may remain despite utilising the most advanced spotters and cleaning solutions. Specific fabrics such as silk or wool may also require distinctive cleaning procedures.

Q: Can upholstery cleaning effectively remove pet odour?

A: Upholstery cleaning can effectively remove pet odour, but it depends on the type of cleaning method used and the severity of the odour. Hot water extraction can effectively remove pet urine, dirt and bacteria that often cause foul smells. However, if the pet stain is old and deeply ingrained in the fabric, it may need additional treatment, like using specialised odour-removing solutions. Our upholstery cleaning professional would be able to assess the situation and recommend the best course of action.
Meet our Fantastic Family