Mattress Cleaning Prices in Perth
Mattress Cleaning Prices
| Mattress type | Standard |
| --- | --- |
| Single size mattress | $50 |
| Double size mattress | $70 |
| Queen size mattress | $80 |
| King size mattress | $90 |
| Minimum for the service | $135 |
*Get $40 off the standard price for your first booking as a member of the Fantastic club for 10 different bookings within 1 year.
Get a free instant quote and check our availability in your area

Why not become a member of the Fantastic Club?
This gives you savings on a wide range of property cleaning and maintenance services for your home, office and garden. Check all club benefits.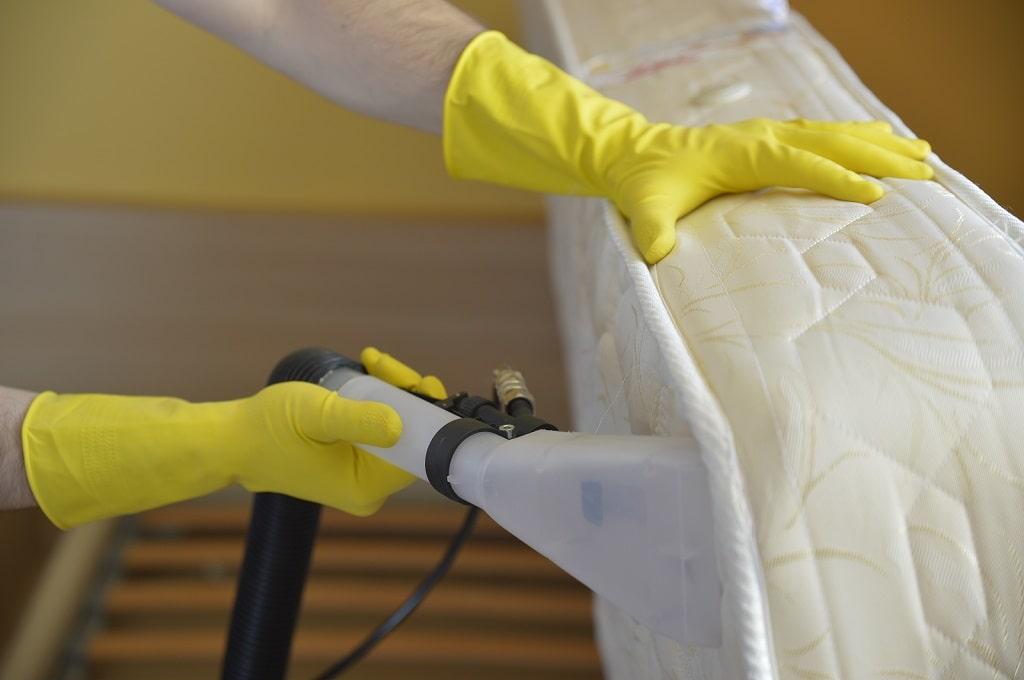 Regain your beauty sleep with expert mattress cleaning in Perth
Our proven mattress cleaning in Perth is designed to bring back the original, clean condition of your bed piece. They help prolong the lifespan of your bed furnishing and make sure that you enjoy a healthy sleep every night. Fantastic Cleaners has partnered with skilled, friendly and experienced mattress cleaning technicians, who apply diligence and attention to detail with each job, they are assigned to. They use industry-grade cleaning equipment and products to get the highest possible results.
The services, we offer, are available 7 days a week, so you can choose a day and time for your appointment that fits in with your schedule and family lifestyle. And if you combine more than one service with us, you may get a nice discount in the process.
Get an instant quote
What to Expect from the Service
The Fantastic cleaner will first vacuum your mattress thoroughly to remove dust and hard particles. He'll pretreat any stains on your bed piece with an appropriate stain removal product, as well. Then, the pro will sanitise the soft furnishing with an industry-grade hot water extraction equipment, which removes all the dirt effectively, leaving you with a fresh and clean mattress. The machine extracts almost all the moisture (up to 95%), along with the dissolved soiling. This means that your mattress will be dry and available for use in just a few hours. To speed up the drying time, you can switch on a fan or a heater.
Get an instant quote
Reasons to Opt for Professional Mattress Cleaning in Perth
The mattress is often overseen and missed out on our house chores list, however, a fresh and bacteria-free bed piece is important to our health. Changing the bedding is simply not enough if you want to effectively diminish the risk of exposing your family to allergy-triggering live organisms. We recommend that you always incorporate the mattress cleaning service in your annual spring clean for your convenience and you will be eligible for our discounted rates.
When you book our professional mattress cleaning solutions on a regular basis, you'll ensure that mould, bacteria and allergy-triggers, such as dust mites or pet staining, are eliminated from your bed piece for good. DIY cleaning techniques cannot achieve the same level of effectiveness and more importantly, may leave you with an overwetted mattress. This can cause other problems, other than a longer drying time. If the mattress is not sufficiently aired and dried out, this may encourage mildew or mould growth, which can put you at risk if you're asthmatic or even mildly allergic to mould spores.
In addition, regular specialised mattress cleaning treatments help extend the service life of your mattress. Just as it does with upholstery cleaning.
Our solutions come with a guaranteed high quality of workmanship and are also fully insured.
Get an instant quote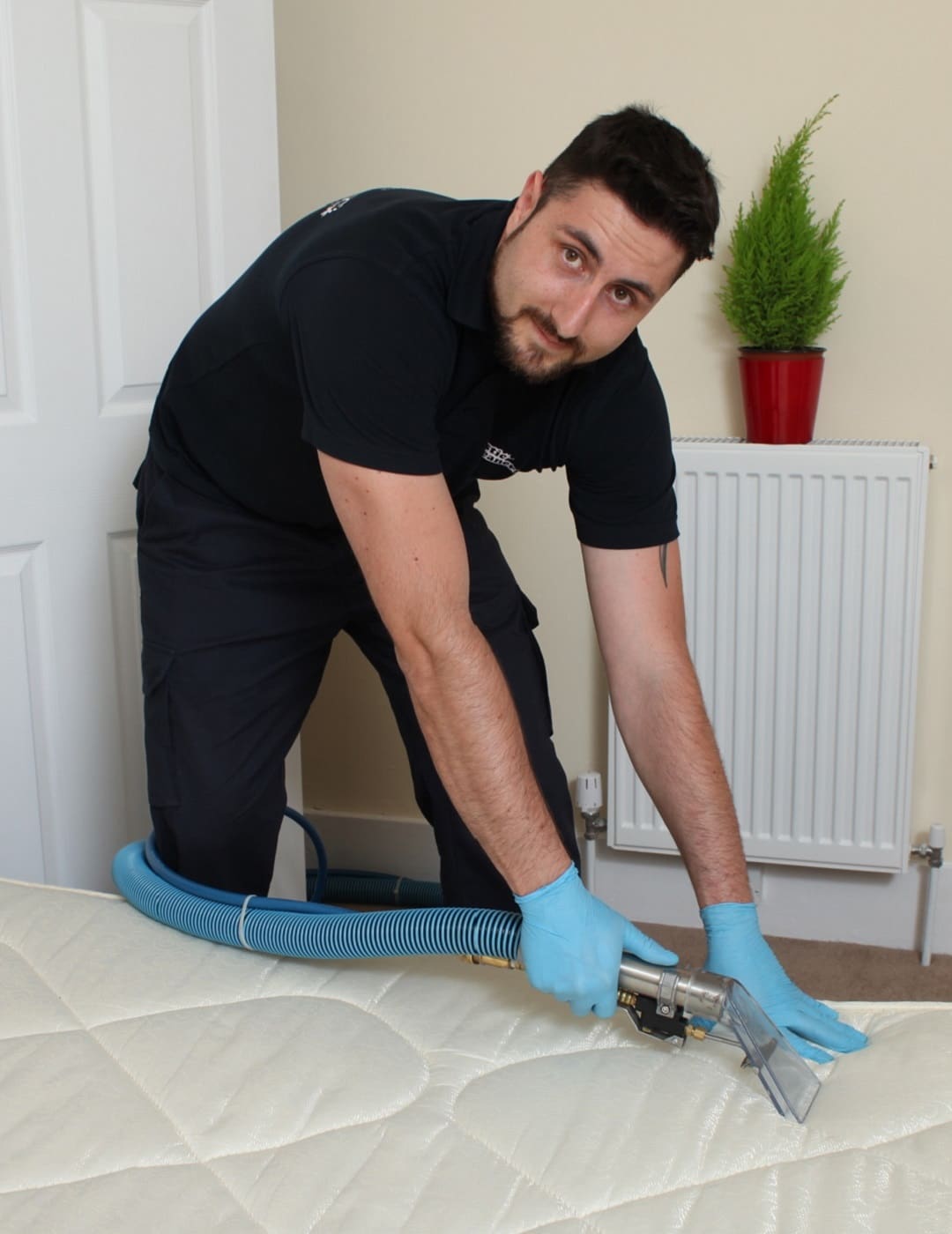 Frequently Asked Questions
Q: Do you just clean just one side of the mattress?

A: Our standard mattress cleaning services in Perth includes sanitising both sides of your bed piece. You can always advise us on any other special requests that you might have (ex: deodorising, etc.).

Q: Any advice on how to protect my bed piece?

A: Always use a mattress protector (which is much easier to clean) to avoid accidental staining. Address pet and child accidents, as well as any spills, straightaway.

Q: How long before I can use my bed after a mattress cleaning service?

A: The extraction cleaning method, we use, removes up to 95% of the moisture, so your mattress should be dry within 2 to 4 hours. You can speed up the process with a fan or a heater. If two sides of the mattress have been cleaned, the drying process will naturally take a bit longer.

Q: What if the technician can't remove some of the stains?

A: The Fantastic pros use professional hot water extraction equipment and products to sanitise your bed piece and remove stains. If some old and stubborn spots cannot be completely cleaned, the technician will advise you on the possible reasons. Note that spills should be treated immediately to avoid permanent staining.
Q: Do you work on weekends?

A: Fantastic Cleaners operates 7 days a week, including public holidays. Just check our service availability for your location.

Q: Does the cleaning of my mattress involve work on both sides of the bed piece?

A: Yes, both sides of the mattress are properly pre-treated and sanitised.
Meet our Fantastic Family