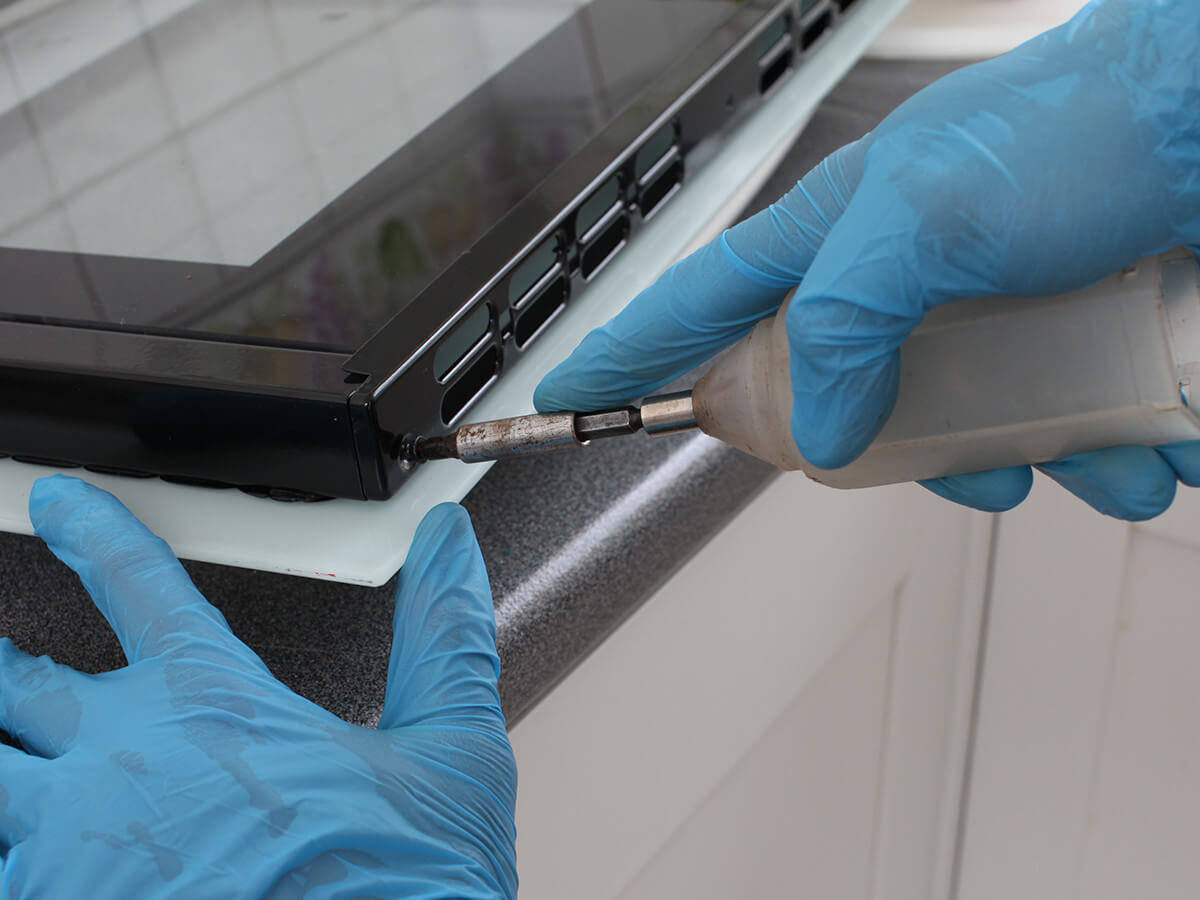 Oven Cleaning & Detailing Services in Melborune
Fantastic Cleaners specialises in deep oven cleaning in Melbourne that can be brought to you in a matter of days.
Short notice bookings are our speciality, so look no further if you are hosting a dinner party tomorrow, and you want your oven sparkling clean.
Let the dedicated team of Fantastic oven technicians bring your appliance to a showroom condition. Take advantage of our regular oven cleaning service and forget about dirty and smelly ovens for good.


Get an instant quote
How Much Does Oven Cleaning in Melbourne Cost?
Oven Cleaning Prices
| Appliance Type | Fantastic Club price* | Non-members price |
| --- | --- | --- |
| Single Oven – 60cm. | $109 | $149 |
| Large cooker – 90cm. | $159 | $199 |
| Double Oven – 90cm | $139 | $179 |
| Single Oven & Range Hood - 60 cm | $154 | $194 |
| Double Oven & Range hood - 100-120cm. & Stove top - from 5 to 8 burners | $249 | $289 |

Join the Fantastic Club and get:
Join the

Fantastic Club and get:
$400 in credits
Preferential member rates
Get $40 off the standard price for your first booking as a member of the Fantastic club for 10 different bookings within 1 year.
Exclusive seasonal deals
Real-time arrival tracker
Priority booking & case handling
Book with full benefits for any property
Deals by partnering brands
Oven Cleaning in Melbourne With a Higher Standard
We have had customers posing the question: "What do you mean by oven detailing?" Well, the answer is simple.
Your appliance is constructed of many individual parts. The detailing service involves dismantling your cooker into all the individual elements that allow it to be taken apart.
It also includes cleaning of areas, which are hidden, such as behind the self-cleaning liners, behind the fan in convection ovens, above the grill element, or in between the glass panels of the oven door, if the seal is removable.
To sum it up - it is oven cleaning in detail and cleaning every detail of your oven.
Interesting fact:
Self-cleaning ovens work in a very interesting way. They have a pyrolytic ground coat, which reduces the food leftovers to ash by exposing them to a temperature around 500 °C.
Unfortunately, this cleaning process takes 3 whole hours, which significantly reduces the service lifespan of the oven. Also, the release of toxic fumes during the cleaning cycle is a possibility.


Get an instant quote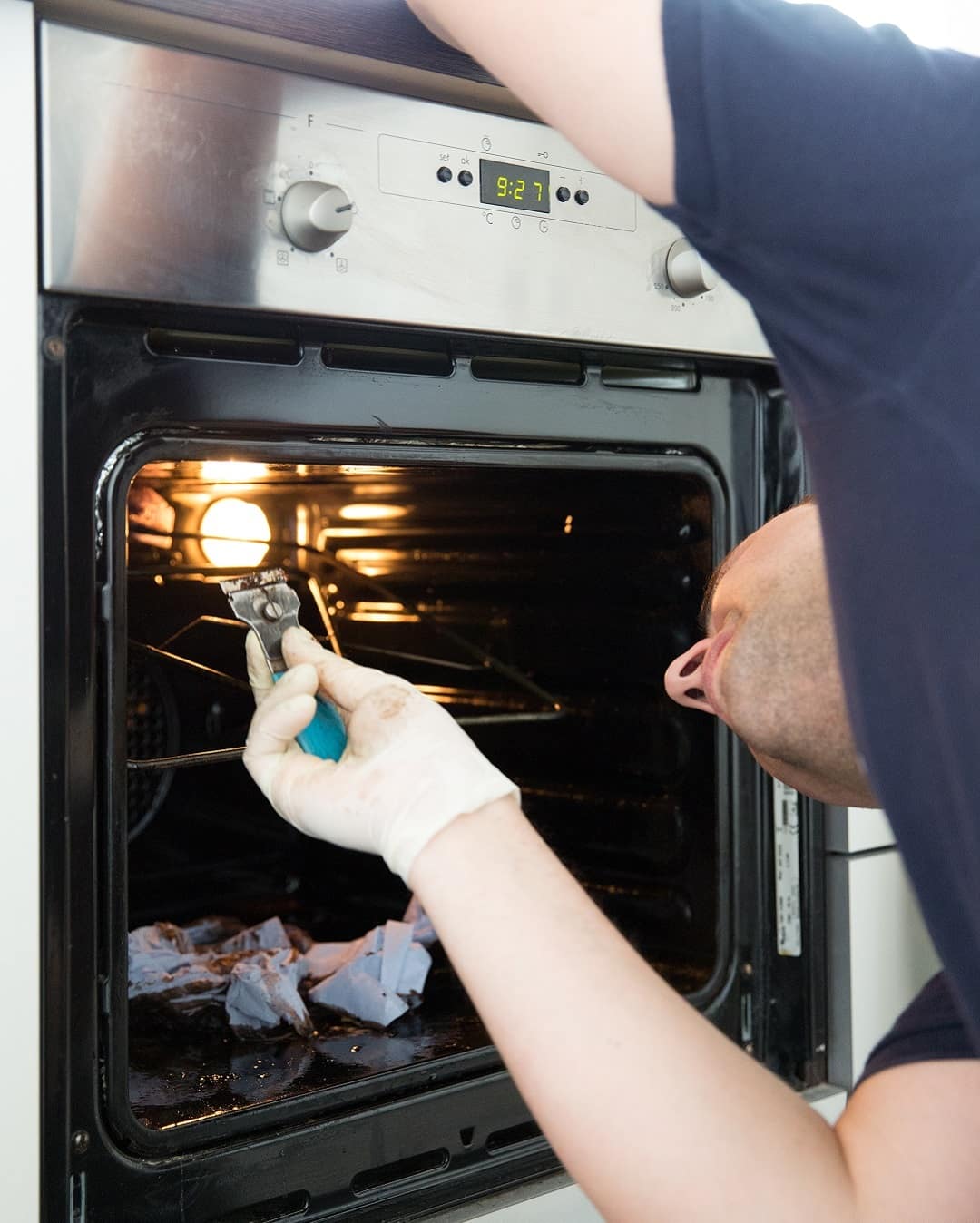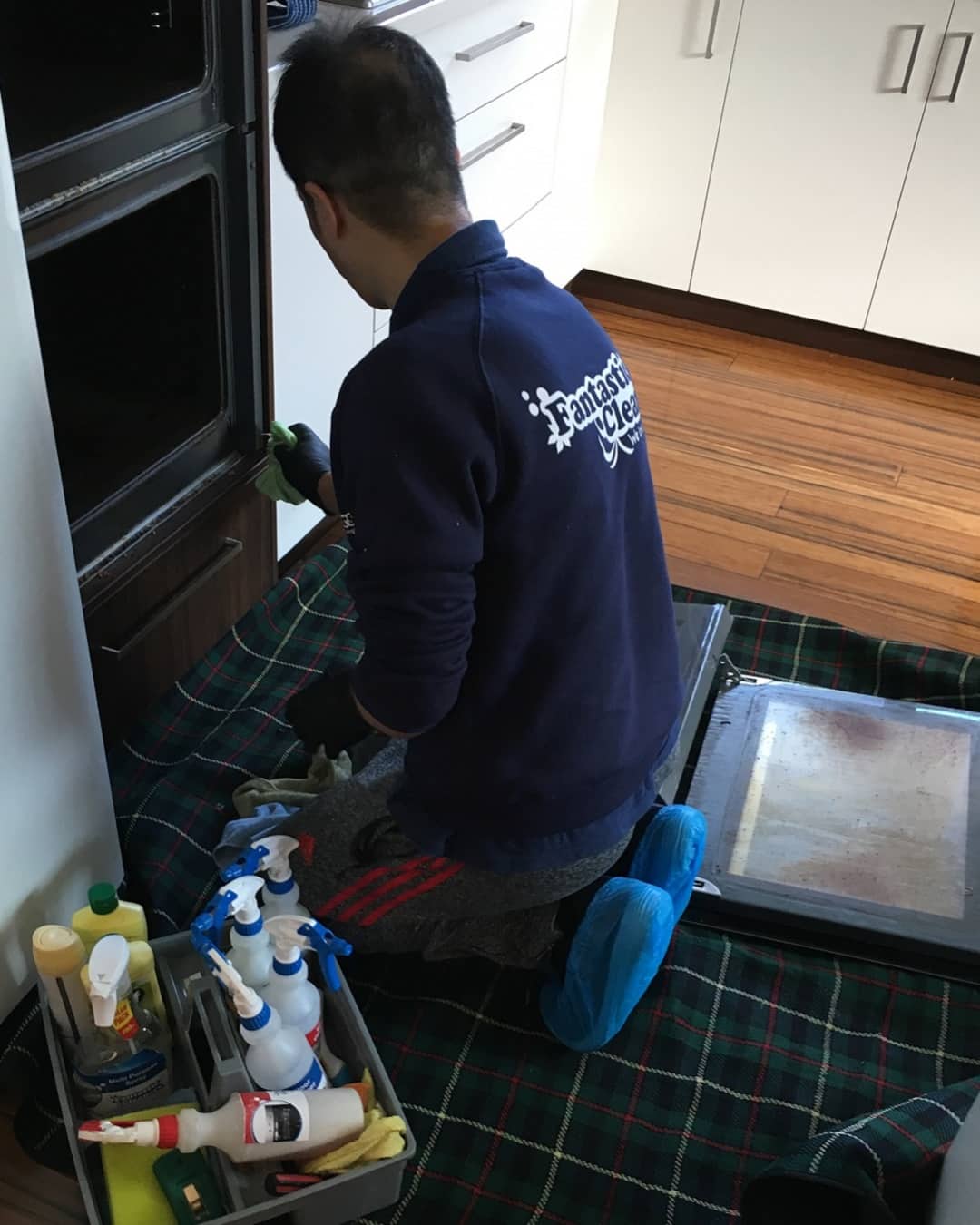 What to Expect from Your Oven Cleaning Service
The technicians will arrive promptly at your premises anywhere in Melbourne. (In the unlikely event of them running late, due to heavy traffic, you will be notified at once)
A free inspection of the appliance is what follows. Depending on the alloy the chamber of your oven is made of, a different type of detergent may need to be applied.
The floor area around the appliance is then covered with a protective sheet.
The oven cleaning experts dismantle the cooker into its individual parts (those that can be removed), which are, then, cleaned separately with appropriate detergents.
The oven chamber is degreased and all carbon deposits are scraped off. Great care is taken, so all hidden places near the electrical elements are reached and cleaned.
The appliance is then wiped and polished inside and outside, including the stove top, hobs, dials, knobs and fittings.
The oven door is put back in place after it has been thoroughly polished inside and out.
All the racks and trays are placed back, too.
The technicians test the oven to determine that it is working properly.
Please, note that the service is suitable for a wide range of cooking appliances, in terms of their model, size and the type of fuel they use. We are also certified in cleaning commercial kitchen appliances and industrial ovens.
Get an instant quote
The Main Benefits of Oven Valeting in Detail Are:
Malfunction prevention - fires often start from and around those hidden electrical elements.
Improved efficiency - dirty ovens take longer to heat and use more energy.
Oven life is extended - a regular oven maintenance at 6-month intervals will reduce the risk of needing repairs.
And for your outdoor cooking needs and garden recreational moments, do not hesitate to book our professional BBQ cleaning service.
Did you know:
Microwave ovens are direct descendants of radars. The heating capabilities of microwave radiation were discovered accidentally in 1945. Also, studies show, that the food which comes out of the microwave oven is rarely hotter than 100°C, which means that reheating leftover food for only a couple of seconds can cause bacterial contamination and foodborne illness.
The service can be very useful with your move out cleaning. And you can also combine it with outside window cleaning.
Get an instant quote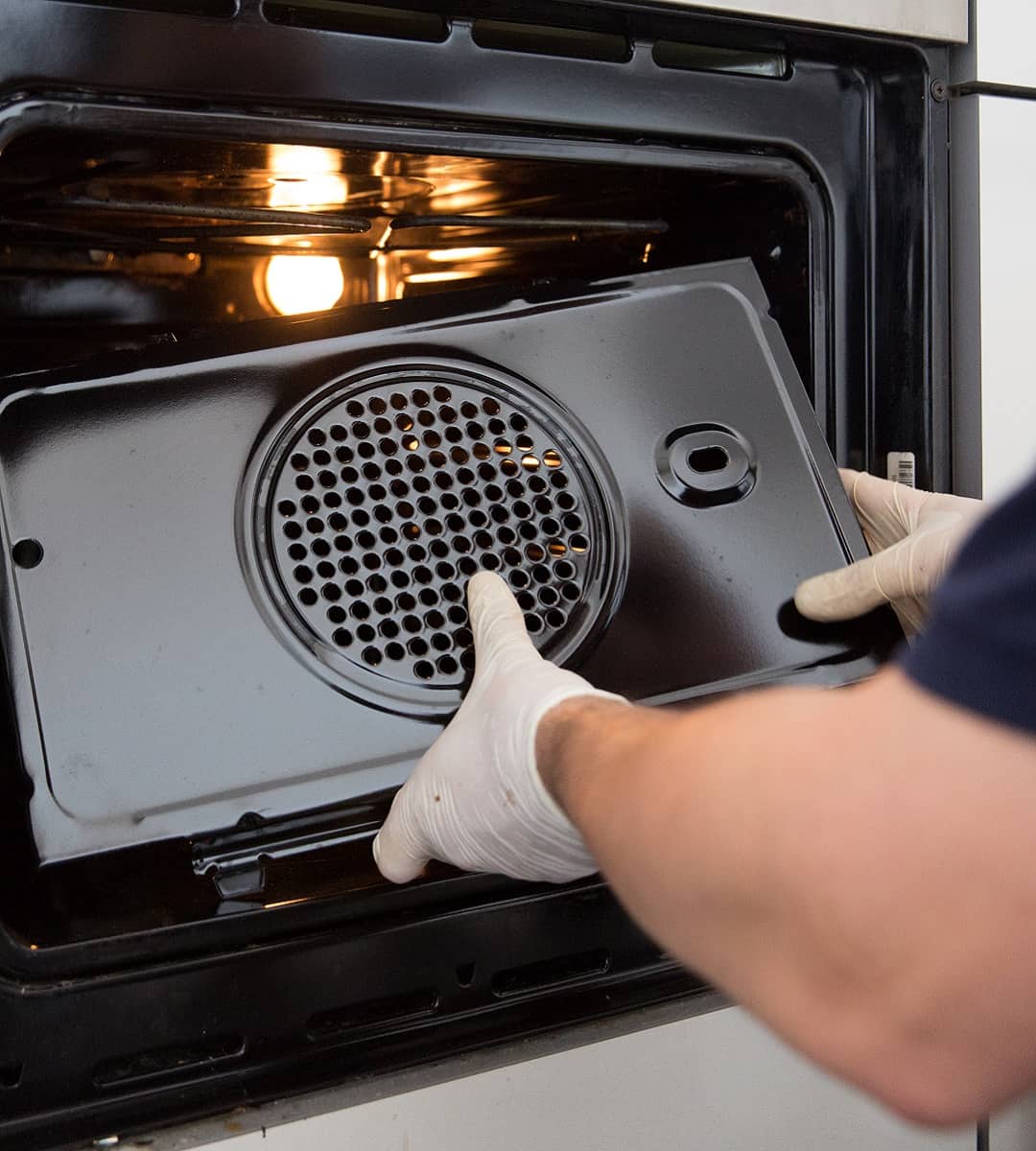 Frequently Asked Questions
Q: How long does oven cleaning take?

A: It depends on the size and model of the oven, as well as the level of dirt accumulation. The cleaning of a moderately dirty single oven takes around 1-2 hours. This is only the oven, if you order cleaning of hobs, range hoods, extractor fans and other elements, it can take a little longer.

Q: Do I need to wait for some time before I can use my oven after it has been cleaned?

A: The appliance is ready to be used straight after the service. Just turn your oven on high temperature for about 15 minutes before placing food inside.

Q: Do you work on weekends?

A: Yes. You can book oven cleaning in Melbourne for an evening, weekend or public holiday appointments at no extra charge.

Q: Can you clean the range hood as well?

A: Of course. Additional cost would apply.
Q: How often will my oven need professional cleaning?

A: The frequency depends on how often the oven is used and the type of meals cooked in it. An oven which is regularly used will need cleaning more often than an oven used once a week. It's recommended to clean it every 6 months, but in some cases yearly is enough. If you have a large family or organize dinner parties regularly, you may need our services more often.

Q: What oven cleaning products do you use?

A: The technicians apply non-toxic and fume-free detergents, which are tested in domestic environments. Upon request, the oven cleaners can apply bio-detergents from Enzyme Wizard at additional cost.

Q: Do you have full insurance?

A: Yes, all our technicians are fully vetted, police checked and insured with public liability. In the unlikely event of something breaking, the insurance will cover it.

Q: Can you clean 'self-cleaning' ovens?

A: Yes, we can. Most ovens produced after 2002 have a self-cleaning option, which makes people's lives easier by burning off all the dirt and grease at very high temperatures, leaving only ashes to be wiped off. However, the racks, glass and other hidden areas remain dirty and could use a thorough cleaning once or twice a year.

Q: Are there any parts of the oven you don't clean?

A: We clean the entire oven, this includes everything you can see when you look inside, plus what you don't see, like the oven roof and behind liners, glass doors and handles (after we remove them first). However, if the particular model doesn't allow the removal of a certain part, or something in our regular procedure can be detrimental to your appliance, we will omit it in order to avoid potential damage.

Q: Can I postpone my oven cleaning appointment?

A: Yes. We would appreciate a 24-hour notice in this case.

Q: Do you do oven repairs?

A: We do not do oven repairs. In the unlikely event of a mishap, where the technician has broken something, we will organise for your oven to be fully repaired.
Meet our Fantastic Family