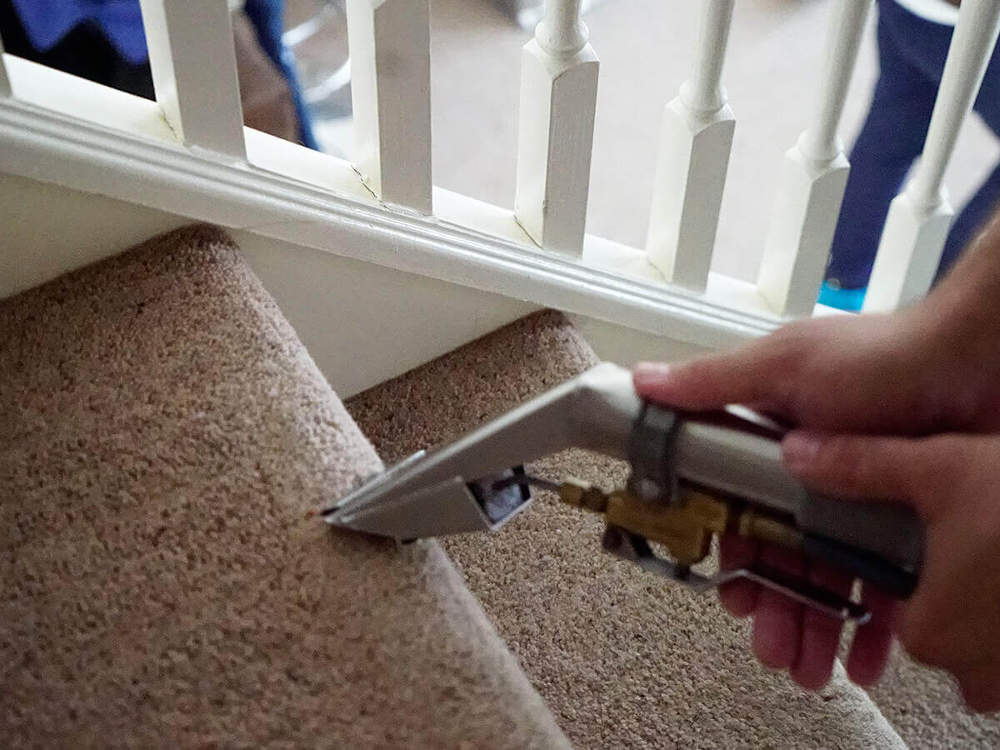 How carpet cleaning in Reservoir keeps your carpet in good condition
You can only do so much with a vacuum cleaner! You'll get rid of surface dirt, but it's almost impossible to prevent debris from working its way deep into the pile and vacuuming has no effect on stains. Regular foot traffic compresses the fibres leaving your floor coverings looking beaten down. Carpet pile makes it a good environment for bugs like viruses and bacteria to linger and soft fibres also trap environmental pollutants. The best way to remove ingrained dirt, lift stains, destroy bugs, capture pollutants and revive compressed fibres is through carpet cleaning. For any water-tolerant piece, the preferred treatment is hot water extraction.
Get an instant quote
Why Fantastic Cleaners in Reservoir is a preferred choice for carpet cleaning
DIY carpet cleaning is an option… the equipment required is available for hire and you can buy detergents over the counter. There are risks attached to carpet cleaning though, using the wrong detergents could set stains making them impossible to remove, inferior tools won't give the best results and poorly maintained equipment could actually cause damage. If you value your carpet it deserves the best, and that means correctly delivered professional treatments. If your carpet is still under warranty the manufacturer may actually require periodic professional cleaning.
Choose Fantastic Cleaners for your carpet cleaning in Reservoir and you'll benefit from a treatment package designed to meet the specific needs of your piece. A certified and experienced individual will complete the work and the equipment used will be top-quality and well maintained. The detergents provided will be products specifically designed for cleaning industry professionals, highly effective, eco-friendly and non-toxic. And, just because anything else wouldn't be professional, your service will be fully insured so that you're covered against the unlikely event of any damage occurring.
To round things off, when you come to book you'll find that you have a wide choice of appointment availability, including options for weekend and public holiday sessions. So whether you're booking carpet cleaning for your home or for a business property you'll always be able to choose a convenient time to get the work done.
Get an instant quote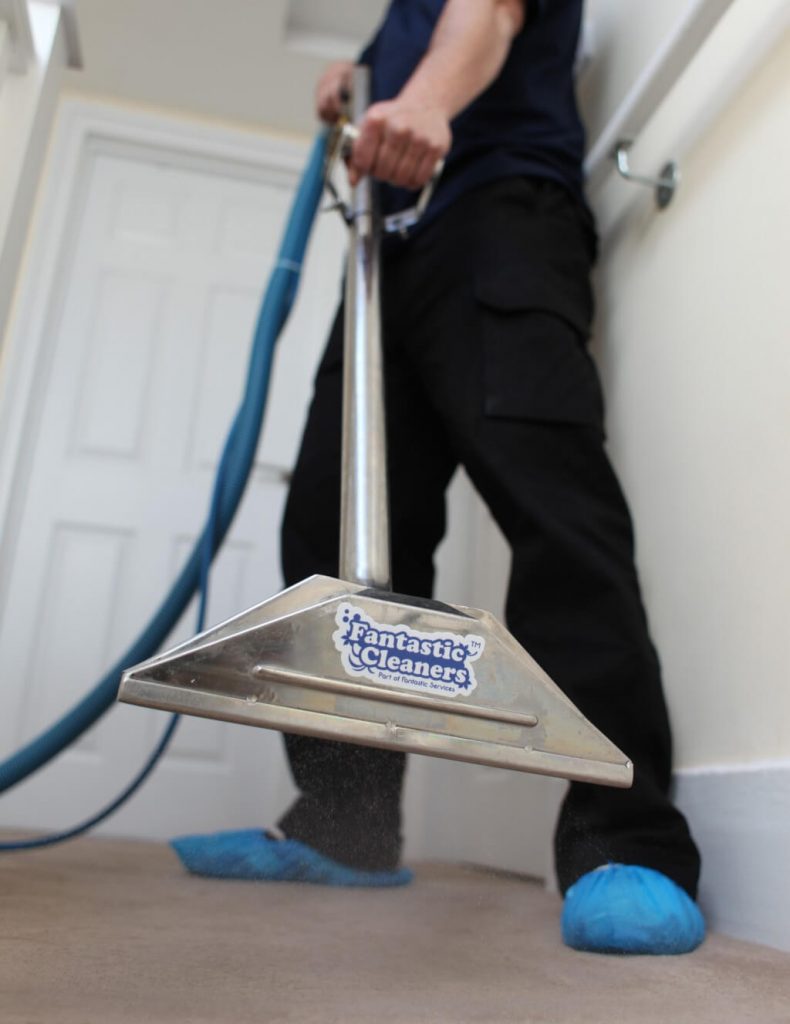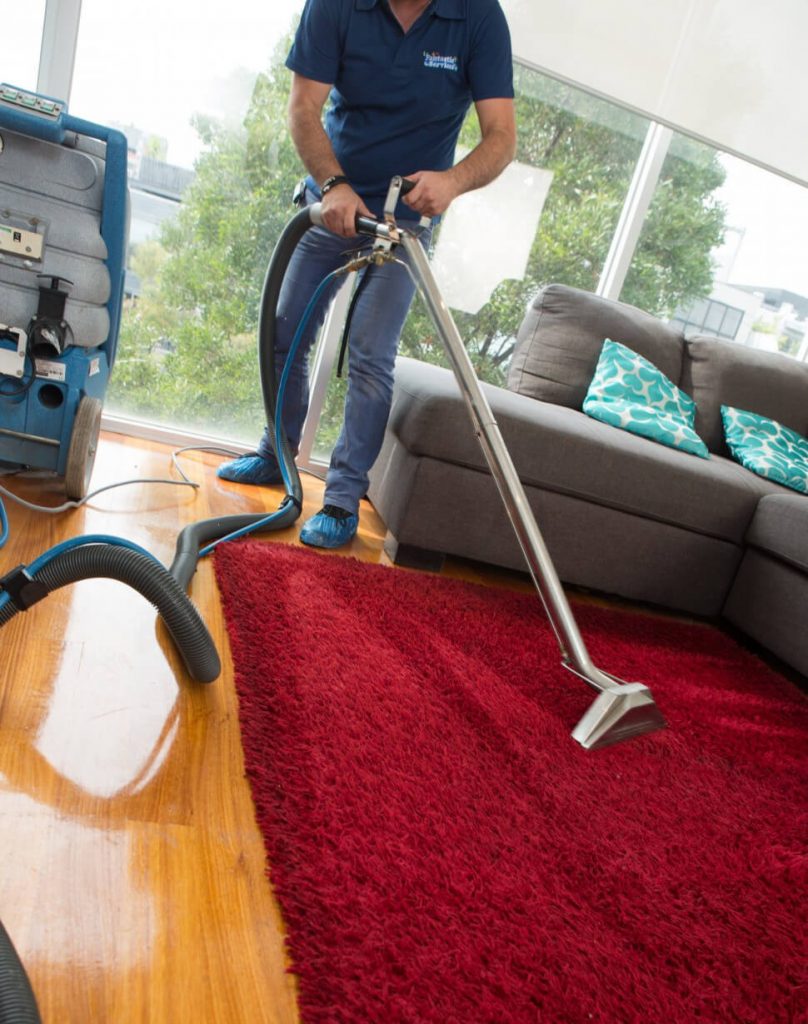 How an expert approaches carpet cleaning
Whatever the task to be tackled, professionals agree that a little time spent assessing the job before starting always reaps rewards. This is as true for your carpet cleaning in Reservoir as it is for anything else. So your carpet cleaner will start by inspecting your rugs, noting problem areas and testing any stains to determine their pH as this influences the choice of detergents used on them.
Light furniture is moved to one side and stains, especially dirty areas, or places where heavy foot traffic has compressed the pile, are pre-treated with a sprayed application of a cleaning agent that will treat the specific problem.
Once the pre-treatment has had time to act the main cleaning process starts. Detergent and hot water are injected deep into the carpet where they can absorb pollutants, destroy microorganisms and dissolve dirt. The water used in cleaning is extracted by powerful suction. Because your carpet technician uses top-grade equipment around 95% of the water is removed at this stage, reducing the time required for the carpet to dry fully.
Optional treatments once the carpet is cleaned are also available. Request additional deodorising if your carpet has picked up smells, maybe from pets or tobacco. Stain protection is also offered in the form of Scotchgard application. This coats the fibres of the carpet making it resistant to damage in the event of future spillage.
Get an instant quote
Other locations we cover near Perth:
Frequently asked questions about carpet cleaning services in Reservoir
Q: How long does it take the carpet to dry fully?

A: This will vary according to the density of the carpet, the room temperature and airflow. Your carpet should dry fully within 3 to 6 hours. The best way to reduce drying time is to increase ventilation.

Q: Do you guarantee stain removal?

A: We'd love to but we can't. It will depend on what caused the stain. How long it's been there and whether attempts have been made to remove it in the past. Your technician will be able to give you a good idea of what's achievable once they've assessed the piece. Even when a stain can't be totally eradicated, it's almost always possible to make it much less conspicuous.

Q: Do you offer same day services?

A: Yes, subject to availability of a cleaner in your area. If you need a service urgently, you'll be offered the first possible appointment.

Q: I have several carpets that need cleaning, can I get them all done at the same time?

A: Certainly. It's more convenient for you and for the cleaner too. You may pay a lower rate when you book cleaning for multiple carpets at a single appointment. Contact us to find out more about this.