Quality mattress cleaning services in Melbourne
Book mattress cleaning in Melbourne, Australia, performed to the highest of standards
Same-day appointments and 7-day availability
Stain removal and sanitisation of both sides of the mattress
Using detergent safe for children, pregnant women and pets
Significantly extending the lifespan of your mattress
From $50/mattress

How we carry out our mattress cleaning in Melbourne
Book your Melbourne mattress cleaning online easily in just 30 seconds


Get in touch with us
You can contact us either by using our online booking form or by calling us on the phone.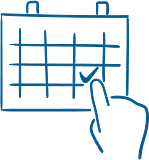 Tell us more about your mattress
We need to know its size, type, and overall condition. This information is important so we can prepare properly.


Finish your booking
Now that you're done and know when to expect us, all you need to do is wait patiently.
Mattress Cleaning Melbourne Prices
Mattress Cleaning Prices
| Mattress type | Standard |
| --- | --- |
| Single size mattress | $50 |
| Double size mattress | $70 |
| Queen size mattress | $80 |
| King size mattress | $90 |
| Minimum for the service | $115 |
*Get $40 off the standard price for your first booking as a member of the Fantastic club for 10 different bookings within 1 year.
Get a free instant quote and check our availability in your area

Why not become a member of the Fantastic Club?
This gives you savings on a wide range of property cleaning and maintenance services for your home, office and garden. Check all club benefits.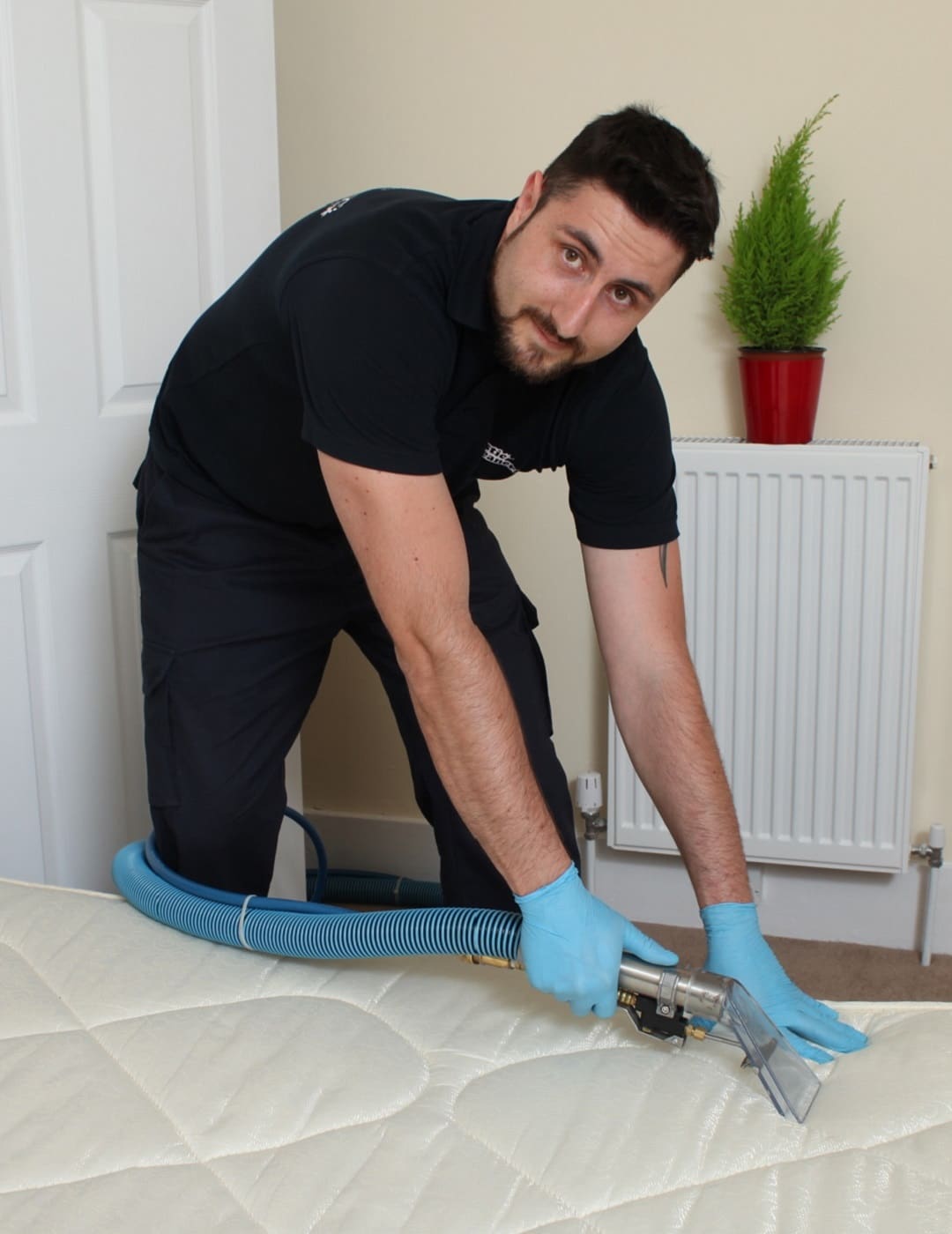 Why choose our professional mattress cleaning in Melbourne
Your mattress will be so clean that your partner will think it's brand new.
Experienced, fully equipped, and insured professionals
With their many years of experience and regular quality control checks, the Fantastic Cleaners Melbourne' technicians are always up to the standard.
Pregnancy, child, and pet-safe cleaning methods
Rest easy knowing that our cleaning products are safe for your loved ones and suitable for all mattress types. We use gentle, non-toxic solutions that effectively eliminate dirt and grime. Your family's health is our top priority, and we take pride in creating a clean and healthy sleeping environment for you.
We can clean all mattress sizes and types
Whether you have a single, double, king, or queen-sized mattress, we've got you covered. Our professional cleaning services cater to all mattress sizes, including those made from memory foam or regular spring materials. No matter the type or size, we have the expertise to effectively clean and refresh your mattress, ensuring a rejuvenating sleep experience.
Removal of bad odours as well as tough stains
Our potent detergents effortlessly dissolve urine, blood, sweat, and vomit stains, leaving your mattress spotless. Enhanced with deodorising agents, our cleaning solutions also eliminate any unwanted odors, ensuring a fresh and revitalised mattress. Experience the satisfaction of a thorough and effective cleaning with our professional services.
Effective removal of dust mites and dead skin cells
Breathe easier with our mattress cleaning services, as we effectively eliminate the common triggers for allergic reactions and respiratory diseases, including asthma. Say goodbye to troublesome allergens and enjoy a cleaner, healthier environment for restful nights and improved well-being.
Improved indoor air quality and better sleep
Improve your indoor air quality and enjoy better, more restful sleep with our deep cleaning services. By effectively removing allergens and pollutants, we create a healthier sleep environment for you. Experience the difference of cleaner air and rejuvenating sleep with our professional approach.
Get an instant quote
How we at Fantastic Cleaners perform our mattress cleaning in Melbourne
We employ two effective methods, hot water extraction and dry cleaning, to ensure thorough stain removal and sanitisation of your mattress. Find our detail-oriented approach below - we guarantee a comprehensive and tailored cleaning experience for your utmost satisfaction.
Hot water extraction mattress cleaning
Mattress cleaner arrives on site – The professional will arrive at your home in Melbourne at the scheduled time, fully equipped with all the necessary equipment and products to complete your mattress cleaning service.
Bedding inspection – Please take the expert to where your mattress is. The technician will conduct a thorough inspection of the item(s) to be cleaned, noting any areas of concern and discussing any specific requests or concerns that you might have.
pH testing – Yes, this is how advanced our cleaning methods are. The specialist will test the pH level of the stains to determine the best cleaning method. This is important because different types of stains (acidic, basic, fatty, etc) require different types of cleaners.
Mattress pre-treatment – The cleaner will then apply a pre-treatment solution to any areas of heavy staining. These solutions are designed to break down and loosen the stain, making it easier to remove. Each specific stain will be treated with an individual targeting product to break it down.
Deep mattress cleaning – We use high-end Hot Water Extraction cleaning machines to deep clean mattresses. The machine ejects a mix of hot water and cleaning detergent under high pressure through its nozzle. The technician will simply slide the nozzle of the wand over the surface of the mattress and deep clean it. A special attachment is used to prevent overwetting. The machine extracts most of the moisture back. This form of deep cleaning is especially great when it comes to the removal of the accumulated layers of sweat that have reached the mattress. A lower temperature setting can be used for mattresses made with wool to protect the fabric.
Get an instant quote

Dry mattress cleaning
We understand that not all mattresses can undergo deep cleaning using wet methods. For instance, memory foam mattresses can be sensitive to excessive moisture, potentially leading to foam damage and the risk of mold formation if water doesn't evaporate adequately.
To address these concerns, we offer mattress dry cleaning as a viable alternative. Our skilled technicians utilise a range of dry cleaning products and solvents after a thorough inspection and pre-treatment. Based on their assessment, they determine the most suitable method for cleaning your mattress.
In most cases, a dry cleaning product is applied to the mattress surface and worked into the fabric using a professional machine equipped with rotating brushes. This process effectively dislodges accumulated dust, hair, skin cells, etc.
Finally, the treated surfaces are meticulously vacuumed, ensuring the removal of the cleaning product and dislodged debris. This approach guarantees effective and safe cleaning without any risk of damage or future mould growth.
Over time, sweat permeates through clothing and bed sheets, eventually finding its way into your mattress. Rest assured, our cleaning methods are specifically designed to tackle sweat stains, leaving your mattress feeling and smelling like new.
Get an instant quote
What our clients in Melbourne think

Specialised mattress deodorising treatment in Melbourne
With a strong commitment to safety and environmental friendliness, we use non-toxic solutions that are suitable for all types of mattresses. Rest assured that our mattress deodorising service follows the best practices to create a healthier sleep space for you and your loved ones.
Investing in our special treatment enhances the cleanliness and hygiene of your mattress, ensuring that it remains fresh and inviting. Eliminating stubborn odors caused by spills, pet dander, sweat, or airborne particles, is how we restore your mattress to its optimal condition.
Transform your mattress into a haven of comfort and tranquility with our top-notch mattress deodorizing treatment. Experience the difference it makes in creating a fresher sleep environment, where you can unwind and recharge with peace of mind. Enjoy nights of rejuvenating and uninterrupted sleep, knowing that your mattress is free from unpleasant odors.
Trust our expertise and dedicated approach to provide exceptional mattress care. With our specialized mattress deodorizing treatment, you can enjoy the ultimate freshness and a revitalized sleep experience that truly elevates your overall well-being.
Get an instant quote
Why choose professional mattress cleaning in Melbourne?
Changing your sheets alone is not enough to guarantee a clean bed. With daily use, your bed absorbs sweat and accumulates a mixture of dust and dead skin cells. Dust also harbors microscopic pests like dust mites, which can trigger adverse reactions in sensitive or allergic individuals. Additionally, liquid spills, food stains, child accidents, and pet incidents create an ideal breeding ground for germs and bacteria to thrive on your mattress surface. Persistent odors may also develop, becoming familiar to us but noticeable to others.
By entrusting the task of mattress cleaning to a professional, you ensure the effective elimination of all types of soiling, including stubborn stains, with guaranteed results. Store-bought products or homemade solutions may fall short in handling specific stains or being suitable for all materials. Opting for a professional and insured service allows you to enjoy your bed on the same night, thanks to the specialized methods employed and the faster drying time following the cleaning process.
Get an instant quote
Memory foam mattress cleaning in Melbourne
Regular cleaning is crucial for maintaining the health and longevity of memory foam mattresses. Over time, these mattresses can accumulate dust mites, allergens, and unpleasant odors. It's important to handle memory foam delicately as it is not heat and water-resistant. Traditional cleaning methods can potentially damage the foam and void the warranty.
That's where our professional mattress dry cleaning service comes in. Specifically designed for delicate fabrics like memory foam, we utilize a specialized powder solvent that effectively sanitizes and freshens your mattress. With our expert care, you can trust that your memory foam mattress will receive the attention it deserves, ensuring a cleaner and fresher sleep environment.
Leave the cleaning of your memory foam mattress in the hands of our dedicated experts. Experience the rejuvenating benefits of a professionally cleaned mattress and enjoy a healthier and more comfortable sleep. Say goodbye to dust mites, allergens, and odors, and say hello to a truly revitalized mattress.
Get an instant quote


Other services we offer besides mattress cleaning in Melbourne
Carpet Cleaning
Restore the freshness of your carpeting with our diverse restoration methods. Our skilled technicians begin by thoroughly vacuuming to remove debris. We then pre-spray and treat high-traffic areas and stubborn stains. For carpets allowing water usage, we employ hot water extraction, extracting 95% of moisture. If wet cleaning isn't suitable, we use a specialised dry powder to absorb impurities, followed by thorough vacuuming. Trust our experts to transform your carpets with professional cleaning services.
Window Cleaning
Our window cleaning service covers both residential and commercial properties, inside and out. We clean not only the glass but also frames, sills, and remove cobwebs. Additional services like fly screen and window/door track cleaning are available for an extra fee. For higher story windows, we use a special water-fed pole with purified water, leaving no streaks and maintaining long-lasting shine. Trust us for sparkling and pristine windows.
End of Lease Cleaning
Our end of lease cleaning service in Melbourne is thorough and unlimited in time. Our dedicated cleaners stay until the entire property is cleaned from top to bottom. With our service, you receive a 100% bond-guaranteed result. We offer a 72-hour guarantee after completion, and Fantastic Club members enjoy an extended 120-hour guarantee. Our cleaners follow a comprehensive checklist to ensure nothing is missed, ensuring you receive your security deposit back successfully.
Wall Spot Cleaning
Keeping your home clean can be a daunting task, especially when it comes to removing stubborn spots from walls. Using the wrong cleaning products can make matters worse. That's why we offer a convenient wall spot cleaning service. Our trained professionals employ special products to effectively remove spots from your home's walls, leaving them fresh and clean. Say goodbye to unsightly spots and preserve the beauty of your walls with our expert assistance.
Get an instant quote
Frequently asked questions for mattress cleaning in Melbourne
Q: Are the detergents you use on the mattresses safe for my family and pets?

A: Yes. All the cleaning products we use and are eco-friendly and chemical-free. They're gentle on your mattress and also safe for children, pets and pregnant women.

Q: Is hot extraction effective enough for cleaning a mattress properly?

A: Yes, the cleaning solution from the extractor penetrates the fabric deep enough, kills bacteria, germs and dust mites and simultaneously removes debris and grime.

Q: How long must I wait after cleaning before I can sleep on my mattress again?

A: Around 6 to 8 hours after the cleaner is done with the hot water extraction. You can speed up the process by opening all windows to air out the room or turning your AC system on.

Q: What happens if my mattress gets damaged from the deep cleaning?

A: This can happen only if the water from the source is foul, otherwise no harm will come to your mattress. Also, foam mattresses must always be cleaned only with dry cleaning methods.
Q: How do I know if I have dust mites? Is it a cause for concern?

A: Around 95% of all mattresses have dust mites, but you can't see them because they are microscopic. You can sense their presence, however, if you have a runny nose, headaches, irritated eys or coughing. As the population of dust mites in your mattress increases, the worse your symptomps will get. That is why it is recommended to have the mattress you sleep on professionally cleaned from time to time.

Q: How long does it take to clean a mattress?

A: This depends on the size of the mattress! Usually, it takes 15-20 minutes for a single or double-size mattress and 20-30 minutes for a queen or king mattress. Keep in mind the service itself will probably take longer as the technician will be a lot of equipment and handling various preparations.

Q: How often should I resort to professional mattress cleaning?

A: As a general rule of thumb, mattresses should be deep cleaned once a year. However, if you have children and/or pets, we recommend resorting to a professional cleaning every 6 months.

Q: Should I bring the mattresses to you?

A: No, our service is entirely mobile! We will come to your address with all the necessary equipment and clean your mattresses on-site.

Q: Can you guarantee that the rooms will be left in their original condition?

A: Yes, this is a mess-free service and the professional will make sure to leave the room clean and intact!

Q: Can you fully clean a very old mattress?

A: We use powerful cleaning solutions and industry-grade equipment to make certain that even old mattresses are thoroughly cleaned and refreshed to the best extent possible.

Q: Can I make changes to my mattress cleaning service booking?

A: Yes, simply login to your Fantastic Account, go to the bookings section and make any amendments that you wish. You can even reschedule your service for a more convenient time if that works for you.

Q: When can I sleep on the mattress?

A: In most cases, you will be able to sleep on the mattress the very same night. Even after deep cleaning, the mattress will be left almost dry. The remaining amount of water is minuscule. It will evaporate on its own within a few hours after the service.