Professional Carpet Cleaning in Brisbane that Fights All Stains
Are you looking for a trustworthy carpet cleaning in Brisbane that can bring life back into your carpets and rugs? Then you've come to the right place!
The fantastic cleaning pros specialise in deep carpet cleaning and stain removal, and they operate 7 days a week in the Brisbane area.
We can save you the money of investing in new floor coverings by making your wool and synthetic carpets bright and clean again. We can also take good care of any delicate Persian, Oriental, plush, sisal, silk and other rugs for you.
Ready to book with us?

Benefits of Our Steam Cleaning for Your Carpets
Are you struggling to remove bad odours and stubborn stains from carpets or heavily soiled upholstered furniture? Then, steam cleaning is definitely the way to go.
Carpet steam (hot water extraction) cleaning is a professional technique, which we will use for deep cleaning the fibres of your carpeting.
We will combine hot water under high pressure (steam) and a softener that will break down all contaminants.
The used water is extracted up to 95%, along with the dust, grime and all bacteria. This contributes to an easier drying process, so you can walk on your carpets as soon as possible.
Here are just a few perks of choosing our carpet steam cleaning treatment in Brisbane:
You won't have to invest in new carpeting any time soon, as such type of specialised cleaning extends carpet life.
The air quality in your home will significantly improve! The steam cleaning machine will free your carpets from the nasty pollutants.
Struggling to get stains out will be just a memory! We provide special protection, at additional cost, that can preserve the carpet's fabric, making sure that spills blot up before turning into stains.
Although some drying time may be required, you can rest assured that all dangerous contaminants will be safely extracted.
Get an instant quote
How Will Your Professional Carpet Cleaning in Brisbane Go:
The specialist will do an inspection first to determine the state of pollution and the best way to clean your carpet.
A detailed vacuuming will be done with a high-performance cleaning machine.
The carpet cleaners will test the Ph of any fresh or stale stains and treat them with a special solution to ensure their successful removal. High traffic areas will be treated, too.
The pros will proceed to steam clean you carpets.
Scotchgard carpet protection can be applied, upon request. The product will help increase the fabric's resistance to staining and make looking after your carpets easier in the future.
Some drying time may be required (3 to 6 hours), but you can easily speed up the process by providing extra ventilation in the room.
Whether you need professional carpet cleaning per room or more extensive sanitation, we are up for the challenge!
We service Brisbane's northside, westside and more. Just check for available carpet cleaners in your area by calling our friendly agents!
And you can grab carpet cleaning as part of bond cleaning services. Or you can combine it with hourly cleaning.
Get an instant quote
Professional Rug Cleaning and Restoration in Brisbane
DIY cleaning of expensive, antique or somewhat delicate rugs may result in accidental damaging of the fabric. Shrinking or unwanted discolouration is something to look out for, which could happen when more aggressive detergents are used.
Why risk it when your nearby rug cleaner is just a phone call away?
We treat all types of rugs with extra care. Especially Oriental and Persian that are known for their vivid colouring and special material. We are also familiar with the wool, silk and the specifics of any synthetic fabrics.
Take advantage of our rug cleaning in Brisbane today and walk safely on fresh and clean carpeting!
Get an instant quote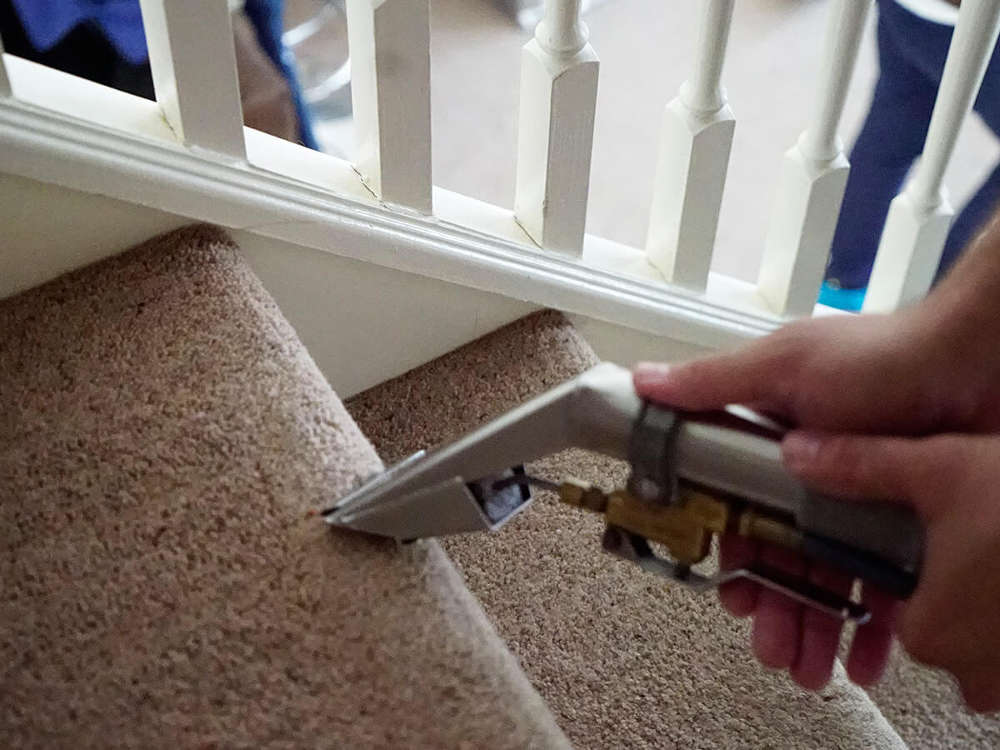 Frequently Asked Questions
Q: How long does the carpet take to dry after the cleaning service?

A: This is based on the condition of the room, as well as on the specifics of the carpet's fabric. Thicker materials like wool, for instance, would definitely require more time. Regardless of the fabric, though, providing good ventilation is essential for speeding up the process.

Q: Can I book carpet cleaning together with an End of lease cleaning, for example?

A: Yes. You can combine several services and book them at the same time at a discounted price. For instance, you can save up to $40 if you book carpet and end of lease cleaning in one appointment. We will provide you with a receipt as proof for your real estate agent.

Q: Is the carpet cleaning service performed on-site?

A: Yes, the cleaning specialists will bring the necessary equipment and tools for the job, so there is less disturbance in your home.

Q: Do you clean carpeted stairs?

A: Of course! The cleaning operatives are equipped with the right extensions and add-ons that can be attached to the latest carpet steam cleaning machinery.
Q: Will you move the furniture around, in order to clean the carpet properly?

A: Usually, we send one cleaning technician to perform the service who will not attempt to move heavy furniture. Light items, such as coffee tables, bedside tables, etc., will not pose a problem.

Q: What happens if the cleaners ruin my exotic and very rare rug?

A: Our company, as well as all the carpet cleaners we work with, are comprehensively insured against accidental damages. We will rectify the issue with utmost care.

Q: What are your operating hours?

A: We work seven days per week, including public holidays, at no extra charge. The cleaners can be at your doorstep as early as 7 am. Please, arrange with us any specifics when you require to make an evening booking. A customer care provider can advise you on the availability of time slots. We do not charge additional fees for evening bookings either.

Q: Will steam cleaning the carpet erase the stains completely?

A: There are some factors that could play a role here. It matters how the stain appeared in the first place, how old it is, as well as whether you performed a DIY cleaning already. Still, we promise to do our best to achieve the best possible result.
Meet our Fantastic Family