How The Carpet Cleaning Service in Belmont is Done
Your home is your sanctuary and the last thing you want is to have dirty or stained carpets. However, this is unavoidable due to high volume of foot traffic, stains and spills.
You may attempt to resolve dirty carpet problems yourself. However, be advised that you may not know how to handle different fibres correctly and which detergents are best for them.
This is why we advise you to entrust your carpet cleaning pro from Fantastic Services to take care of all odours and deeply ingrained stains in your carpets and rugs.
As a company that relies on tried and trusted cleaning methods, we use industry relevant carpet cleaning methods that will leave your carpets looking fresh and clean once again.
Get an instant quote
Why Choose the Fantastic Services Carpet Cleaners in Belmont?
In order to preserve the aesthetic value of your home, we ensure that you get the best carpet cleaning service possible by offering a fully insured carpet cleaning expert who is experienced and trained to give you the best results.
This is how the service works:
A date and time for the cleaning service are agreed upon, following which the carpet cleaning pro will arrive fully equipped to handle your cleaning tasks. They will attend to moving your furniture which will be followed by the actual cleaning on the spot for best results.
The Fantastic Services professional will bring along with them industry-grade equipment and pet- and child-friendly detergents, as we are conscious of you and your family's health and safety.
You can also benefit from our experienced Customer Care staff, who are there to help answer any questions you may have.
Get an instant quote
The Cleaning Process
In order to start the cleaning process, furniture and other elements obstructing full access to your carpet are moved.
Next, the carpets and rugs are vacuumed so that larger pieces of dust and dirt are dislodged.
Using industrial grade equipment, the pro will then apply the hot water extraction method, pretreating the stains with the right detergents. This will be followed with the extraction of moisture from your carpets, leaving them 95% dry and ready for you to use.
As an added service, you can also choose Scotchgard protection, which means stains are less likely to settle on your carpets and rugs, as well as our carpet deodorising service.
Get an instant quote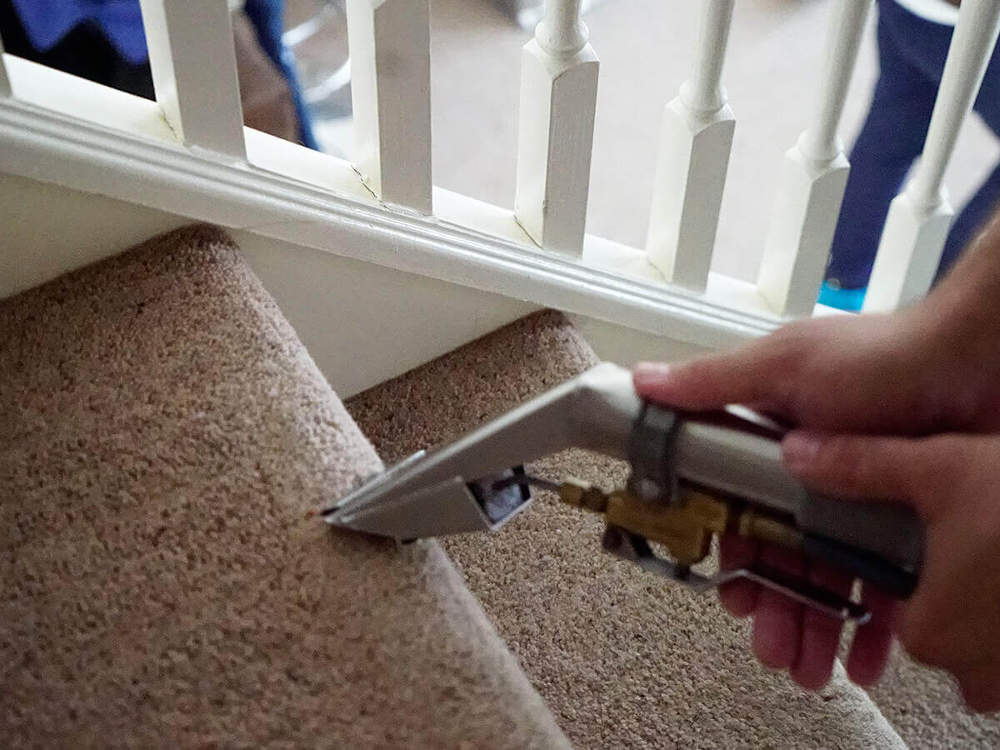 Local Carpet Cleaners Near You
Carpet cleaning is one of our many services we have full coverage in Perth. So, you can count on local cleaning experts, who can swiftly come to your home address or place of business to perform the service and restore imaculate look of your carpets. Every area is included, but here you can see some of our top places with highest demand:
Frequently Asked Questions
Q: One of my carpets is badly stained. Can the steam cleaning method remove stubborn stains?

A: Our carpet cleaning service in Belmont includes pH testing and pretreatment of stained areas. The hot water extraction method is proven to be the most effective when it comes to eliminating deeply ingrained carpet stains. The carpet cleaners will do everything they can to improve the look of your carpeting. Certain old stains may not be fully removed.

Q: How often should I have my carpets professionally cleaned?

A: Having your carpet professionally cleaned will depend on a number of factors. As a rule of thumb, have your carpets cleaned once or twice a year. However, if you have a big family, own pets or you host house parties regularly, you may need to book a professional carpet cleaning service three or four times a year.

Q: How much does a carpet cleaning cost?

A: The average cost of the carpet cleaning service provided by us depends on how many carpets and rugs you need cleaned. Other factors to consider include their size and the material which they're made of. Rugs with more delicate material will require a specialised cleaning method.

Q: What types of carpets and rugs can you clean?

A: Our portfolio is vast and the carpet cleaning pro can clean anything from Persian, Oriental, Moroccan, Indian, wool carpets to mats, circular, runner rugs and much more.