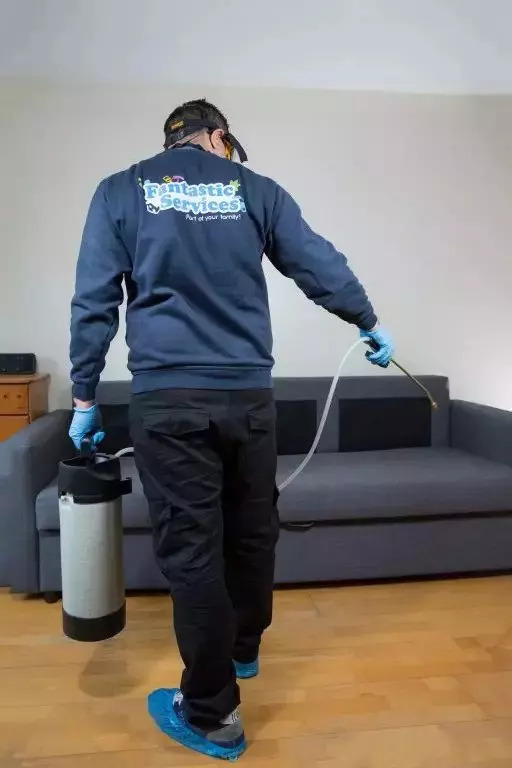 To stop the spread of dangerous diseases, Fantastic Cleaners works with technicians who have not travelled outside of Australia in the recent months and don't show any symptoms.
The coronavirus sanitisation service is the perfect solution to sanitise and disinfect your home from top to bottom and reduce the risk of infections such as COVID-19 and other viral diseases for your family.
Have in mind that the disinfection services only kills coronavirus from surfaces. It can't prevent the disease from spreading if there are sick people in your home.
The cleaners have passed the Infection Control Training from the Australian Government - Department of Health. The disinfection service is done using hospital-grade disinfectants.
We will send a team of two technicians, fully equipped with masks, gloves, CERTIFIED disinfectants and sprayers. The team will spray high-traffic and often touched areas such as doorknobs, light switches, taps, flushes to eliminate dangerous germs.
The professional technicians will then treat and disinfect hard floors, walls, furniture, tables, desks, carpeting, toilets, and more. Make sure that the cleaners will have access to the areas you want to be treated.
The disinfectants we use during the service are safe for children and pets. They are non-toxic and bleach-free. They even come with a fresh flora smell.
Antiviral sanitising & disinfection for your home and office
You can book a disinfection services for both residential and commercial properties. We can sanitise offices, business buildings, shops, schools and universities.
If your place has been recently visited by people who have travelled outside of Australia during the last couple of months, who show symptoms of being sick or who have been in close contact with sick people, the service is perfect for you.
The house sanitising service is effective against germs, mould, mildew, viruses and bacteria.
Complete care of your property:
Take advantage of the one-off cleaning service together with the antiviral sanitisation & disinfection service to make your place sparkling clean and bacteria-free.
Professional Car Sanitisation and Disinfection
Studies suggest that the Coronavirus can survive on surfaces from a couple of hours to several days. It may vary depending on the type of surface, humidity, or temperature. 
The car handles, steering wheels or seat belts are the most-touched surfaces outside of your home. Even if you clean your hands regularly you can still get bacteria on your hands when you go to the store or to your office. Even if you wear gloves you can still transmit them in your car's interior or exterior.
We designed car sanititasion service in addition to the antiviral disinfection. The technicians perform the service wearing gloves and masks and use high-end disinfection products.
The entire car interior will be sprayed including the dashboard, steering wheel, mats, seats, seatbelts. The often touched exterior parts will also be sprayed including the door handles, locks, trunk.