Carpet Cleaning in Melbourne
Have your carpets deep cleaned by a certified carpet technician
Service suitable for all types of carpets
Using professional-grade deep cleaning machines
Removing common domestic stains and odours
Done by certified & insured carpet technicians
Available 7 days a week, including holidays
Prices from $35/room

Exciting special offers available now
How to arrange your carpet cleaning service in Melbourne


Enter your Melbourne area code
Open our online booking form and begin the process by entering your area code.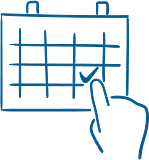 Configure your service
Follow the steps, share some details about your carpet and pick an available time slot.


And expect your carpet cleaner soon
When the appointment time comes, we will send a fully equipped technician to your address.

Why choose our carpet cleaning services in Melbourne?
Give your carpets the top-tier service they deserve and restore them to their previous glory!
Available 7 days a week
We've made our convenient carpet cleaning services as accessible as possible. You can make a booking for any day of the week (even during the holidays). Check our availability online.
Service by certified carpet cleaners
The Fantastic carpet cleaners in Melbourne are highly experienced and knowledgeable. They are familiar with all types of carpeting fabrics and know how to clean them properly, ensuring amazing results.
Using the latest professional equipment
The carpet cleaners are equipped with the latest professional machines for hot water extraction deep cleaning and dry cleaning. Our service is suitable for all types of fabric floor coverings.
Eco-friendly cleaning methods
Fantastic Cleaners Melbourne resort to nature-friendly cleaning technology and products in order to minimize our impact on the environment. We strive to become carbon-neutral by 2030!
Improving indoor air quality
Carpeted areas that receive a lot of foot traffic accumulate dust and germs. Having your floor coverings deep cleaned significantly improves the air you breathe at home.
Extra perks with Fantastic Club
Enjoy $400 in credits, priority booking and all sorts of extra member benefits with our exclusive subscription.
Book professional carpet cleaning in Melbourne!
What to expect from our carpet cleaning in Melbourne
A fully equipped carpet cleaner will come to your address
When the time for your carpet cleaning service, we will send a fully equipped technician to your address. Please make sure to meet them and grant them access to the areas within your property where the carpets are.
The carpet cleaner will examine and pretreat your carpets
Your expert carpet cleaner will get to work right away. They will carefully examine your floor coverings to determine their fabrics. Any visible stains will be pretreated with special eco-friendly targeting detergents.
Time to whip out some professional equipment
Your carpets will be deep-cleaned with an industry-grade deep-cleaning machine that is much more effective than steam cleaning. Hot Water Extraction is widely regarded as the most effective deep cleaning method when it comes to carpeting. Any delicate items made out of entirely natural fibres can be dry-cleaned.
Get a FREE Quote!


Our Hot Water Extraction method at work
After pretreatment, the technician will grab the cleaning wand of the hot water extraction machine and begin to carefully slide it over the top pile of the carpet. The nozzle of the cleaning wand ejects a powerful stream of hot water mixed with eco-friendly cleaning detergent.
The high pressure and the cleaning mixture will easily dislodge the trapped dust and other solid particles from the fibres of your carpet. But where does all the moisture go?
The nozzle of the cleaning wand has a powerful suction attachment that is constantly retrieving the cleaning solution (along with the dislodged filth, dust and hairs). The machine retakes 95% of the moisture, leaving your carpet almost dry.
Carpet fabrics suitable for steam cleaning:
100% wool – an expensive fabric that can be easily damaged, it's very absorbent, too;
Nylon – the most popular carpet fibre, resistant to moisture and traffic;
Polyester – very durable, but greasy stains can be hard to remove;
Acrylic – stain- and sunlight-resistant, not as durable as nylon and polyester;
Polypropylene – very popular, easily cleaned and doesn't shrink.
Suitable for: synthetic/mixed fibres (polyester, wool, etc.)
Approximate drying time: 2 to 8 hours
Book Hot Water Extraction!
Dry carpet cleaning
Some carpets are made of delicate natural fibres. This means that it is risky to clean them with water and high temperature because they might shrink or deform. In those cases, we utilise dry cleaning methods.
Low-moisture solvent cleaning – This type of cleaning is used for carpets made of viscose, cotton, velvet, or silk. A special low-moisture detergent is applied all over the top pile of the delicate item. It is left to settle for a few minutes, then it is wiped away with terry cloths.
Drying time: within a few minutes.
Dry powder cleaning – A special sticky cleaning powder is applied over the pile of the item. Then the technician uses a machine with rotating brushes to work the powder into the pile. This way the unsanitary particles and hairs will stick to the cleaning powder. Then the piece is vacuumed and the powder is removed, taking away all the dust and dirt.
Recommended for: natural fibres such as sisal, jute, and seagrass. Also great for Persian and other oriental carpets, velvet, silk, and cotton items.
Please note: our dry cleaning methods are a wonderful way to refresh your delicate carpets, however, they are not particularly effective at removing stains.
Reserve a dry cleaning slot now!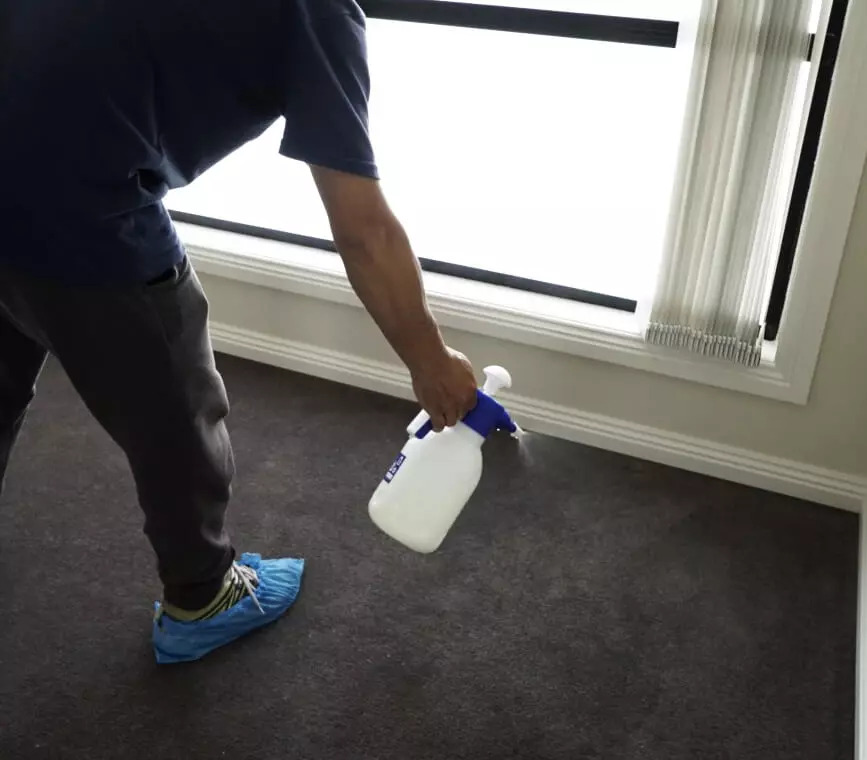 Stain protection with Scotchgard™ fabric protector
After the deep cleaning procedure, per your request, your carpet cleaner can apply a special stain-repelling product all over the top side of your carpet, for a small extra fee. Your carpet will be protected against any future accidents that might cause a stain.
Here's what you get when you choose carpet protection:
Scotchgard™ Approved 100%

| | |
| --- | --- |
| Protection against oil-based stains. | ✅ |
| Helping carpet fibres resist soiling more effectively. | ✅ |
| Protective layer delays spills from becoming stains. | ✅ |
| Stains in the future become easier to remove. | ✅ |
| Dirt is easier to pick up with a vacuum. | ✅ |
Book protected carpet cleaning today!
How much does carpet cleaning in Melbourne cost?
Vacuuming, pre-spray and stain pre-treatment, all materials, equipment and labour are included in the price. Stain protection, deodorising and sanitising are available upon request.
Hot Water Extraction
Synthetic/mixed (microfibre, man-made, polyester), wool, etc.

The minimum price for Fantastic Club members starts from $75 instead of $115
| Property | Prices |
| --- | --- |
| Bedroom | $35 |
| Living / Dining Room | $50 |
| Study / Small room | $25 |
| Hallway | $25 |
| Flight of Stairs | $45 |
| Small Rug (up to 4 sqm) | $20 |
| Large Rug (up to 6 sqm) | $25 |
Join the

Fantastic Club and get:
$400 in credits
Preferential member rates
Get $40 off the standard price for your first booking as a member of the Fantastic club for 10 different bookings within 1 year.
Exclusive seasonal deals
Real-time arrival tracker
Priority booking & case handling
Book with full benefits for any property
Deals by partnering brands
Get a free instant quote and check our availability in your area

Why not become a member of the Fantastic Club?
This gives you savings on a wide range of professional cleaning and maintenance services for your home, office and garden. Check all club benefits.
Hot Water Extraction vs Carpet Steam Cleaning
We use Hot Water Extraction machines simply because they are the most effective when it comes to deep cleaning textile floor covers. This cleaning method is far superior and safer than the outdated carpet steam cleaning. Here's why steam cleaning is old-school:
Usually, steam cleaning equipment ejects steam under high pressure. When the nozzle of a steam cleaner is pressed against the top pile of a carpet, the high temperature and high pressure of the steam displace the dirt particles. Meanwhile, a suction attachment is working to remove the dislodged dirt.
While this cleaning process may sound impressive, it actually works quite poorly. You'd have to go over the same spot of the carpet multiple times to clean it well.
And the results are questionable. Not to mention that the high temperature of the steam can actually cook a stain and turn it into a crusty mess!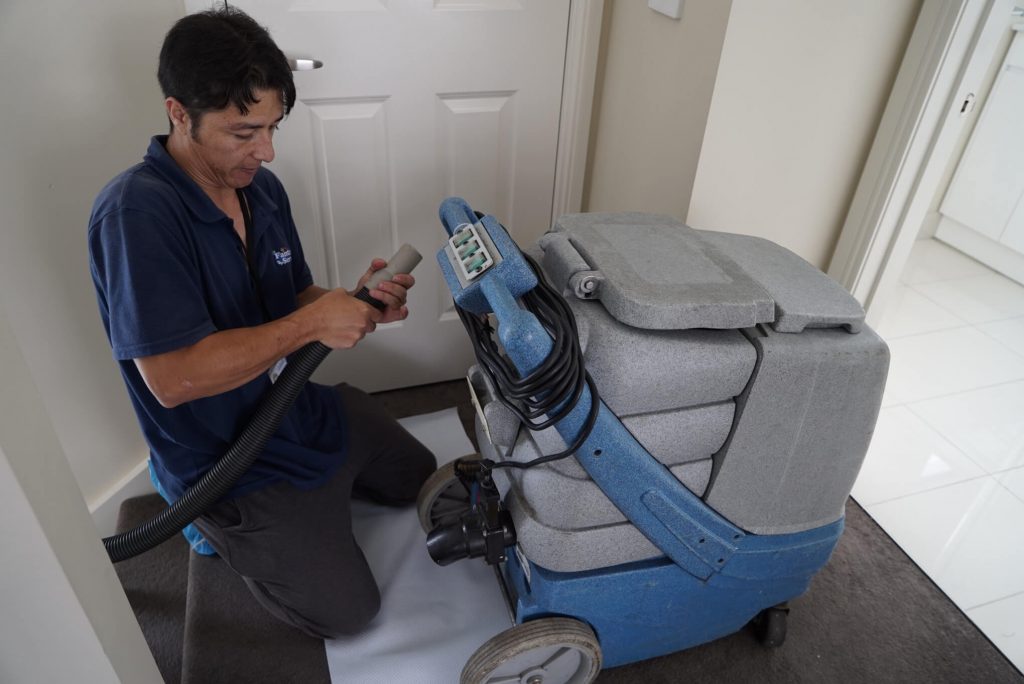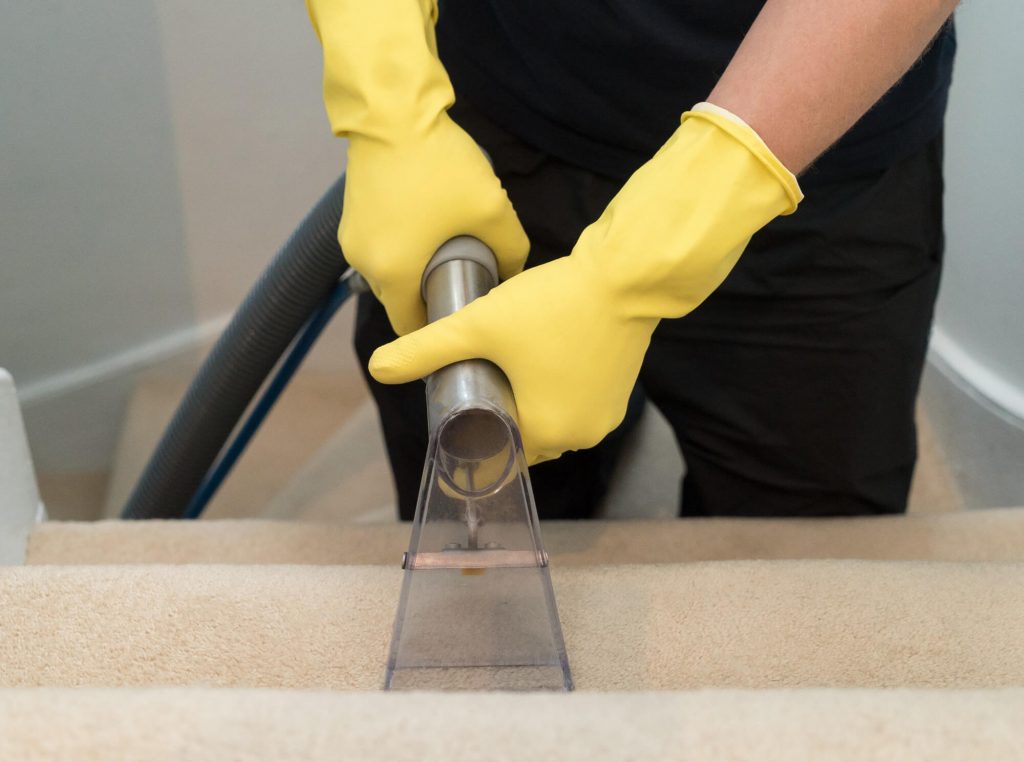 Here's why Hot Water Extraction rocks:
Hot Water Extraction uses a lot more water and the temperature is not as high. It does a far better job of dislodging dirt and stains which means the carpets are cleaned a lot faster.
On top of that, our Hot Water process can be carried out with cold water, as opposed to steam cleaning, which can only happen with very hot steam. This way, if your carpet is made of sensitive natural materials. we guarantee it won't shrink!
We are confident that we will be able to remove the majority of household stains that you could be dealing with such as those from foods, drinks, vomit, "happy" pet accidents, and so on.
Remember: There are certain stains that can not be cleaned, such as those from chemicals, paint, acids, etc. – substances that have permanently damaged the carpet fabric.
Book carpet cleaning!
Combine your carpet cleaning with other convenient services
We offer a whole range of professional cleaning services and you can combine them for added value!
Upholstery Cleaning
You'd be happy to find out that your carpet cleaner can easily deep clean your upholstered furniture as well, using the same hot water extraction cleaning machine. They will use a special nozzle designed for upholstery that ensures a proper hot water ejection rate for upholstery. Any pre-existing stains will be pre-treated before the deep cleaning procedure.
Blinds and Curtain Cleaning
Our professional deep-cleaning equipment is also perfect for blinds and curtains. The best part about it is that there is no need to take down the blinds and curtains from the railing as they could be cleaned just the way they are. All that the technician needs to do is to stretch them out and slide the nozzle of the deep cleaning machine all over their surface. Of course, he will make sure to examine them first to determine if they could be cleaned like this.
Window Cleaning
One of our most popular outdoor services is window cleaning. It is done with a professional extendable pole that ejects purified water under low pressure. The window cleaning technician can clean windows up to the 4th storey of a building from ground level thanks to the extendable pole technology. And the best part about this service is that it does not require the use of any chemicals or cleaning detergents.
End of Lease cleaning
We offer a comprehensive cleaning service for the end of a lease. So if you are vacating a property and you'd like to ensure that you will earn back your security bond, then you can take advantage of our convenient service. Please just make sure that the property will be emptied out of personal belongings and we will take care of the rest. We will send a team of at least two tenancy cleaners (or more, based on the size of the property). The cleaners will follow a detailed agency-approved checklist to clean the property.
Wall Spot Cleaning
With time, all kinds of spots find their way to the interior walls of a property. They become especially noticeable on walls in white and other light colours. If you'd like to have them cleaned, then you could book this service for your place. We use a special cleaning method to remove the visible spots without affecting the wall's paint.
Get a combined quote!
Frequently asked questions about our carpet cleaning services
Q: How often should I have my carpets deep-cleaned?

A: This depends on how much foot traffic they are getting, how many people live at the property, and if there are any indoor furry pets. Our general recommendation is to have your domestic carpets cleaned professionally at least once every 6 to 8 months. This is because home carpets accumulate dust between their fibres that can not be removed with vacuum cleaning.

Q: My carpet smells really bad. Will you be able to remove the bad odour?

A: Yes, our cleaning methods are simply amazing and they effectively deodorise your items thanks to the high-quality carpet shampoos that we use. The lingering smell is either because of staleness and accumulated filth, or a substance that has affected the fabric. In all cases, we will be able to remove the unpleasant smell. After the deep cleaning, your carpet will smell fresh and visibly look better.

Q: How long does the carpet cleaning take?

A: The duration of the service depends on the general condition of your carpets, the total size of carpeting which needs to be cleaned, and the type and size of the stains, if there are any. If you've tried to remove the stains yourself, this can also prolong the time the technicians will need to clean them properly. The expected timeframe is 30 to 40 minutes for one bedroom, 50 to 60 minutes for two bedrooms, and around 70 to 80 minutes for two bedrooms and a hall or stairs.

Q: Are the detergents you use safe for my family and me?

A: We use tested cleaning products for all our services. They are eco-friendly and biodegradable, and allow us to get rid of all kinds of stains without increasing our carbon footprint. There are no toxic fumes generated during the process of cleaning, and all the formulas are constantly monitored for quality and for their environmental impact. We use products which are safe for you, your kids and your pets at home, as well as for the customers and employees at your workplace.
Q: How long does it take for the carpet to dry?

A: It really depends on the type of carpet fabric, the ventilation in the room, as well as the pile type and thickness. Most carpets usually air dry on their own within 2 to 4 hours while wool carpets can take up to 6 hours to dry, especially if they are shaggy or long pile type. If the conditions in the room seem to make drying difficult, the cleaning technician can bring an air mover (for free) to speed up the drying process.

Q: Can you guarantee that the stains will be removed?

A: We can guarantee that we can remove the most common types of household stains such as those from food, drinks, happy pet accidents, and body fluids. However, you need to consider that there are certain substances that could permanently damage a carpet such as paint, acids, super-strong cleaning products, harsh chemicals, and so forth. If your carpet has been affected by such substances, then it is permanently damaged.

Q: What is the best cleaning method for carpet pet stains?

A: Pet accidents are a very common reason why people book our services. The alkaline salts in pet urine absorb moisture from the air and they never truly dry, no matter how hard you blot them. Spraying these stains with air fresheners and other fragrant cleaning products doesn't really help with the smell, it makes it even stronger. For pet stains and other similar types of spots, we will start by applying Stain Pro, which is a heavy-duty water- and solvent-based alkaline protein spotter for blood, vomit, urine, wine, ink and most food-based stains. Then, we would resort to Hot Water Extraction deep cleaning as we usually do.

Q: Do you clean rugs?

A: Yes, we can deep clean or dry clean your rugs, depending on their fabric. Hot water extraction is suitable for typical textile items and durable mixed fabric rugs. However, our dry cleaning methods are perfect for delicate rugs made out of natural fabrics. Find out more about our rug cleaning service.

Q: Do you offer flea treatment services?

A: It's not included in the general carpet cleaning service, but if you have a problem with fleas or any other kind of pests in your carpets and home, we have a great team of pest controllers we can arrange for you. Just give us a call to discuss the details.

Q: Can you help me move the furniture out of the room?

A: The technicians can move some smaller pieces of furniture out of the way, like coffee tables or chairs. But if you want the carpets below big items, wardrobes and other massive pieces to be cleaned as well, you should prepare the area in advance. Otherwise, they can clean around these, it's not a problem.
Local carpet cleaners near you
Our professional carpet cleaning service is available in all areas of Melbourne. Simply open our convenient online booking form and enter your local area code to configure your service. Also, you will be able to see our available booking slots so pick the ones that work best for and that's when you will be visited by a fully equipped technician. You can expect a prompt and timely arrival. For easy reference, here you can take a look at some of the areas that we service most frequently:
Some of the areas we cover