Carpet Cleaning Melbourne
Schedule a regular carpet cleaning and double the life of your floor coverings
Removing expertly the most common carpet stains
Eliminating most bacteria & allergens
Maintaining the carpet's warranty
Enhancing the appearance of any room
Applying special stain protection products, upon request
Prices from $30/room

Why is it Worth Getting Carpets Professionally Cleaned?
Carpets get dirty with regular use, that's a fact, and vacuuming alone simply can't eliminate a range of contaminants that end up deeply embedded within the carpet fibres. This is why our professional carpet cleaning in Melbourne is the key when it comes to properly maintaining your floor coverings. Depending on your lifestyle, level of use and the size of your household, you should consider hiring carpet cleaning specialists 1 to 2 times a year, outside your routine DIY carpet cleaning efforts.
But if you own or manage a busy commercial carpeted space, then, you may need to resort more regularly to specialised carpet steam cleaning services, of course.
You see, when industry-grade carpet cleaning equipment is used for the job, a large number of pathogens and allergens are neutralised from your area rugs and carpets for good. For instance, dust mites, pet dander, pollen, mould and various types of bacteria can easily find their way and accumulate onto your carpeting.
And worse, when disturbed by daily foot traffic, airborne allergy triggers will inevitably affect the indoor air quality, causing potential respiratory problems to susceptible people or asthma sufferers.
After all, it's been proven that 70% of allergic incidents, as well as flu- and cold-like symptoms in people are caused by exactly this - the build-up of germs and harmful microorganisms on upholstered furniture and textile floor coverings.
Last but not least, regular steam cleaning of your carpets ensures their longevity and beautiful appearance, as the stain removal properties of professional hot water extraction equipment are well-known and proven.
Book a professional carpet cleaning in Melbourne
Professional Carpet Cleaning in Melbourne for a Healthier Home Interior
Fantastic Cleaners Melbourne is one of the well-known domestic help providers in the city. Our quality carpet cleaning and stain removal are highly sought after, thanks to the advanced equipment and techniques they incorporate.
We also specialise in rug and mat cleaning, by employing only gentle to the fabric cleaning detergents.
In addition, carpet cleaning in Melbourne is one of our popular services in the city because it's performed by some of the most skilled and experienced specialists in the local industry.
They use powerful steam cleaning (hot water extraction) systems, which are designed to remove stubborn stains, allergens and germs with effective results, leaving you carpeting looking fresh and free of unpleasant odours.
What's more, Fantastic Cleaners is the preferred carpet cleaning company by many business owners, as well.
So, whether you need your carpet cleaned at the office, in your retail store or any other non-residential space, you can always book our commercial carpet cleaning services for any day of the week.


Get an instant quote
How Much Does Carpet Cleaning in Melbourne Cost?
Vacuuming, pre-spray and stain pre-treatment, all materials, equipment and labour are included in the price. Stain protection, deodorising and sanitising are available upon request.
Hot Water Extraction
Synthetic/mixed (microfibre, man-made, polyester), wool, etc.

The minimum price for Fantastic Club members starts from $45 instead of $85
| Property | Prices |
| --- | --- |
| Bedroom | $35 |
| Living/ Dining Room | $45 |
| Hallway | $20 |
| Flight of Stairs | $30 |
Join the

Fantastic Club and get:
$400 in credits
Preferential member rates
Get $40 off the standard price for your first booking as a member of the Fantastic club for 10 different bookings within 1 year.
Exclusive seasonal deals
Real-time arrival tracker
Priority booking & case handling
Book with full benefits for any property
Deals by partnering brands
Get a free instant quote and check our availability in your area

Why not become a member of the Fantastic Club?
This gives you savings on a wide range of property cleaning and maintenance services for your home, office and garden. Check all club benefits.
How Does Our Carpet Steam Cleaning in Melbourne Work?
Now, let's see what our carpet cleaning solutions involve in more detail. The Fantastic carpet cleaners in Melbourne follow well-devised service procedures and proven industry-standard practices, for a start. This helps us guarantee your highest satisfaction with the results.
Furthermore, the professional carpet cleaners use the time-tested carpet steam cleaning method that is suitable for most commercially available types of carpeting. In addition, they can use a range of extra carpet care options and products, such as additional stain removal agents, pH-testing kits (for stains), Scotchgard carpet protectors and carpet deodorising solutions.
Easily arrange your appointment online. Simply click the BOOK ONLINE button on the top right of the page and follow the steps to arrange your professional carpet cleaning service.
Meet the expert. A fully equipped carpet cleaning specialist will come to your address on the arranged day and at the specified time. In case they are late because of heavy traffic, you will be notified via SMS.
We perform full inspection & cleaning. The professional will closely examine the type of fibre your carpet or rug is made of. This helps the technician determine what the best possible cleaning solution is for the specific carpet material. Then, they will vacuum the carpet, pre-treat any stains and proceed to steam clean the floor covering using a special machine, which extracts the dirt and 95% of the moisture used in the cleaning process. The deep carpet cleaning service is also recommended when you need professional end of lease cleaning.
You can now enjoy the long-lasting results. What you get is more than just refreshed carpets. You will also benefit from an improved indoor air quality and therefore, a healthier environment for you and your family. After being cleaned, your carpets will look significantly better, as almost new. Their enhanced condition will also bring a better overall feel in your home.
Get an instant quote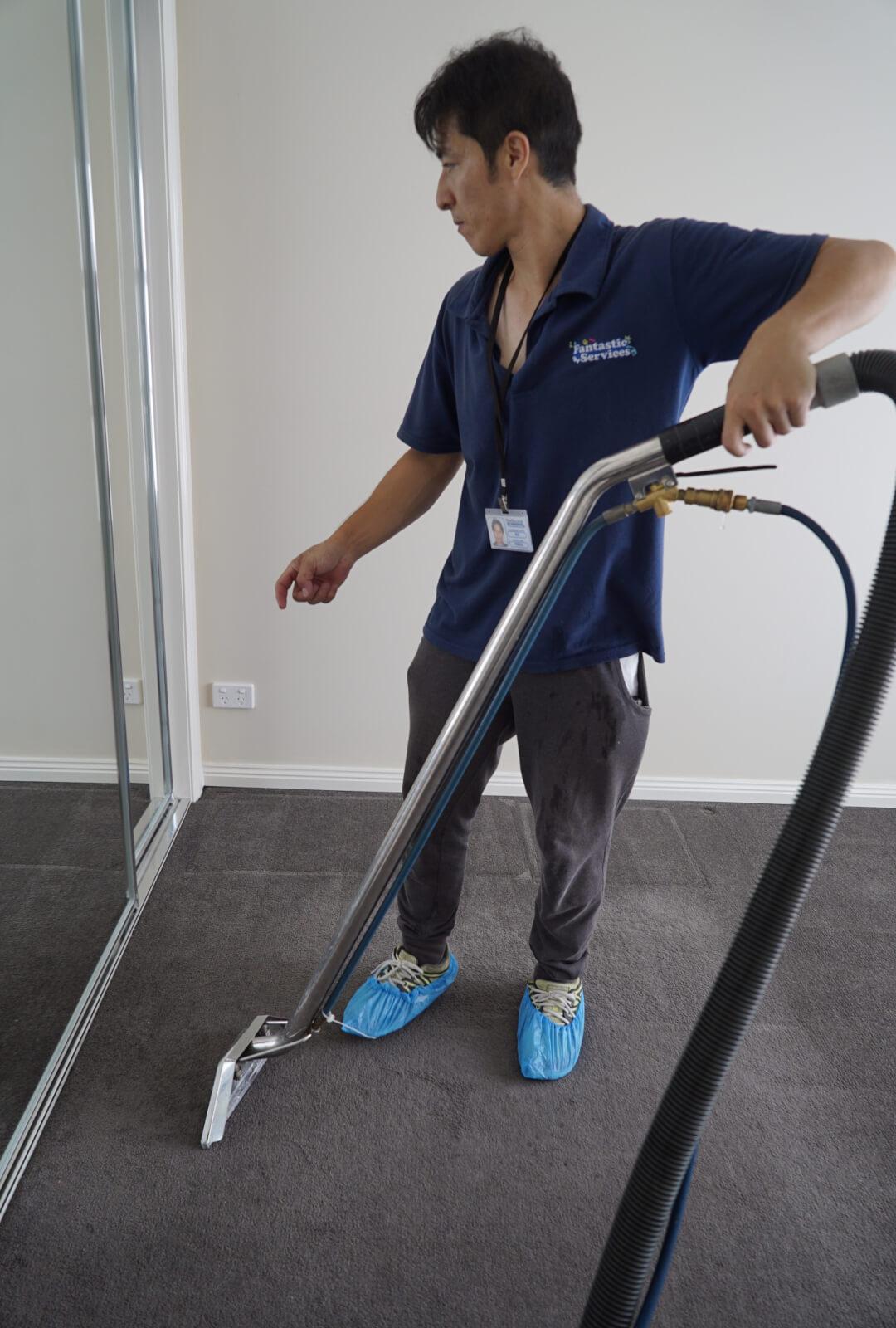 Carpet Cleaning Services in Melbourne from Fantastic Cleaners
Hot Water Extraction Method
We use a highly efficient hot water extraction carpet cleaning machine. It rinses your carpeted areas with hot water and a cleaning solution designed for the specific fabric. The mixture is injected into the fibre under high pressure to agitate the dirt and stains. Then, it extracts the moisture (up to 95%) along with the dissolved dirt and grime. It's an effective stain removal method, because it can reach deep into the fabric and take care of stains settled in the padding.
Our hot water extraction carpet cleaning in Melbourne is suitable for most types of modern synthetic carpeting, high-traffic areas around the house, carpets in commercial buildings, and items, which are deeply soiled and affected from stubborn, old stains. The drying time after a steam clean is between 2 and 4 hours, depending on the room temperature and the type of carpet.
Here's a general list of the carpet fabrics, which can be steam cleaned:
100% wool – an expensive fabric that can be easily damaged, it's very absorbent, too;
Nylon – the most popular carpet fibre, resistant to moisture and traffic;
Polyester – very durable, but greasy stains can be hard to remove;
Acrylic – stain- and sunlight-resistant, not as durable as nylon and polyester;
Polypropylene – very popular, easily cleaned and doesn't shrink.
Pro tip:
You can easily check the quality of your carpeting and rugs by folding the back side of the carpet onto itself, and checking the density of the yarns at the fold. If you can see a lot of the backing through the yarns, then the carpet is low quality.
Rug Cleaning
The rug cleaning process depends on the type of rug you have and its fibre.
Silk, cotton and synthetic rugs can be maintained with a standard cleaning procedure. It includes an inspection of the rug, pH testing of all the stains, vacuuming and an initial pre-treating of any stubborn marks. Then the cleaners apply either hot water extraction or dry cleaning. Oriental, Persian, shag and silk rugs may require some additional care, like using a special rug cleaning detergent, or grooming after the whole process is done.
We work with diligent carpet cleaning specialists, who are fully trained. They patch-test and determine the most suitable cleaning solution for your rug to ensure the fabric won't get damaged. They use safe shampoos and detergents, which are not harsh on the fabric or harmful to your home environment. The procedure freshens up and rejuvenates the colours of all kinds of mats and rugs.
Scotchgard Protection
Spills and food drops happen all the time, especially with kids around the house. We provide solutions, which will help you protect your carpet from such accidents turning into stains. Our stain repellent option works like magic, keeping the stubborn stains at bay for a good 6 months.
The best time to apply the Scotchgard Protector is right after the hot water extraction cleaning process. It helps keep spills from becoming hard-to-remove stains.
Here are the key benefits Scotchgard provides:
Helps protect against oil and water-based stains;
The carpet and rug fibres resist soiling more effectively;
Adds a protective layer, so you can blot up spills before they become stains;
The stains come off more easily when the carpet is cleaned;
Dirt is easier to be picked-up during vacuuming.
Get an instant quote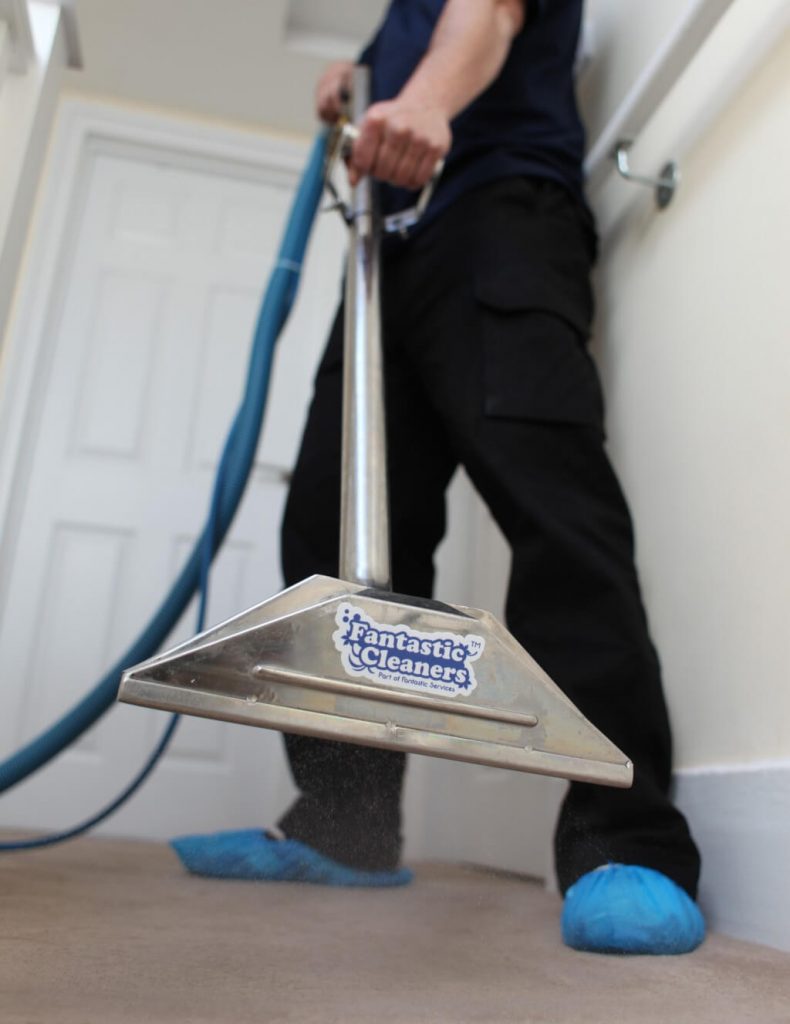 Is Steam Cleaning or Dry Cleaning Better for Carpets?
There are several carpet cleaning methods that professional companies use, with dry cleaning and steam carpet cleaning (hot water extraction) being the most popular. Both are designed to clean different types of carpeting and rugs, so in some cases, one is better than the other, depending on the material that the floor covering is made of.
Steam carpet cleaning is suitable for synthetic and mixed-fibre carpets. The technique can be also applied on rugs made from wool. The equipment used sanitises the carpeting and effectively removes stains, bacteria and allergens. The carpet is almost dry after the procedure.
Dry cleaning is usually the preferred method for delicate carpeting and rugs that are bright-coloured (and not that colourfast), and usually, made from natural materials. Such carpets may get damaged if a wet-cleaning technique is used. Dry carpet cleaning, however, may not be that effective in removing stubborn stains and it is designed to refresh the floor covering only.
Get an instant quote
Frequently Asked Questions
Q: Are your carpet cleaners insured?

A: Yes, all the technicians we work with are background checked and fully insured with Public Liability.

Q: Do you take the carpet away to be cleaned elsewhere?

A: No, our advanced equipment allows us to clean your carpet and rugs right where they are.

Q: How often should I have my carpets deep-cleaned?

A: Well, this depends on how much foot traffic they are getting. However, we'd say at least once every six months is a good practice.

Q: Can I get some sort of deal or a discount?

A: Yes, simply visit our Fantastic Club page and find out more about all the amazing benefits a membership would bring you.
Q: How does the carpet protection procedure work?

A: Basically, a special substance is applied on the pile of the item. So when a spill occurs, it does not allow for the stain to settle and cleaning is much easier afterward.

Q: My carpet smells really bad. Will you be able to remove the bad odour?

A: Yes, the carpet cleaning technician will carefully examine your item and implement the most suitable cleaning method, in order to deodorise it effectively.

Q: How long does the carpet cleaning take?

A: The duration of the carpet cleaning service depends on the general condition of your carpets and rugs, the total size of carpeting which needs to be cleaned, and the type and size of the stains, if there are any. If you've tried to remove the stains yourself, this can also prolong the time the technicians will need to clean them properly. Some average time values are: 30-40 minutes for one bedroom, 50-60 minutes for two bedrooms, and around 70-80 minutes for two bedrooms and a hall or stairs.

Q: Are the detergents you use safe for my family and me?

A: We use tested cleaning products in all our work, they are eco-friendly, biodegradable and allow us to get rid of all kinds of stains without increasing your carbon footprint. There are no toxic fumes generated during the process of cleaning, and all the formulas are constantly monitored for quality and for their environmental impact. We use products which are safe for you, your kids and pets at home, as well as for the clients and employees at your workplace, and for Mother Nature in general.

Q: How long does it take for the carpet to dry?

A: It really depends on the type of carpet fabric, the ventilation in the room, as well as the pile type and thickness. The regular carpets usually dry for around 3-4 hours, while wool carpets can take up to 6 hours to dry, especially if they are a shag or long pile type. If the conditions in the room seem to make drying difficult, the carpet cleaning technician can bring an air mover (for free) to speed up the drying process.

Q: What is the best carpet cleaning method for pet stains?

A: Pet accidents are a very common reason why people book our services. The alkaline salts in pet urine absorb moisture from the air and they never truly dry, no matter how hard you blot them. Spraying these stains with air fresheners and other fragrant cleaning products doesn't really help with the smell, it makes it even stronger. For pet stains and other similar types of spots, we will start by applying some Stain Pro, which is a heavy-duty water- and solvent-based alkaline protein spotter for blood, vomit, urine, wine, ink and most food-based stains. Then, we would recommend steam cleaning if the carpet type allows it.

Q: Do you offer flea treatment services?

A: It's not included in the general carpet cleaning service, but if you have a problem with fleas or any other kind of pests in your carpets and home, we have a great team of pest controllers we can arrange for you. Just give us a call to discuss the details.

Q: Can you help me move the furniture out of the room?

A: The technicians can move some smaller pieces of furniture out of the way, like coffee tables or chairs. But if you want the carpets below big items, wardrobes and other massive pieces to be cleaned as well, you should prepare the area in advance. Otherwise, they can clean around these, it's not a problem.

Q: Can I book carpet cleaning for my workplace?

A: Yes, this service can be booked for pretty much any office and commercial venue.

Q: Do you give any guarantees?

A: While we would love to give you a complete guarantee every single time, carpet stains are not an exact science, and sometimes, if the carpets are too heavily soiled and the stains have reached the padding, they can reappear on the surface after some time. In such hard cases, the technicians do their best to remove as many stains as possible, but we can't provide a 100% guarantee that the carpet will look the same way it did when you bought it. We provide many tips and options to protect your carpets from future stains, though. This will help you enjoy them for longer.
Local Carpet Cleaners Near You
Carpet cleaning is one of our many services we offer, with a full coverage of Melbourne. So, you can count on local carpet cleaning experts, who can swiftly come to your home address or place of business to perform the service and restore the immaculate look of your carpeting. See below some of the top places in the city and the surrounding areas with the highest demand for our carpet cleaning solutions:
Carpet Cleaning Melbourne Coverage
Meet our Fantastic Family