Carpet Cleaning Service in Sydney
Get deep carpet cleaning for your home done with professional machines
Service available 7 days a week
Delivered by experienced carpet technicians
Suitable for both durable and delicate carpets
Removing common stains and odours
Quick and easy online booking
Prices from $35/room

Get your professional carpet cleaning in Sydney in 4 simple steps


Enter your local Sydney area code
Enter your area code into our online booking form to start.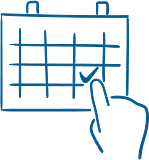 Specify the details
Follow the instructions, give us some info about your carpet and select a free time slot.


We'll send a fully equipped carpet cleaning technician
A skilled carpet cleaner will come to your home equipped to clean any type of flooring.

Why use our professional carpet cleaning in Sydney
A calculated approach to carpet cleaning that leaves a bright look and fresh smell to your floor covers!
Available all week long
You can easily check our availability online. We've made our highly demanded carpet cleaning easily accessible through our online booking form.
Using high-end deep cleaning machines
We use cutting-edge technology to deliver the most effective professional cleaning and a range of eco-friendly stain treatment cleaning products and carpet shampoos.
Delivered by expert carpet cleaners
The carpet cleaning technicians at Fantastic Cleaners are dedicated professionals with significant industry experience. They always aim to deliver the best possible results.
Improved air quality at home
You can significantly improve your domestic atmosphere thanks to our deep cleaning because it eliminates all the accumulated dust and germs from your carpets.
Nature-friendly cleaning products and methods
We use a range of cleaning products that are eco-friendly and have a reduced impact on the environment as we aim to be a carbon-neutral service provider in the near future.
Exclusive member benefits with Fantastic Club
You can book services with priority and benefit from preferential rates, seasonal deals, and $400 in credits toward 10 of our most popular and demanded services as a member of Fantastic Club.
Book professional carpet cleaning in Sydney!
How our carpet cleaning in Sydney is done
We'll send a carpet cleaning technician to your place
Please make sure to arrange a parking spot near your address in Sydney when the time for your service comes. You can expect a timely arrival by your carpet cleaning technician. They will bring all the necessary professional equipment and cleaning products to clean your carpets properly.
Your carpeting will be carefully examined and pre-treated
Typically, each carpet cleaning session starts with a careful examination of the items that are to be cleaned. Also, the technician will be mindful of any existing stains. The expert will vacuum clean the pile side of the carpet, then he will pre-treat any stains with special targeting detergent.
Deep cleaning with high-end professional machines
When the carpet technician is done with all the pre-treating, he will deep clean your carpets with a powerful hot water extraction machine. Hot Water Extraction is widely regarded as the most effective deep-cleaning method when it comes to carpets. It is certainly way more effective than steam cleaning (which is actually quite ineffective and even risky in some cases).
Get a FREE Quote!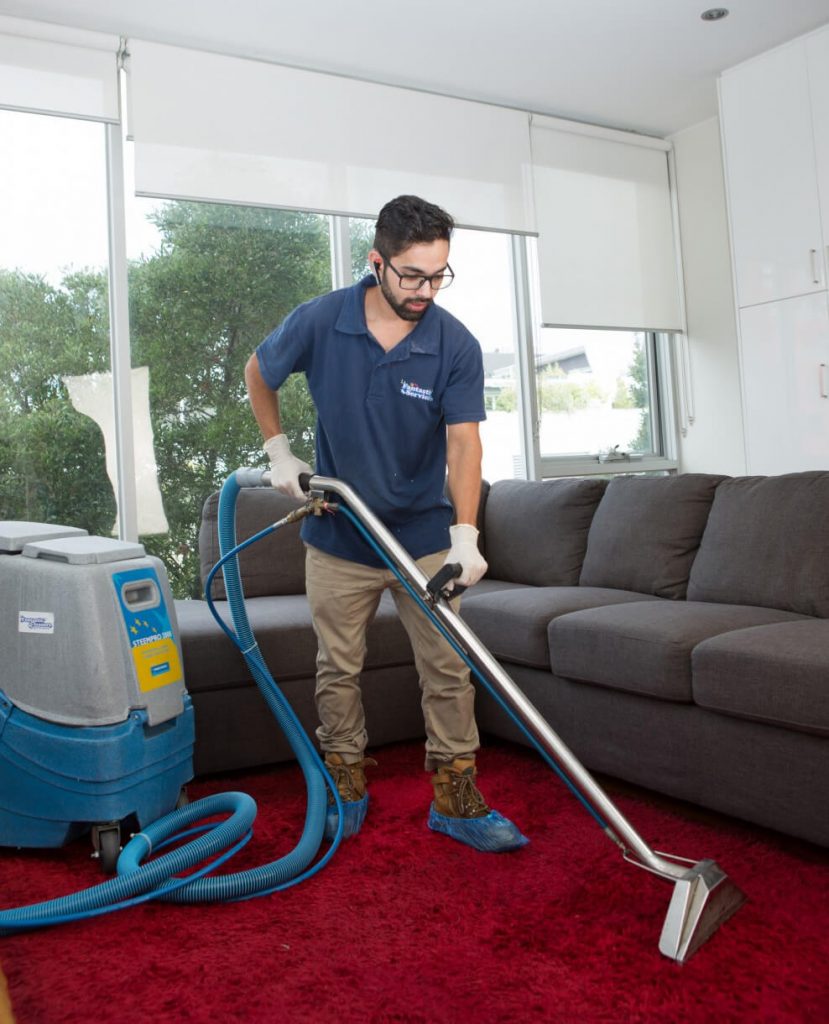 Our Hot Water Extraction method at work
After pretreatment, the technician will grab the cleaning wand of the hot water extraction machine and begin to carefully slide it over the top pile of the carpet. The nozzle of the cleaning wand ejects a powerful stream of hot water mixed with eco-friendly cleaning detergent.
The nozzle is constantly ejecting the carpet cleaning solution, targeting the microscopic spaces deep between the fibres of the fabric where all the accumulated dust, grime, and germs are. The pressure and the high temperature effectively displace all the filth and sanitise the fabric.
However, you might be wondering where all the water and displaced filth go. The cleaning wand of the machine is equipped with a powerful suction attachment which is positioned right behind the ejection nozzle. This means that the machine retrieves all the moisture back (along with the dislodged filth) almost simultaneously. Over 95% of the liquid is obtained back into the machine, leaving your carpets almost dry.
The effect is simply fantastic! In fact, if this is your first time booking deep carpet cleaning with hot water extraction, then you should take a look at how it's done – it's quite fascinating! You are able to see the before-and-after effect of deep cleaning in real-time.
Best used for: durable mixed and entirely synthetic carpets (polyester, wool, etc.)
Expected drying time: 2 to 8 hours
Recommended frequency:
3 to 6 months for heavy foot traffic carpeted areas
6 to 9 months for bedroom carpets and area pieces
Book Hot Water Extraction!
Dry carpet cleaning
Some carpets are made of delicate natural fibres. This means that it is risky to clean them with water and high temperature because they might shrink or deform. In those cases, we utilise dry cleaning methods.
Dry powder cleaning – The technician applies a special adhesive cleaning powder to the surface of the item and uses a machine with rotating brushes to work it into the pile. This allows the unsanitary particles and hairs to stick to the powder. The technician then vacuums the piece, removing the powder and all dust and dirt.
Low-moisture solvent cleaning – For the most precious of carpets, our effective low-moisture cleaning method involves the use of a special low-moisture detergent, which is applied all over the top pile of the delicate item. The detergent is allowed to penetrate the fibres of viscose, cotton, velvet, or silk and many more, and work its magic for a few minutes before it is carefully wiped away using soft terry cloths. This process removes dirt and stains without damaging the delicate fabric of the carpet.
Drying time: within a few minutes.
Recommended for: natural fibres such as sisal, jute, and seagrass. Also great for Persian and other oriental carpets, velvet, silk, and cotton items.
Please note: our dry cleaning methods are a wonderful way to refresh your delicate carpets, however, they are not particularly effective at removing stains.
Reserve a dry cleaning slot now!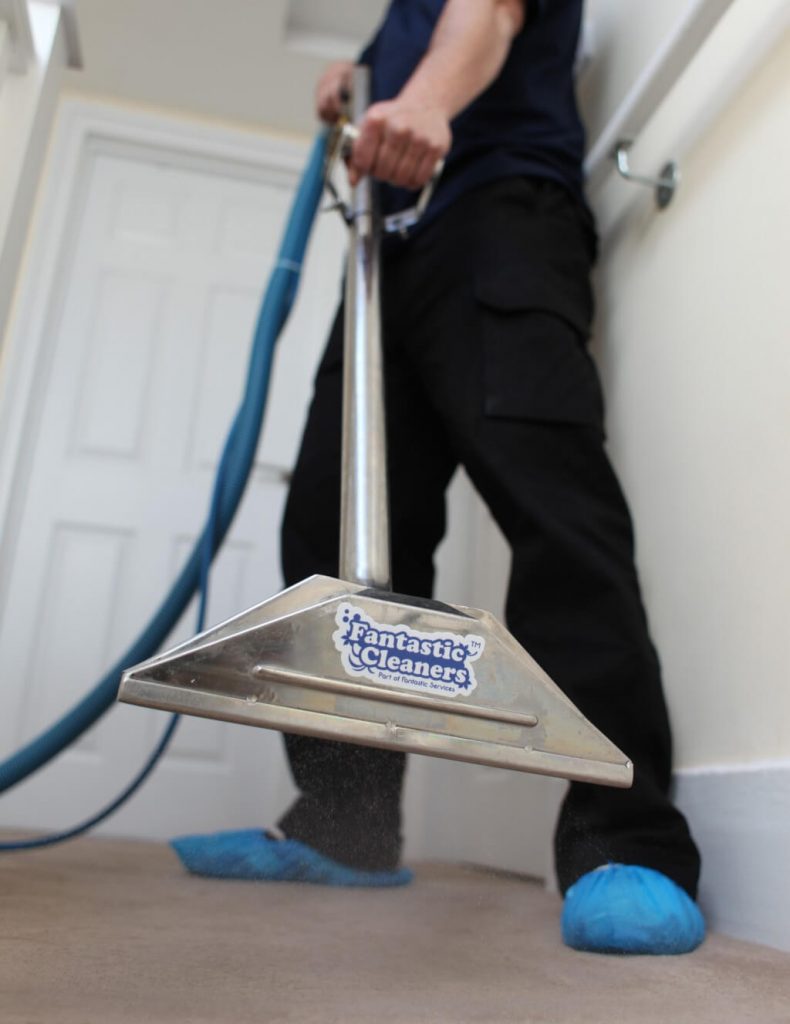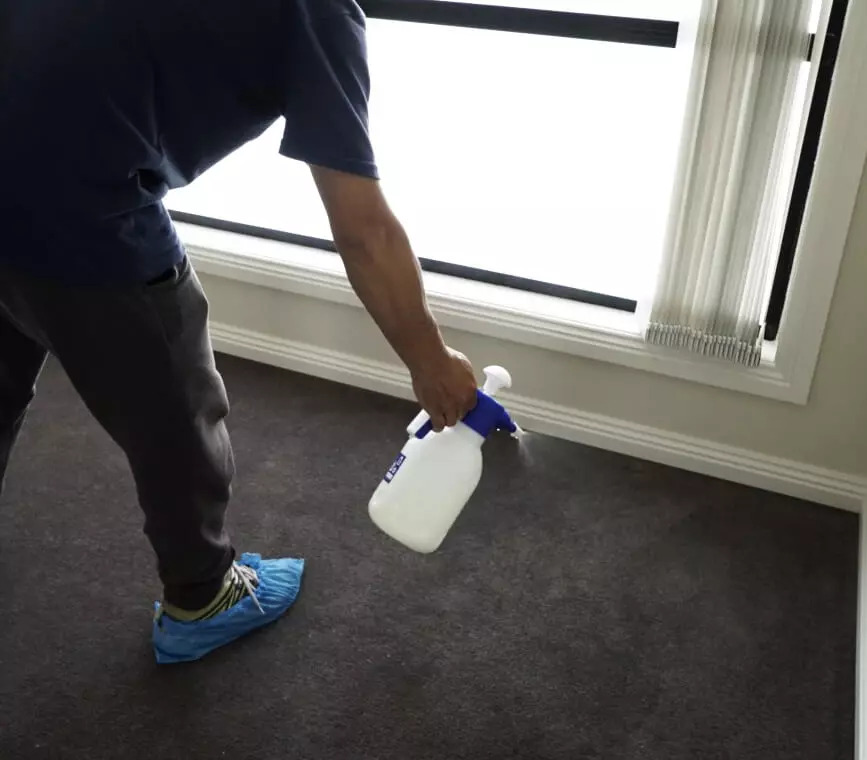 Anti-stain treatment by Scotchgard™
Scotchgard™ Approved 100%

| | |
| --- | --- |
| Our advanced cleaning method provides unparalleled protection against oil and water-based stains, helping to keep your carpet looking fresh and new. | ✅ |
| Not only will the fibers of your carpet become more resistant to soiling, but our treatment also adds a protective layer that gives you extra time to deal with spills before they can become permanent stains. | ✅ |
| When it comes time to clean your carpet, you'll find that even the most stubborn stains can be easily removed thanks to the effectiveness of our cleaning process. | ✅ |
| Regular vacuuming will also become much more efficient as dirt and debris will be easily lifted from the fibres of your carpet, keeping it looking clean and well-maintained. | ✅ |
Book protected carpet cleaning in Sydney today!
Carpet Cleaning Sydney Prices
Our prices

Price for Fantastic Club members starts from $95 instead of $135
| Property | Prices |
| --- | --- |
| Bedroom | $35 |
| Living Room | $50 |
| Study | $25 |
| Hallway | $25 |
| Flight of Stairs | $45 |
| Small Rug (up to 4 sqm) | $20 |
| Large Rug (up to 6 sqm) | $25 |
Join the

Fantastic Club and get:
$400 in credits
Preferential member rates
Get $40 off the standard price for your first booking as a member of the Fantastic club for 10 different bookings within 1 year.
Exclusive seasonal deals
Real-time arrival tracker
Priority booking & case handling
Book with full benefits for any property
Deals by partnering brands
Get a free instant quote and check our availability in your area

Why not become a member of the Fantastic Club?
This gives you savings on a wide range of property cleaning and maintenance services for your home, office and garden. Check all club benefits.
Hot Water Extraction vs Carpet Steam Cleaning
Hot water extraction and steam cleaning are two commonly used methods of cleaning carpets. While they may sound similar, there are some key differences between the two. Throughout the years, steam cleaning has been a popular choice for professional carpet cleaning. However, this cleaning method is actually quite outdated due to the emergence of superior cleaning technologies. Here is why.
Carpet steam cleaning relies on steam that is ejected under high pressure – that's how most steam cleaning equipment works. The logic is that the steam is supposed to displace the accumulated dust and dirt particles. However, the high temperature of the steam combined with the low levels of moisture can actually easily cook and crust a stain, permanently affecting the carpet.
On the other hand, hot water extraction uses water that is heated to a much lower temperature. The amount of water that is used is also much higher. Hot water extraction uses a larger amount of water than steam cleaning, and the water is applied directly to the carpet.
There is no risk of overwetting the carpet with hot water extraction because there is a powerful suction tool that is constantly removing the moisture and the displaced dirt. In contrast, steam cleaning uses a smaller amount of water and the moisture is not enough to properly displace the accumulated dirt and dust particles.
Overall, hot water extraction is way more effective than steam cleaning when it comes to carpets. Hot water extraction is more better at removing tough stains, ground-in dirt, allergens, dust mites, and germs.
Combine your carpet cleaning with other convenient services
You can get even greater value out of your carpet cleaning by combining it with other service from our convenient range
Upholstery Cleaning
We also offer upholstery cleaning with hot water extraction. The process typically involves the use of a special nozzle that protects the furniture from being overwetted. The hot water helps to loosen any dirt or debris that may be trapped in the upholstery, while the cleaning solution helps to break down and remove stubborn stains or odours. Upholstery cleaning with hot water extraction is an effective method of deep cleaning upholstered furniture and can help to remove tough stains and odours that other cleaning methods (such as steam cleaning) may not be able to remove.
Window Cleaning
Our window cleaning service is done with an extendable pole system. During the service, a professional cleaner uses a long pole with a cleaning tool attached to the end to clean the windows of your house. The pole can be extended to reach windows that are up to 4 stories high. The extendable pole system allows the cleaner to clean windows from the ground, without the need for ladders or scaffolding. And best of all, the service is quite eco-friendly because no detergents are used whatsoever. Only purified water.
Wall Spot Cleaning
Our wall spot cleaning is a service that involves removing small stains or marks from walls. The process usually involves identifying the type of stain or mark on the wall, and then using the appropriate cleaning solution to remove it. The solution is applied to the affected area using a soft cloth or sponge, and then the spot is gently wiped away. Depending on the severity of the stain, the cleaning solution may need to be applied several times before the spot is completely removed.
Blinds and Curtain cleaning
Blinds and curtains can accumulate a lot of dirt, dust, and other debris over time, which can impact their appearance. Professional blinds and curtain cleaning can remove this dirt and restore their appearance. We use a special professional deep cleaning with an attachment that is suitable for blinds and curtains. The technician simply slides the nozzle of the cleaning wand over the surface of the blind/curtain and it is being cleaned. There is no need to have it removed from its railing even.
End of Lease cleaning
This type of cleaning typically includes a thorough cleaning of the entire property, including the kitchen, bathrooms, bedrooms, living areas, and any outdoor spaces. The goal of end of lease cleaning is to ensure that the property is ready for the next tenant and to help the outgoing tenant receive their full security deposit back. The specific tasks included in our end of lease cleaning service may vary, but they typically include deep cleaning of all surfaces, floors, and fixtures; removing any stains or marks on walls and floors, also making sure that all appliances, such as the refrigerator and oven, are clean and in good working order
Get a combined quote!
Frequently Asked Questions about our carpet cleaning services
Q: How often should I get my carpeting machine-cleaned?

A: It's generally recommended to have your carpets professionally deep-cleaned once every 6 to 8 months. However, the exact frequency can vary depending on a number of factors, such as the foot traffic the carpet receives, the presence of pets, and whether or not you have young children or people with allergies in your home.

Q: Is the bad small going to be gone from my carpets?

A: Yes, we remove bad smells from carpets with ease. Our deep carpet cleaning, also uses hot water and a cleaning solution to remove dirt, debris, and other contaminants from the carpet fibres. The heat from the hot water and the cleaning solution can help to neutralize bad odours and leave your carpets smelling fresh and clean. We are also particularly good at dealing with pet stains and removing the unpleasant smells they cause.

Q: How long does the carpet cleaning service continue?

A: The length of time it takes for a carpet cleaner to clean your carpets can vary depending on a number of factors, such as the size of the area being cleaned, the condition of the carpets, and the type of cleaning method being used. On average, a professional carpet cleaning service can take anywhere from 1 to 2 hours.

Q: Do you use safe cleaning detergents?

A: We take great care to ensure that our carpet cleaning detergents are safe for use in your home. Our cleaning products are specifically formulated to be gentle on carpet fibres and effective at removing dirt, debris, and other contaminants, without exposing your family or pets to harmful chemicals.
Q: How long does it take for the carpet to dry?

A: It really depends on the type of carpet fabric, the ventilation in the room, as well as the pile type and thickness. Most carpets usually air dry on their own within 2 to 4 hours while wool carpets can take up to 6 hours to dry, especially if they are shaggy or long pile type. If the conditions in the room seem to make drying difficult, the cleaning technician can bring an air mover (for free) to speed up the drying process.

Q: How long will it take for the carpet to dry on its own properly?

A: After our professional deep carpet cleaning service, it typically takes between 2 and 6 hours for your carpets to completely air dry on their own. This time frame can vary depending on a number of factors, such as the type of carpet you have, the humidity level in your home, and the amount of traffic in the area being cleaned. To help your carpets dry more quickly, we recommend opening windows and doors to increase air circulation, and avoiding walking on the carpets until they are completely dry.

Q: Can you guarantee that the stains will be removed?

A: We are confident in our ability to remove most types of household stains from your carpets. Our professional deep cleaning methods are designed to effectively remove a wide range of stains, including those from food and beverages, pet accidents, and everyday dirt and grime. We use state-of-the-art equipment and specially formulated cleaning solutions to lift stains from the carpet fibres and leave your carpets looking fresh and clean. So you can trust that we will do everything we can to remove stains from your carpets and restore their beauty and cleanliness.

Q: What is the best cleaning method for pet stains on carpets?

A: We have found that pre-treatment of pet stains followed by hot water extraction cleaning is the best way to remove the stains from carpets. Pet stains can be difficult to remove, especially if they are not treated promptly. The bodily fluids and solids from pets can quickly penetrate the carpet fibres and leave behind unpleasant odours and unsightly stains. Pre-treating the stains with specialised cleaning solutions breaks down the stains and makes them easier to remove during the hot water extraction cleaning process.

Q: Do you also clean rugs?

A: In addition to cleaning carpets, our company also offers professional rug cleaning services. We can clean your rugs using a variety of methods, including hot water extraction cleaning and dry cleaning, depending on the type of rug and the condition it is in. Dry cleaning is particularly good for expensive choice rugs. It uses specialised dry cleaning solutions and a gentle agitation process to remove dirt and stains without the use of water. This method is ideal for delicate rugs or those made of natural fibres, such as wool or silk.

Q: What is the coverage of your carpet cleaning services in Sydney?

A: We offer cleaning services in all areas of Sydney and most of the nearby suburbs. Our team of experienced technicians is ready to help you keep your carpets looking their best. In the heart of the city or in a nearby suburb - we are here to provide you with the professional carpet cleaners you need. Take a look at some of the areas where we often deliver our services or log in to our website and enter your local area code to check if we cover your area.
Our carpet cleaning service coverage in Sydney
We offer professional carpet cleaning services in all areas of Sydney and most of the nearby suburbs. Our team of experienced technicians is equipped with state-of-the-art equipment and cleaning solutions, and we are ready to help you keep your carpets looking their best. Whether you live in the heart of the city or in a nearby suburb, we are here to provide you with the high-quality carpet cleaning services you need. Below you can take a look at some of the areas where we often deliver our services but you can also log in to our website and enter your local area code to check if we cover your area.
Carpet Cleaning Sydney Coverage