Carpet Cleaning Sydney
Infection Training passed from the Australian Government - Department of Health
Stain Pre-Treatment prior to the carpet cleaning
No more bacteria and allergens lurking in the carpets
Cleaning solution, tailored to the type of carpet material
Steam cleaning, hot water extraction, dry cleaning - we do it all!
From $35 / Room

Carpet Cleaning Sydney Prices
Our prices

Price for Fantastic Club members starts from $55 instead of $95
| Property | Prices |
| --- | --- |
| Bedroom | $35 |
| Living Room | $45 |
| Hallway | $15 |
| Flight of Stairs | $35 |
*The minimum for the service is $95 or $55 with Fantastic Club.
Join the

Fantastic Club and get:
$400 in credits
Preferential member rates
Get $40 off the standard price for your first booking as a member of the Fantastic club for 10 different bookings within 1 year.
Exclusive seasonal deals
Real-time arrival tracker
Priority booking & case handling
Book with full benefits for any property
Deals by partnering brands
Get a free instant quote and check our availability in your area

Why not become a member of the Fantastic Club?
This gives you savings on a wide range of property cleaning and maintenance services for your home, office and garden. Check all club benefits.
Advanced Rug and Caret Cleaning in Sydney for All Types of Textile
Spillages happen often and no matter how you handle them, likely, the stains will still be there for you to notice them every time you walk in the room. As if this is not the worst, with time, dust mites and pet dander will settle down on your carpet to offer bacteria and germs a feast.
Poor ventilation and high humidity create the perfect condition for rapid mould spores' growth. Vacuuming the carpet regularly is just not enough cleaning to keep it in good shape.
Fantastic Cleaners are here to save you the headache by offering advanced steam and dry carpet cleaning in Sydney. The rugs and carpets will not only look brand new, but they'll also be sanitised. High traffic areas will no longer look faded.
You aren't sure what types of the carpets and rugs there are? No worries! The carpet cleaners will determine whether they are made of synthetic fibres such as nylon, polyester or from delicate natural fibres such as wool or plush. They will recommend the best carpet cleaning solution based on their type.
Get an instant quote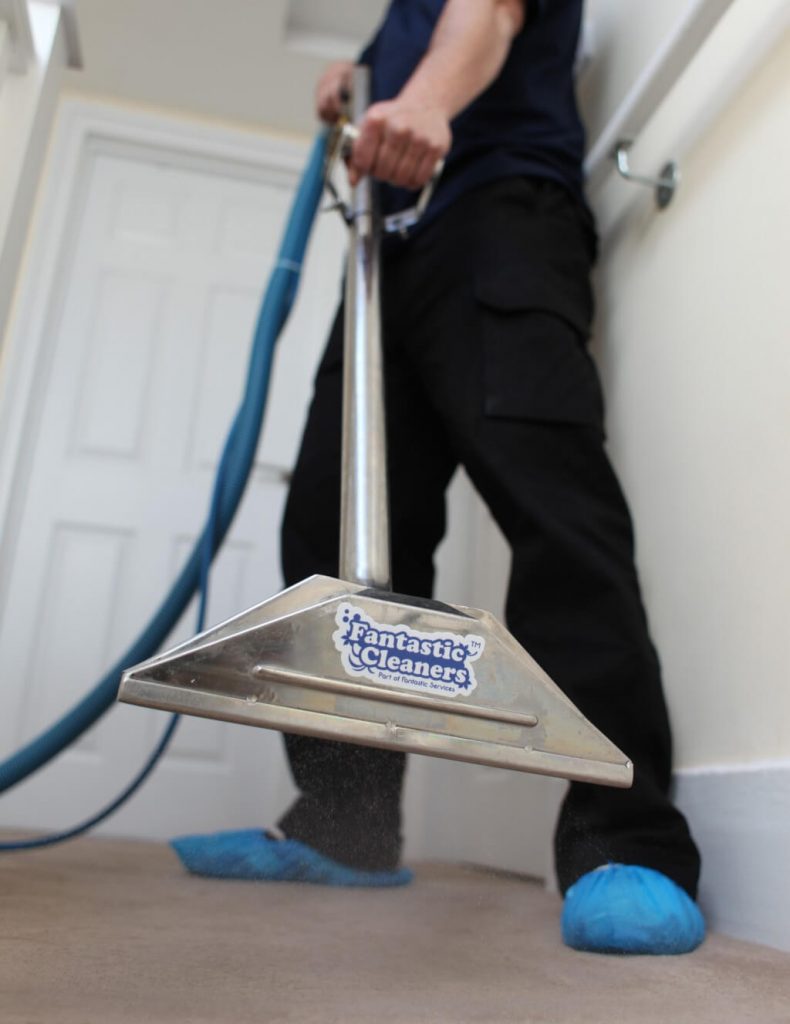 Step-by-Step Carpet Treatment Expertise
The professional carpet cleaners will first examine what is the type of the stains on your carpet. They'll do a pH testing using a special alkaline solution. The cleaners will treat the stains with the correct solution for the specific type of stains.
After that, the experts will confirm the type of material of which the carpet is made. The cleaner will implement different cleaning methods according to the carpet's material - hot water extraction, steam cleaning or dry cleaning.
The carpet cleaners will vacuum the carpet to remove all the build-up dust, dander and particles using an industrial vacuum cleaner.
Any stains and spillages will be pre-treated. High traffic areas will be pre-sprayed to loosen up the grimes and soil.
Small furniture will be cleared out of the way by the cleaners - chairs, tables, and small shelves will be moved aside. If massive furniture needs to be relocated for the carpet steam cleaning, you need to do it before the service.
The professionals will deep clean the carpets and rugs using hot water extraction, steam cleaning or dry cleaning methods.
Fabric protector can be applied on the carpet upon request. It'll prevent spillages and stains to go deep into the fabric, which will make their cleaning easy.
The cleaned rugs and carpets can be deodorised upon request.
The carpets will need 3-6 hours of drying time for the best results.
Note that, if the drying time is an issue or the type of fibres does not allow the use of high levels of moisture, then the dry carpet cleaning method is recommended. The Sydney carpet cleaners will advise you which method is most suitable for your rugs or carpets.
Get an instant quote
Steam Carpet Cleaning / Hot Water Extraction Method
The steam carpet cleaning method is suitable for synthetic carpets made of polyester, nylon, olefin, and wool fibres.
Steam cleaning is the most efficient carpet cleaning method. It can make the oldest, dirtiest carpet look brand new. Here is how the steam cleaning works:
The carpet cleaner will use a professional steam cleaning machine. The method uses evaporated water to deeply clean carpets and rugs.
The water is heated past its boiling point and pressured out as steam mixed with cleaning detergent through a nozzle or a brush. The vapour will loosen up the dirt and dust and will destroy harmful bacteria and allergens.
During this time, a powerful nozzle will suck out all the dirt and the excess moisture from the carpet.
This method allows the carpet to be cleaned and dried at the same time. 95% of all moisture is extracted from the carpet throughout the cleaning!
After the steam cleaning is finished, the carpet will need from 3 to 6 hours to completely dry on its own. It's recommended to ventilate the area to speed up the drying process.
Get an instant quote
Dry Carpet and Rug Cleaning Method
The dry carpet cleaning is suitable for delicate carpets made of natural fibres such as coil, jute, 100% cotton, sisal, seagrass and other organic materials.
Dry cleaning is a cleaning method designed specially to take care of delicate high pile carpets and shaggy rugs. Here is how the dry carpet cleaning method works:
The carpet expert will vacuum-clean completely the rugs and carpets using an industrial vacuum cleaner.
After that, the specialist will spread a dry powder evenly on the whole surface of the carpet.
The powder is then rubbed in the carpet using a spinning rotary bonnet machine equipped with lots of tiny brushes. The cleaning process is also called fibre agitation. The dirt and grime will attach to the chemicals of the powder.
The dry powder and the debris will be sucked in and removed from the carpet with a power vacuum.
This carpet cleaning method does wonders for refreshing delicate rugs and carpets. Note that, there might be stains that cannot be completely removed.
Scotchgard Fabric Protection Benefits
Right after your carpets and rugs are professionally cleaned, the cleaners can apply Scotchgard fabric protector upon request. This is a spray solution that will prevent spills and dirt from settling in the carpet and becoming hard stains. This way if spillages happen, you can blot them easily and quickly.
The fabric protector will protect your rugs and carpets against soiling, both oil and water-based stains, fruit and drink stains. With the fabric protector, vacuuming the carpets is like a child's play.
The professional cleaners are trained and fully equipped to clean almost everything in your house. Most of our customers combine their professional carpet cleaning services with complete bond back cleaning or lounge and curtain cleaning services.


Get an instant quote
Local Carpet Cleaners Near You
Carpet cleaning is one of our many services we offer, with a full coverage of Sydney. So, you can count on local cleaning experts, who can swiftly come to your home address or place of business to perform the service and restore imaculate look of your carpets. See below some of the top places in the city and the surrounding areas with the highest demand for our carpet cleaning solutions:
Carpet Cleaning Sydney Coverage
Frequently Asked Questions
Q: Does steam cleaning remove stains from carpet?

A: This depends on the type of stain, whether has been treated with detergents before and how long the stain has been on the carpet. The carpet cleaners will examine the stain and will try their best to successfully remove it from your carpet.

Q: What types of carpets and rugs can you clean?

A: We can clean a wide range of carpets and rugs. From Persian, Oriental, Moroccan, Indian, wool carpets to mats, circular, runner rugs and much more. If you're not sure if we can handle your custom carpet, you can call us and ask!

Q: How much does a carpet cleaning cost?

A: The average cost of the carpet cleaning service we provide depends on how many carpets and rugs you need to be cleaned, their size and the material of which they're made of - rugs with more delicate material will require a specialized cleaning method.

Q: One of my carpets is badly stained. Can the steam cleaning method remove stubborn stains?

A: Our steam carpet cleaning in Sydney also includes pH testing and pretreatment of the stained area. The hot water extraction method is proven to be the most effective, when it comes to eliminating deeply ingrained carpet or upholstery stains. We can guarantee you that the carpet cleaners will do everything in their power to improve the look of your carpeting. Certain old stains may not be fully removed.
Q: Can I walk on the carpet straight after it has been dry cleaned?

A: Most dry cleaning methods incorporate some use of moisture. However, the carpet dries much quicker than when it has been steam cleaned. To be on the safe side, allow some time before walking on the treated carpeting.

Q: Do I need to move all the furniture before the cleaners arrive?

A: The technicians can clean around bulky furniture. Please, make sure to remove any pieces of light furniture prior to the service.

Q: How does the carpet protection procedure works?

A: To make sure your carpets and rugs will be stain-free for longer, we apply Scotchgard (Fabric protector) after the cleaning procedure upon request. If you spill something on top of it, the spray will prevent it from getting insides the fibres of the carpet.

Q: Do you service commercial properties?

A: Yes. We are fully equipped to provide services for any type of business properties.

Q: How do you clean expensive rugs?

A: We use the dry cleaning method to treat rugs and carpets made of delicate fibres such as 100% cotton, sisal, seagrass, jute, coil etc. The method is specially designed for treating shaggy rugs and delicate carpets.

Q: What happens when you don't clean your carpet?

A: Dirty carpets have a negative effect on the air quality in your home. Allergens and dirt can build up and might make your family sick. Dirty carpets can make your home smell bad. Not to mention that neglected carpets will get damaged faster if you don't clean them professionally.

Q: Can I book, both, a carpet cleaning and a tile & grout cleaning service at the same time?

A: Yes. And the good news is that you will save some money in the process.

Q: Do I have to stay on the property during the service?

A: That's not necessary. The cleaners can clean all the carpets in your house as long as access to the property is arranged prior the service. You can book the service for a time that's best convenient for you.

Q: How often should I have my carpets professionally cleaned?

A: This depends on a number of factors. The general advice is to have your carpeting cleaned once or twice a year. However, if you have a big family, you own pets or you host house parties rather often, you may need to book a professional carpet cleaning service three or four times a year.

Q: I have read mixed opinions about carpet protection. What is your advice on this?

A: We can only recommend that you apply the Scotchgard carpet protection we provide, upon request. It acts as a stain repellent and high-traffic areas can really benefit from it.
See what our customers say
Meet our Fantastic Family