Interior & Exterior Window Cleaning in Sydney
Infection Control Training passed from the Australian Government
Scratchless window cleaning that will leave your windows sparkling clean
Exterior & interior window cleaning using professional equipment
Elimination of corrosive pollutants from all windows
From $95

Window Cleaning Sydney Prices
| Type | Standard (up to 1.5m) | Double (up to 2m) |
| --- | --- | --- |
| Prices | Standard | Standard |
| In & Out/Ground | $12 | $18 |
| In & Out/1st Flr | $15 | $25 |
Get a free instant quote and check our availability in your area

Why not become a member of the Fantastic Club?
This gives you savings on a wide range of property cleaning and maintenance services for your home, office and garden. Check all club benefits.
How about a Fantastic Deal?
Interior & Exterior Window Cleaning in Sydney for Your Home or Office
Windows are hard to clean, but they require regular cleaning for increasing the curb appeal and keeping dust and allergies away from your home! Make use of our professional window cleaning in Sydney!
Fantastic Cleaners in Sydney will take window washing off your chores checklist. We count on a dedicated team, who service the entire city of Sydney and its suburbs. They will wash your windows inside and out, remove cobwebs and wipe the sills and frames nice and clean. If you need to get your house sparkle for the end of your lease, you can book our bond back cleaning service.
Get an instant quote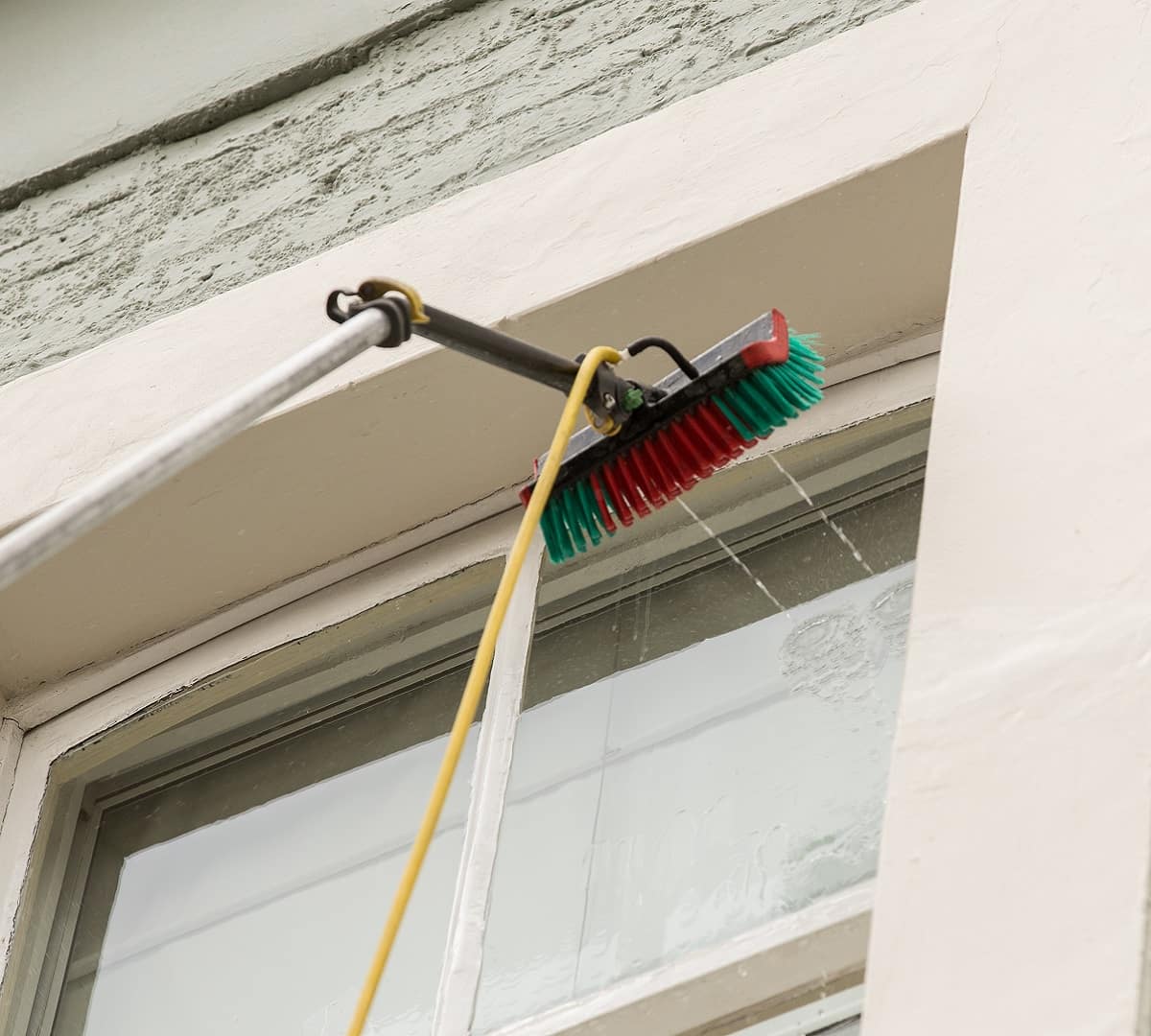 What is a Water-Fed Pole Method and How Does it Work
This window cleaning method is a pole system method using a telescopic pole with brushes attached to the end of the pole and is using purified water which is pumped from a unit on the ground.
The system filtrates tap water by eliminating all minerals. Because of this, the glass is left sparkling clean without any spots or streaks. The pumped pure water scrubs and washes the windows, eliminating all dirt and grime. The windows can be left to dry out naturally after the cleaning is done.
Cleaning your windows with the water-fed pole method will guarantee you sparkling windows for a longer time. It takes significantly longer for soils to begin building upon the clean windows.
Get an instant quote
Trust Professional Results from Sydney's Finest Domestic Window Cleaning Company
The technicians conduct both interior and exterior window cleaning. We follow a step-by-step procedure to ensure sparkling results:
The cleaners will arrive at your property bringing all tools and machines for the cleaning such as water tanks, brushes and water-fed poles;
The cleaners wash interior windows with professional tools and detergents. This includes ammonia-free glass cleaners and scratchless squeegees to ensure spotless results. The window cleaners will start with removing cobwebs, they'll clean the window frames and wipe down the window sills and ledges.
Experts clean exterior windows using a stepladder or a water-fed pole. The latter is one of the most effective windows cleaning methods. Pure water is pumped through the brushes and sprayed over the window. The cleaners will focus on stains and marks and making sure to leave the windows spotless.
The equipment is efficient and leaves windows scratchless and crystal clear. However, it is designed to clean windows located up to the fourth storey.
Note that door and window tracks can be washed upon request at additional cost.
Get an instant quote
Benefits of Regular Window Cleaning in Sydney
The professional window cleaners take good care of any glass surface they have to clean. Routine maintenance prevents mineral build-ups and increases the longevity of the windows. Your windows will also look astonishing.
Types of windows we clean:
Single and double windows
Skylight windows
Patio windows, french doors, and garden doors
Bay windows, sash windows and more.
Get an instant quote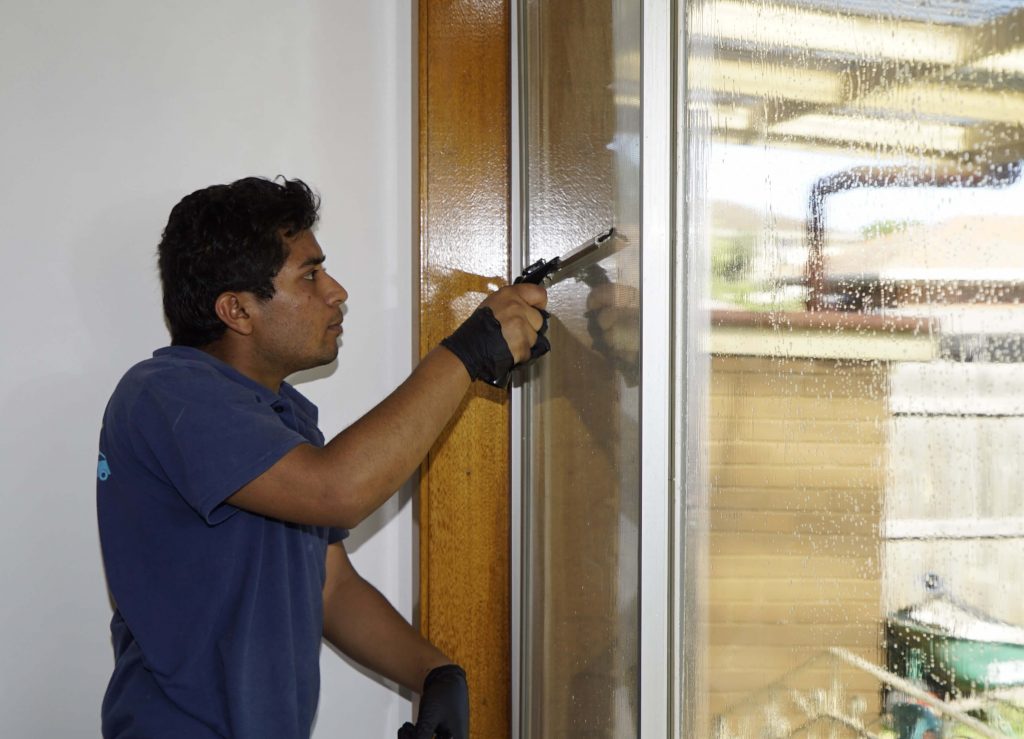 Get Commercial Window Cleaning in Sydney for Your Business
As one of Sydney's most reputable window cleaning companies, we also work with businesses and offer commercial services. Allow us to make your premises a shining example of prosperity and success. A well-maintained building is usually a sign for a well-maintained business.
Let your customers know they've come to the right place. You sure have. Just pick up the phone and book our commercial window cleaning in Sydney and scratch that off your list.
Get an instant quote
Frequently Asked Questions
Q: Is there a risk for my floors to get all wet?

A: No. The window cleaners are professionally trained. They will ensure to cover the surrounding area below your interior windows with a sheet or a mat, so your floor or carpeting will be adequately protected.

Q: Do you clean windows of commercial buildings?

A: Yes, we do perform commercial window cleaning. However, we may need to inspect the site prior to committing to perform a service. For windows, which are located up to the fourth floor, we employ the water-fed pole method, which incorporates all the required extensions and add-ons.

Q: Do you clean the sills and the window frames?

A: Yes. As long as they are PVC, we will wipe them clean at no extra charge. Unfortunately, we do not attempt to wash wooden window frames, as they may be damaged in the process.

Q: Can you clean the fly screens?

A: Yes. Additional cost may apply, however. Please, check our deals and promotions on a regular basis, as we often include cleaning of the fly screens, as well.
Q: Do you work on public holidays?

A: Yes. And you will not be charged extra for weekend, public holiday or evening bookings. Please, note that we only clean windows while there is still daylight.

Q: What happens if it rains?

A: To ensure that you are provided with a quality service, we prefer not to wash exterior windows in bad and wet weather. Moreover, the safety of the window cleaners may be jeopardised if it is raining outside. We recommend that your appointment is rescheduled for another day.

Q: Do I need to do anything before the service takes place?

A: Please, ensure that the window cleaners have free access to all exterior windows that need cleaning. This means that there are no loose and precariously placed items in the immediate area, which can endanger the technicians' safety or prevent them from executing the task. The same applies for your interior windows, too. Please, remove your antique china vase from the window ledge.

Q: What happens if the window cleaner breaks something?

A: The cleaning operatives are fully insured against damages. However, we would appreciate if you place all your valuables, artwork and antiques in a safe place and away from the immediate working area

Q: Do you need running water?

A: Yes, we do. The technicians will need access to a water source.

Q: I cannot be at home during the service. Is this a problem?

A: As long as a means of entering your property has been arranged with you in advance, the service can take place even if you are not at home. Please, let us know whether you prefer to organise a key pick-up or there will be someone, who can open the door for us.

Q: Can you clean a skylight from the outside?

A: On many occasions - yes! However, only the window cleaners can confirm this with you on site, after they have inspected the possible access options.
See what our customers say
Meet our Fantastic Family