What a Professional Carpet Cleaning Company Can Do that You Can't
Cleaning carpets is a laborious and time-consuming task for a start. But even if you have all the energy and time in the world to handle this chore by yourself, the results are often not that satisfactory. Wine stains, traffic marks, ingrained soiling and deeply hidden pet dander in the carpet fibre are all hard to clean with a regular vacuum cleaner, and a bit of water and soap. So, don't underestimate what a professional cleaner can do for you so that your valuable rugs can look their best (if not as new)!
You'll be amazed by the improved air in your home or place of business, free of lurking airborne allergy-triggers like pollen and minute waste particles that dust mites produce. And this is only the start of it. You'll find that you no longer need to cover up old stains with mats or furniture, as these can be more often than not effectively removed with powerful but safe cleaning agents that cannot be bought over the counter.
Convinced? Then, get in touch with Fantastic Cleaners Stirling now!
Get an instant quote
Fantastic Cleaners - Your Trusted Carpet Cleaning Provider in Stirling
Here's why. We count only on trained, background-checked and experienced cleaners, who specialise in cleaning textiles, be it your rug, sofa or wall-to-wall carpeting. They use advanced hot water extraction machines, designed to render results of the highest standard. Our company also boasts more than 10 years of experience in providing a wide range of cleaning solutions for the home or office. And carpet cleaning is one of our most sought-after services, purely because we meet the demand with our customers' highest satisfaction in mind.
The products we use are non-toxic, so sensitive or allergic folks can confidently resort to our services, as well. And that's not all! We always aim at making life even easier by offering special deals or perks like credits towards future services from our large portfolio for anyone who joins our yearly membership, called the Fantastic Club.
Last but not least, we rely on an expert customer support team, available all-week-round via chat, email or phone. These guys work tirelessly to answer all service-related questions, as well as resolve issues and clients' concerns.
Get an instant quote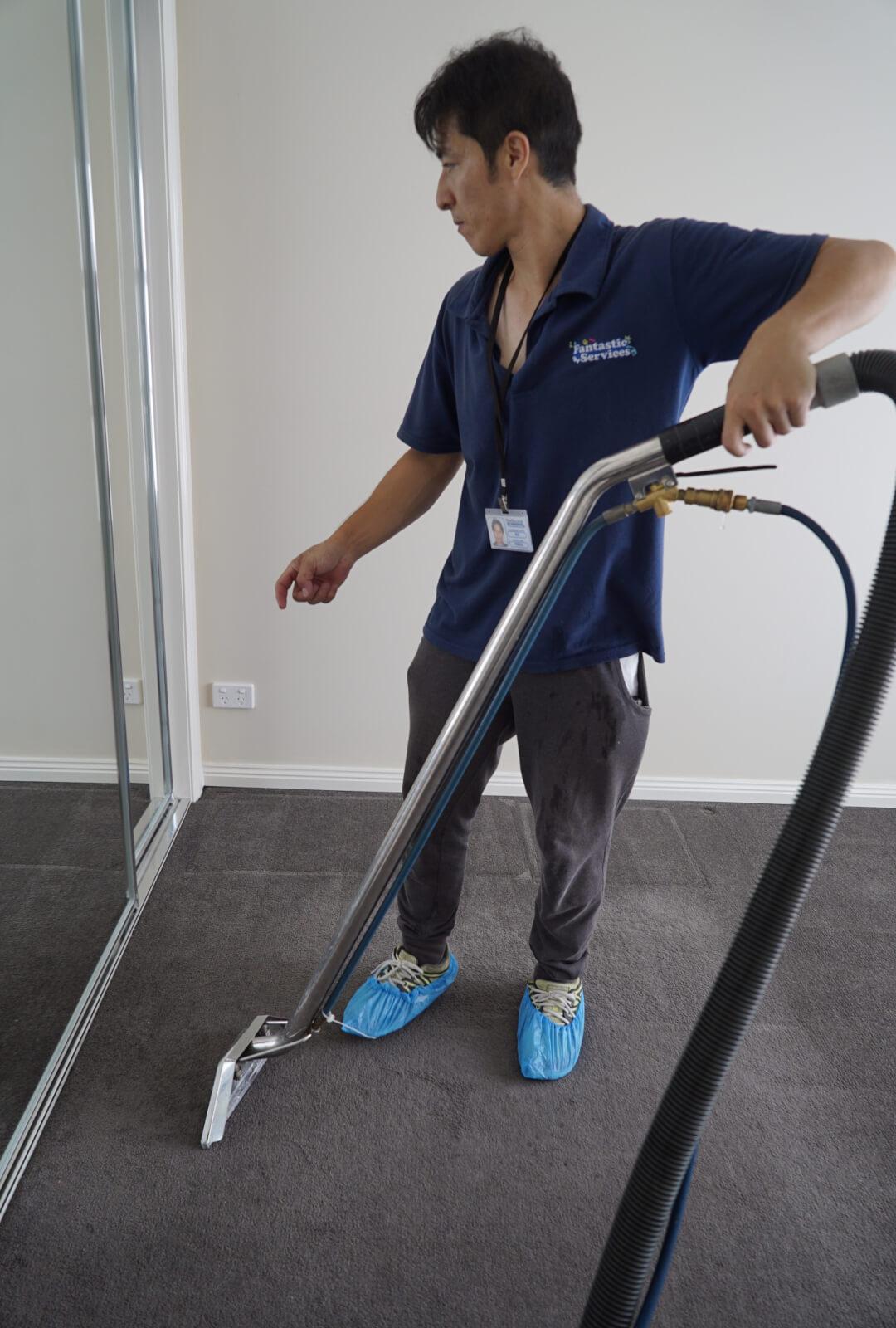 What to Expect from Your Carpet Cleaning Service in Stirling
We've developed a simple carpet cleaning procedure that follows a few straightforward but effective steps. Read below to see what they are and should you have further questions, don't hesitate to get in touch with us!
Inspection: The pro begins with a thorough inspection of your carpeting. They will determine the material it is made of, as well as the condition it is in.
Vacuum cleaning:To remove small debris, pet hair and dust, the cleaner will use an industry-grade vacuum cleaner. Some light furniture may need to be cleared out of the way at this point.
Pre-treatment of stains: Any stains will be pre-treated with a special cleaning product. If necessary, the specialist may perform a pH-test on those, as well.
Hot water extraction: The actual cleaning is done via the hot water extraction technique, which is suitable for most types of modern synthetic carpeting. Under high pressure, the equipment distributes evenly a mixture of hot water and detergent, which dislodges stubborn stains and accumulated soiling on the rug. The machine then extracts the moisture up to 95% along with the dirt.
Extras at additional fees: Upon request, you can ensure that your floor coverings are free of stains for at least 6 months by having Scotchgard carpet protection applied after the cleaning. It stops carpet accidents from becoming hard-to-remove marks and spots. Deodorising is also an available option for you if you wish to have fresh smelling carpets in a space of minutes.
Note that several hours of drying time applies with any wet-carpet cleaning method, so if you wish to speed this process up, make sure to ventilate the place well or turn on a heater/fan, depending on the weather.

Get an instant quote
Local Carpet Cleaners Near You
Carpet cleaning is one of our many services we have full coverage in Perth. So, you can count on local cleaning experts, who can swiftly come to your home address or place of business to perform the service and restore imaculate look of your carpets. Every area is included, but here you can see some of our top places with highest demand:
Some of the carpet cleaning locations in Perth we cover:
Frequently Asked Questions
Q: Can you handle coffee stains on a rug?

A: Yes. The expert will pre-treat the stain with an effective stain removal product before going ahead with the hot water extraction cleaning technique, which will eliminate the coffee stain. Note, however, that previously used cleaning products, which might have been unsuitable to apply, may hinder the result of cleaning completely old stains.

Q: How long does it take for the carpet to dry after Scotchgard carpet protection application?

A: About 6 hours is the recommended drying time after the product is applied. But this, of course, can vary, depending on the humidity and temperature in the room.

Q: Can you clean a wool rug?

A: The method we use is safe for treating and cleaning carpets made of wool. The pro will double-check the label of your rug to make sure that the cleaning technique is not going to cause any damage.

Q: What is the cost of cleaning one carpet, on average?

A: You'll be provided with a personalised quote before you book the service that will reflect the size of your rug and its overall condition (ex: presence of stains).