NDIS Cleaning Services in Brisbane
Let us assist you with your domestic cleaning needs in the most professional and friendly manner!
A certified home maintenance provider under NDIS
Fully qualified and locally based cleaning specialists
All professional equipment and detergents provided
Other services, available - pest control, handyman, gardening & more
Get a quote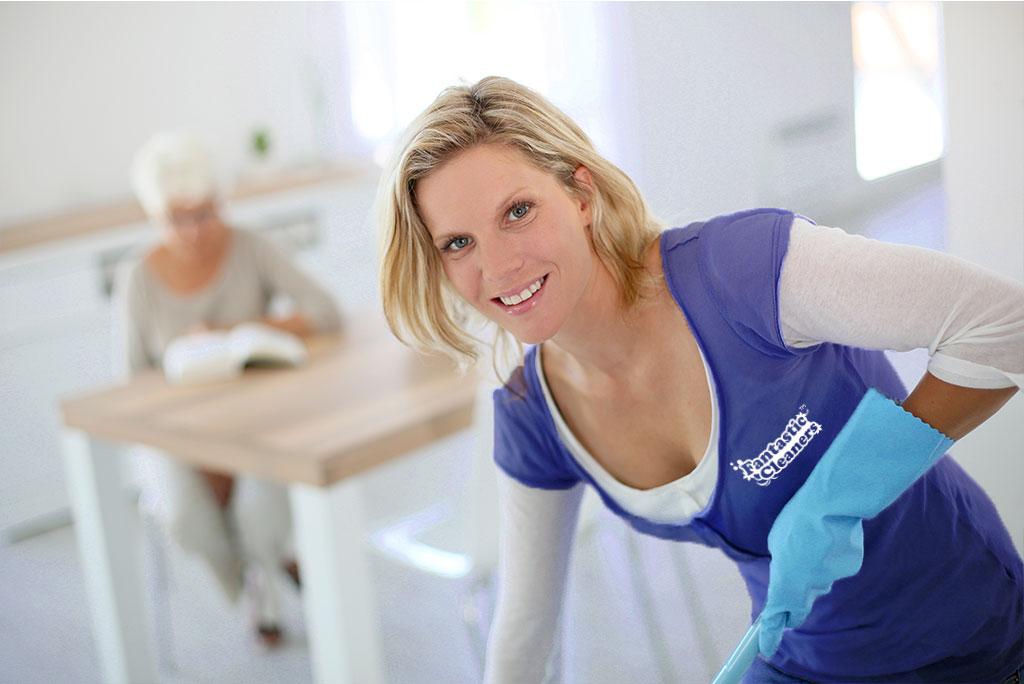 Quality cleaning assistance for participants in the National Disability Insurance Scheme in Brisbane
Living with a disability is challenging enough to worry about mundane but necessary home maintenance chores, especially if you've got no support from family and friends. And this is where we can lend you a helping hand if you've joined the NDI Scheme in Brisbane.
Fantastic Cleaners Brisbane is part of Fantastic Services - a registered domestic service provider under NDIS. We work with fully trained, thoroughly vetted local cleaning experts and various other tradesmen, who can support you on a regular basis or whenever you need.
In addition, with the newly implemented NDIS Worker Screening Check, you can rest assured that your safety and wellbeing are of prime importance to all parties involved in your support!
Get an instant quote
Why opt for the expertise of Fantastic Cleaners in Brisbane
Fantastic Cleaners strives to deliver excellence with every cleaning service from its wide range, including housekeeping, one-time deep cleaning, window cleaning, bond cleaning, carpet cleaning and a lot more. And that's not all, under our main brand - Fantastic Services, you can book numerous other home maintenance services, from handyman and appliance repairs to gardening and pest control.
All our NDIS customers in Brisbane can count on the following:
Screened, insured and fully trained NDIS-accredited cleaners
Empathic, friendly and custom-oriented approach
Industry-standard tools and non-toxic detergents
Customised cleaning solutions to meet your unique needs
Monitoring and quality control
All-week-round availability
Fast online booking procedure, including via the Go Fantastic app
Hygienic and safe home interior with your wellbeing in mind
Reliable customer support at all times
Contact us now and book your NDIS cleaning service for a time and day that suit you!
Get an instant quote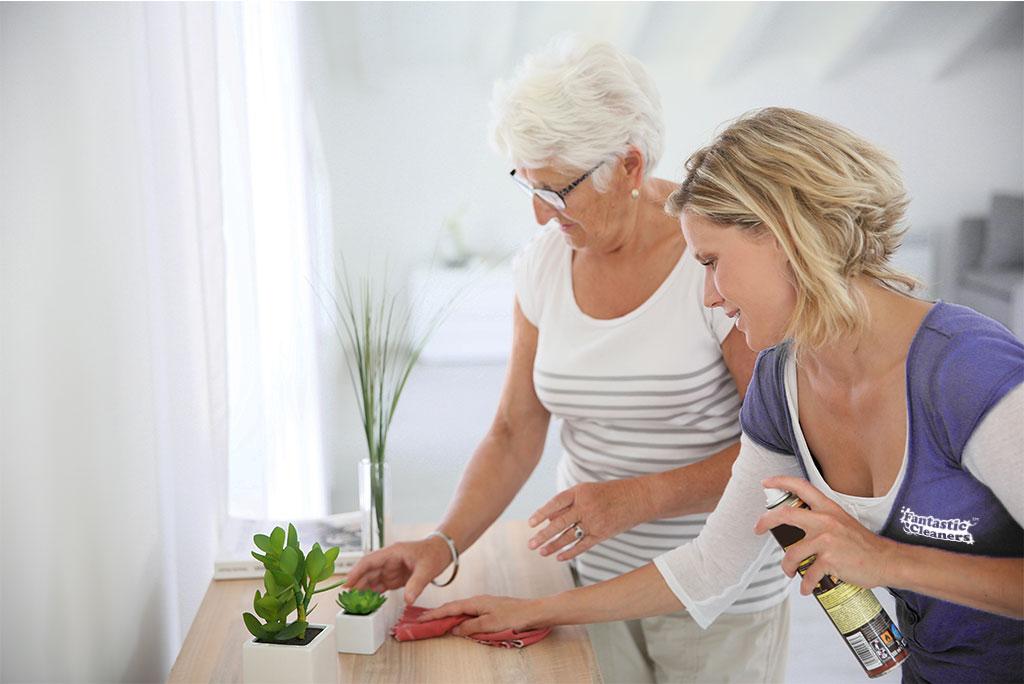 How our NDIS cleaning services in Brisbane go
You can schedule regular cleaning appointments, spring cleaning help or various other specialist cleaning solutions when the need arises.
Regular cleaning: From vacuuming, mopping, dusting, tidying up all bedrooms and the living room to sanitising the bathroom and kitchen, along with polishing all the appliances on the outside, rest assured that your home will look its best every time.
Deep cleaning: Whenever you require help with cleaning your property in great detail, our one-off cleaning service is the right solution for you. The cleaner(s) will follow your task list, be it to descale the bathroom or to thoroughly clean all high-touch surfaces, along with completing any general cleaning chores.
A variety of specialist cleaning services: A stained carpet or a dirty oven? Worry not. We work with various qualified cleaning specialists, who will come with the right equipment and detergents to restore the immaculate condition of specific items or areas around your home.
Again, to note here, don't hesitate to contact us anytime if you require any other type of outdoor or indoor property maintenance service!
Get an instant quote

Carpet Cleaning via the NDIS in Brisbane
Your carpet is more than just a soft floor covering; it's the playground for your kids and pets, the place where your family gathers, and a key part of making your home feel welcoming. Our professional carpet cleaning service is designed to eliminate dirt, dust, allergens, and stains, leaving your carpets looking fresh and feeling fluffy. As an NDIS provider, we ensure our services are accessible and tailored to meet any specific requirements you may have.
Get an instant quote
NDIS End of Lease Cleaning in Brisbane
Moving out can be stressful, especially when you're trying to balance packing, organising your new home, and getting your current place sparkling clean for the final inspection. Our end of lease cleaning services can take this burden off your shoulders. We provide thorough, meticulous cleaning tailored to meet the standards of both real estate agents and the NDIS, helping you secure your bond return and making your transition to your new home as seamless as possible.
Get an instant quote


NDIS Regular cleaning Brisbane
We understand that maintaining a clean home can sometimes be a challenge, especially for individuals managing disabilities. Our regular cleaning service is not only comprehensive, covering everything from dusting to vacuuming, but it's also flexible. Whether you need us weekly, fortnightly, or monthly, we can accommodate your schedule. We're here to make your life a little easier, one clean sweep at a time.
Get an instant quote
NDIS Spring Cleaning in Brisbane
Once in a while, every home needs a deep, thorough cleanse that goes beyond the regular cleaning routine. That's where our spring cleaning services come in. We'll tackle those often-neglected areas, like behind appliances, under furniture, and inside cupboards, leaving your home looking, feeling, and smelling fresh. And as always, we can modify our services to accommodate any special needs, as per the NDIS guidelines.
Get an instant quote


Upholstery cleaning through the NDIS in Brisbane
Upholstery, like your sofas, chairs, and cushions, can harbour dirt and allergens that regular cleaning can't always remove. Our professional upholstery cleaning service helps to extend the life of your furniture while creating a healthier environment in your home. Rest assured, our trained team will handle your precious belongings with care, ensuring your upholstery remains undamaged and vibrant.
Get an instant quote
NDIS Mattress Cleaning in Brisbane
Your mattress is the place where you recharge every night, and keeping it clean is crucial for a good night's sleep. Our mattress cleaning services focus on removing dust mites, bacteria, and any unpleasant odours, providing you with a fresh, clean sleeping surface. We use safe and effective cleaning methods that can be customised to suit individuals with allergies, sensitive skin, or other specific needs.
Get an instant quote


Oven Cleaning in Brisbane via the NDIS
Cooking in a clean oven not only improves the taste of your food, but it can also reduce potential fire hazards caused by built-up grease. Our oven cleaning services will give your oven a deep clean, removing grime and burnt-on food that can impair your oven's performance.
Our cleaning professionals are trained to provide a high-quality service, making your oven shine while keeping safety and NDIS requirements at the forefront. Let us handle the tough stuff so you can enjoy your cooking adventures in a cleaner, safer kitchen.
We also offer NDIS cleaning services in:
Find out what other services we offer on our Area Coverage page.
Get an instant quote
Frequently Asked Questions
Q: Do I need to prepare in any way before the cleaning service?

A: No, nothing is required from you, as the cleaners will bring everything needed for the job at hand. If asked, however, please, show your proof that you are a participant in NDIS.

Q: Does NDIS cover all the expenses associated with the support services you provide for my home?

A: Absolutely. As long as you're qualified for such support, you'll pay nothing towards the provided cleaning or property maintenance assistance from us.

Q: Can I ask the cleaner to help me with another type of chore?

A: Sure. Discuss your to-do list with your dedicated housekeeper, who will be most likely happy to fold the laundry, do the dishes or water your plants as part of our regular cleaning option.

Q: Do you operate on weekends?

A: Yes, we deliver our cleaning services every day of the week, including public holidays.
Meet our Fantastic Family