Schedule your mattress cleaning in 3 steps


Enter your local area code
Book your mattress cleaning in Sydney online using our fast and simple booking form. Start with providing your postcode.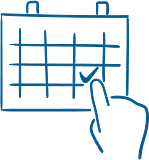 Configure your service
Tell us how many mattresses you need cleaned and provide us with some details in a few clicks. Add additional requirements if you have any.


Your professionals are on their way
Fantastic cleaners will come to the address promptly, fully prepared to provide you with high-quality service.

Why choose our professional mattress cleaning in Sydney
Rely on the years of experience and proven technology of Fantastic Cleaners in Sydney for this vital task. Ensure a healthier environment in your bedroom.
Advanced cleaning methods
We employ the most advanced, high-end cleaning methods on the market to provide customers with stain and allergen-free bedding. Hot water extraction and dry-cleaning industrial-grade machines guarantee deep cleaning of all synthetic, delicate fabrics and memory foam mattresses.
Eco-friendly solutions
The professional detergents we use are completely environmentally and pet-friendly. We care about nature and our customer's safety. You can rest assured that your bedroom is tailored with the most energy-efficient and healthy cleaning solutions, leaving your bed pieces sanitised and chemical-free.
Transparent pricing
Our quotes are final, and no hidden charges apply afterwards. Any costs will be explained in advance to you. You can check the prices online or request a free individual quote via our online booking form or by phone.
Fantastic Club benefits
Don't miss becoming a part of our premium membership! The Fantastic Club subscription will grant you access to priority booking slots, special rates, promotions and partnering brands deals. You'll also receive $400 in credits, which can be used for 10 different services.
Excellent customer support
For your convenience, Fantastic's top-notch customer care teams operate 24/7. Don't hesitate to contact our friendly colleagues whenever you need help with a service or additional information. Our online booking system is also always available to book and manage your appointments easily.
Teams of qualified professionals
The experts we work with are background-checked and fully qualified to provide high-standard cleaning services. They are certified, regularly checked and fully insured. You can always count on their expertise and strong attention to detail. They can also give you professional advice on keeping your bed furnishing clean and healthy for longer.
Get an instant quote
What the professional mattress cleaning process involves
We apply highly-effective mattress cleaning techniques that guarantee perfect results and dirt and allergen-free bed items. Whether you have latex, memory foam or a pillow top mattress, we can clean it. Your Fantastic expert will sanitise it using specialised equipment and products. Depending on the fabrics and the manufacturer's requirements, hot water extraction or professional dry cleaning will be performed.
Hot water extraction mattress cleaning
This powerful method is ideal for synthetic or mixed fibres. HWE eliminates all build-up dirt, allergens, odours and stains and leaves your mattress sanitised and fresh. The hot water extraction machine can still be used for some natural materials, such as wool, but with cold water and a diluted detergent to ensure the piece won't be damaged.
This is what you can expect on the day of your appointment:
The cleaner will arrive promptly at your address, bringing all the equipment and cleaning supplies needed to complete the job.
He will remove all hard particles, dust and hair from your mattress with a powerful vacuum cleaning machine.
Next is pH testing of the stains. The pro will treat any marks and stains with a suitable stain removal product depending on whether they are acidic, basic, fatty - etc.
Your mattress will then be fully cleaned with professional hot water extraction equipment. A tiny nozzle injects hot water under high pressure deep into the fibres. The treated area is simultaneously vacuumed.
The process involves an acid rinse which balances the pH of the mattress, prevents accidental browning and leaves it smooth and shiny.
Once professionally cleaned, your mattress will be left almost dry as 90-95% of the moisture is extracted in the process. Another 4-6 hours and good ventilation will be needed for the material to dry completely.
Get an instant quote

Dry mattress cleaning
This method is perfect for delicate fibres and mattresses made of foam or other soft material that is not water or heat-resistant. It's chemical-free and colourful-safe, and no drying time is required. Although dry mattress cleaning is not that effective against stubborn stains, it's powerful enough to provide excellent results.
Here is what to expect:
The technician will arrive on time, bringing a specialised dry-cleaning machine, fully prepared to refresh your mattresses in the most gentle way possible.
He will start by deep vacuuming to remove all the dust, hair and hard particles.
Then, he will proceed with a thorough inspection and testing of the fibres and stains, if any, to decide on the appropriate treatment agent.
Next is applying a powerful powder solvent, which is the most effective solution for dry cleaning. It is applied by a professional dry cleaning machine and comes out under pressure to guarantee that the solvent goes deep into the fabric.
In the end, the same machine sucks back the solvent together with all the dirt ingrained in the mattress.
Get an instant quote
Mattress Cleaning Sydney Prices
Mattress Cleaning Prices
| Mattress type | Standard |
| --- | --- |
| Single size mattress | $50 |
| Double size mattress | $70 |
| Queen size mattress | $80 |
| King size mattress | $90 |
| Minimum for the service | $135 |
*Get $40 off the standard price for your first booking as a member of the Fantastic club for 10 different bookings within 1 year.
Get a free instant quote and check our availability in your area

Why not become a member of the Fantastic Club?
This gives you savings on a wide range of property cleaning and maintenance services for your home, office and garden. Check all club benefits.

Extra care that we offer to the mattress cleaning services
Additional to your steam or dry mattress cleaning, you can book a specialised deodoriser treatment. It will completely remove any lingering odours and ensure the long-lasting freshness of your mattresses.
For synthetic fibres, we also offer additional sanitisation that works effectively against enveloped viruses, fungi, algae and a wide spectrum of bacteria. Upon request, the technician adds an antiviral detergent to the tank of the HWE machine during the standard mattress steam cleaning service.
To provide you with an even better bed experience, as an option, after the service, we can apply extra stain protection – a special Scotchguard solution. It creates an invisible UV-stable protective layer over the mattress that prevents spillages from becoming permanent stains. The solution protects the mattresses for up to 6 months, making them easier to maintain and clean in the future.
Get an instant quote
The importance of having your mattress cleaned professionally
So, why changing your sheets alone is not enough to make sure you sleep in a clean bed? With everyday use, your bed furnishing soaks sweat and accumulates a mix of dust and dead skin cells. Dust also contains minute pests (dust mites), which can trigger an adverse reaction in more sensitive or outright allergic people. Add liquid or food spills, child wetting or pet accidents, and you have the perfect environment for germs and all sorts of bacteria to develop over time on your bed piece surface. Not to mention the resilient odours that are created that we get used to but others can smell.
By booking a professional to do the mattress cleaning for you regularly instead of doing the job yourself, you'll ensure that all types of soiling, including hard-to-remove stains, are effectively eliminated with guaranteed results. This is because not all store-bought products or homemade cleaning solutions can handle every type of stain or are suitable for use on every type of material. Moreover, by using a professional and insured service, you'll be able to enjoy your bed that very same night due to the methods employed and the quicker drying time that applies after the cleaning process.
Get an instant quote
What about memory foam mattress cleaning
Regular cleaning of memory foam mattresses, just like standard ones, is important for maintaining healthy sleep. Over time they also develop dust mites, allergens, odours and bad smells. Proper care is essential for prolonging their lifespan and getting more value for your investment.
Foam mattresses have to be treated as delicate. The foam is not heat and water-resistant, whether it's a memory foam or another soft material. Using a hot water extraction or standard steam cleaner is not possible because it can damage the layer and affect the mattress warranty. Aggressive laundry detergents or other chemical products are also not an option.
Luckily Fantastic cleaning professionals can help you here as well. Our superior mattress dry cleaning is suitable for all types of delicate fabrics, memory foam, and other soft-layer pieces. The specialised powder solvent is gentle yet powerful enough to sanitise and freshen your bed pieces. Leave this tedious task to the professionals and give yourself peace of mind!
Get an instant quote


Combine your mattress cleaning with other professional services
Enhance the look of your home with another professional service from our portfolio. Combine more than one Fantastic service to save time and get a special discount.
Carpet cleaning
Why not add a carpet cleaning service to your mattress cleaning appointment that will completely refresh your home? We use the same powerful machines and methods, so we can do both in the same appointment. The technicians will thoroughly vacuum and then pre-treat any stains, dirt patches, or high-traffic areas. After the HWE or dry cleaning, the result will be clean and fresh carpets.
Oven cleaning
Are you also considering deep cleaning your oven? You can count on Fantastic Cleaners in Sydney to restore your kitchen appliance to its original condition. The professionals will soak all removable parts in a powerful degreasing agent and scrub and polish the oven inside and out. No more unpleasant smells and funky-tasting food.
Window cleaning
It's dangerous to balance on a ladder while squeegeeing upper-story windows. Getting this task done safely by a professional is always the better option. Fantastic technicians achieve excellent results using an extendable pole fed with purified tap water. This proven technique eliminates the need for detergent, making the service 100% environmentally friendly.
End of lease cleaning
Whether you are a tenant, owner, or agent, this service is tailored to meet your needs. It's not limited in time and has a fixed price based on the size and condition of the property. The team of experienced cleaners follows an agency-approved checklist. Our high standards guarantee your bond will be returned in full.
Get an instant quote
Frequently Asked Questions
Q: Will the service eliminate dust mites?

A: Yes. Vacuuming, followed by cleaning the mattress with an effective hot water extraction cleaning machine, will remove any dust mites from your bed piece.

Q: Are the cleaning products you use child and pet-friendly?

A: The hot water extraction method uses hardly any detergents, so rest assured that the procedure is done with your family's and pets' well-being in mind.

Q: Does the cleaning method remove all types of stains?

A: The technicians will pre-treat any stains with a professional stain removal product before proceeding with the overall cleaning of your bed piece. Our methods aim to fight successfully even the most stubborn marks. Still, for best results, ensure that you address spills and accidents straightaway to reduce the risk of permanent staining on your mattress.

Q: Can I book the service at short notice?

A: Yes. We'll do our best to send a pro, subject to our availability for your location. Note that the sooner you request a service, the bigger the chance you can schedule an appointment for a convenient day.
Q: Do you charge the same price for cleaning both sides of the mattress?

A: Yes. We do not charge extra if the bottom side of the mattress also needs cleaning.

Q: Do you have any tips on making my mattress dry quicker after it has been steam cleaned?

A: Our best advice is to facilitate the drying process by switching on the AC unit, turning on the heating system or opening the windows, depending on what the outside temperature is at that moment.

Q: Are the cleaners insured?

A: Absolutely. Our company and the cleaning technicians we work with are fully insured against accidental damage to your property or possessions.

Q: Do you apply any cancellation charges?

A: No, unless you fail to notify us about your change of plans at least 48 hours in advance.
Meet our Fantastic Family