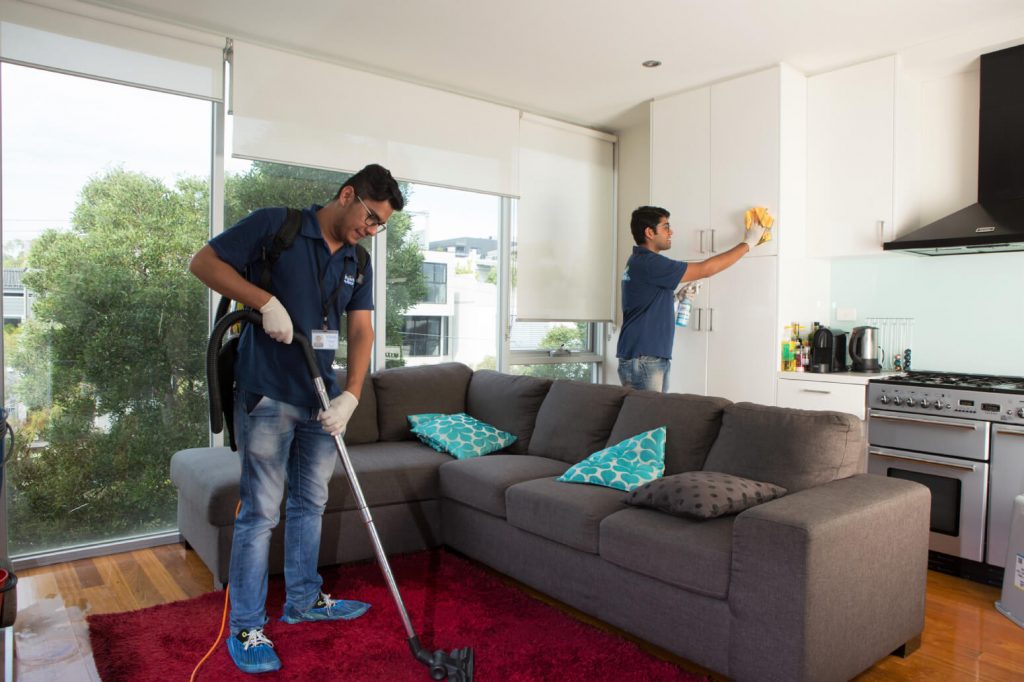 Hassle-free Moving Out Process with Fantastic Cleaners
Most people start to worry about their security deposit when their tenancy is coming to an end. As a tenant, you are responsible for the overall cleanliness of the property. This is where our end of lease cleaning in Melbourne comes in handy.
At the end of your lease, together with your landlord, you'll conduct a final inspection. Your landlord will fill the official condition report during this inspection and if the property does not meet the expectations, you won't be able to receive your security deposit back.
Fantastic end of lease cleaners in Melbourne are here to make sure that doesn't happen.
Get an instant quote
End of Lease Cleaning Melbourne Prices
End of lease cleaning
Please, have in mind that all prices are starting from $210:
NOTE: Keep in mind that wall spot cleaning, outside window cleaning and blinds wiping are not included in the end of lease cleaning and can be done at extra charge upon request.
Please, have in mind that all prices are starting from:
NOTE: Keep in mind that wall spot cleaning, outside window cleaning and blinds wiping are not included in the end of lease cleaning and can be done at extra charge upon request.
Get a free instant quote and check our availability in your area

Why not become a member of the Fantastic Club?
This gives you savings on a wide range of property cleaning and maintenance services for your home, office and garden. Check all club benefits.
What Does Your End of Lease Cleaning in Melbourne Cover?
This type of cleaning is much more detailed than the typical regular clean. During a bond clean in Melbourne we often have to deal with fixtures and appliances that often have never been cleaned before, like lighting fixtures for instance. So, make sure to hire a proven company with experience in end of lease cleaning to ensure that everything will be cleaned by the highest standards.
Each of the tasks is executed in accordance with agency approved sanitation checklists. Moreover, the end of lease cleaning package is booked without a time limit, which means that the team of cleaners will stay in the premises until the job has been completed up to the highest standards.
Get an instant quote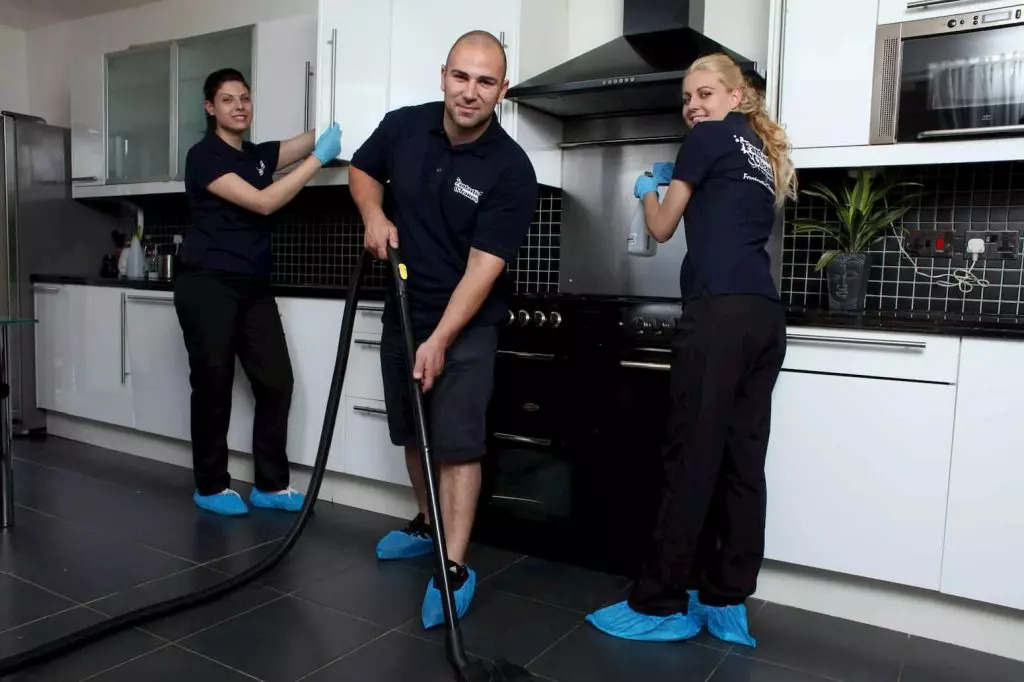 Here's How our Bond Cleaning Process Works Step by Step:
The team will arrive at your property at the given time. In case there are any unexpected delays on the road, you will be informed via text message.
The technicians will unload the cleaning equipment and detergents they'll use for the job.
They will put protective overshoes before entering the property, to make sure no dirt will be dragged around and the process is entirely sanitary.
They will inspect the property to confirm that all areas in need of cleaning are noted in the initial report. Any additional tasks will be discussed with the client.
The areas that need extra care will also be marked.
The bond back cleaning in Melbourne will start from the kitchen, everything will be wiped clean inside and out, including cupboards, benches, sinks, tiled surfaces, the oven and a lot more.
Then the cleaners will move to the bathrooms, everything will be de-limed and descaled. The room undergoes a deep clean process, where all fixtures, fittings, shower, sink, under-sink cabinet, toilet and bath are disinfected
All the bedrooms will be dusted and all surfaces will be wiped clean, including tight spaces, wardrobes and closets.
Then the cleaners will proceed to the common areas. Floors and furniture will be wiped clean, as well as all kinds of fixtures and decorative elements.
All the windows in the property will be wiped on the inside, as well as their frames and tracks.
The professionals will also pay close attention to things people often forget to clean, like doorknobs, electrical outlets, etc.
Last but not least, after completing the standard procedures from our end of lease cleaning checklist, the specialist will proceed to execute the additional services (like wall spot cleaning, blinds wiping, outside window cleaning, carpet steam cleaning, gutter cleaning, upholstery cleaning, mattress cleaning, balcony cleaning, garage cleaning and more), if the client has booked such.
Detailed End of Lease Cleaning Checklist Including Everything We Clean on Your Property
End of lease Clean all cupboards and drawers both inside, outside and on top;
Clean and dry the sink and drain;
Polish tapware;
Clean and polish splashback and wall tiles;
Clean and polish all the countertops;
Wipe the stovetop and rangehood;
Deep clean the oven inside and out, including oven racks and trays;
Clean the space behind and below appliances;
Dust and clean exhaust fan, extractor.
Clean all cupboards and drawers inside and out;
Clean inside the toilet, behind it, around the cistern and the entire toilet seat;
Scrub, delime & descale wall and floor tiles clean, remove soap suds and mildew;
Clean soap holders, toilet paper holders, towel rails and other fixtures;
Scrub any showers/bathtubs clean;
Clean sinks and polish tapware;
Clean mirrors, windows and window tracks;
Clean the space behind appliances;
Dust and clean exhaust fan, ventilation.
Remove cobwebs;
Vacuum and mop floors;
Clean all wardrobes, vanities, cupboards and drawers inside and out;
Clean the space behind/below furniture;
Wipe dust from furniture and fixtures;
Wipe skirting boards;
Wipe and clean door frames, doorknobs;
Clean windows inside and mirrors;
Wipe window sills and tracks;
Dust and clean light fixtures;
Vacuum and dust curtains (if applicable);
Vacuum mattresses (if applicable).
Vacuuming of all floors throughout the property;
Mopping all the hard floors;
Removing cobwebs and other insect marks;
Dusting and polishing of all surfaces;
Cleaning light fixtures (if they are accessible);
Cleaning skirting boards;
Cleaning door frames and doors;
Wiping window sills (inside), clean tracks;
Cleaning windows inside and mirrors;
Wiping light switches, doorframes, doorknobs, and other small elements;
Wipe skirting boards;
Wipe and clean railings;
Dusting blinds.
Spot cleaning walls – requested by 85% of the REAs;
Steam cleaning the carpets;
Wipe the dishwasher inside and out (if applicable);
Deep cleaning blinds and curtains;
Cleaning windows from the outside;
Fly screens cleaning;
Clean the fridge inside and out;
Clean the microwave (if applicable);
Wipe the washing machine and dryer clean, remove lint (if applicable);
Study rooms cleaning;
Balcony/patio cleaning;
Garage cleaning;
Deck sweep;
Attics/basements cleaning;
Pool fencing and balustrade cleaning;
Laundry rooms cleaning.
Upholstery cleaning;
Pressure cleaning;
Tile and grout cleaning;
Gutter cleaning;
Garden maintenance & lawn mowing;
Vacate flea treatment (if you have pets);
Handyman.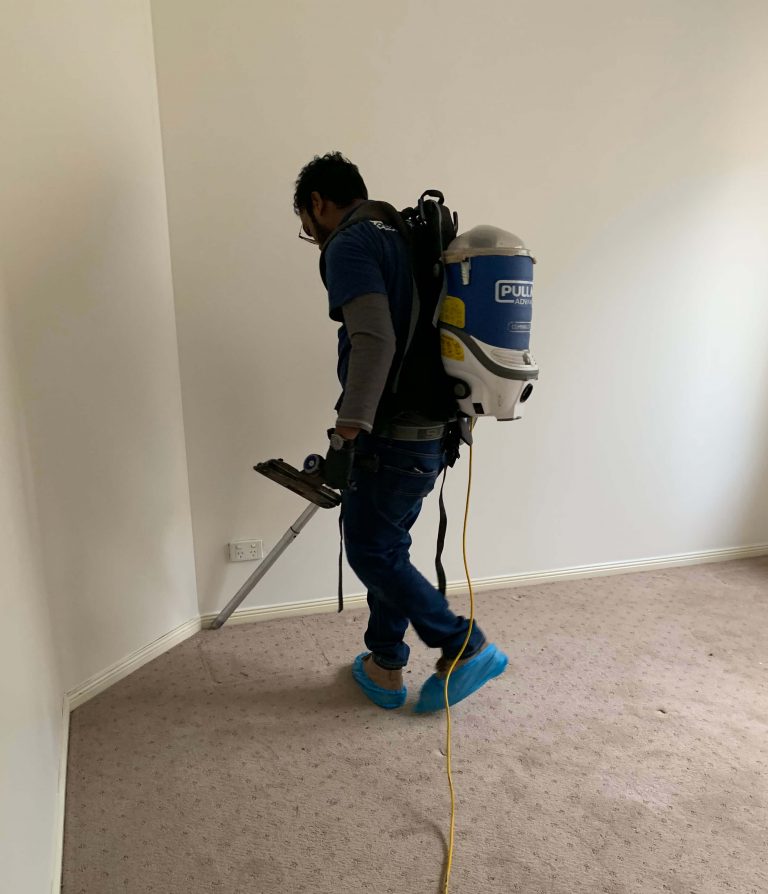 Find Out More About Our Wonderful Vacate Cleaners in Melbourne
We send out fully equipped teams anywhere in Melbourne. Our cleaners are specially trained and will make your rented property spotlessly clean and ready for a move out inspection.
The main qualities of our operatives are:
They are qualified and licensed
Background-checked and interviewed in person
Comprehensively insured with public liability
Trained to operate industry-powered equipment
Punctual, friendly and always at your disposal
If you are a leasing agent, real estate agency, holiday letting or a homeowner, you can also take full advantage of our bond back cleaning in Melbourne whenever you are trying to buy or sell a property.
Frequently Asked Questions
Q: How many cleaners will be sent to my home?

A: Most of our standard jobs involve teams of 2-3 cleaners, but if you have a bigger property, which requires more attention, we can provide you with a custom offer that will satisfy your needs.

Q: The carpets are badly stained. Can you steam clean them and help with removing the stains?

A: Yes, of course. When you book your bond cleaning in Melbourne, you can benefit from our carpet cleaning service at discounted rates.

Q: I am about to put my house on the market and I need it deep cleaned throughout. Is the service suitable in this case?

A: We can assist you with sanitising your property and making it presentable to potential buyers. You may want to book our one-off deep cleaning service, however. It is performed on an hourly basis, whereas the vacate cleaning is charged per job.

Q: Is it OK if I leave the key with someone for the cleaners to get in the property, as I cannot be at home during the service?

A: Yes. You can organise a key pick-up. We would always recommend, however, that you inspect the property at the end of the service, before the cleaners leave, to ensure that the job has been completed to your satisfaction.
Q: How long does bond cleaning usually take?

A: Many personalised factors apply when forming the vacate cleaning time interval, like the size and condition of the property, whether you want your carpets professionally cleaned or just vacuumed, any specific additional requirements you might have, and more. The average cleaning session of a standard 2-bedroom apartment can take around 4 hours, but for a more precise estimate, please call one of our customer care representatives.

Q: Do I need to defrost the fridge before the cleaners arrive?

A: Yes. The vacate cleaners cannot sanitise the appliance if it has not been emptied and defrosted prior to their arrival. Additional costs may apply.

Q: Do you move furniture when cleaning?

A: Our cleaners can move small pieces of furniture like coffee tables and chairs, but if you want the space behind big pieces of furniture to be cleaned as well, we would recommend preparing the space before the team arrives.

Q: Can you clean the windows?

A: The washing of your interior windows can be incorporated in your move out cleaning package. You can also book the full window cleaning service at preferential rates (it includes washing the exterior windows, as well).

Q: My agent still has some issues with the condition of the flat after the service. How do I get in touch with the cleaners?

A: Please, contact the customer service hotline as soon as possible. Your service comes with a 72-hour guarantee, so we will ensure that the cleaners return and re-clean any missed spots or areas within this time period.

Q: I am not moving out just yet, but my landlord is coming to inspect the property. Can you help with making it presentable and clean?

A: Of course. For live-in rental inspections we offer an hourly based one-off cleaning service that you can book.

Q: Can I postpone the service?

A: Yes. Please, inform us at least 24 hours in advance if you need to reschedule your booking.

Q: Can you clean the ceiling?

A: This can be incorporated in the bond cleaning service at additional cost. The same applies for spot cleaning of any walls.
Local End of Lease Cleaners Near You
End of lease cleaning is one of our many services we offer, with a full coverage of Melbourne. So, you can count on local cleaning experts, who can swiftly come to your home address or place of business to perform the service and restore its imaculate cleanliness. See below some of the top places in the city and the surrounding areas with the highest demand for our end of lease cleaning solutions:
Some of the areas we cover