Top-notch Carpet Cleaning in Epping - A New Life for Your Carpet and More Free Time for You!
A clean, fresh looking carpet can make a huge difference in the overall appearance of your home. However, most floor coverings have the tendency to quickly absorb all kinds of spills, turning them into annoying and hard-to-remove stains, dirt builds up over time, and on top of that - vacuuming is no longer enough to actually clean the piece.
And while there are plenty of DIY tips on how to take care of your carpets, if you want to eliminate all risks of damaging them, just leave the cleaning task to the pros.
Fantastic Cleaners offers effective carpet cleaning services that can revive even the most soiled textile piece. Don't worry about that old pizza stain - thanks to our advanced solutions and experienced professionals you can wave goodbye to the nasty spot. So, forget about those store-bought cleaning detergents and book us today!
Get an instant quote
Why go with our carpet cleaning service?
We understand the importance of using high-end equipment and environment safety products. By trusting us with your carpet, you will receive professional treatment and many other benefits, such as:
Free quote - receive your estimation over the phone, zero charges!
24/7 expert Customer Service team to answer all of your questions, reschedule your service, or change it.
Available technicians during weekends and public holidays.
Appropriate methods for different carpet materials.
Special prizes and perks for our club members! Just ask one of our representatives for the membership.
Using only eco-friendly detergents and safe, industry-approved equipment.
A professional clean will prolong the life of your carpet, improve the quality of air in your home and remove possible allergens.
Get an instant quote
How is the cleaning performed
As we mentioned, we offer dry cleaning for the more delicate materials and hot water extraction method for the rest. The carpet technicians are specially trained to perform both carpet cleaning methods and provide our customers with the best results.
Hot Water Extraction method: For this technique, we use a special carpet machine that uses just water mixed with a professional carpet detergent. Before we turn on the machine, however, the technician will power vacuum the whole carpet and pre-treat the area with a special detergent for loosening up hard-to-remove stains. Those mostly include wine, food, dirt, blood, vomit, etc. After that, it's time for the big machine. The mixture is injected at a very high-pressure and extracted right after along with all the built-up dirt and residue. 95% of the moisture is gone in second, which reduces the drying time of the carpet to just 3-5 hours.
Dry Cleaning: This method is perfect for finer materials such as nubuck, velvet, and any others that will not withstand wet cleaning. The technicians will start again by carefully vacuuming the needed area, and after that, they will apply a special powder for dry cleaning. This powder is rubbed into the carpet fibres with a special machine that uses lots of tiny brushes, rotating quickly. The idea is for all the dirt and grime that is in the carpet to get attached to the powder and disappear with the final vacuuming. However, this method is not very effective in removing old stains and is mostly used for freshening up a carpet or a rug, rather than deep cleaning it.
Get an instant quote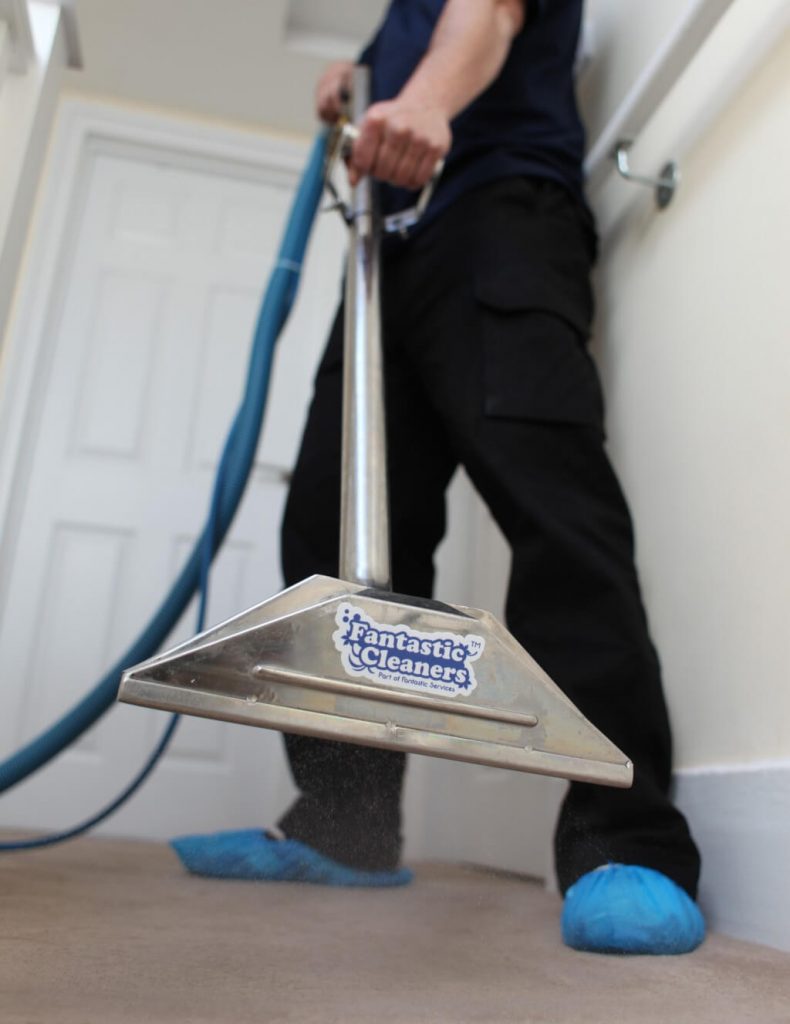 Frequently Asked Questions
Q: Can I book an upholstery cleaning and carpet cleaning at the same time?

A: No problem! You will even have the same technician to perform both services and save lots of time and effort.

Q: Can I book for a weekend?

A: We have available teams for all the week, including public holidays and weekends.

Q: What do you do in case of damage?

A: All carpet technicians are fully insured. If you notice any damage done to your property, just give us a call and the friendly Customer Care representatives will help you out.

Q: How much time does it take for the carpet to dry?

A: It depends on the ventilation of the room it's in and the overall temperature. Usually, it takes from 3 to 5 hours.
Local Carpet Cleaners Near You
Carpet cleaning is one of our many services we offer, with a full coverage of Sydney. So, you can count on local cleaning experts, who can swiftly come to your home address or place of business to perform the service and restore imaculate look of your carpets. See below some of the top places in the city and the surrounding areas with the highest demand for our carpet cleaning solutions:
Local carpet cleaners near Epping
See what our customers have to say for us