DEEP CARPET CLEANING CHATSWOOD - EFFECTIVE & PROVEN RESULTS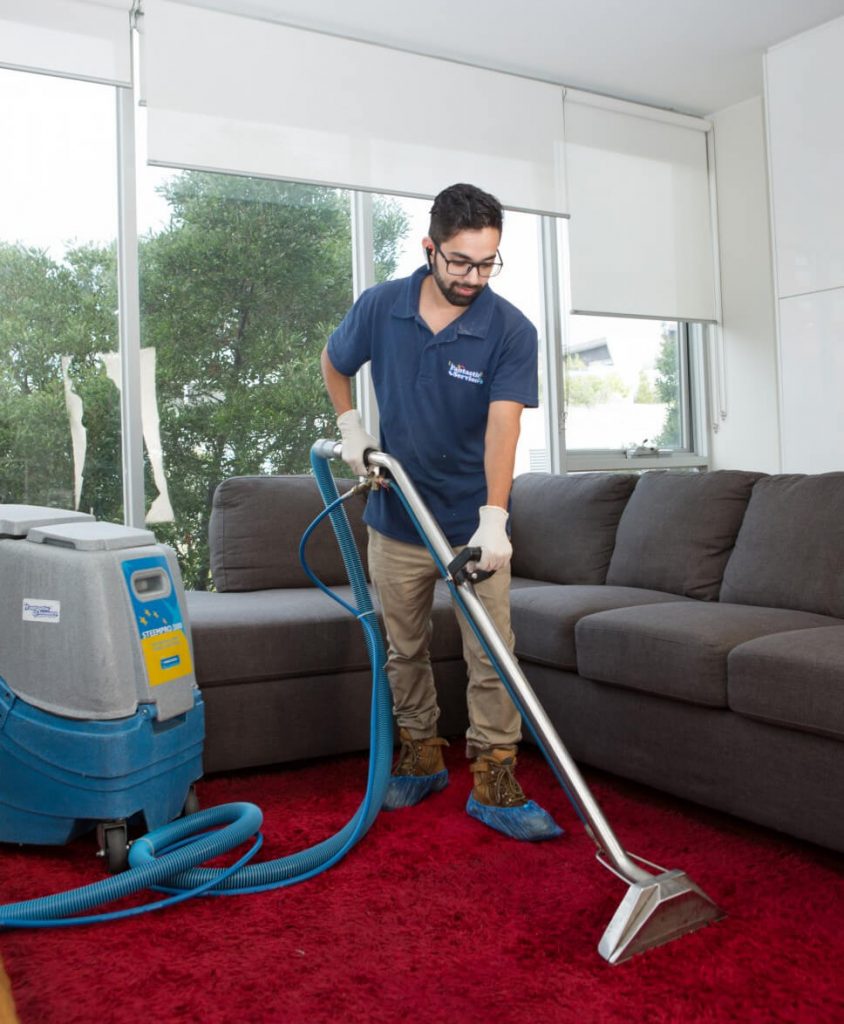 Don't try to wash fresh stains off your carpeting but book Fantastic Cleaners carpet maintenance solutions in Chatswood to ensure that those actually come out! We work with local professionals, whose expertise and credentials simply took us aback. Check out what our carpet cleaning services involve.
How the Fantastic carpet cleaners in Chatswood do it
Below, we sum up our carpet cleaning techniques and service procedures. Note that the pro will confirm with you the appropriate carpet cleaning method that needs to be applied.
Dry carpet cleaning: The expert uses a dry detergent and a rotary bonnet machine, which agitates the dirt accumulated on the carpet. Afterwards, the chemical residue is vacuumed along with the dislodged soiling.
Wet carpet cleaning: We employ the use of a hot water extraction carpet cleaning machine, which injects heated water and detergent under high pressure into the carpet. Then the moisture is extracted together with the dirt, leaving you with nearly dry carpeting.
Scotchgard protection & deodorising: Upon request, we can deodorise your rugs and carpets and protect them against stains with Scotchgard at a small additional cost.
The carpet cleaning process: The carpet technician, first, vacuums your floor covering after moving light furnishings out of the way (chairs, footstools, pouffes, ottomans, coffee tables). High-foot traffic areas and stains are pre-treated. Then, the appropriate carpet cleaning method is applied, based on the type of carpet material.
Why do you need professional carpet cleaning?
The answer to this question might not be that obvious as you think. For a start, the difference between getting a pro to clean your carpeting and say, hiring a home steam cleaner, is that the effectiveness of the results will be different, too. An expert (including Fantastic Cleaners' technicians) will use professional equipment, which doesn't leave you with a soaking wet carpet, ready to grow mould on its backing, if not properly dried out.
What else?
A pro carpet cleaning system can make your carpets and rugs truly look like new.
Our methods will remove successfully pet and other types of allergens like pollen and dust mites.
Germs and bacteria will be also eliminated with effective results.
The overall quality of indoor air will be significantly improved.
Regularly cleaned carpeting with a professional machine "enjoys" a prolonged life.
Drying time is reduced (as mentioned above) when it comes to using a professional hot water extraction cleaning method.
High-foot traffic areas are better addressed with pro carpet cleaning equipment.
Choosing us will land you with more than one service benefit
By hiring a carpet cleaning technician with Fantastic Cleaners Chatswood, you can rest assured that you'll be getting a professional service that is flexible, thoughtful and customer-oriented:
You'll meet local hard-working carpet cleaning experts, who serve local hard-working clients like you.
The pros work in shifts to ensure our all-week-round availability.
We have a tireless and well-qualified customer service support team, which will answer any of your queries, related to the service.
We always have some special deals on the go and you can also save money by joining our membership programme by phone.
Another way to get a discount is to combine your carpet cleaning service with another one from our range in Sydney (end of lease cleaning, upholstery/mattress cleaning, oven cleaning and more).
Frequently Asked Questions
Q: Why my carpet smells a bit after being steam cleaned?

A: In wet and cooler weather conditions, it may take the carpet much longer to dry and thus, a slight odour can linger on after the cleaning service. We recommend that you turn on a heater or place a dehumidifier in the room to speed up the drying process. Deodorising of your carpet, as a finishing touch, can also improve the situation.

Q: Do I need to do anything before the service?

A: Please, move any bulky furniture if you wish the cleaner to access hard-to-reach areas, as the pros can only move light items out of the way. Also, valuable breakables, such as your antique vase in the corner on the floor, should also be removed.

Q: How long does it take for my carpet to dry?

A: This will depend on the thickness and the type of the material if a wet cleaning method has been used. Also, the temperature in the room and the moisture in the air certainly affect the drying time, which is between 3 to 6 hours. With our dry cleaning method, you need not worry about drying your carpet.

Q: I've tried to wash off a grease stain from my rug to no avail. Can you help?

A: Yes. We use professional stain removal products, which are not available over the counter. Also, the effective hot water extraction method, we employ, can successfully finish off the job, as well.
See what customers have to say about us: