Effective Wall Cleaning Services in Sydney
Full wall washing for satisfying results
An improved brighter look for every room
Easier wall maintenance after a thorough wash
Saving from costly and messy renovations
Get a quote

High-quality wall washing services in Sydney
Like pretty much everything else in our homes, the walls can also easily collect grime. In addition to the nasty stains from cooking, greasy fingerprints and scuff marks, there is also dust and even mould build-ups. In fact, there are so many things that can ruin the perfect look of a wall, especially neutral or bright-coloured ones.
We, at Fantastic Cleaners, can make all pollution and staining disappear within a few hours! We specialise in professional cleaning and we have effective solutions that can transform your beautifully painted walls.
Get an instant quote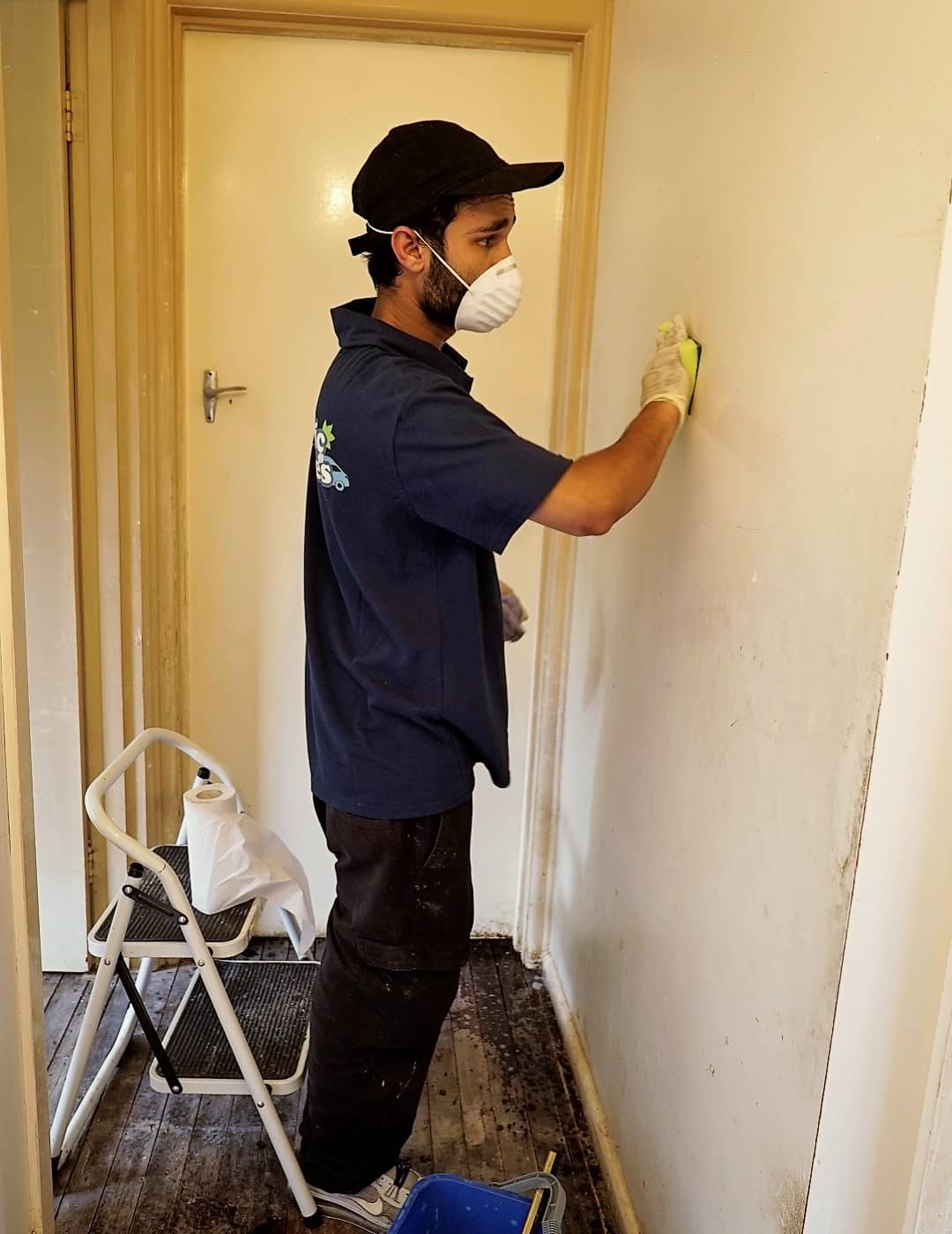 Why rely on professional wall cleaning?
Well, for starters, think about how many times you've managed to clean your walls over the last few years. Normally, this is the perfect task for the annual spring clean, but given how time-consuming and tiresome a deep house cleaning can be, a lot of people choose to postpone the wall washing for another time. In the meantime, dust and other grime continue to accumulate on the surface of the walls, making removal all the more difficult.
You don't have to struggle with these chores alone. The Fantastic cleaners in Sydney specialise in wall washing and spot removal and they can help by:
Providing safe products and full equipment - The cleaners will bring all the detergents and necessary tools to get the job done efficiently and with no delays.
Giving you a hand in retrieving your bond - We know well how stressful a rental inspection can be! Nothing goes unnoticed, including the walls. Therefore, you need a reliable partner in making the property look great again.
Assisting in selling your property for a better price - Compared to a full repainting of the area, a simple wall cleaning will cost less and will require just a few hours to complete. Why complicate things, when you have a simple solution that will save you from a more extensive and costly renovation.
Simplifying future wall maintenance - You can be also sure that once you get your walls effectively clean from top to bottom, it will be easier to keep track of new stains and take care of them right away.
Get an instant quote
How is a wall cleaning service normally done?
As we've mentioned before, all tools and products needed for the full restoration of your walls are provided by us. All that is required from you is to set your appointment for the right time and let the cleaners in. Here is what you can expect next:
The pros will have to inspect the condition of your walls.
Then they will choose the right approach for treating them, depending on the material, severity of staining, etc.
Some small objects and light furniture may have to be moved around if they are blocking access to the wall or if there is a risk of damage during the cleaning.
Finally, the professionals will take their time cleaning every part of your walls, including the edges.
Different stains, whether from grease, crayon, mould or something else will get special treatment, too.
Get an instant quote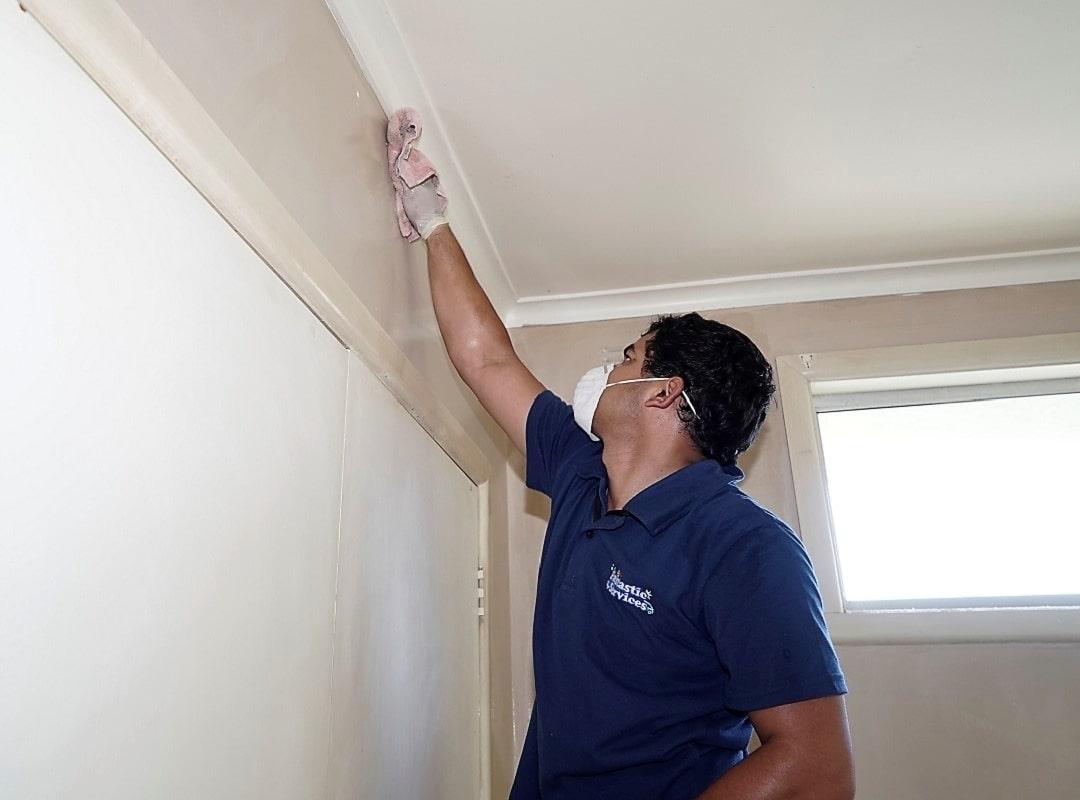 Frequently Asked Questions
Q: Can any kind of stain be successfully removed from a wall?

A: Normally, the specialists can remove almost any form of staining. Still, a lot of people decide to treat the wall spots with chemical detergents or other methods. Unfortunately, this could make the staining worse, damage the paint or even contribute to mould growth if the wall is not dried properly. In this case, the specialists will discuss with you what is the right approach and what they can achieve.

Q: Is wall washing included in an end of tenancy cleaning?

A: A standard end of lease cleaning includes dusting and cobweb removal for the walls, which can sometimes be sufficient, depending on the condition of the property. However, in case the walls are in a poor state, you can request to have your walls spot cleaned and restored, which could cost extra. Though, we also offer special discounts when two or more services are combined, so feel free to ask our friendly customer service agents about this option.

Q: Is there anything I need to do to prepare for the service?

A: The only thing you can do is clear the area around the walls that are about to be cleaned. This way the professionals will have easy access to the walls and will be able to work faster.

Q: How soon can I have my walls cleaned?

A: It all depends on our teams' availability. If possible, we can arrange for a service on the same day. You can contact our representatives and ask about free appointment slots.
Meet our Fantastic Family