Here Are 5 Good Reasons to Choose Fantastic Cleaners' Carpet Cleaning
Easily check prices and availability online - There is no need to call, you can easily check out the availability of this service online. Find a time slot that works best for you and make a booking. That is pretty much it. And when the time for your appointment comes, we will send a fully equipped technician to your place who will handle all the work.
Experienced carpet cleaners - We work with vetted and insured carpet cleaning technicians who have solid professional experience. They will make sure to carefully examine your carpets and rugs and offer the best treatment possible for the specific situation. This way, they will bring you the best possible results.
Complete care for your carpet - Your carpet cleaner will pre-treat any existing stains with special solutions that target the specific substances at hand. This will ensure a successful removal, even if you have smeared salsa sauce all over the thing. After that, the specialist will deep clean your carpeting with a powerful machine to get rid of the accumulated grime. And finally, if you wish, you can add an extra layer of protection on your carpeting in the form of Scotchgard to keep the nasty stains at bay.
Cleaner air in the room - Did you know that walking on a filthy carpet releases a lot of dust in the air? That is why deep cleaning for carpets (and upholstered furniture) is highly recommended every now and then. Our cleaning methods eliminate most of the unsanitary agents that reside in stale carpets and drastically improve the quality of the air in the room.
Great combination with other cleaning services - Since you are about to have your carpets deep-cleaned, what about your sofa and armchairs? The upholstery cleaning technicians use pretty much the same cleaning methods, and you can have that job done by the same person. After all, the fabric of your furniture also collects quite a lot of dust over the months, and this would be the perfect combo. Other than that, you can explore our entire range of professional cleaning services in Sydney and take advantage of the same high quality of service.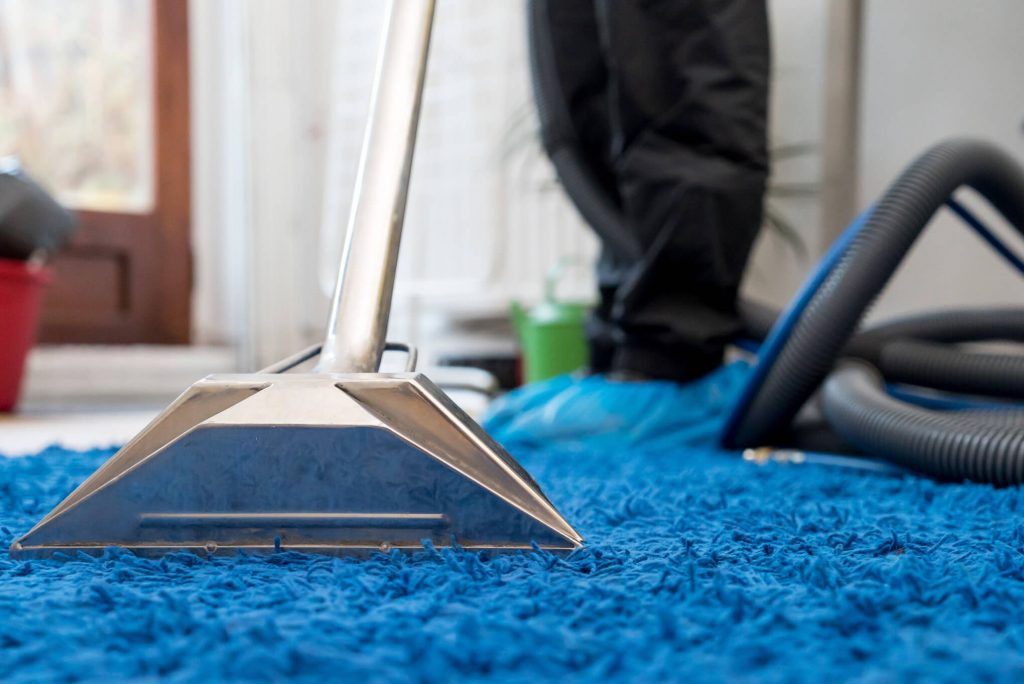 Here is How Hot Water Extraction Works for Carpets
You might think that what we resort to is steam cleaning, but this method has been outdated for quite some time now. What we use is hot water extraction, and it does wonders with carpets and upholstery. Basically, a special machine is used to blast the pile of the carpet with hot water.
The nozzle also has a brush attachment. A sliding motion over the carpet ensures that the accumulated grime will be dislodged. But at the same time, a suction attachment is removing all of the moisture (along with the loose filth).
All of this happens in under a second, and it is actually quite fascinating to watch. This is how we guarantee the deepest possible cleaning.
Get an instant quote
Local Carpet Cleaners Near You
Carpet cleaning is one of our many services we offer, with a full coverage of Sydney. So, you can count on local cleaning experts, who can swiftly come to your home address or place of business to perform the service and restore imaculate look of your carpets. See below some of the top places in the city and the surrounding areas with the highest demand for our carpet cleaning solutions:
Local carpet cleaners near Fairfield
Frequently Asked Questions
Q: Are the carpets taken away to be washed at some facility?

A: No, there is no need for this. The equipment we use allows us to clean your carpets just as it is situated on the floor. It's all quite efficient and time-saving.

Q: Can I make changes to my appointment?

A: Yes, of course. But if you need to, please make sure to do it at least 48 hours before the appointed time to avoid a fee.

Q: Is it possible to make a booking for the weekend?

A: Yes, we work all year round, regardless if it is the weekend or a public holiday. But please keep in mind that this is a subject of availability so make sure to check online for an available time slot.

Q: How many cleaners will come to complete my services?

A: This depends on the scope of the job but we usually send a single technician to complete a domestic service. For larger properties, we might decide to send more.
See what our clients have to say