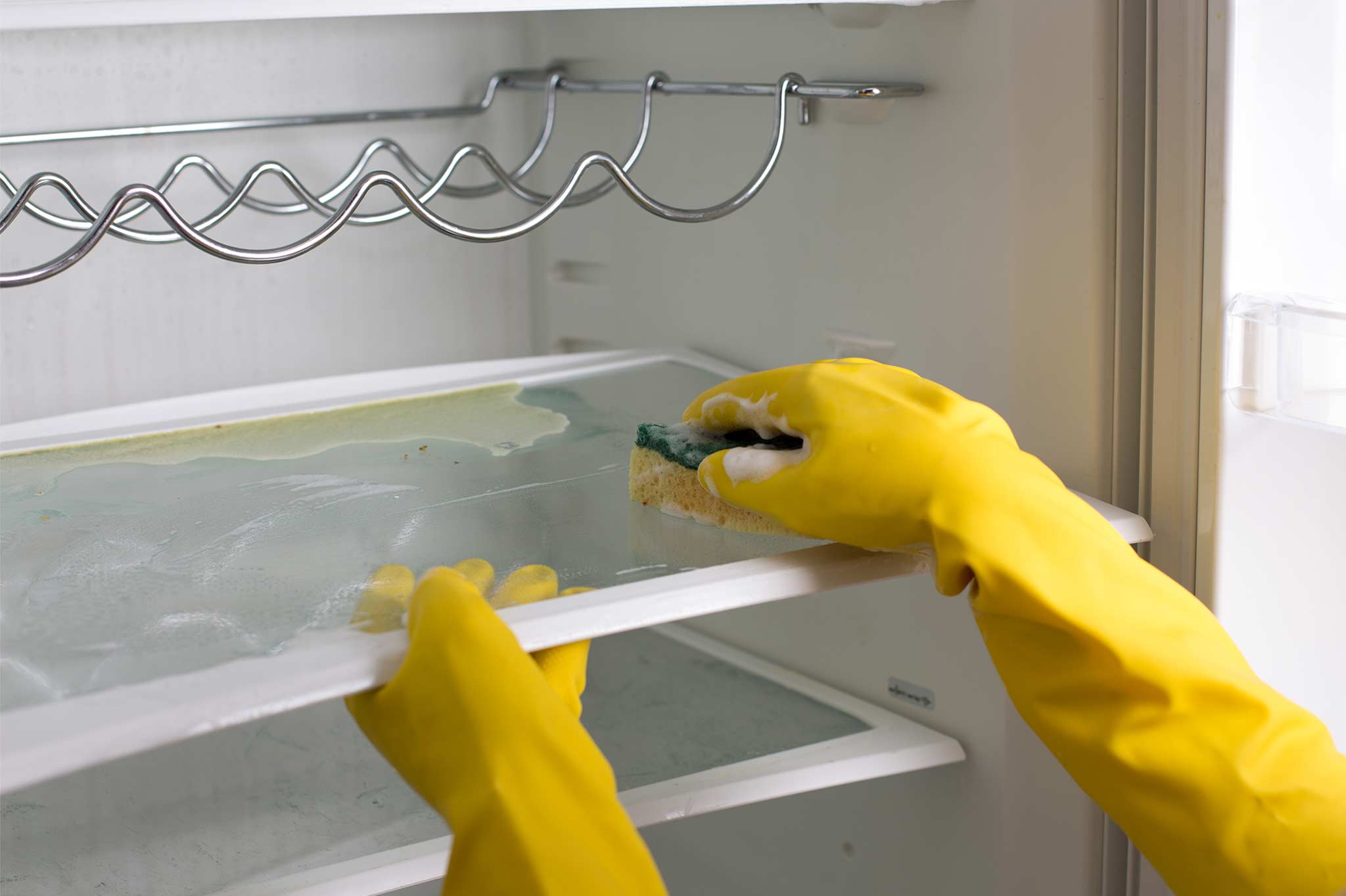 An easy to use fridge cleaning service in Melbourne
Make a booking
Stay online, or call us to check availability. Get a quote and confirm your appointment in just a few minutes.
When the cleaners come
They'll work quickly and efficiently to sanitise and deodorise your fridge, leaving you with an appliance which shines inside and out.
Know that your kitchen is that bit cleaner and safer
With any spills dealt with and all risks of cross-contamination removed you can be confident that food in your fridge is safely stored.
Get an instant quote
Don't overlook fridge cleaning in Melbourne
It's easy to take your fridge for granted, but it's the most important food storage area in your kitchen. Food kept in the fridge is vulnerable to bacterial growth and can easily spoil. Racks and drawers can become contaminated from spills and odours from strong food can stick to interior surfaces and then taint flavours in other foods that, above all, should taste fresh and wholesome.
Then there's the outside of the fridge. Handles get touched every time the door is opened and particularly in homes shared with children or teenagers, it's hard to be sure that the hands that open the fridge and reach inside it are always as clean as they might be. The appearance of this appliance matters too. Professional cleaners will restore the sparkle of your fridge, demonstrating the pride you take in your kitchen.
Why choose Fantastic Cleaners for your refrigerator cleaning
Book specialist fridge cleaning in Melbourne through Fantastic Cleaners and you're choosing a company with over 10 years of experience in the cleaning industry. Everything is carefully planned to ensure high standards and customer convenience. All cleaners are trained to prepare them for the tasks they undertake.
The refrigerator cleaning service is delivered using a series of steps designed to ensure that your fridge is perfectly clean and hygienic inside and out. Your cleaner will use advanced formula disinfectants, sanitisers and deodorisers. These are eco-friendly, non-toxic solutions, safe to use on appliances in homes and meeting the high standards of effectiveness expected for cleaning products utilised in commercial kitchens.
Get an instant quote
How your fridge cleaning service works
On arrival, your cleaner will set up by the refrigerator. They bring all the detergents, sanitising solutions and equipment they need.
The fridge is emptied, food is placed in cold boxes so that it stays fresh while your service is completed and the interior is inspected to note any possible problem areas.
Racks and drawers are removed so they can be cleaned, disinfected, sanitised, then set aside to dry while the interior of the fridge itself is treated. Your fridge cleaner will clean the main internal body, drinks or cold water dispensers and chiller or freezer areas too.
With the interior of the fridge clean, your cleaner will turn their attention to the exterior. The whole of the outside is cleaned and the door and handles, areas which are especially prone to contamination, are sterilised.
Once everything is cleaned, disinfected and deodorised the internal components are dried, racks and drawers are replaced and food is reloaded. And that's it. Your fridge is ready for use and you can be confident that food stored in it will be kept in good condition for its expected lifespan.
Get an instant quote
Frequently asked questions about refrigerator cleaning in Melbourne
Q: When is the service available?

A: Schedule your fridge cleaning in Melbourne for a morning, afternoon or evening. The cleaners are available seven days a week and even on public holidays.

Q: Do you offer a repair service?

A: This is a cleaning service only. If your cleaners become aware of any faults in your fridge while they're working, they will let you know about this so you can arrange any needed repairs.

Q: How is fridge cleaning charged for?

A: The price of your service will be calculated based on the size and type of your refrigerator.

Q: Can I combine refrigerator cleaning with other work?

A: Certainly. You may even qualify for a discount for your combined services. Customers often choose to add fridge cleaning to oven cleaning or deep cleaning of the kitchen.
Meet our Fantastic Family