Top-to-bottom fly screens, blinds and shutters cleaning in Melbourne
Great attention to detail & expertise
Clear off dust build-up, mould & insect stains
Breathing life back into Venetian, roller and other blinds
Chance to combine & save on window cleaning, bond cleaning, etc.
Get a quote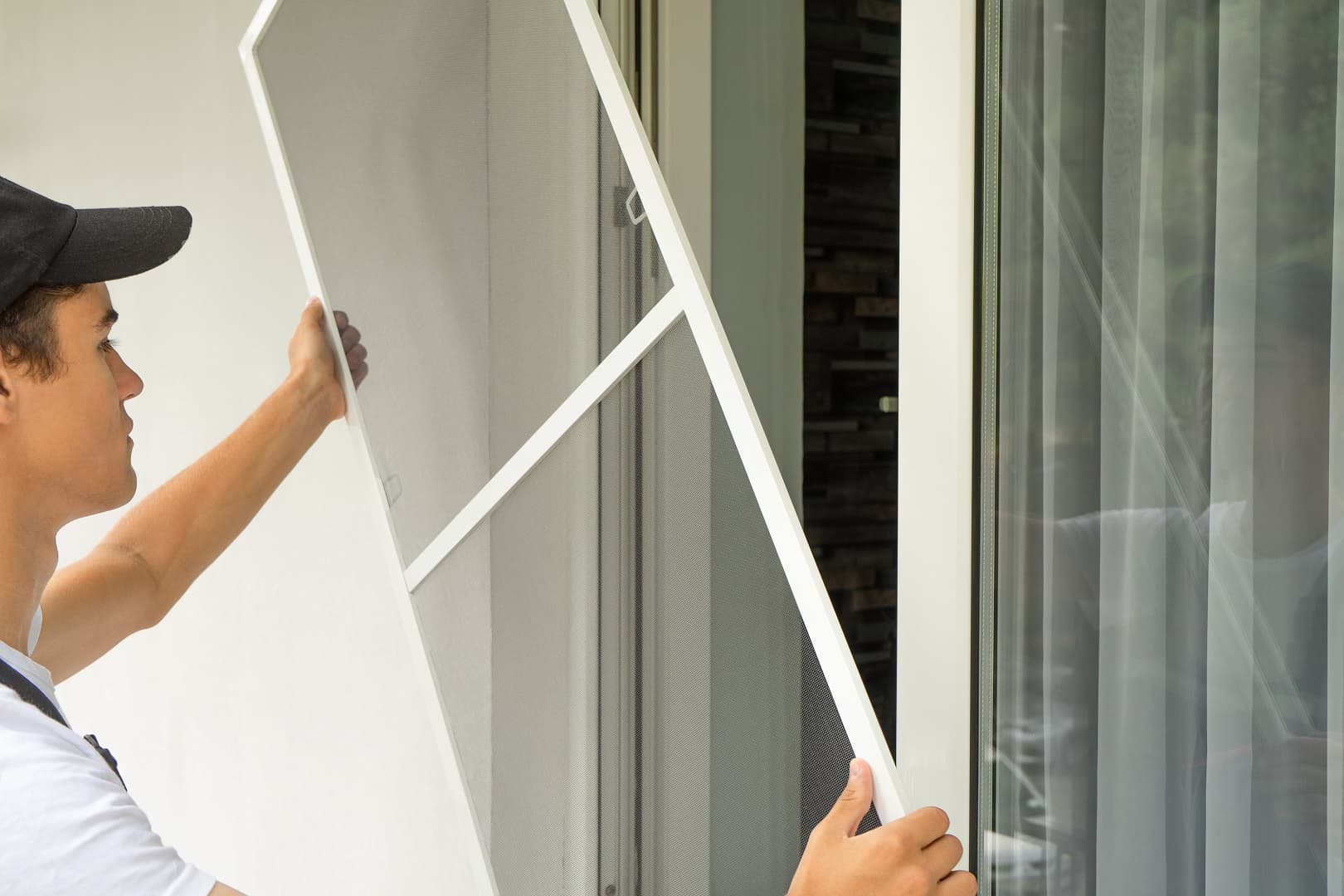 Superior cleaning of removable or fixed fly screens, shutters and blinds
Cleaning windows is no favourite chore, but one thing that makes it even more unpleasant is the need to sanitise any window furnishings, too. Skipping on doing so can contaminate the freshly cleaned glass, making hours of hard work go to waste. But could the whole process be made easier?
If you don't feel like scrubbing fly screens or wiping the shutters and blinds is your thing, then why not look into a faster and simplified solution? The Fantastic cleaning operatives in Melbourne can leave any material spick and span without the use of harsh chemicals!
Get an instant quote
How a specialised cleaning of window coverings surpasses a DIY job
All window furnishings, regardless of the material, are prone to trapping substantial amounts of dust. Fresh air passes through fly screens, in particular, every time you open a window. If there is dust, dirt build-ups or mould covering the net, then it will inevitably be brought inside your home for you to breathe. Shutters and blinds are also not immune to dust or insects' invasion, so they need care and regular maintenance, as well. Professional cleaning of your window furnishings can achieve:
Complete eradication of germs and dirt - Any staining from insects or birds doesn't stand a chance against the cleaning solutions and skilful hands of the Fantastic pros.
Quality outcome without the possibility of damage- A DIY cleaning job can take a full day. Insect fly screens are often very delicate and strong pressure or unsuitable products can cause permanent damage. The specialists will dedicate their time to safely get to each corner of your window coverings without bending the blinds' or shutters' blades.
Killing mould formations entirely - Mould is often missed until it is firmly developed on the surface of blinds, shutters or fly screens. Complete removal is essential to stop the fungus from spreading further.
Helping revive window coverings, so there is no need to upgrade them - Well-done cleaning performed regularly helps with durability and makes the pieces more resistant to pollution.
Get an instant quote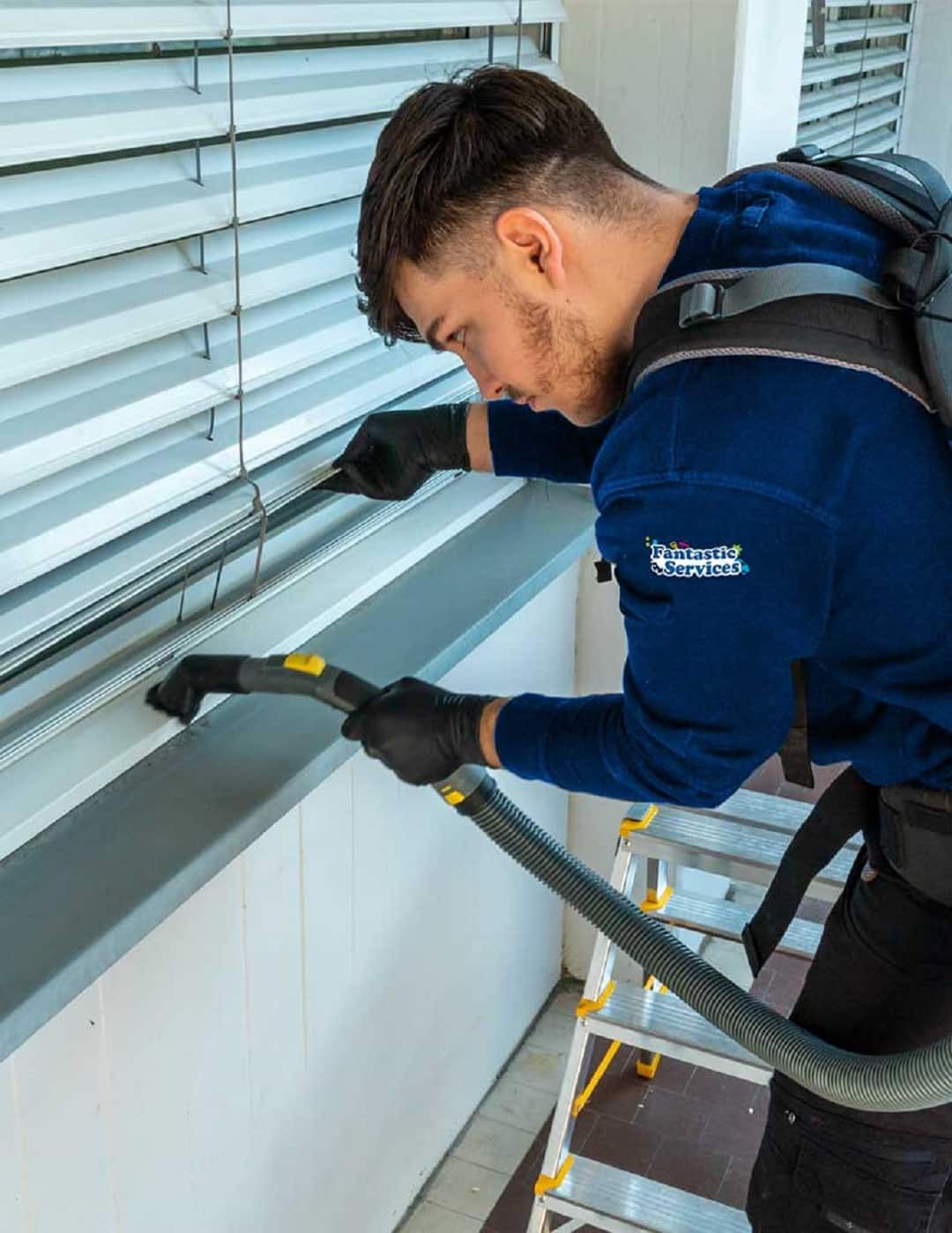 What does a professional cleaning of shutters, blinds and fly screens entitle?
We do not require you to give any cleaning products or materials, as the Fantastic teams are fully supplied and ready to operate on-site. Normally, the cleaning is done manually, but in some cases, the process may differ depending on whether a piece is removable or not.
Deep-clean blinds – Every blind is cleaned while on the window, saving the troubles of taking it down and hanging it back again. The whole piece is dusted from one end to the other, then carefully wiped with the right type of cleaner to eliminate debris and marks.
Shutters sanitisation – Each slat of your shutters will receive special treatment with industry-approved solutions. We can restore shutters on kitchen windows or other parts of residential properties, as well as on roller shutters installed on shops and various other businesses in the Melbourne area.
Fly screens cleaning – The cleaners have appropriate scrubbing brushes and detergents to rid insect or security screens from nasty stains, dead insects and dust.
Get an instant quote
Frequently Asked Questions
Q: Should I take down my fly screens before the service or you will do it?

A: Some insect screens are harder to remove and may appear as though fixed. In this case, we would prefer the owners to take them down and we will take it from there.

Q: How often should I clean the window furnishings?

A: We would advise you to do it a minimum of once every 6 months. Even more often for fly screens since they are kind of like air filters on your windows. Still, it matters whether you like in a dust-rich industrial or coastal area, in which case more frequent cleaning sessions are required.

Q: Do you repair blinds or shutters?

A: At this point, we could only take care of the cleaning of such kinds of pieces.

Q: When do you work?

A: Our cleaning teams operate between 08:00 and 18:00. This refers to both working days, holidays and weekends.