Professional car upholstery cleaning in Melbourne
Prolonged lifespan of your vehicle's interior
Specialised, industry-grade equipment and eco-friendly products
Certified and insured local cleaning experts
Odour & stain treatment and general sanitization
All week round availability, including on public holidays


Quality car interior cleaning in Melbourne
Normal everyday wear and tear, accidental spills, and bad odours can damage the interior of your vehicle and make it unsightly. Not to mention the build-up of dust, bacteria, or even mould, which can lead to serious health issues. Regular vacuuming is necessary, but it is not nearly enough to maintain your car interior well enough. Proper cleaning will improve the appearance of your vehicle and even increase its value, in case you decide to sell it.
The expert cleaners we work with are certified, experienced, and fully equipped to make your car look like new. They can steam clean your vehicle interior and upholstery, including carpets, floor mats, seats, doors, trunk, and much more. Bring back your car's glory with the help of Fantastic Cleaners!
Get an instant quote
Benefits of professional car upholstery cleaning services
Saves time
Cleaning the interior of your car can take a whole day if you want to do it right. When you hire a professional car upholstery cleaning company, you can enjoy your leisure time however you please.
Prevents permanent damage
Neglecting car upholstery cleaning will inevitably lead to early wear. The Fantastic cleaners have vast knowledge and experience to remove dust and grime without causing any damage, thus prolonging the lifespan of your interior.
Saves money
Unless you have all the necessary equipment lying around, hiring a professional cleaner will cost less. The experts have quality tools and products on hand to deliver that professional touch. In addition, cleaning your upholstery on your own with the wrong products can cause damage that you can easily avoid simply by trusting the professionals.
Removes unpleasant odours
Steam cleaning is an efficient method that will remove smoke and bad scents, thus improving the air quality in your car.
Get an instant quote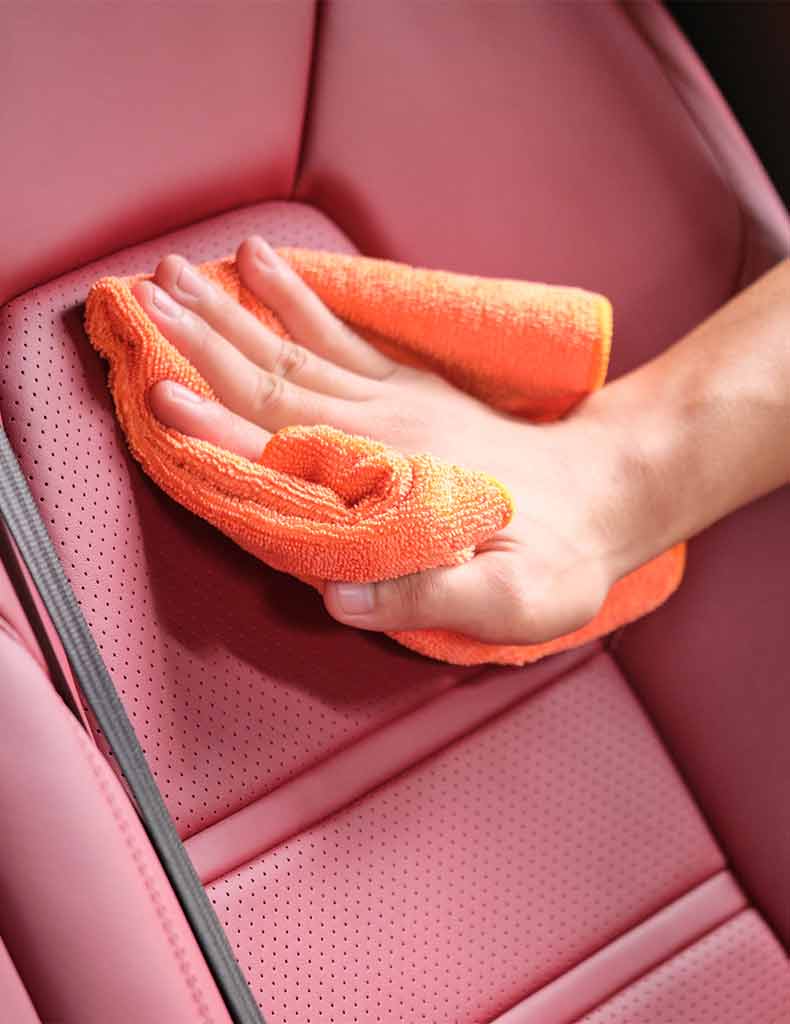 What our car upholstery cleaning service consists of in Melbourne
We provide our car interior cleaning service on-site and will come to your home or office to perform it. No matter where you are in Melbourne, we can be there!
During the service, the technicians will use high-grade equipment and tested, eco-friendly products. They use steam cleaning to thoroughly clean the carpets, floor mats, seats, trunk, and door sides of your car.
In addition, the professional cleaners we work with are specialised in leather interior cleaning. They can remove perspiration, stains, and smoke from leather seats with a special formulated cream and protection. After all, your car is not only a means of transportation but an investment and it should be treated that way.
Trust the Fantastic cleaners to achieve excellent results!
Get an instant quote
Frequently Asked Questions
Q: How often should I have my car cleaned?

A: It depends on the condition of the interior. For a long-lasting effect, it's best to have your vehicle cleaned by a professional once a month.

Q: What kind of chemicals are used during the cleaning service?

A: The products we use are completely safe and eco-friendly. In case you are sensitive to certain chemicals, please let us know in advance, so we can provide you with alternative ways to clean your car's upholstery.

Q: Will the stains be gone completely?

A: It depends on the source of the stain, how old it is, and if you have treated it with store-bought chemicals.

Q: Do you have a cancellation fee?

A: If you need to cancel or reschedule your service, notify us at least 48 hours prior to the service, otherwise a cancellation fee of $50 will be applied.
Q: Do you have the necessary insurance covers?

A: Yes, we carry full public liability insurance at all times.

Q: How can I pay for the service?

A: Our payment options are flexible and we accept cash & credit card payments.