Rug Cleaning in Melbourne using the latest professional technology
Experience a way more convenient and effective way to handle rug cleaning at home
Service suitable for all types of rugs
Great against typical household stains and odours
Done by highly experienced technicians
Available 7 days a week – even on holidays

How to book your rug washing in Melbourne in 3 simple steps
Use our convenient online booking form to arrange your rug washing service


Enter your local area code
Simply open our online booking form and specify your area code to check our coverage.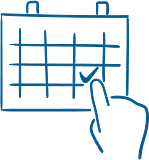 Pick a date and time for your rug cleaning
Choose the date and time that work best for, you will be able to see our available booking slots.


Expect a prompt visit
When the date for your service comes, expect a fully equipped technician to visit your address in Melbourne
What makes our professional rug cleaners the right choice
Convenient rug cleaning delivered to you by Fantastic Cleaners' highly experienced professionals
Available all week long
Booking slots are available 7 days a week, even on weekends and official holidays.
Done by certified and insured cleaners
The technicians are experienced and knowledgeable, they have cleaned thousands of rugs before.
Great against household stains
Common stains such as those from food or drinks stand no chance against our advanced cleaning methods.
Improving air quality
It has been shown that deep cleaning removes so much dust from the items that the very air around them feels different.
No risk of shrinkage
Every rug is carefully examined and the best possible cleaning method is applied.
Rugs are left almost dry
The machines that we use remove about 95% of the water used, leaving your rugs almost dry.
Get an instant quote

Take a closer look at how our rug cleaning services work
It's so convenient and it saves you so much time, you will be amazed by the results!
Meet your rug cleaning technician – When the time for your domestic rug cleaning service comes, we will send a fully equipped and highly experienced cleaning technician to your address. They will come with all the necessary equipment and detergents to properly clean your rugs and other textile floor coverings that you might have and want to be cleaned. So please make sure that they will be met and granted access to your property.
Take them to the rug area – Simply show the technician where the rugs are. They will need some time to move all their equipment and detergents indoors before they can start the rug cleaning process. That is why it would be best if they are granted a parking spot that is as near to your property as possible.
They will examine your rugs – When all the equipment and detergents are brought indoors, the technician will finally be able to begin the cleaning. However, the first step is to carefully examine the rugs in order to determine the fabric and materials they are made of. This is important so that the most appropriate cleaning method could be ascertained.
Pretreatment – Making sure that the pieces are prepared for the main cleaning procedures is incredibly important. The first step is to simply vacuum clean the pile of the rug. After that, if there are any existing stains, then their pH levels will be tested – this way the technician will determine what would be the most appropriate targeting detergent to pretreat them with. The right product will be applied over every existing stain and it will be left to break down the stain.
Main cleaning procedure – After your rugs are properly pre-treated, they will be deep-cleaned with highly effective hot water extraction cleaning machines. These machines allow the technician to clean the rugs as they are situated on the floor. There is no need to lift and relocate the textile floor covering. For more delicate pieces, the technician will opt for a dry cleaning method involving water-free solvents.
Let the items air dry – After the main cleaning procedure, your rugs will be almost dry. Yes, even the ones that were deep-cleaned. This is because our special equipment is able to remove most of the moisture from the fabric. Within a few hours, your rugs will be completely dry. You can leave a window open to speed up the drying process. All that is left is to enjoy your freshly cleaned rugs, you will be able to notice the difference right away.
Get an instant quote

Hot water extraction deep cleaning
When it comes to rugs (and other types of textile floor coverings) Hot Water Extraction is the best deep cleaning method. This is because it does an amazing job at removing the accumulated dust and grime that is stuck between the rug fibres. At the same time, it is great at removing the most common types of domestic stains.
It's all done with a special hot water extraction machine that ejects a mix of hot water and detergent under high pressure. The technician will simply slide the nozzle of the machine's cleaning wand over the pile of the rug. The cleaning solution will penetrate deep between the fibres of the rug and dislodge the trapped solids.
This is great for dealing with:
Pet stains
Urine treatment
Food and drink stains
Dust and dirt
Dust mites
Hair
But where does all the water go? No worries, the machine is equipped with a moisture retrieval system. There's an attachment right behind the nozzle of the cleaning wand that is constantly working and retrieving the moisture along with the dislodged filth. In other words, the rug is being cleaned and dried almost simultaneously. It is quite fascinating and satisfying to watch how it is done, actually. In some cases, you will be amazed by the "before and after" effect.
Dry rug or carpet cleaning
Not all rugs can be deep cleaned with hot water. This is because there is a risk of shrinkage and permanent damage with items that are mostly made out of natural fibres such as wool, silk, and cotton. That is why we also provide dry rug cleaning.
It is suitable for:
Persian rugs
Oriental rugs
Delicate rugs
Designer rugs
Wool rugs
Here is how we do it: after pretreatment of the item, the technician will apply a special low-moisture solvent or dry cleaning powder over the pile of the delicate rug. The chosen product will be left for a while to affect the rug. After that, the technician will use a special machine with rotating brushes to work the solvent into the pile of the rug. This agitation will effectively bind the accumulated dust, dirt, and hairs to the dry cleaning product.
At the end of the procedure, the technician will simply vacuum clean the pile of the rug to remove the solvent along with all the unsanitary solids. After that, your rug is well refreshed and you are able to enjoy it once again.
Get an instant quote

Enhance your rug cleaning with one or more of these services
Combine your rug cleaning with other types of cleaning to maximise the results
Upholstery Cleaning
You will be pleased to find out that our upholstery cleaning service is actually a great addition to your rug cleaning. This is because the technician who is already at your place will be bringing all the necessary equipment to clean your upholstery anyway. And for just a little more, you can have one chore crossed off your to-do list. Our deep cleaning machines are perfect for restoring the freshness of upholstered domestic furniture.
End of Lease Cleaning
In case you are moving out, then you can benefit from our convenient and comprehensive End of Lease Cleaning. We work following agency-approved checklists, making sure that all critical areas of the property are cleaned to perfection. This means that any landlord or leasing agent will be happy with the results and you stand a higher chance of getting your initial security deposit back without any cuts.
Window Cleaning
When was the last time you had the windows of your property cleaned from the outside? This is a tedious and sometimes downright dangerous job, especially if you are attempting to clean the windows above the ground floor. We use a special extendable pole that can reach up to the 4th storey of a building, eliminating the need to use ladders. To clean the windows, we use purified water only, because it connects with the solids and rinses them effectively. There is no need to use any detergents whatsoever.
Curtain Cleaning
What about your curtains? Have you ever considered that they need to be cleaned from time to time as well? They could actually accumulate quite a lot of dust. This is unpleasant because by just touching, you will be releasing a lot of dust particles into the surrounding air. Well, we can clean your curtains for you by using our special deep-cleaning equipment. We will make sure that your curtains are cleaned to perfection so that when you move them, they won't make you sneeze from all the accumulated dust.
Get an instant quote
Frequently asked questions about our rug cleaning
Q: Is your type of deep cleaning suitable for my rugs?

A: When on site, your technician will carefully examine your rugs to determine what would be the most appropriate cleaning method for them. In most cases, we will be able to clean your rugs by using our deep hot water extraction machines. However, if your rugs are too delicate, for example, a Persian rug or wool rug the technician could still dry clean them.

Q: Are you able to remove unpleasant smells from rugs?

A: Oh just you wait, those nasty smells you are dealing with stand no chance against our highly advanced rug cleaning methods! Especially when it comes to our powerful hot water extraction cleaning. Not to mention that we are able to pre-treat stinky stains with special targeting detergents to ensure the solids are broken down. Each piece is effectively deodorised and you are left with amazing results.

Q: Can you guarantee for certain that the stains will be removed?

A: We are able to remove the most common domestic stains such as those from food, spilt drinks, bodily fluids, and "happy" pet accidents. We are able to remove those with great success because of the special pre-treatment detergents that we use. However, you have to keep in mind that some types of stubborn stains such as those from harsh chemicals or paint permanently damage the fabric. They can't be removed.

Q: When will I be able to step on the rugs after the service?

A: The machines that we use remove 95% of the moisture from the rugs. This means that they will air dry on their own within a few hours and you will be able to step on them once again soon.
Q: Can you come to deep clean the rugs at my office?

A: Sure, you can make a booking for your office and we will send a technician to deliver the service with minimal disturbance to your work. Simply choose the date and time that work best for you through our helpful online booking form.

Q: How often should I have my rugs professionally cleaned?

A: The general advice that we give our customers is to have their rugs and other types of textile floor coverings professionally cleaned once every 3 to 6 months, depending on the foot traffic they receive. High-traffic areas accumulate more dust, hair, and grime so they need to be cleaned more often.

Q: Can I book a rug cleaning service for the weekend?

A: You can certainly do so. Our services are available 7 days a week, with a range of booking slots. You will be happy to find out that we deliver services even during official holidays at no extra charge. So simply check our availability through our online booking system and reserve the slot that works best for you.

Q: What happens if my rug is damaged during the cleaning service?

A: No worries, this is a fully insured service, meaning that if anything happens, you are fully covered. But at the same time, you should have every expectation that something like this is not likely to happen. The experienced technicians have cleaned thousands of rugs, they know what they are doing.