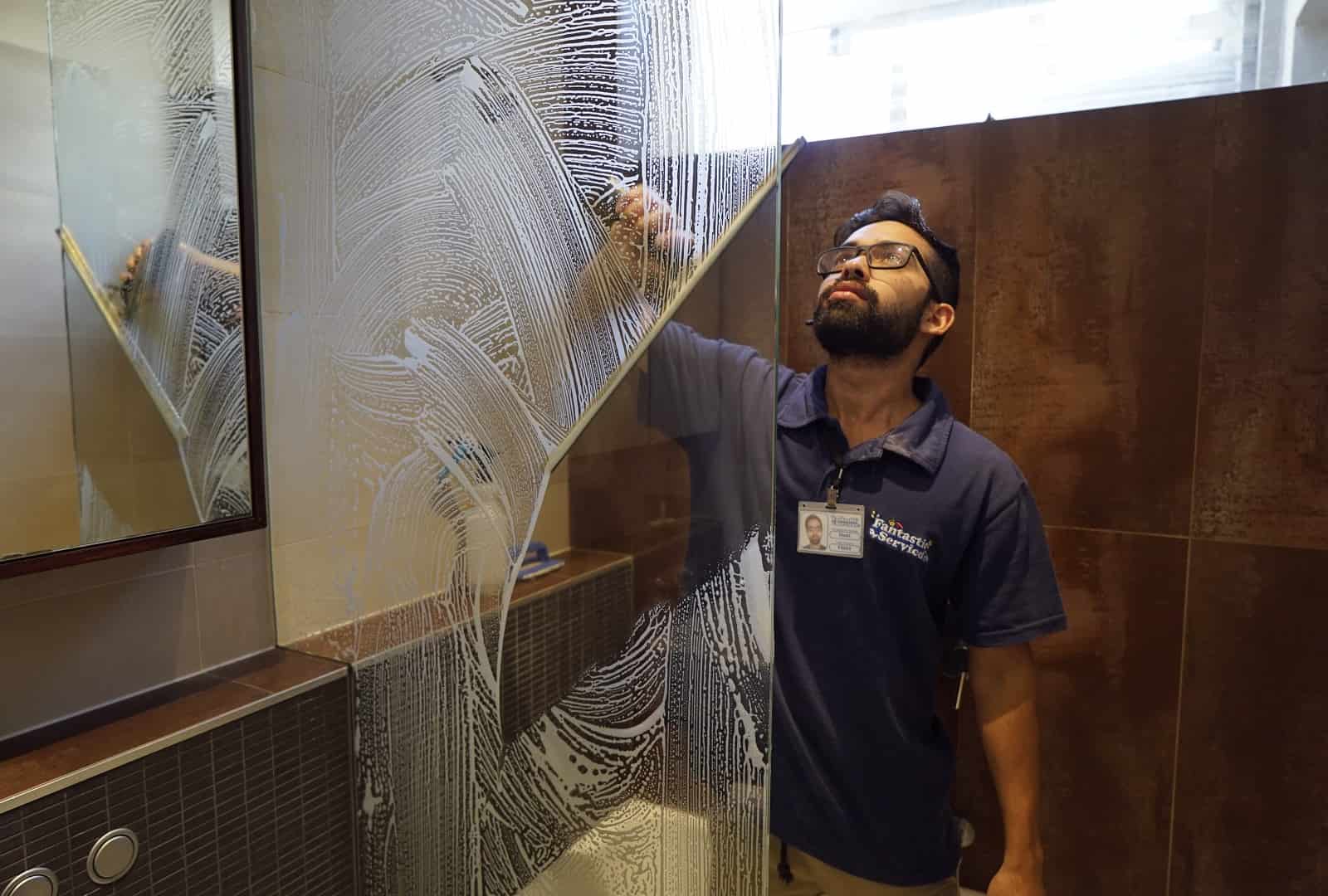 Why use our bathroom cleaning services in Melbourne?
Cleaning the bathroom is most people's least favourite job. It is also the one that needs to be done properly and well - using the right solutions and approach - if you want your house or business property to remain a clean, safe and fragrant environment for yourself, your family and guests.
For Melbourne residents, that's where our bathroom cleaning service comes in. Delivered by professionals using the latest eco-friendly, specially-developed bathroom cleaning solutions, this is the easy way to handle this part of your regular cleanliness routine without you needing to lift a finger.
Get an instant quote
Why get professional bathroom cleaning rather than do it yourself?
Bathroom cleaning is a sometimes dirty job that can also be time-consuming as well as potentially unpleasant - particularly if the bathroom is a public or commercial one. With a team of properly-equipped professionals though, this job is transformed into an efficient process that results in a completely sanitised space that is fresh and fragrant for you and your visitors to use. You can use us for a one-off bathroom clean in Melbourne or join our clients who use us on a regular weekly, fortnightly or monthly basis. Always relying on:
Complete sanitisation
The professional team we send to you use the latest industry-grade products to achieve complete sanitisation of your bathroom or washroom. These products are highly effective while still being eco-friendly.
Ideal for both private and commercial bathrooms
This bathroom cleaning service is used by individuals as well as business owners across Melbourne. Whatever type of bathroom you have, we clean it.
Seven-day availability
Choose a weekday or weekend appointment. Whatever makes the most sense for you. We have a broad spread of availability for you to take advantage of.
Get an instant quote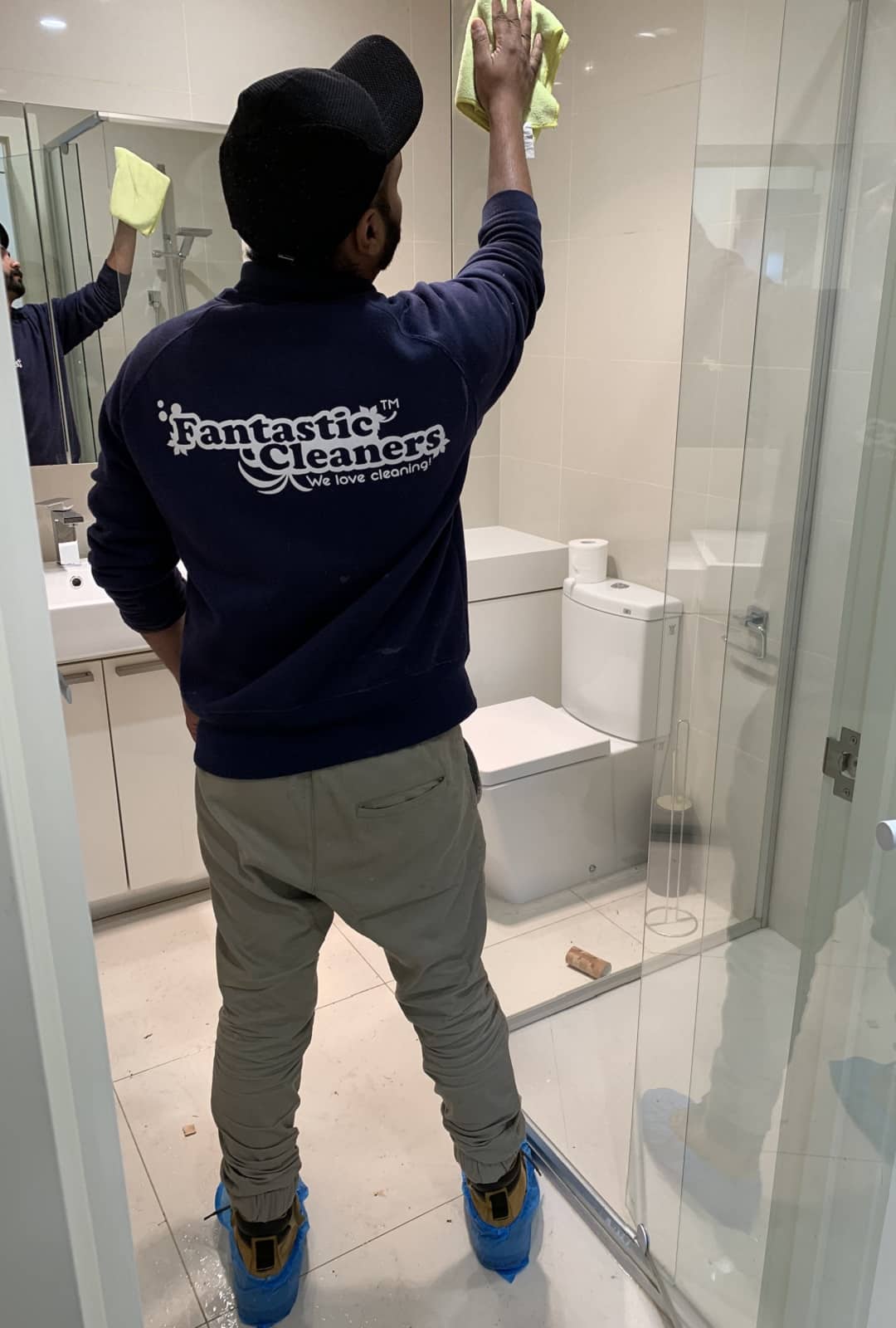 What will your bathroom cleaning include?
Your professional bathroom cleaner will arrive with everything they need to sanitise and refresh your bathroom. They will follow a carefully prepared checklist that ensures every part of your bathroom is cleaned. They are used to dealing with the specific demands of larger, commercial and public bathrooms.
Your appointment will include a comprehensive clean of your entire bathroom space, including:
Mould removal
Soap scum removal
Shower cleaning
Cleaning and polishing bathroom glass and mirrors
Bath cleaning
Toilet cleaning
Disinfection, sanitisation and deodorisation
Cleaning of appliance tops and exteriors
Cleaning roof vents
Vacuuming throw rugs
Polishing light fixtures and chrome
Get an instant quote
Frequently Asked Questions
Q: If I book my bathroom cleaning service on a regular basis, can I cancel it for free?

A: Absolutely. We do ask for seven days' notice before you do. But otherwise, there is no charge for skipping an appointment or cancelling your service.

Q: Do you use cleaning products that are safe for the environment?

A: Yes. We prioritise both cleaning effectiveness as well as eco-friendliness when we are selecting the products we use.

Q: Can you clean the bathroom in my shop or restaurant?

A: Of course. This service is suitable for almost any bathroom you might need to be cleaned to a professional standard, including those in your own home or in your business property.

Q: How long will my service take?

A: You can get a free estimate of this before you confirm your appointment. Feel free to get in touch with one of our friendly customer support team in person if you want to describe your bathroom to them and get a firm quote.