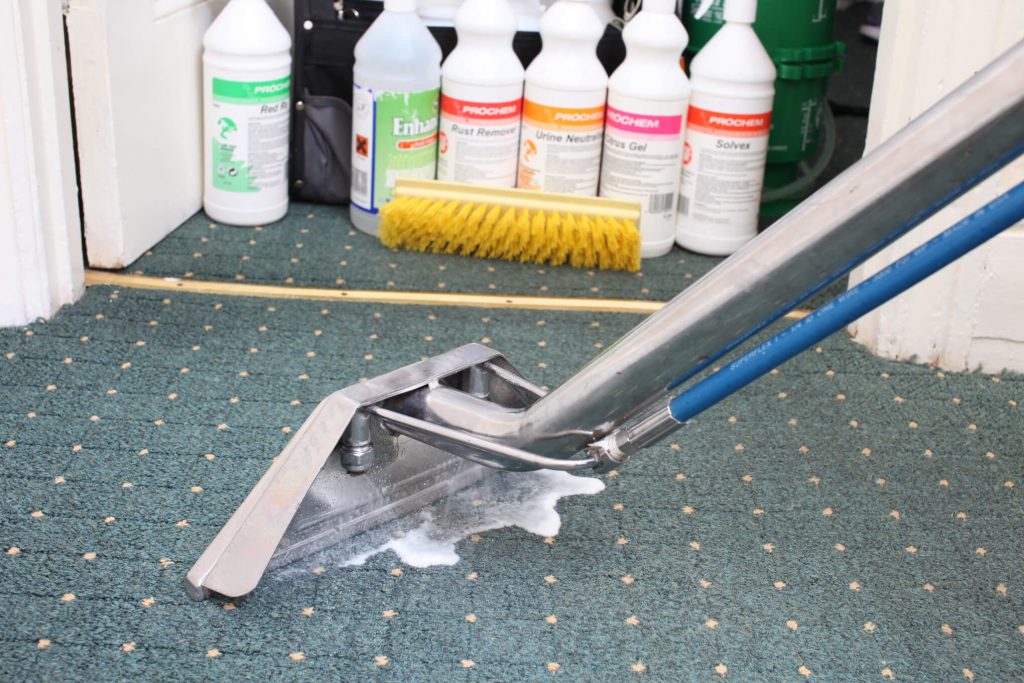 Why you need steam office carpet cleaning in Melbourne
However carefully or frequently it's done, dry vacuuming cleaning can only do so much for your carpets. Vacuum cleaners don't have any effect on stains, and while they're great at removing surface dust and debris they're not so effective when it comes to removing deeply ingrained dirt.
Vacuum cleaners also don't sanitise the carpet. Viruses, bacteria, mould spores and other pathogens can all find a home in soft floor coverings. Airborne pollutants sink to the ground, get trapped in fibres and then released into the air when people walk across the room.
When you're looking for a way to lower the microbial load in a room and improve air quality you need steam commercial carpet cleaning.
Get an instant quote
The benefits of using professionals for commercial carpet cleaning
There's a lot to be said in favour of booking a specialist cleaning company to take care of the job for you.
Save your time and stress - You don't have to book the machine, collect the machine, understand how to use the machine and figure out when you're going to fit the carpet cleaning into your day.
Professionals get better results - Reputable cleaning companies invest in high-quality equipment which cleans more deeply and leaves the carpet dryer after treatment, so reducing the time that the room is out of action. Professionals also have access to industry-leading products and have the training and experience to match the right detergent to the specific carpet.
If something goes wrong, you're covered - Booking a trained technician reduces the chances of an accident in the first place. Just the same, any reputable company will be fully insured, so if by some remote chance your carpet is damaged you know you'll be compensated.
Trust Fantastic Cleaners in Melbourne - With years of experience in the cleaning industry, Fantastic Cleaners are a great choice for office carpet cleaning, you're assured of a fully insured, professional service and flexible appointment scheduling means you can set up the work for a time that won't disrupt your business routines.
Get an instant quote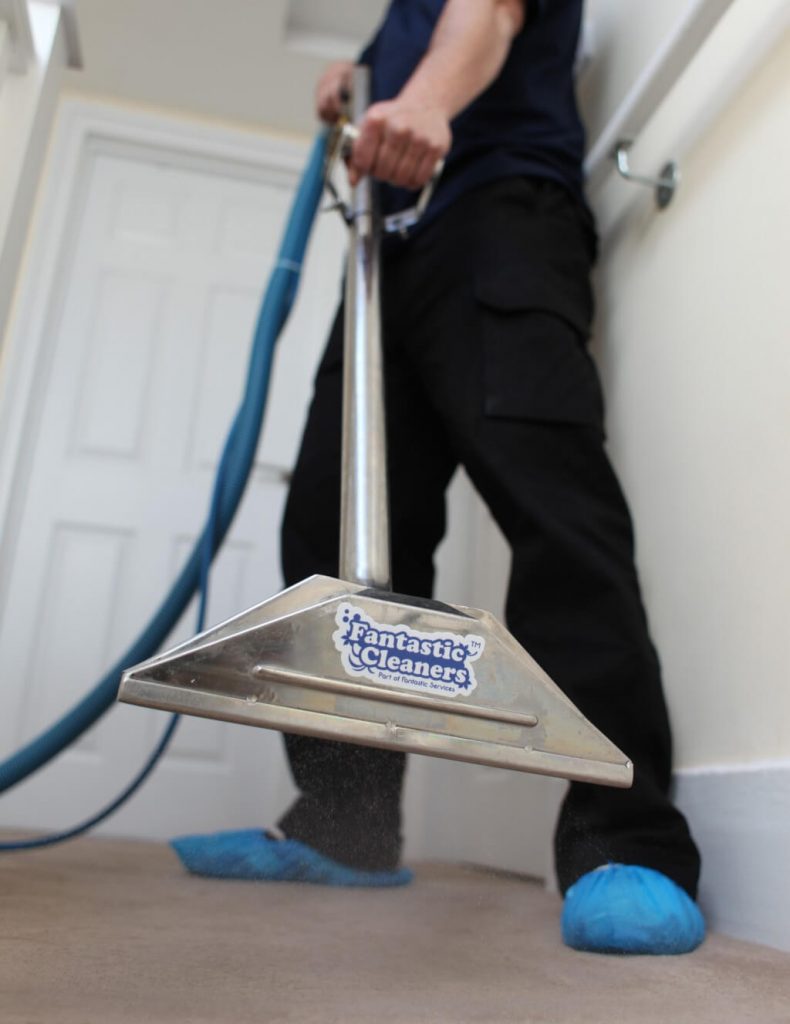 How office carpet cleaning is done
Commercial carpet cleaning in Melbourne is completed following a tried and tested process.
Inspection and stain treatment - The technician examines the carpet, making a note of the fibre type and construction as this may influence the cleaning process. They also pretreat stains to start to break them down.
Pre-cleaning spray - A biodegradable detergent is sprayed over the carpet to loosen dirt and increase the effectiveness of the main clean.
Cleaning - Detergent and steam are injected into the carpet fibres to dissolve dirt, destroy pathogens and absorb pollutants. If the carpet is very dirty it may also be treated with a rotary scrubbing machine that gently agitates the fibres to increase penetration of the detergent. Dirt and water are then removed by suction.
Stain protection - On your request, a protective solution can be applied to the carpet which will prevent absorption of liquids spilt in the future, this greatly reduces the risk of staining.
Get an instant quote
Frequently asked questions about commercial carpet cleaning in Melbourne
Q: Are all carpets suitable for steam cleaning?

A: No. Some delicate rugs, those subject to colour-run or shrinkage are best treated using dry cleaning techniques. However, almost all carpets sold for use in commercial environments are designed to be easily cleaned and sanitised. Your cleaning technician will check but your office carpet is almost certainly suitable for steam cleaning.

Q: Can I get my carpet cleaned at the weekend or over a public holiday?

A: Yes you can. Fantastic Cleaners delivers services seven days a week. You can view current availability on the GoFantastic app. If you can't find what you're looking for there give us a call or drop us a line using our online contact form.

Q: How much does commercial carpet cleaning cost?

A: The cost of the service is calculated on the size of the carpet. Contact us for a personalised quote, the price will be inclusive of labour, detergents and equipment use.

Q: Can you clean the carpets at my rental property when the tenants move out?

A: Yes, we offer vacate cleaning to landlords or letting agents as well as tenants. Book carpet cleaning for any commercial property, offices, hotels, restaurants or any other working environment.
Q: What other sorts of cleaning can I book?

A: Fantastic Cleaners delivers a wide variety of cleaning services, many of which are suitable for commercial clients. Many corporate customers add upholstery cleaning or leather cleaning to their carpet cleaning. Getting several jobs done at once is more efficient and will be more cost-effective than booking different services at different times.