Professional NDIS Carpet Cleaning in Melbourne
Book NDIS carpet cleaning online and have your carpets deep cleaned by professional technicians
Available 7 days per week, including holidays
Professional-grade deep-cleaning machines
Certified & insured carpet technicians
Stain and odour removal
Get a quote

Book your NDIS carpet cleaning service in 3 steps!
Schedule an appointment with a well-trained carpet technician in less than 30 seconds with a few button clicks.


Enter your area code in Melbourne
Fill in your Melbourne postcode through the online booking form to begin the carpet cleaning booking process.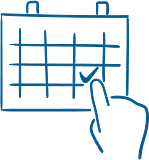 Pick a convenient time
Check the available time slots and fill in the details to select the most suitable time for your NDIS carpet cleaning appointment.


Get your carpet thoroughly cleaned
A professional will arrive on time with powerful tools and detergents to extensively clean your carpet and make it as good as new.

Why choose us for your NDIS carpet cleaning in Melbourne
Enjoy a top-tier NDIS-registered carpet cleaning service with the well-trained and experienced Fantastic Cleaners' pros.
All-week-long availability for your convenience
The service is accessible all week long. Fill in the online form and pick the day suitable for you, even on public holidays!
Certified carpet cleaners
The Fantastic' carpet cleaners have the experience and skills to handle all types of carpet fabrics for astonishing results.
State-of-the-art cleaning equipment
Expect our cleaners to arrive fully equipped with professional machines and high-quality detergents that suit all types of carpets.
NDIS-registered cleaning services
Fantastic Cleaners Melbourne is an NDIS-approved provider of affordable time-saving first-rate options for NDIS participants.
Eco-friendly cleaning methods
We care about the environment! We use eco-friendly cleaning technology and products with minimal carbon footprints.
Extra perks with the Fantastic Club
Subscribe and receive additional benefits, including $400 in credits, priority booking, and many other exclusive perks.
Get an instant quote
What to expect from your NDIS carpet cleaning in Melbourne
At Fantastic Cleaners, we know how tricky yet vital carpet deep cleaning can be. We offer carpet cleaning services supported by the national disability insurance scheme to assist customers with disabilities. Book with us to enjoy a great service that accommodates all your needs.
You'll get a prompt visit from one of our professional carpet cleaning teams at the appointed time. Just provide them with access to the carpets and share your preferences. The technicians will come fully prepared with all the necessary machinery, tools, and cleaning supplies to provide you with top-quality service.
The carpet cleaners will start by examining the carpets to determine their fabric type and the stains that need special attention. Afterwards, they'll vacuum the carpets and pretreat the visible stains with a special eco-friendly detergent that matches the pH level of the substance.
After pre-treating, the cleaners will use industry-grade deep-cleaning machines to clean the carpets effectively with the hot water extraction technique, which is safer and more effective than standard steam cleaning. For delicate items, made of natural fibres, they use a specialised dry-cleaning machine and solvent. After the service, you'll notice the difference yourself. Enjoy your completely refreshed carpet!
For an extra small fee, you can request the anti-stain protections by Scotchgard™. It repels liquids to soak into the carpet fibres, making them easy to blot with regular cleaning solutions. This special protection will help you maintain your carpet's freshness and cleanliness for a longer time.
Get an instant quote
How our renowned hot water extraction method works
With the advanced hot water extraction method, you can rest assured that your carpets won't be left drenched with water. The carpet technician will slide the cleaning wand over the carpet, ejecting a powerful hot water stream mixed with an eco-friendly cleaning detergent deep into the fabric's fibres. The water's hot temperature and the high pressure work together to dissolve the dust and grime while sanitising the carpet. The suction attachment will extract the dirty water, leaving no residue and retrieving 95% of the moisture. The result is a clean almost dry carpet.
Hot water extraction is ideal for carpets made of:
Wool – Natural fabric that is easily damaged and very absorbent;
Nylon – The most common fibre, as it resists moisture and traffic;
Polyester – A durable fabric, but removing greasy stains can be tough;
Acrylic – Resistant to stains and sunlight;
Polypropylene – A popular fabric that is easy to clean and doesn't shrink.
As you can see, hot water extraction suits mixed and entirely synthetic fabrics. For 100% natural fibre fabrics, we use dry carpet cleaning.
While the hot water extraction method is the most effective carpet cleaning method, it's not guaranteed that all stains will be removed completely. For example, some stains, like red wine, blood, or pet urine, can be harder to remove, especially if not treated immediately. Keep in mind that if you try to clean the stain off by yourself, using harsh chemicals, could worsen the situation even more. That's why we advise blotting the stain and getting in touch with a professional as quickly as possible.
Get an instant quote


The dry carpet cleaning method for natural fabrics
Carpets made of natural, organic, delicate fabrics are usually not water-resistant. That's why we opt for harm-free dry carpet cleaning to restore them to their beauty. While the dry carpet cleaning method isn't particularly the best stain removal option, it leaves the carpet looking bright and fresh.
Dry carpet cleaning is the ideal solution to remove dust, dirt, and hair from carpets made of natural materials. t can be especially convenient if you're short on time, as the carpet is left dry after the cleaning.
We use the solvent dry carpet cleaning method for fabrics like silk, velvet, 100% cotton, and viscose. The detergent used is powerful enough to clean the carpet yet still gentle and undamaging to the fabric.
The cleaner starts by vacuuming the carpet, and then distributes the specialised dry cleaning solvent over the surface. Then, the solution is left for about 15 - 30 min to work and dissolve the dirt and stains embedded within the carpet fibres.
After that, the carpet cleaner treats the carpet with a spinning rotary bonnet machine with lots of tiny brushes that rub the dry powdered detergent deep into the carpet. The grime, dust and dirt will stick to the detergent and then get vacuumed off the fabric, leaving the carpet looking fresh and neat.
Get an instant quote
Additional services with our NDIS carpet cleaning service in Melbourne
At Fantastic Cleaners, we help NDIS members navigate their daily lives easily and comfortably. Our affordable NDIS services also include:
NDIS Cleaning
You don't have to worry about the tedious daily cleaning chores with our NDIS regular cleaning service. You can arrange a scheduled cleaning convenient to your daily living and specific needs. The frequency of the appointments is up for you to choose, be it on a daily, weekly or fortnightly basis. Just prioritise your specific cleaning tasks and consult with your NDIS plan manager. Create a checklist that the cleaner will gladly follow.
The Fantastic Cleaners will tackle every room, leaving it sparkling without any effort on your behalf. Cleaning chores they can take care of include dusting, mopping, wiping, disinfecting, vacuuming, sanitising, ironing, and more! We can send the same cleaner every appointment for a more efficient workflow, unless you change the schedule or request a different one. We offer also more specialised spring cleaning or end-of-lease cleaning sessions.
NDIS window cleaning
Keeping your windows clean will prolong their lifespan and improve the appearance of your home. We know it's not an easy task, so why not leave it to the professionals to enjoy the best results. Furthermore, DIYing window cleaning poses safety risks. We got you covered by providing window cleaning services for people covered with NDIS funding. We do all types of window cleaning, including exterior, and interior window cleaning and pool or balcony baluster.
We leave the windows spotless by removing the cobwebs and cleaning the glass in and out, as well as the frames and ills. Using the water-fed pole cleaning method, we use purified water and a brush to remove the dirt buildup and leave your window clean for a long time. This method is perfect for high-stories windows.
NDIS handymen services
The Fantastic handymen are trained for various maintenance and fixing jobs. Their long years of experience allow them to execute any handy task you may need around your home. Their scope of work includes general maintenance, repairs, furniture assembly, carpentry, and simple electrical services. They also do wall painting and decoration tiling, plastering and skimming. We work with reliable, professional handymen who are background-vetted to ensure a high-quality end result. The service is fully insured in case of any accidents. And because we know some tasks can't wait, we offer same-day service with NDIS cover, subject to availability.
You can contact us online or directly on the phone to provide you with an instant quote. For more complex tasks we can organise a free visit and provide you with a fixed quotation.
NDIS gardening
A well-maintained garden can boost your mood and improve your mental health. However, staying on track with garden maintenance isn't always possible. Our NDIS gardening services in Melbourne fall under the NDIS support category and can help you with that! This friendly service includes general gardening tasks such as lawn mowing, hedge trimming, tree pruning, mulching, weeding, fertilising, general clean-ups, and green waste removal. Our fee is hourly based with a minimum callout of two hours.
The Fantastic gardeners are fully skilled, vetted, and experienced enough to provide you with the high-quality service you deserve. They come fully equipped with all the necessary gardening tools and supplies. The gardening service will make your plants healthier and your property look more attractive and neat. And the best thing is that you don't have to lift a finger or waste the time you can spend you're your family. Enjoy your beautiful green recreational area!
Get an instant quote
Frequently Asked Questions
Q: How long will it take for a carpet to get completely dry?

A: It usually takes 3-6 hours, depending on the weather, carpet's thickness, material, ventilation and room temperature. Leaving the windows open or putting on the AC can speed up the process.

Q: Can blood/urine be extracted completely?

A: Fantastic carpet cleaners will do their best to provide you with a wonderful job. However, the outcome depends on the age of the stain and whether you've used other detergents to treat it yourself.

Q: Will the stains be gone completely?

A: We have spotters, stain removers and chemicals to pre-treat and remove your stains, but it still depends on the origin of the stain, the time it has been on the carpet and if you tried to treat it yourself.

Q: How often should I have my carpets professionally cleaned?

A: We recommend professional cleaning every 6-12 months for a regular household carpet.
Q: What stain protection do you offer, and why should I use it?

A: We use a Scotchgard protector that helps keep spills from becoming hard-to-remove stains and maintains the bright look of your carpets for a long time.

Q: Do you move furniture?

A: We usually send only one carpet cleaner who can help you move light furniture. If there are heavier items, he would clean around them.

Q: What kind of detergents do you use?

A: The cleaning solutions we use are professional, eco-friendly and with proven effects, harmless to humans and pets.

Q: What happens if one of your technicians damages the carpet?

A: You will get full compensation if something goes wrong, as our NDIS cleaning services are 100% insured.