Impressive Results from Fridge Cleaning in Brisbane
Keep your refrigerator pristine with deep fridge cleaning in Brisbane
Suitable for all makes and models of domestic or commercial refrigerators
Ensures food from your fridge tastes fresh and wholesome
Destroys bacteria and other microorganisms
Eliminates the risk of cross-contamination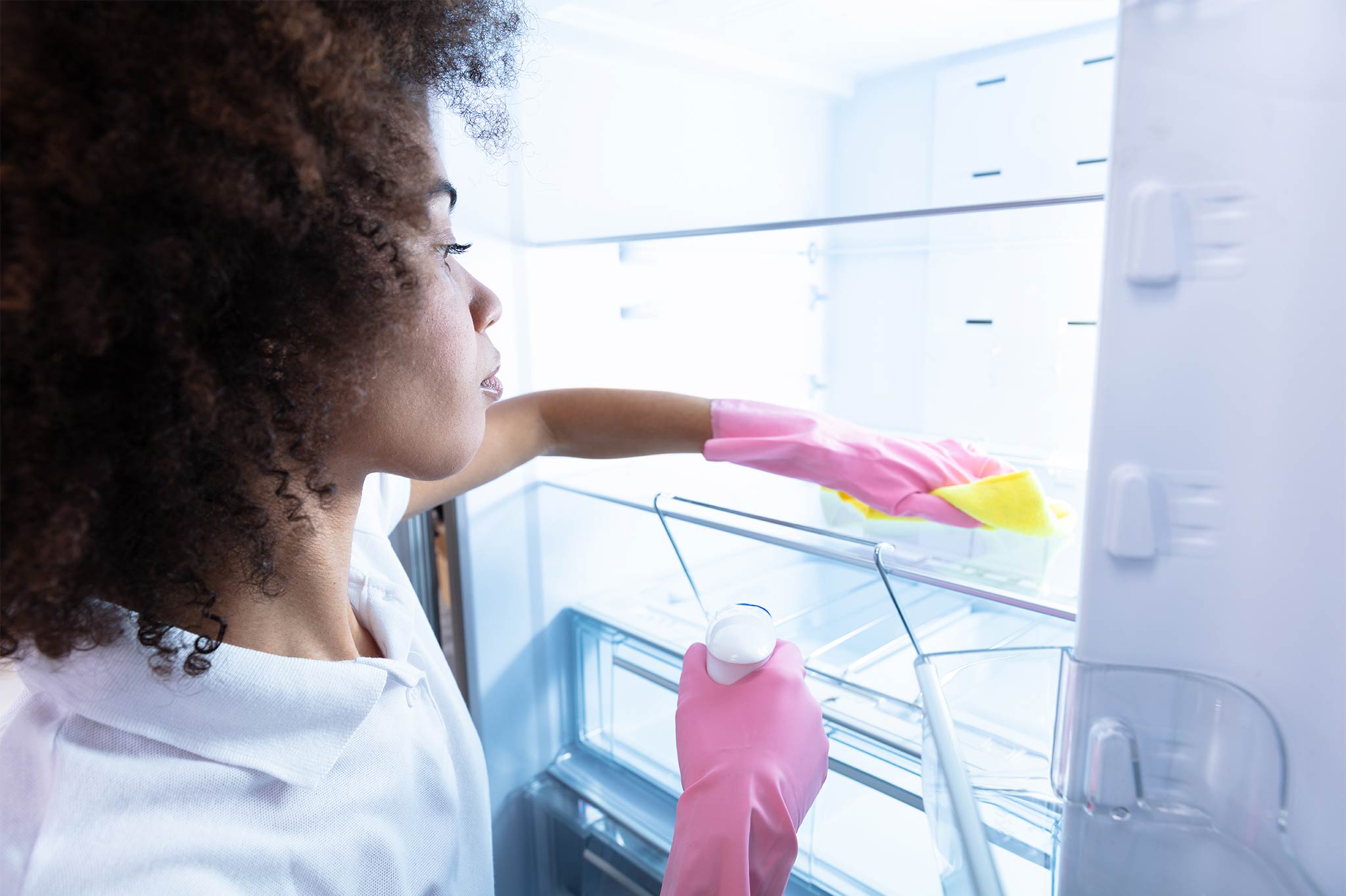 Schedule fridge cleaning in Brisbane at your convenience
Check availability and book
Stay online, or if you prefer call us. Reserve an appointment for fridge cleaning in Brisbane on weekdays, at weekends or even on public holidays.
Get the cleaners in
They'll bring everything they need to clean and sanitise your refrigerator. And they'll work hard to get the job done quickly and efficiently.
Enjoy your spotless fridge
Once cleaned, your refrigerator will look smarter, smell fresher, and you can be confident that food stored in it will be kept in ideal conditions.
Get an instant quote
Three important reasons for fridge cleaning
The look - The most obvious reason for fridge cleaning is appearance. Grubby handles, marks on the door or spills inside the fridge look unappealing. A spotless fridge lifts the appearance of the whole kitchen.
Hygiene - Bacteria and other microorganisms are invisible, but that doesn't mean they're not there. Fridge door handles, and the interior of the appliance are prime areas for pathogens to linger and if this is allowed to happen there's a real risk of people becoming ill as a result of food contamination.
Freshness - The final important benefit of booking a professional fridge cleaning service in Brisbane is the elimination of odours. Uncovered cooked dishes, some cheeses and other strong-smelling foods can give off odours which linger in the refrigerator and mar the taste of more delicately flavoured foods.
Get an instant quote
The benefits of booking professional cleaners for refrigerator cleaning in Brisbane
On a day-to-day basis, you probably wipe handles and the door and clean up obvious spills. Just the same, booking professionals for a dedicated deep cleaning service for your fridge is a great way to deal with neglected stains and get into every nook and cranny. Do this through Fantastic Cleaners and you'll know that the people who come to you are trained to work to a proven system. You'll enjoy the benefits of professional-grade sanitising, sterilising and deodourising solutions. And, just so you know, all detergents used by Fantastic Cleaners are both environmentally-friendly and non-toxic. So you won't be introducing nasty chemicals into your home or business property by getting your fridge cleaned.
Get an instant quote
A step-by-step guide to fridge cleaning services in Brisbane
The exact details of your service may vary according to the make and model of your fridge but basically the service proceeds as follows:
The cleaners arrive - They'll set up their tools and materials and switch off the refrigerator
All food is removed - And placed into cold storage boxes to keep it safe until your fridge is clean, dry, and ready for use
All removable components are taken out - Drawers, racks, drink dispensers and any other removed parts are cleaned and set aside to dry
The body of the appliance is cleaned - Cleaning and deodourising agents are used on the internal body, chiller and freezer compartments
The outside of the fridge is cleaned - Marks are removed and the door and handles are sterilised
Everything is dried - The removed components are replaced and the fridge is switched back on
Food is reloaded - And everything is left neat and tidy
Verbal or written report - Your cleaners will explain what's been done or make you aware if they've noted any problems in your appliance
Get an instant quote
Frequently asked questions about fridge cleaning in Brisbane
Q: What will fridge cleaning in Brisbane cost me?

A: The price will depend on the size and type of appliance. You can get an exact quote before committing to a service

Q: How often should I book fridge cleaning?

A: It does depend on usage but generally a yearly deep clean is sufficient for domestic refrigerators

Q: Can I request other cleaning work alongside fridge cleaning?

A: Please do. This might be more cost-effective for you too. Oven or BBQ cleaning or general kitchen cleaning are often combined with fridge cleaning.

Q: Can you provide a service outside of normal working hours for commercial kitchens?

A: Yes, we can. We're very flexible about appointment scheduling so just get in touch and tell us when you need your work done.
Meet our Fantastic Family