Get flea treatment carpet cleaning in Sydney
Professional treatment to kill fleas in carpets
Protect your health and your pet's health
Landlords documentation available for vacate cleaning
Short notice and emergency bookings accepted
Get a quote

Effective flea carpet treatment in Sydney
Fleas are both common and persistent parasites. They feed on our pets, especially dogs and cats and will also bite humans. They have the potential to transmit tapeworm larvae and even Murine typhus, a bacterial infection that, left untreated, can cause serious health problems.
Treating pets regularly to destroy fleas is important, as is daily vacuum cleaning. A single flea can lay up to 50 eggs, which means that prompt flea treatment carpet cleaning is essential if you suspect that carpets have become infested.
Get an instant quote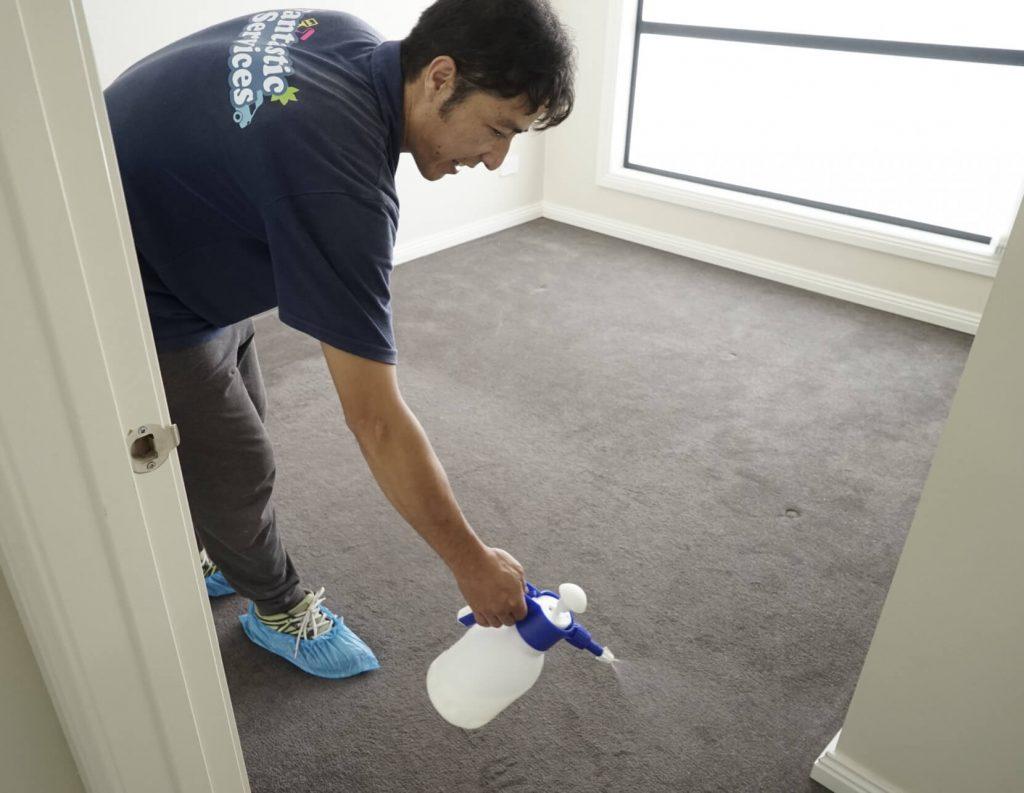 Why you need professionals for flea eradication treatments
Fleas may be resistant to some of the chemicals you can buy over the counter to kill them and using anti-flea treatments both safely and effectively requires a degree of skill. Book a carpet flea treatment specialist through Fantastic Cleaners in Sydney and you'll get the benefit of the most current treatments available and they'll be used by someone who knows how to maximise their effect.
If you're leaving a rental property and have had pets living there it's common for landlords to request proof that you've used a professional flea control service to treat carpets and any soft furnishings that are on the property inventory. In that case, take advantage of our Rental Property Vacate Flea Treatment package - you will receive an official receipt to present to your landlord or estate agent.
Get an instant quote
How flea control treatments are completed
Once you contact us, our agents will review your case and offer you our regular carpet flea treatment package*, which will have our carpet cleaning team treat your carpets against fleas.
On the day of your appointment, our professionals will examine your carpeting, determine the best approach and explain any necessary precautions you may need to take to ensure the safety of yourself or your household. Depending on the method of flea eradication used, you may need to remove pets from the premises including fish, birds or reptiles and vacate the property yourself for a short time.
After the selected treatment package is applied, you'll be issued a receipt and, if required, any other documentation requested so that you can show you've met your tenancy obligations for flea carpet treatment in Sydney.
*For severe infestations, our agents will offer you our full flea treatment service to ensure the matter is resolved completely.
Get an instant quote
Frequently asked questions about flea carpet treatment in Sydney
Q: Do you offer same-day services?

A: Subject to availability of a technician, yes. In an emergency, you'll be offered the first possible appointment.

Q: Is carpet flea control administered in a single visit?

A: Generally yes, however eggs can not be destroyed by chemicals. Your technician will advise on anything you should do after treatment to ensure that newly hatched insects are not allowed to establish a fresh infestation.

Q: Should I treat my dogs or cats for fleas shortly before or after carpet flea treatment?

A: It's generally best to maintain your regular schedule for pet flea control. Your vet can give further advice on this if required.

Q: Can I combine flea control with other services?

A: Certainly, in some cases combining services, will mean that you're offered a reduced overall price. Steam cleaning carpets before flea control is a popular option.