Car Interior Cleaning in Brisbane That Will Not Disappoint
Having a well-maintained car means keeping both the exterior and interior dirt-free. Often neglected, the interior is just as exposed to pollution all the time. As dust, sweat, debris, and moisture accumulate, bad smells start to appear, along with stains and discolouration that can ruin your vehicle's appearance.
With the help of advanced industry-approved machines and professional methods, the Fantastic Cleaners operating in Brisbane can solve all these problems. They can fully restore the initial good looks of your car through in-depth car interior cleaning.
Get an instant quote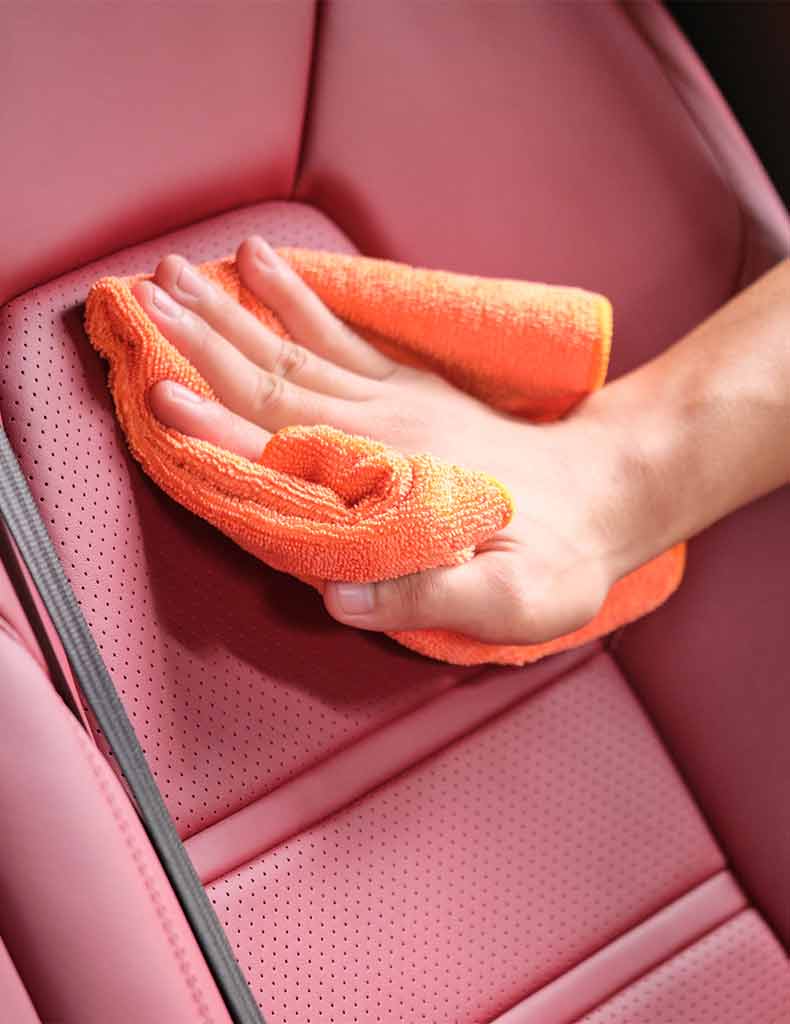 Why a specialised car upholstery cleaning instead of a DIY job?
As easy as it may look, getting old stains from food and beverages can be quite troublesome. In fact, DIY car upholstery cleaning done with too aggressive cleaners or products incompatible with the material may change the colour of a car's upholstery or even seal stains.
With a premium car interior cleaning, you won't have to worry about any of that. By relying on our local cleaner in Brisbane, you will get:
Extra free time on your hands - There is more than vacuuming to getting your car interior properly cleaned. Depending on the material's condition, cleaning may take from a few hours to a whole day. Booking a professional cleaning service will spare you valuable time.
Specialised cleaning methods as per your car's needs - You don't have to wonder what will work best on a leather car interior or fabric-covered seats. The experts will be able to determine this themselves.
A higher value for your vehicle - It's not easy nor affordable to renovate a car's interior. Therefore, a professional cleaning can spruce it up, which will be beneficial in case you decide to sell your vehicle.
If you wish to schedule a service, visit our online booking form or use our GoFantastic app.
Get an instant quote
What is the car upholstery cleaning process in Brisbane?
In short, the professional cleaners will take the following steps to restore your vehicle's inner look:
Starting with a detailed evaluation of the interior condition of your car, the pros will pick the right kind of cleaning method.
A thorough vacuuming from corner to corner is what comes up next.
Isolating and pre-treating spots within the car's fabric are done to loosen the grime and make the removal faster.
Depending on the type of material on the seats, doors and other internal parts of the vehicle, the experts can either steam clean the fabrics or treat the leather with specialised sprays and conditioners, removing the grime and rejuvenating the material.
Suppose you decide you want extra protection or a pleasant smell added to your car's interior in exchange for a small fee. In that case, the trained pros can also deodorise and apply additional products that will make the car's upholstery more resistant.
Frequently Asked Questions
Q: How long will my car seats take to dry after the service?

A: The average drying time can be anywhere between 2 and 4 hours, but the type of fabric also contributes to the amount of time. Turning the AC usually helps dry it faster.

Q: Are the car upholstery cleaning methods safe?

A: Absolutely! The cleaning teams consist of experienced professionals who are familiar with the specifics of different upholstery and know how to safely treat and revive them.

Q: How can I get an appointment?

A: There are multiple ways to reserve your service, as we have a simple online booking system on our site, a GoFantastic App, as well as customer service agents available over the phone.

Q: What days of the week do you work?

A: We have cleaning teams operating in Brisbane through workdays, weekends and holidays.
Book your professional car upholstery cleaning and bring the colour back into your car's interior!
Book now!