How to arrange your rug washing in Sydney
Easily access our rug washing booking through our website 24/7


Apply your area's local code
Specify your area code by entering it in our online booking form to start the process.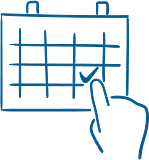 Choose the date and time
You will be shown available booking slots, just pick the slot that works best for you.


Expect your rug cleaners soon
When the time comes, we will send a fully equipped rug cleaning technician to your address.
Why choose our professional rug cleaning for your home
Bringing you a high-end professional cleaning at an affordable cost for domestic customers.
Available 7 days a week
Fantastic Cleaners' convenient services for rugs are available all week long, even during weekends.
Service by experienced technicians
The rug cleaning professionals are insured and certified and come fully equipped.
Leaving your rugs almost dry
Because of the advanced technology we use, the rugs perfectly cleaned and dried almost immediately.
No risk of damage
You can trust the experts, they know what they are doing. They have cleaned thousands of rugs before.
Eliminating dust and allergens
Our deep cleaning actually improves the indoor air quality of your home thanks to effective removal of dust particles.
Effective stain removal
We use special targeting detergents that match the pH levels of common stains to remove them with ease.
Get an instant quote

Here is how we deliver our professional rug cleaning services
We make sure that you get the service you need in the most convenient way possible, saving you time and effort.
We send a fully equipped technician to your place – When the time for your rug cleaning service comes, we will dispatch one of the available deep cleaning technicians who is near or in your area. They will come to your address, bringing all the necessary equipment and detergents to complete your service. Please make sure that you are somebody else who will be at the address to meet them. Also, it would be best if there is an available parking spot near your property because there is a lot of equipment that needs to be moved inside in order for the service to take place.
Provide the technician with access to your rugs – All that is left is to show your rug cleaning technician where your textile floor coverings are situated. Also, they will require access to running water and electricity in order to put their equipment to use. The technician will set everything up and get to work right away.
Careful examination of your rugs – It all starts with evaluating the condition of your rugs. They need to be examined in order to determine what would be the best possible approach to cleaning them. The technician will be mindful of the materials your rugs are made out of as well as any stains that are present.
Pretreatment of the items with special targeting detergents – The next step is to pretreat every rug properly. However, they need to be vacuumed first in order to remove the solid particles and hairs from the top pile. After that, each stain is analysed, the pH levels are tested, and the appropriate targeting detergent is determined. The products we use break down the solids and allow us to completely remove the substances that have affected your rugs. We are able to remove the most common types of stains with great success.
Application of the main cleaning procedure – We use Hot Water Extraction deep cleaning as our primary deep cleaning method. It is suitable for the vast majority of textile floor coverings and most area rugs. However, we do acknowledge that there are some rare and delicate rugs that require special care. That is why we also provide dry cleaning solutions for those delicate pieces that cannot withstand the high temperatures of Hot Water Extraction.
Enjoy your freshly cleaned rugs – After the main cleaning procedure, your rugs will be perfectly refreshed but they will be almost completely dry as well. This is all thanks to the advanced cleaning technology that we use. Your rugs will air dry on their own within a few hours. You could leave a window open to speed up the process.
Get an instant quote

Hot Water Extraction rug cleaning
We use the most advanced deep cleaning method for rugs. It is called Hot Water Extraction. Perhaps you have heard of steam cleaning but this method is actually outdated and not as effective as HWE. The best part about Hot Water Extraction is that it deals particularly well with some of the most concerns related to rugs.
Here are some examples.
Pet urine and solids
Human and pet hair
Stubborn stains
Food stains
Drink stains
Unpleasant smells
Dust and dirt
Here is how Hot Water Extraction works. The main unit of the machine ejects hot water mixed with a rug cleaning shampoo under high pressure through a cleaning wand. The technician simply slides the nozzle of the cleaning wand over the top pile of the rug. The powerful cleaning solution ejection dislodges the accumulated dust, dirt, and hair.
At the same time, there is a suction attachment just behind the nozzle. It removes most of the moisture (along with the dislodged filth). About 95% of the moisture is effectively removed. This means that the rug is left almost dry after the cleaning. The items air dry on their own within a few hours. You could leave a window open to ensure air circulation and speed up the drying process.
Dry cleaning for delicate rugs
As you know, some rugs are too delicate (and quite) expensive. This means that they require special attention. They can't be cleaned like most commercially available textile floor coverings. For these reasons, we also offer dry rug and carpet cleaning services that are great at refreshing delicate pieces without the risk of damage and shrinkage.
It is suitable for:
Persian rugs
Oriental rugs
Designer rugs
Ethnic rugs
Expensive rugs
Natural-fabric rugs
Woollen rugs
Here is how we do it. After examination of the delicate rug and pretreatment, a special low-moisture solvent or a dry cleaning powder will be applied over the pile side of the rug. The product of choice will be left to take effect for a while.
After that, the technician will use a high-end professional machine with gentle rotating brushes to "work" the product into the fibres of the item. This way all the hair, dust, and grime will stick to the solvent. Eventually, the technician will simply vacuum the entire piece to remove the solvent along with all the dislodged unsanitary solids. Your delicate rug will be left perfectly deodorised and refreshed so you can enjoy it once again.
Get an instant quote

Extra services that go well with our rug cleaning
You can also benefit from our range of convenient cleaning services in Sydney or your home
Curtain Cleaning
If you are having your rugs cleaned, why not have your curtains cleaned as well? The technician who will come to your address will be bringing all the necessary equipment to clean your cloth curtains as well. A special attachment will be used on the hot water extraction machine and it will allow the professional cleaner to deep-clean your curtains just as they are hanging from the railing. There is no need to have them removed.
Upholstery Cleaning
The equipment we use for rug cleaning is also used for deep upholstery cleaning. This means that the technician who is already at your place could easily clean your upholstered furniture as well. Simply add this to your services and you will benefit from handling two major home chores at the same time. This way you will save time and even some call-out money.
End of Lease Cleaning
If you are about to vacate a property, then you can greatly benefit from our highly convenient and comprehensive End of Lease Cleaning. This service has been designed to ensure that tenants will have the most convenient end of lease experience possible. We take care of all the cleaning chores by following an agency-approved checklist. The most important areas of the property are cleaned to perfection so you'll pass the inspection and get your deposit back.
Window Cleaning
When was the last time you cleaned the windows of your property? What about from the outside? The thing is, this is a dangerous chore when it comes to the upper storeys of a house. However, our window cleaning service is done with a special extendable pole system from ground level. The technicians can reach up to the 4th storey of a building without the need for ladders and climbing gear. And the best part is that we don't use any detergents. All the cleaning is done with purified water only because it connects with solids and rinses them quite well.
Get an instant quote
Frequently Asked Questions about our rug cleaning in Sydney
Q: Is there a risk of damage to my rugs?

A: Absolutely not. The Fantastic rug cleaners are quite experienced. They have cleaned thousands of rugs throughout the years. They know how to examine a rug and determine the best possible course of action in order to pretreat it and clean it properly without risk of damage.

Q: Is it possible to arrange rug cleaning for Saturday or Sunday?

A: Yes, you will find that we are quite flexible when it comes to availability. Simply log in to your Fantastic account, enter your local area code in our booking form, and you will be shown the soonest available booking slots. You can make a booking for the weekend, or another date that happens to be a public holiday.

Q: What is the recommended frequency for deep rug wash?

A: We usually recommend 3 to 6 months for high-traffic rugs, and up to 1 year for delicate area rugs that don't see much traffic. Of course, you can always book a service in case an accident happens and you are dealing with a nasty stubborn stain.

Q: How long will it take for the rugs to dry?

A: As we explained above, nearly 95% of the moisture is retrieved back into the machine when we perform deep cleaning. This means that your rugs and other textile items will air dry on their own within a few hours. To speed up the process, you could simply leave a window open to ensure the air circulation does its job.
Q: What happens if my rugs are damaged in any way during cleaning?

A: The risk of something like this happening during one of our services is quite low. But at the same, we are an insured service provider. After all, accidents could happen. They don't happen often but the possibility is always there. In any case, rest assured that we are insured.

Q: My rugs smell bad, can you take care of that?

A: Absolutely, both our deep cleaning and dry cleaning do a wonderful job of deodorising the items. This is because the detergents and solvents we use are specially designed to eliminate unpleasant smells by breaking them down on a molecular level.

Q: Will the stains be completely gone from my rug?

A: Yes, for certain. Common domestic stains from food, drinks, bodily fluids, and "happy pet accidents" are no match for our powerful pretreatment products and deep cleaning procedures. The only thing that we are unable to deal with is substances that have permanently damaged your rugs, such as harsh chemicals, acids, strong colouring agents, burns, etc.

Q: Can I book rug cleaning for my workplace?

A: Yes, we provide services for commercial customers as well. Simply arrange the service by giving us a call and we will go through all the details related to arranging a service for a commercial establishment.