Why opt for our commercial carpet cleaning services for in Sydney
Maintaining a healthy work environment is important for your workers and clients' well-being. And having immaculate-looking carpets on your premises affects in a positive way your business appearance. Clean carpeting is an important part of the healthy environment in your office and you surely do your best to keep it in the greatest possible shape by regular vacuum cleaning. But this is not enough to remove pathogens, allergens or stubborn stains from the carpet.
So, here come the numerous benefits of a professional carpet cleaning service. By booking expert carpet cleaning for your commercial property, you can count on:
Healthier indoor air, free from common allergens;
Presentable-looking and fresh-smelling carpets;
Hassle-free and fully insured professional services;
Prolonged lifespan of the carpeting;
Removal of stubborn stains and visible traffic lanes;
Get an instant quote
Why choose Fantastic Cleaners for your carpet cleaning needs at your office
When choosing Fantastic Cleaners Sydney as your carpet cleaning service provider, you can enjoy our value-for-money help, along with all the benefits that come with professional carpet cleaning in general. These are some of the Fantastic advantages that we offer:
Our online booking system is simple and easy to use;
We rely on trusted cleaning technicians, who are well-trained and fully insured;
We have over 10 years of experience in providing Sydney customers with cleaning services;
Our services are offered 7 days a week;
No additional charge applies for weekend bookings;
Opportunity to optimise your carpet cleaning service by adding upholstery or leather cleaning to the booking for a better deal;
Scotchgard carpet protection, which will protect your carpeting from stains for up to 6 months;
Last-generation steam carpet cleaning methods, which reduce allergens and eliminate bad odours;
Cleaning of different types of carpeting - synthetic ones, wall-to-wall carpeting and area rugs and carpets.
We also offer assistance with moving furniture out of the way and back in place, before and after the service.
Get an instant quote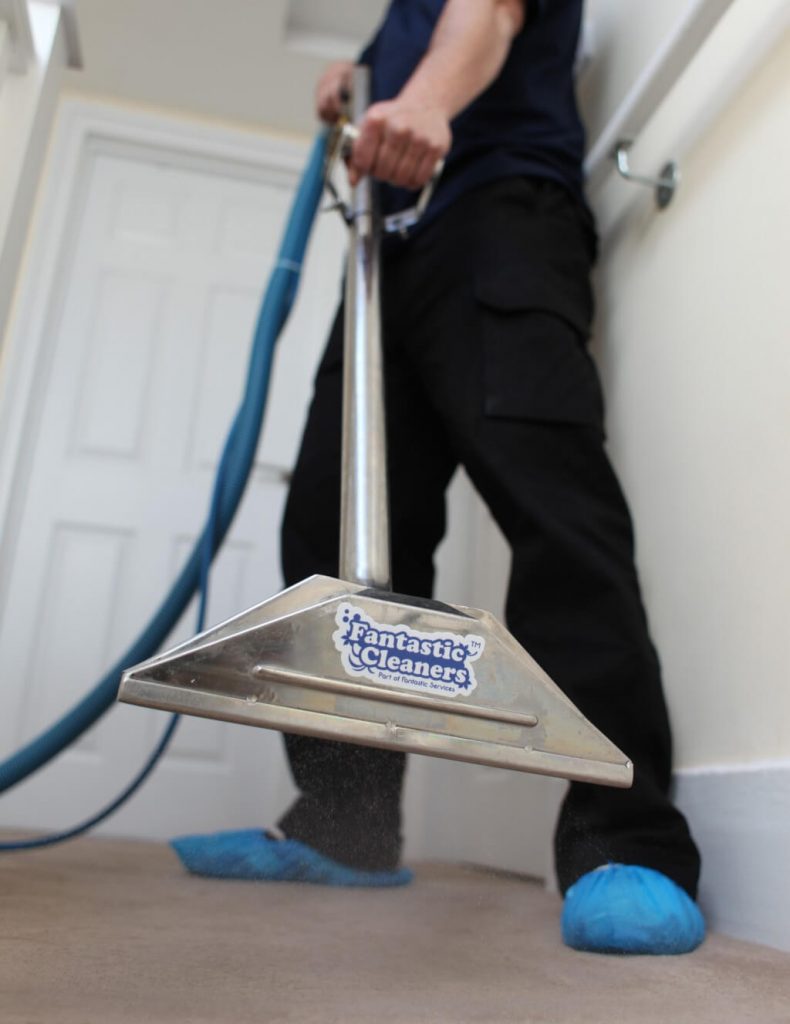 How does the commercial carpet cleaning in Sydney go?
Your carpet cleaning expert will come to your business property, fully equipped with industry-grade machines and professional cleaning products, ready to get down to work. Once all light pieces of furniture are removed from the carpet, the cleaning pro will proceed to the following steps:
The carpet will be thoroughly inspected for stains and traffic marks.
Any stains or marks will be pre-treated with a highly effective stain removal product.
The carpeting will be carefully vacuumed with a powerful vacuum cleaner.
This step is the main part of the cleaning process - the steam cleaning method will be applied. The pro will use a hot water extraction machine, which will inject hot water and a cleaning solution under pressure into the carpet.
After the water mixture softens the dirt and dust on the carpet, with another operation of the machine, it will be then sucked back into the machine, along with all the impurities from the carpet.
Now, the carpet is clean and fluffy but just a little moist.
This step plus the following one are available upon your request but highly recommended. At this point, the cleaning specialist can apply a Scotchgard protection layer on the carpet. Protecting your carpet in this way is very important because it prevents spillages from becoming hard-to-remove stains for months ahead (up to 6 months).
Deodorising - a great way for eliminating bad odours.
Get an instant quote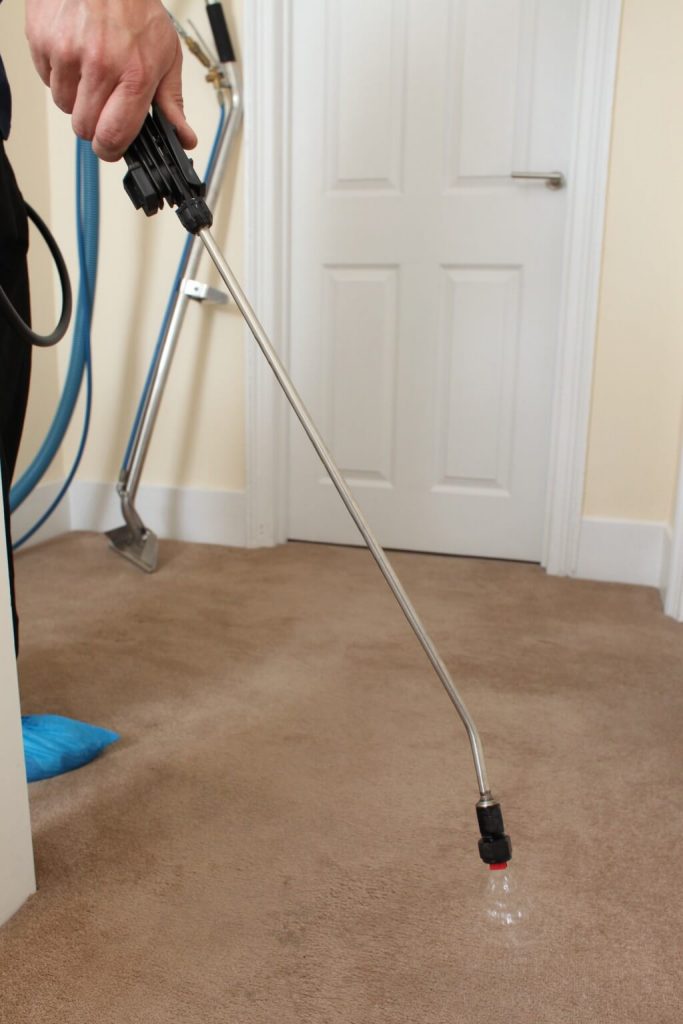 Frequently Asked Questions
Q: What's the cost of a carpet cleaning service?

A: The cost will depend on the size of the carpet at your property and its condition.

Q: How will the protection layer help the carpeting?

A: The Scotchgard protection product will prevent stains from forming and thus, it will prolong the lifespan of your carpet.

Q: Can I use your services in a dance studio?

A: Yes. We serve all kinds of commercial properties, dance studios included, but also retail outlets, schools, offices, meeting rooms and many more!

Q: How long will it take for the carpet to dry completely?

A: Allow a few hours for the carpet to dry completely. The drying time generally depends on the level of humidity in the room and the material your carpeting is made of. To speed up the process, open a window or turn on a heater or a fan.
Meet our Fantastic Family