High-Quality Car Interior Cleaning Services in Sydney
Do you notice a significant change in your car's look on the inside? Whether it comes to leather or fabric interior, a car's upholstery is made resistant, but grime and bacteria can compromise it, making it look worn out and old.
Adequate cleaning and care can help preserve your car's inner look and make your vehicle feel like new again. We know all this because, at Fantastic Cleaners Sydney, we specialise in deep car upholstery cleaning and restoration. You can count on us to bring back to life the interior of your personal or work vehicle, caravan and more!
Get an instant quote

Why leave your car's upholstery cleaning in the hands of a Fantastic pro?
You will discover a big difference between the look of your vehicle's interior after you clean it yourself and after an expert cleaning. Most people do a quick vacuuming and an occasional washing; however, a professional car upholstery cleaning can achieve much more:
Guarantee that all grime is extracted from within – In comparison to industry-approved machines, a vacuum cleaner only cleans the surface. Bacteria, mould spores and even dust mites may still hide and breed deep within the car's fabric, and we can help get rid of them for good.
Remove persistent nasty odours from your car – Whether it is from food, cigarettes, urine or mould, different odours can also get trapped within your vehicle's interior material. When the air fresheners no longer help, a Fantastic car upholstery cleaning can make a positive difference!
Achieve an impressive car upholstery restoration within a day – Instead of wasting precious time and money on cleaning products that may get you nowhere, you can contact our team for some quality work. We have the skills, tools and materials to create a more pleasant and healthy environment for the best family trips or just everyday commute.
If you wish to schedule a service, visit our online booking form or use our GoFantastic app.
Get an instant quote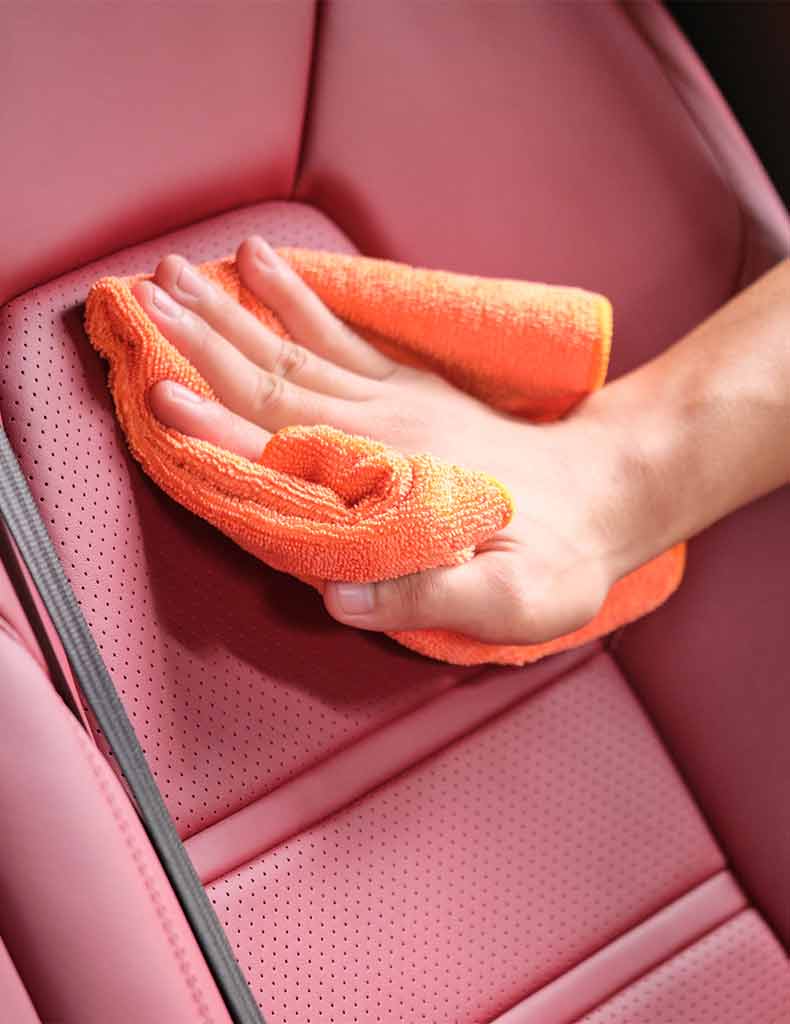 How will the cleaners from Sydney transform your car's interior?
There are three main cleaning methods that the experts can apply based on the type of material within the vehicle. What each of them includes you can learn below:
How water extraction cleaning – This is a method suitable for most types of car upholstery. Once the pros vacuum the car seats, floor mats, etc., they continue to pre-treat any visible staining. Then comes the machinery. Under high pressure, the latter inserts water mixed with a mild cleaning product into the car's fabric. The moisture and dust, old coffee, tea, urine, and other types of liquids are extracted.
Dry car upholstery cleaning – This is a method suitable for beige or another lightly- coloured car interior. This is also a beneficial cleaning technique for a delicate type of car upholstery as only a dry powder is used, while water is left out.
Car leather cleaning – This is a process that aims to bring back that lustrous initial look of your car's interior that impressed you the first time you saw your car. For this purpose, completely safe products will be used to cover every part of the seats, armrests, etc. The conditioners are spread on top to breathe life back into the leather, prevent it from cracking and extend its lifespan.
Get an instant quote
Frequently Asked Questions
Q: Why get a professional car upholstery cleaning service with us?

A: This is a guaranteed way to free the interior of your vehicle from germs, dust and various contaminants that have been collecting after constant use. Through tested methods, we will make your car appear like new again.

Q: Do I have to provide anything for the service?

A: No, the high-standard tools and equipment are provided by our local teams, and they are included in the cost.

Q: When will I be able to use my car again?

A: It all depends on the car upholstery cleaning method. Eventually, you may have to wait a few hours after a steam cleaning for the fabric to dry.

Q: Are the cleaners reliable?

A: All cleaners operating in Sydney are fully checked, extensively trained and prepared to provide your vehicle with a car interior cleaning of the highest standard.