Enjoy a Shinier Floor - Tile and Grout Cleaning Services in Perth
Need help with reviving the sparkling condition of your tile floor? Then, why not assign the task to Fantastic Cleaners? Our Perth-based company specialises in tile and grout cleaning solutions amongst other home or business property maintenance services. We apply industry-set methods in a time- and cost-effective manner.
The tile cleaning specialists are additionally trained to bring our Fantastic standard of service to your property and are fully insured against damages.
To check our availability for a day that is convenient for you, just fill your details and requirements in the booking form on this website. You can also phone or use the online live chat option to discuss your needs with a member of our customer care team.
Get an instant quote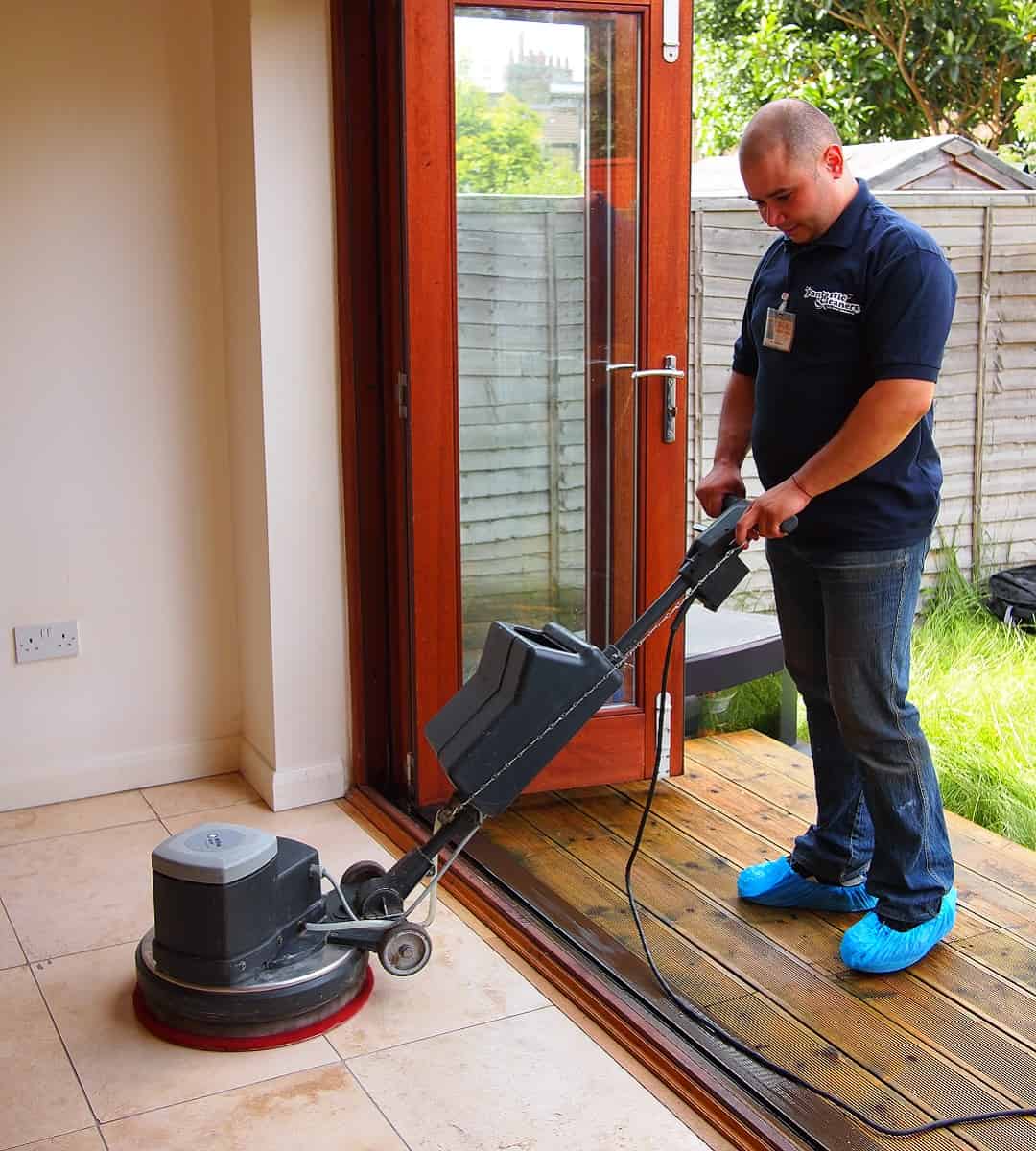 What Types of Hard Surfaces We Can Clean
Our tile and grout cleaning solutions are mainly booked for restoring the clean and sparkling condition of interior hard floors made from natural stone (marble, granite, limestone, etc.) or from man-made tiles - porcelain, ceramic, mosaic, etc.
As regular mopping of larger tile floor surfaces cannot provide the same deep clean that the use of a professional water extraction machine can offer, a number of homeowners and business property proprietors take advantage of our tile and grout expertise.
In addition, we offer tile stripping and/or sealing solutions, which will bring back the original condition of the surface.
We can be also booked to sanitise your tiled wall surfaces, which is done manually with professional cleaning products and supplies.
The tiles and grout are diligently scrubbed to remove mould, limescale and dirt with outstanding results.
Get an instant quote
How to Clean Tiles the Right Way Is a Matter of Expertise
We work with dedicated and experienced tile and grout cleaners in Perth who use modern high-pressure cleaning equipment and professional detergents.
Upon arrival, the technician will confirm the exact size of your tile floor and the cost of the service.
Upon request, he can help you move furniture out of the room if it's not too heavy.
The technician will, then, check the flooring for any cracks or loose grout and will evaluate the general state of the surface.
An industry-grade detergent will be applied and agitated to dissolve the grime deep within the tiles and grout.
The tile cleaner will, then, rinse the surface with a high-pressure floor cleaning machine.
The equipment will extract most of the moisture, leaving the floor nearly dry, shiny and bacteria-free.
If the area (shower rooms, toilets, etc.) does not allow for the use of large equipment, the technician will clean the tiles with other tools (a tile cleaning wand, etc) that are suitable for use in restricted spaces.
Note that you should avoid stepping on the floor before it is completely dry.
And if you have a carpet over your tiles, you can check our carpet cleaning service.
Get an instant quote

Frequently Asked Questions
Q: Do I need to measure the floor area myself?

A: To get a free price estimate over the phone, we need to know the approximate size of the area the needs cleaning. The technician will confirm the precise measurements on site.

Q: Can you clean the tile floor of a tiny bathroom?

A: Of course. Small spaces are cleaned, by employing tools, which are specially designed for the job (ex: tile cleaning wands, etc.)

Q: Can you seal my newly laid terracotta kitchen floor?

A: Yes. Just schedule our stripping and sealing service, which also caters for fresh-installed tile or natural stone floors.

Q: What about tiled walls?

A: The Fantastic experts can clean your tiled walls, too.
Q: I've changed my mind. What are the charges if I cancel my appointment?

A: Oh, that's a shame! If you just notify us 48 hours in advance, we will cancel your booking free of charge.

Q: I live just outside Perth. Can you still come and clean my floors?

A: Please, check online or call us to see if your location is included in our service coverage.

Q: Do you offer tile and grout cleaning for commercial buildings?

A: Absolutely. We service domestic properties, public facilities, offices and other types of commercial venues.

Q: Can a cleaner come to do the job on a Sunday?

A: Yes. Subject to availability, you can schedule a weekend appointment, as well as have the job done on a Public Holiday.
Meet our Fantastic Family