Last update: 10 months ago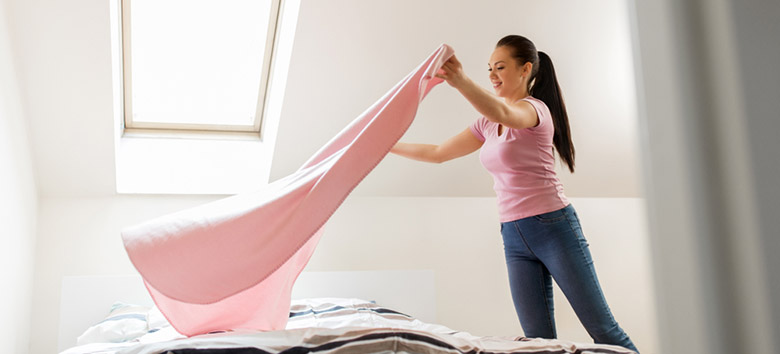 A spring cleaning session in your bedroom is like a welcoming ritual of the sunny weather. While you're decluttering all the mess that's been accumulating all winter long, you're simultaneously improving the air quality and chasing the winter blues out of your bedroom. Having a tidy and overall clean room can have many benefits to your health. Studies show that the place where you live strongly affects your mood.
So, follow our bedroom cleaning checklist to get your room clean and summer-ready in no time.
Cleanout and declutter your wardrobe
Start your spring cleaning by tidying up your wardrobe first. Warmer clothes tend to gather a lot of dust and the transition from winter to summer clothes often brings out a lot of lint, so it's best if you tackle this task before anything.
Step 1: Wash all of your winter clothes
Sort out all of your winter clothes by colour and throw them in the washing machine. As we mentioned above, warmer clothes tend to gather more dust, that's why it's always best to give them a cycle in your washing machine before packing them away for the next season.
Step 2: Clean your closet thoroughly
That dust has gathered on the shelves and the bottom of your closet as well. Vacuum both the bottom and the shelves in your wardrobe using the crevice nozzle on your vacuum cleaner.
Grab a microfiber towel or a rag, dampen it and wipe any leftover dirt. You can finish by wiping your wardrobe with furniture wood cleaner. And voila! Your wardrobe is ready for your summer clothes.
Step 3: Organise your clothes
If you want to downsize your wardrobe, organise your clothes into four groups – new season, trash, donate and storage. This is a great way to give back to the community and help someone in need while decluttering your closet at the same time.
Step 4: Put away your winter clothes
After you've decided what to keep, fold your washed winter clothes and store them in vacuum bags to protect them from moths and other pests.
Step 5: Organise your wardrobe
Iron what needs ironing, fold it neatly on the shelves and hang the rest of your clothes.
Curtains need spring cleaning as well!
To keep curtains and drapes relatively dust-free, wash them twice a year. Before taking down your curtains and throwing them in the washing machine, check what the label recommends. Chances are you might have to pay a visit to the dry cleaners. If the label is missing or you're unsure, the safer option would be to go to the dry cleaners.
Other things you can do throughout the year to keep your curtains in good condition are:
Vacuum heavy drapes with the upholstery attachment on your vacuum cleaner. Do not attempt if you're curtains are made of a delicate material;
Spot clean your curtains with a mix of mild detergent and a little bit of warm water. Let it sit for a minute and wipe with a damp sponge;
You can simply wash two panels on a delicate cycle using the cold setting for sheers, which are usually nylon, polyester, or cotton. Air dry to avoid any shrinkage of the fabric or other heat damage;
If your curtains are made out of woven fabric, like velvet, for example, you may need to check the tag and most likely get them professionally cleaned.
Clean your mattress
Mattress cleaning is a relatively hard task to accomplish if you don't have the right equipment. In most cases, it would be easier to hire a professional to do it for you.
Here's what you can do in the meantime:
Step 1: Vacuum your mattress
Even if you use a mattress cover, you still need to vacuum your mattress now and then. Use the upholstery tool of your vacuum cleaner for better results. Make sure you're changing the bed cover and linens often to keep your mattress as dust-free as possible.
Step 2: Air out your mattress
We know that it's impossible to take out your mattress if you're living in an apartment, but if you're living in a house, then airing out your mattress can help remove any set-in odours and improve the state of your mattress your bed.
Those practices are essential, but they aren't enough. That is why we recommend thorough mattress cleaning at least twice a year. One of those times is, of course, the spring. Feel free to check and use our tips on mattress cleaning or book a professional cleaning if you don't have the time.
Step 3: Flip the mattress
If your mattress has two sides, flip it. That way you won't have a mattress that's been worn out on one side. Additionally, some mattresses have a winter and a summer side.
Book professional mattress cleaning today!
Book a spring cleaning service in Australia and let the professionals deal with the dust, mattresses, upholstery and all the rest!
Wash or replace your pillows
Like mattresses, pillows collect dust, mould, bacteria, allergens, and dead skin cells. That is why we recommend washing them 3 or 4 times a year.
Keep in mind that you should also change your pillows every two years. There's a trick online that makes you fold your pillow in half and if it doesn't bounce back to its normal state you should change it. We can't guarantee the trustworthiness of this statement, as the flex and bounciness of the pillow will depend on the material they're made of.
One thing you should consider is what is the pillow made of. You can wash polyester pillows and feather pillows together. Memory foam and silk pillows have to be washed separately.
It's best to use a gentle, scent-free detergent. Strong scents can have a negative influence on your sleep and can trigger some allergies.
Dust the whole bedroom
Dust is a well-known allergen that can make you sick. It's essential that you clean your house from dust at least twice a week, and even oftener for your bedroom. Because of the amount of time that you spend there, it's important to keep your bedroom as dust-free as possible.
Step 1: Make your own detergent
Going green when it comes to clean your bedroom is always better. Many of the over-the-counter detergents can be irritating, especially if they're string-scented.
If you want to avoid this, then you can always go for a lemon and water. In a bowl of warm water, squeeze a whole lemon. Mix it and voila you have a great cleaning detergent. All you need is a microfiber towel or a rag to clean the dust away.
Step 2: Start dusting the hard-to-reach areas first
The most important rule to follow while dusting your bedroom is Top to bottom; left to right.
Clean the ceiling fan and light fixtures first. Use a bendable duster for maximum access. It comes in handy for high and hard-to-reach places. Plus, you can easily throw it in the washing machine after you're done.
To properly get into corners, mouldings and cobwebs simply flip a sock inside out, put it on the broomstick, and tie it with an elastic band.
Step 3: Clean the walls
To clean the walls in your bedroom all you need is a flathead mop and a microfiber cloth. Use up-and-down motion without applying too much pressure. Don't forget to clean the baseboards too.
Step 4: Dust small items
To clean any fine ornaments or smaller items that are hard to dust, get an old makeup brush or paintbrush, spray it with a little bit of water and do detail dusting.
Clean the carpet and mop the floor
Vacuum your carpets and rugs, you can use a carpet deodorizing powder to make your room smell fresh. After that, treat any stains. For tough spots, you can use this guide on the most common stubborn carpet stains and how to remove them.
Sometimes, vacuuming is just not enough and no matter how much you rub, some stains just won't come off. You can save your frustration by hiring a professional carpet cleaning company to finish this tedious task for you.
After the carpets, vacuum and mop the floor. Use the appropriate detergent for your type of flooring.
Takeaways
Spring might be one of the best times of the year to clean your room thoroughly, but don't wait until it comes to put your bedroom in order. Remember that you can deep clean your room any time of the year!
Have a plan for your cleaning, use our checklist. The most important thing is for you to begin somewhere.
If things get too tough, or you can't find enough time to do it all, call in professional cleaners to do tackle your chores.
Spring cleaning experts at your fingertips
Book a spring cleaning service in Australia and let the professionals deal with the dust, mattresses and clothes.