Last update: 4 months ago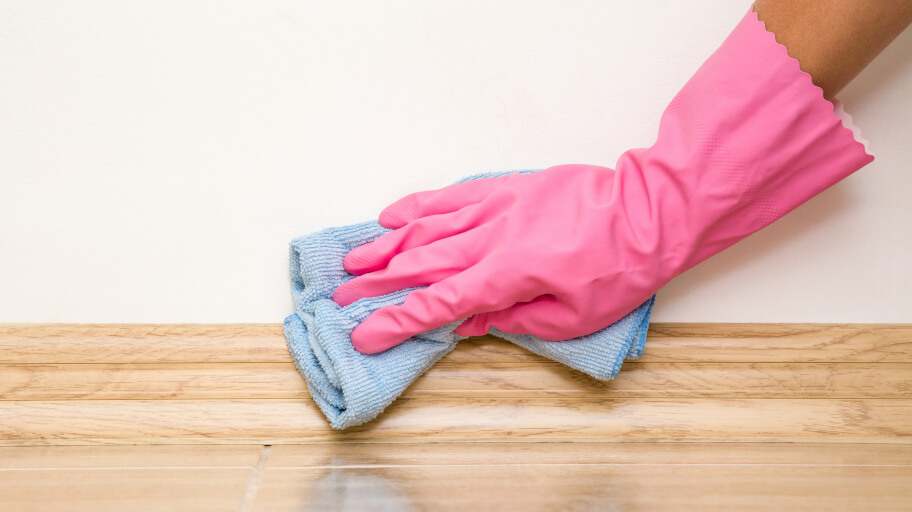 Cleaning skirting boards is not exactly how one'd picture spending their free time. People usually forget about them while cleaning, after vacuuming or mopping the floor, and the skirtings are just left to collect dust and grime. But the fact is the more you postpone, the more dirt builds up, making the task harder and more time-consuming in the future.
But we have some pretty nifty tricks when it comes to cleaning the skirting inside your home. Here you'll find three methods of cleaning skirting boards. We have a few tips for people who avoid cleaning them because it involves a lot of bending down, and also how to clean skirtings made from different materials – timber and vinyl.
Timber and vinyl skirting boards
Skirting boards, also called baseboards, can be made of two materials – wood and vinyl. Both materials can look great. Vinyl is more diverse in colours and
Timber
Wooden mopboards are usually of high quality and can be costly. You shouldn't clean wooden baseboards with just water, as the lacquer may have come off depending on the skirting's state, making them susceptible to damage. We suggest you use a damp rag, dust them lightly and then apply a wood conditioner to bring out the colour and give the wood a second life.
Vinyl
Vinyl ones are common in newly built buildings, and while more durable, they're cheaper. You can clean vinyl skirting with almost any type of detergent. If you're a fan of green cleaning, a bucket of warm water, liquid soap, and a sponge will do a perfect job.
How to clean skirting boards
To prevent getting dirt on the baseboards you just cleaned, the best thing you can do is dust and vacuum the room. You know about the rule – clean from top to bottom. Baseboards should (and probably are) on the end of your cleaning checklist.
If your home is spacious and you have a lot to clean, we'd recommend you use kneepads to protect your knees. For the people who have trouble bending over, we have a few tips below.
How to clean skirting boards without bending down
Some people avoid cleaning the skirting boards because it involves a lot of crouching and scrubbing, which for some might result in hurting knees. If you're one of them, here's what you can do.
First things first, you have to remove the dust from the skirt boards. The good news is that you can do that without bending down.
What you will need:
Vacuum cleaner
Upholstery brush attachment
Large feather duster with a long handle
That's right, all you need is a vacuum cleaner and an upholstery brush attachment. The bristles of the attachment will do a perfect job of picking up the dust accumulated on top of the skirtings.
Remember to vacuum the floor first and then the baseboards. The other way around will make the dust from the ground stick to the skirtings, rendering your cleaning efforts useless.
A convenient way to maintain your skirting boards clean is to dust them with a large feather duster. Use a long handle so you don't have to bend down while cleaning.
How to clean vinyl skirtings
If you decide that a natural cleaning solution will do a better job, we recommend you use vinegar or baking soda. They seem to do the best job; however, be careful if you will use them on baseboards that you don't know if they are made out of natural wood. It can damage the wood if it's not coated correctly, so if you don't know what type it is, stick with either warm water or detergents that won't damage the baseboard.
You're going to spend at least an hour cleaning all the skirting in your home, so it's best to be health-conscious.
If the mop boards aren't too dirty, a green cleaning solution is a great choice.
It's best to use the method dry-wet-dry method. It includes dusting (with a duster, vacuum cleaner or a dry cloth), then washing it with a wet cloth and a bit of detergent. Lastly, use a dry cloth to remove excess product.
Warning: We do not suggest you use this method on wooden skirting. If the baseboards are old and the lacquer has faded over the years, you may end up damaging the wood.
What you will need:
Vinegar
Rag
Sponge
Warm water
A simple mix of vinegar and warm water will do a great job. Pour 20 ml of vinegar in one litre of warm water. The acidity of the vinegar will remove any set-in stains and deflect dust particles for the following couple of days.
When you're cleaning, make sure you thoroughly rinse the sponge.
If you really want to cut time, you can use wet wipes to clean vinyl baseboards. Just make sure that they're biodegradable.
Tip: For marks from shoes, try using a magic eraser. It can usually get the most stubborn stains out.
How to clean timber skirting boards
We suggest you opt-in for a good wood cleaning detergent. You can use this method for baseboards that have been unkempt for decades.
What you will need:
Sponge
Rag
Wood cleaner
Soft toothbrush
Before you start cleaning with the wood cleaner, grab a damp rag and go over the baseboards. The set-in dirt would come off much easier if you've removed the dust first.
After you've removed the top layer of dust, grab the detergent and scrub the skirting with the help of a sponge.
Depending on the level of contamination, you may have to put some elbow grease into it.
Takeaways
Cleaning baseboards don't require some extraordinary knowledge. It's more of a nuisance task that has to be done.
Take your time and clean your baseboards every three or four months;
The small details make a home feel clean, so put in the time and go the extra step in cleaning your house;
Or, you know, hire a professional cleaner to do it.
Do you need a helping hand?
Hire a professional cleaning team!