Last update: 8 months ago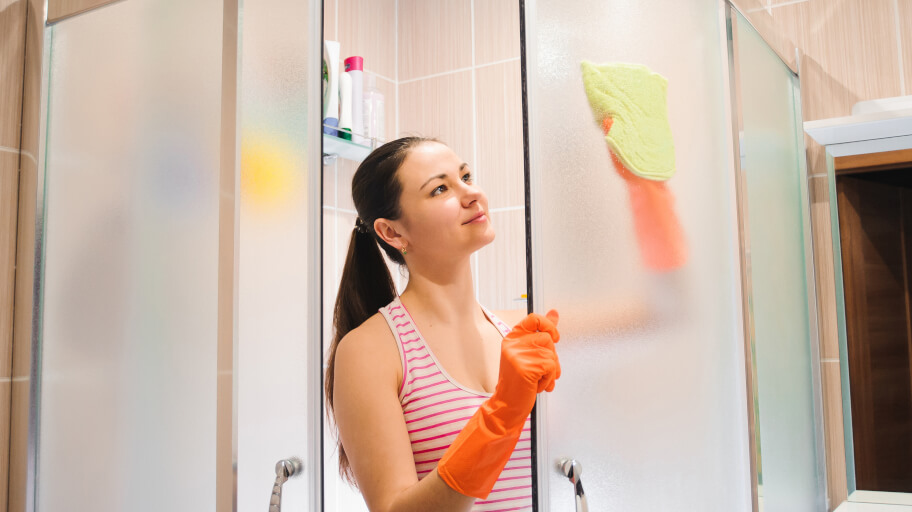 Clear shower glass is essential for maintaining a clean bathroom environment. Unfortunately, easy cleaning and maintenance don't quite make the list. Whether you prefer framed, frameless, or semi-frameless, regular cleaning is essential for protecting the glass and maintaining its spotless look. Regular use of a squeegee after each shower can prevent water stains from forming on your shower glass. Proper maintenance practises such as wiping down your shower after each use, avoiding sharp objects near your glass, and seeking professional help when necessary can prolong its lifespan. Knowing some quick and easy tips also helps, especially tackling the biggest problem – hard water stain. Natural solutions such as vinegar, lemon juice, or baking soda can effectively remove dirt and grime from shower glass. Commercial cleaners are also available for those who prefer convenience over natural remedies.
Different methods to clean your shower glass
Method 1. Vinegar
What you will need:
Vinegar
Spray bottle
Microfibre cloth
Vinegar has established itself as the №1 eco-friendly cleaning agent. Thanks to its degreasing and germ-killing powers, it's especially useful in problematic areas like the kitchen and bathroom. If you don't mind the smell, the vinegar will also prove quite effective for removing all hard water stains.
Here's a step-by-step guide on how to promptly get the shower screen clean using plain vinegar:
Prepare a clean spray bottle
Fill it either with pure white vinegar solution or dilute it 50/50 with hot water (be careful to avoid burns!)
Spray thoroughly on both sides of the glass shower door
Leave for 15 min (time could be extended for heavier pollution)
Rinse well with water and leave to dry on its own.
(Optional) Polish the glass using a microfibre cloth or cotton rag (old pillow works great) to make your shower screen spotless
If you are looking for a natural alternative, this is truly the best way to wash a shower or any glass to perfection. The vinegar cleaning method is fast and easy, which comes in handy when you have more to cover, like entire shower glass enclosures. It could also serve as a general bathroom sanitiser, given that natural stone tiles or other elements aren't present.
Method 2. Vinegar and baking soda
What you will need:
Vinegar
Baking soda
Sponge
If you think your shower glass could use a deeper cleaning, combining vinegar and bicarb soda is easy and effective. The white crystals can work through thicker soap scum and limescale formations, thanks to being abrasive.
The method is quite simple, too. After following the first three steps above, make sure to dampen a sponge well and sprinkle baking soda on top of it. Now, all that you have to do is scrub gently on both sides of the glass screen. Leave the ingredients to react for a few minutes and then rinse well.
Method 3. Salt and citrus (lemon/grapefruit)
Another natural way to clean a shower screen until it's spotless involves these simple products. Whether you prefer a fresh lemon or grapefruit, you can rest assured that in the end, you'll have a sparkling shower glass and a nice smelling bathroom, as well!
This is an excellent alternative for everyone who isn't a fan of the strong vinegar smell. The citric acid will cut through the grime just like the vinegar, while the salt will give you the abrasive power to make all unpleasant formations disappear.
The process is pretty straightforward:
Cut one lemon/grapefruit in half;
Cover it with kitchen salt;
Scrub the shower screen, as you make sure to squeeze well for the juice to come out and keep adding salt from time to time.
Rinse and enjoy!
Method 4. Eucalyptus products
What you will need:
Cleaning product with eucalyptus oil
Keeping your shower glass clean can be fast and easy using products containing eucalyptus. However, not all are suitable. Regarding regular essential oils, some products may prove too oily, resulting in having to put extra elbow grease into cleaning or mixing them with other ingredients.
Therefore, it's always better to check the labels. Look for cleaners with eucalyptus in their composition but are also soluble.
Method 5. WD-40
WD-40 can do more than help you polish stainless steel. Thanks to its water-displacing formula, you can add cleaning of the shower screen to the list of popular uses around the house. However, it also helps break down silicone, so be extra careful when applying it in your bathroom. Spray, distribute it with a sponge, then rinse.
Method 6. Dryer sheets
What you will need:
Dryer sheets
Sponge
Jar
Vinegar
Instead of throwing away the used and unnecessary dryer sheets, just repurpose them. They can help erase the soap scum right away, and the best part is that you don't have to add any chemicals. It's enough to dampen the dryer sheet, and you're ready to clean any glass shower door. Rinse well with warm water and do a once-over with a sponge if needed.
For convenience, you can stash all used dryer sheets in a jar with a few drops of water or vinegar. They can be handy for keeping elements of the bathroom clean like mirrors and faucets, as well as for thorough dusting around the house. Finally, — you can always book professional cleaning services.
Prevention
Can you really prevent limescale and soap build-up on your shower glass? Let's see the main culprits.
Why limescale builds up on glass?
We've all seen it at some point — a white-ish deposit with a hard structure that seems to grow exponentially over time when not treated. This is the residue left from hard water, as the latter is known for being rich in minerals and ions that are difficult to remove from the water. However, statistics show that ‌water in Western and Southern Australia is harder.
While limescale is a common problem for pipes, boilers and kettles, it can also affect ‌shower glass, which comes in contact with evaporating hard water. To prevent any hard-water build-up, you can instal water purification systems, but they can be costlier for most people.
What about soap scum?
If your glass shower door looks cloudy, it's probably soap scum. It forms after soap reacts with hard water, resulting in a white or grey layer that only gets thicker if not treated. This could affect more than the shower screen, covering tiles, tub, sink, and other areas in the bathroom.
Cleaning soap scum off the shower glass and other surfaces immediately is best, but not everyone has time for this, so a weekly wash (depending on showering frequency) is also effective.
Some commercial products have ingredients that prevent soap scum build-ups, so check in your local store for products that claim they have this effect.
Takeaways
Do a quick cleaning of the glass screen after a shower every chance you get;
Dedicate time to a deeper cleaning at least once every 5-7 days, testing some of the methods above;
Reduce cleaning time by investing in products that provide protection for the glass against hard water build-up;
Switch entirely to liquid soap/shower gel as they have a lighter formula and are highly soluble;
Give the squeegee a central part in your bathroom cleaning kit and teach everyone at home how to use it.
Do you need a helping hand?
Hire a professional cleaning team!