Last update: 3 months ago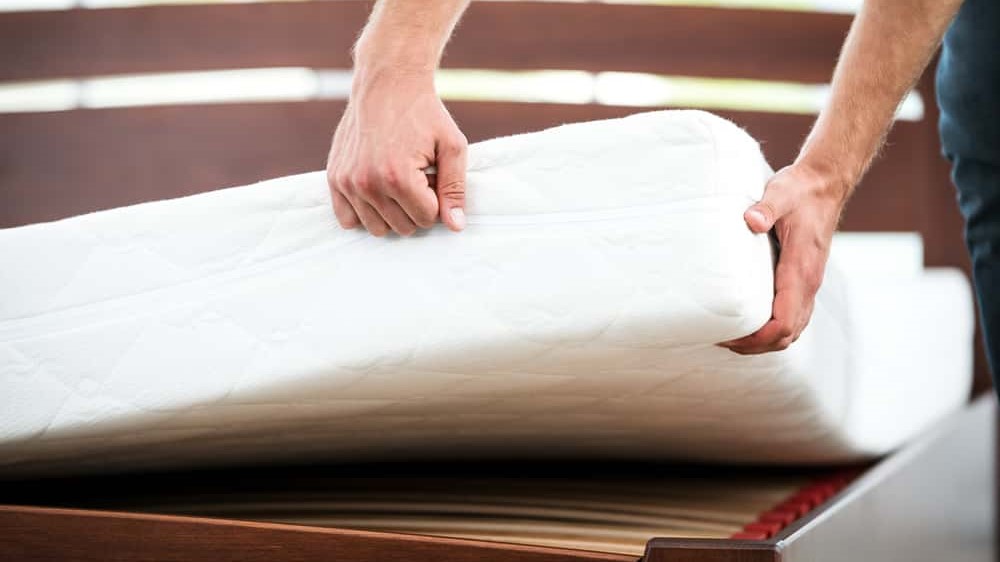 We spend around eight hours a day lying on our mattresses. While sleep is important, a dirty mattress can easily become a health hazard in your bedroom. That's why it's important to clean it regularly.
How often, you might ask? Well, we would recommend cleaning your mattress at least twice a year by yourself and relying on professional mattress cleaning at least once during that period. That's the safest way to ensure that any set in dust, dirt, allergens or even dust mites are properly removed. DIY mattress cleaning is still the best way to maintain your bed area safe, fresh and clean at all times.
---
DIY mattress cleaning
---
Depending on the climate you live in, your mattress can host up to 200,000 different bacteria. Some of the most commonly found microorganisms are fungi and mould, but many mattresses also host the MRSA superbug, Campylobacter and the Norovirus.
Time and constant usage will only help dust, bacteria, grime, and smells get in deeper into your mattress, causing you and your family more than just discomfort. Simple DIY mattress maintenance after the winter and summer months would be sufficient to keep the bacteria inside the bed to a minimum. Here are a few things to keep in mind!
---
What you should do when cleaning your mattress
---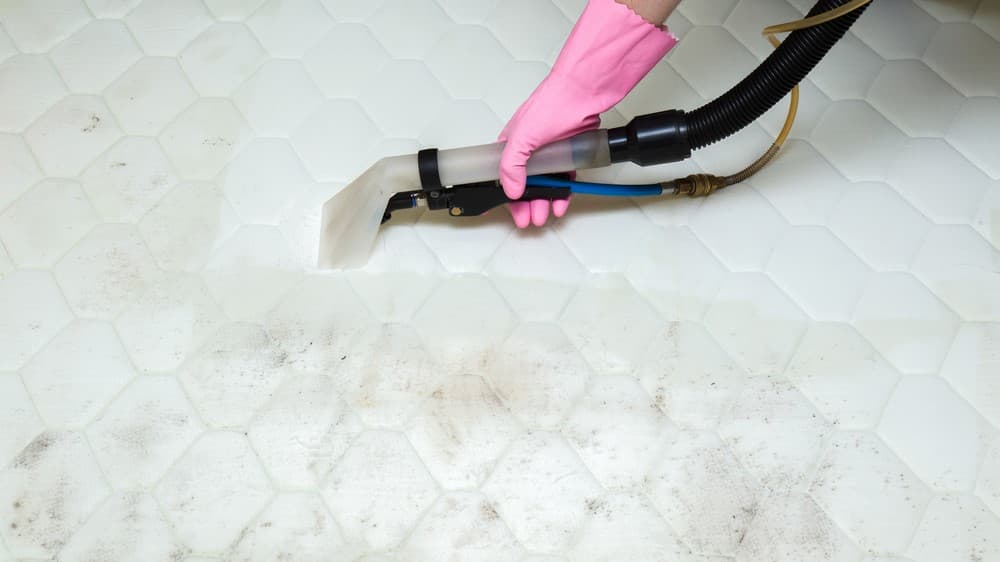 So, how do you get all this? When it comes to DIY mattress cleaning, be prepared to put in a bit of elbow grease, depending on the amount of contamination. You can be sure, though, that the final result will pay off, as you will be extending the lifespan of your mattress and enjoying better sleep.
1. Tackle stains as early as possible
Stains are the worst, and the older a stain gets, the harder it is to remove it from your mattress fully. Therefore, blotting stains right away is the safest way to avoid any complications. In case of spills, we would also suggest that you act fast and remove the bedding. If you are fast enough, this may be sufficient to retain the mattress clean. However, when time is not on your side, do the best you can. This means choosing the right kind of mattress cleaner to lift as much liquid as possible without a lot of effort.
2. Cleaning urine stains from a mattress
Since urine is one of the most common mattress stains and it is tough to beat, you can also try the following recipe.
What you will need:
Baking soda
Vinegar
Paper towels
Spray bottle
Grab the spray bottle with the urine cleaning solution and spray on top of the stains. Make sure the area is mildly damp but not soaking wet. Let it sit for five to ten minutes. This is the optimal time for the vinegar to do its magic.
After 10 minutes, put towels on top of the vinegar and try to soak as much as you can. This will prepare the mattress for the next step, which is applying baking soda. Spread the bicarb soda on top of it and let it sit for one to two hours. After that, vacuum everything away.
Important: Urine tends to stain mattresses, especially if left on for a substantial amount of time or not blotted properly. So we can't guarantee it will completely get the stains out, however, we can assure you that will make the stains fade significantly, and will remove any bad odours.
If the mattress is severely stained, we recommend that you use upholstery shampoo as soon as possible and clean the stained area. If you don't have an upholstery shampoo, you can substitute it with liquid soap and warm water.
3. Trying a DIY mattress cleaning powder
There are many commercial mattress cleaning solutions out there, but an eco-friendly homemade blend can be just as effective when you are trying to clean your mattress at home. It is also easier to use for freshening up newly purchased mattresses and safer for cleaning a child's mattress, for instance. Making the cleaning powder is also easy, and it takes very little time.
What you will need:
A jar
Shaker lid
A cup of baking soda
Half a dozen drops of your favourite essential oil
A vacuum cleaner
Get the jar and put the ingredients in it. Close it tight and give it a good shake. Make sure everything is mixed up nice and grab your shaker lid because it's time to spray the mattress with the cleaning powder.
Applying the homemade mattress cleaner is also a piece of cake. You have to:
Step 1: Strip the bed of all sheets.
Step 2: Grab the jar with the mattress cleaning powder and spread the cleaning mixture on the bed.
Step 3: As this is a DIY cleaning method, we suggest that you leave the substance to sit for at least 2 hours so that it can do its job.
Step 4: You can use a soft bristle brush and lightly scrub the top of the mattress. Make sure you do this gently so you don't harm the top of the mattress and the stitching.
Step 5: Grab your vacuum cleaner and put it in its strongest sucking setting. Put the angled nozzle on and vacuum the powder off the mattress. Do it slowly and make sure that you are vacuuming as much powder as possible.
4. Cleaning both new and older mattresses
You may think you don't have to worry about cleaning with your brand new mattress, but you are only partly right. Regular mattress disinfection is recommended not just for older mattresses but for new ones, too. Contaminants can accumulate fast, and creating the habit of disinfecting your mattress early on will make things easier on you in the future.
Besides, a new mattress needs a simple freshening up now and then, which wouldn't be the case if you neglected it and waited until much later to start paying attention. While it depends on usage, a DIY mattress cleaning can be done after a season's end, an appropriate time to flip the bed piece.
---
What you shouldn't do when cleaning your mattress
---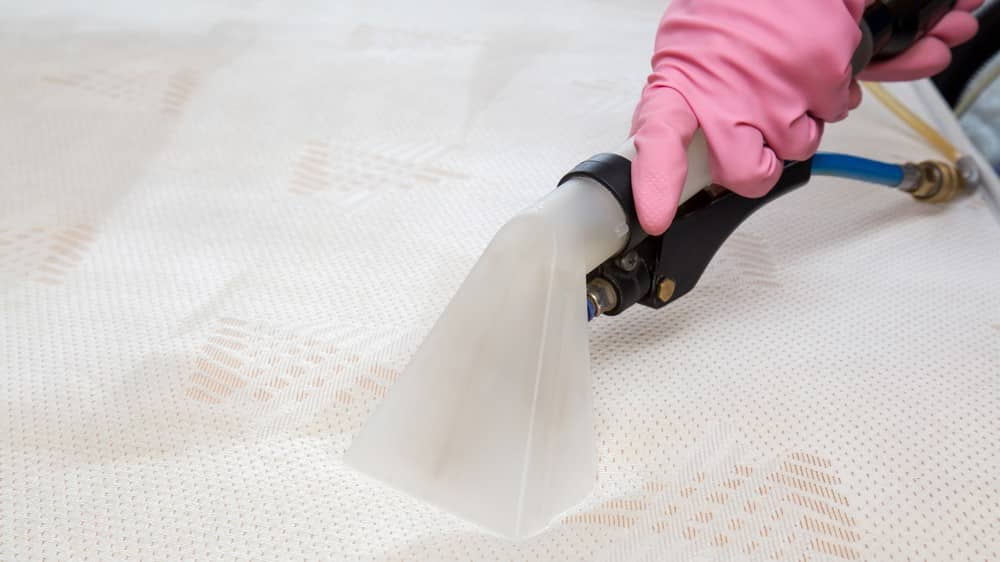 1. Getting your mattress very wet
Mattresses can absorb liquids of any kind very fast. If they remain in the mattress, the chances of mould developing are very high.
You can still use a limited amount of liquids like water or white vinegar for cleaning mattress stains, as long as they are applied on the surface and the fabric is allowed to dry afterwards. If any liquid penetrates your memory foam or another kind of mattress, then get it dry immediately. If it's a smaller one, you can take it outside when it's sunny. Otherwise, fans, hairdryers and specialised vacuum cleaners can help get the moisture out.
Important: Do not put your sheets on or sleep on a wet mattress! Be patient and take the time to make sure the whole piece is fully dry.
2. Relying on aggressive chemical cleaners
Speaking of what not to use for getting your mattress nice and clean, we have to mention also strong commercial cleaners. One of the most popular ones, which is used for general disinfection, is bleach.
The latter is often used for treating urine and blood stains because of its bleaching qualities. However, we advise you to look for alternatives, either commercial or natural homemade ones.
In addition to the irritating chlorine smell, which can cause throat burning and eye-watering, there is also the risk of damage to the fabric. Even if you opt-in for a non-chlorine bleach, you need to check the label of your mattress, as it is still possible to see yellow staining after applying the product.
3. Leaving your mattress unprotected
The sooner you get a mattress protector for your bed, the better you will feel about maintenance. As the name suggests, their main goal is to isolate your mattress from allergens, germs and even liquids. Some models are waterproof, so you don't have to worry about urine or other types of stains ruining your perfectly good mattress.
Still, no matter what kind of product you get, keep in mind that the protector, along with the linen, will need frequent washing. Make sure you read the instructions of the labels carefully before choosing a cleaning method.
---
DIY VS Professional mattress cleaning
---
No matter how thoroughly you scrub your mattress and how often you clean it, hiring a professional for a top-to-bottom cleaning can get dust, germs and grime out from the deepest parts of your bed piece.
A specialist can clean it meticulously with specialised machines and methods. It's the safest bet when you want a healthy, sanitised mattress without sacrificing its longevity.
Having a clean mattress is of no small importance for your well-being. All kinds of nasty bacteria can hide in it, which may only harm you and your family. Make sure you call a professional that will do it correctly at least twice a year. In-between these times, you already know some effective DIY mattress cleaning techniques that can get you good results.
Tip:
When
moving in a new home
, consider booking a professional mattress cleaning company to clean the mattresses, as diseases easily spread trough sheets.
Do you need a helping hand?
Get help from a mattress cleaning pro right away!