Last update: 2 weeks ago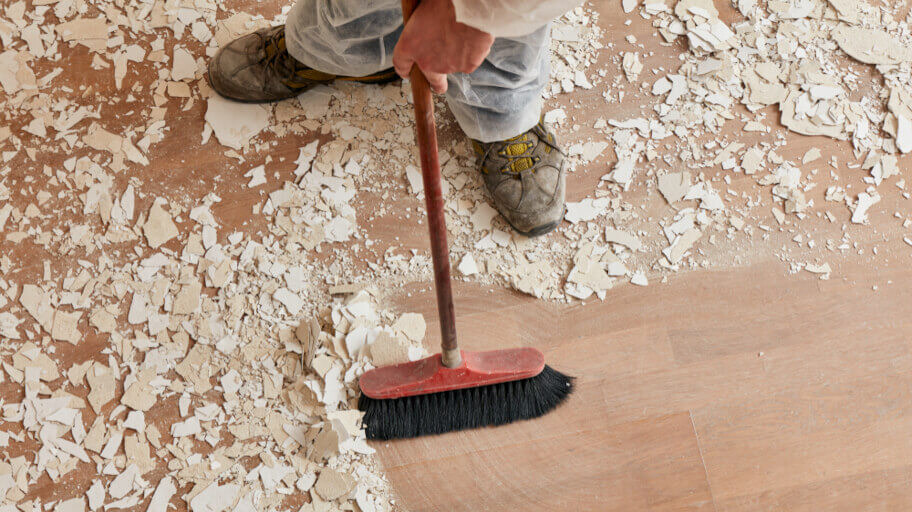 You renovated your home recently, and the tedious task of cleaning after falls on you? You did it by yourself or with professional help? It doesn't matter. In both cases, you would agree that post-construction cleaning is one of the most challenging tasks. It is sometimes even harder than renovating. Keep reading to find out how to remove the construction dust from the walls and floors in your home.
Before you start the post-construction cleaning
The first thing that you should do is to contain the dust only in the work area. We know it is a hard job since dust tends to spread everywhere like some dark magic, but it's best to have at least some preventative measures. Not only it will save you some time and energy when cleaning after, but it will also protect you from a lot of toxins and carcinogens, that the construction dust contains.
Protect your belonging and furniture. Relocate everything that can be moved to another room. The last thing you'd want to worry about is cleaning construction dust from upholstery and cabinets that could've easily been moved.
Arm yourself with a decent vacuum cleaner and a mop. If the vacuum you own is too old and not powerful enough, or if the mop is passed beyond it's prime you need to get yourself proper ones. If you can't afford to invest a couple of hundred dollars in a new vacuum cleaner, consider booking a post-construction cleaning service near you.
How to clean construction dust off walls
Unpainted walls
It's always best to clean any dust from your unpainted walls before painting them. Painting over dust and debris can result in less than a satisfactory paint job.
Keep in mind that if you have any furniture covered with protective sheets in the room, you have to make sure everything is adequately protected and nothing has moved. While you can use old sheets, we recommend investing in some plastic sheets for maximum dust protection. Make sure you clean all walls first, and not just the one that you're about to paint.
The second step is to start removing the construction dust. Since the walls are still unpainted, you can use both a broom or a vacuum cleaner; it doesn't matter what you're going to choose. A broom would take the dust off, while a vacuum would skip the work of removing the dust from the floor later.
Usually, the final step is to wash the walls, but it is optional since they are not painted yet. However, if you decide to wash them, keep in mind that you should start from the top of the wall and move slowly to avoid leaving behind any stains. Make sure the walls are completely dry before painting!
This rule goes for all the different types of walls.
Painted walls
If the walls are painted recently, which usually is the case with post-construction cleaning, you must wait for the paint to dry completely.
You can start by vacuuming first, but in this case, it is mandatory to use only a vacuum since a broom can harm the paint. The essential part is washing.
Assuming that you have just renovated and there are no stains, just dust, warm water should do the job. You can also use a soft sponge or a towel with a bit of soapy water, but be careful not to put too much soap, as this will cause the paint to fade.
Wooden walls
You can start by using a broom or a brush attachment at the end of the vacuum cleaner. Wooden walls can handle a rougher touch; however, be careful not to ruin the lacquer.
After that, use warm soapy water to wash the walls. You can also supplement a mild detergent to make the wood shinier and better looking.
Wallpapered walls
The only difference here will be if the wallpapers are embossed. If this is the case, the most important thing is to spend some time with the broom first. Both the sweeping and the vacuuming are mandatory.
After making sure that all the little details of the wallpapers are cleaned from the construction dust, finish by washing them with warm water and a soft towel.
How to clean construction dust from different floor types
Ceramic tile floors
This type of floor is usually found in bathrooms. You'd probably think that after washing the bathroom with hot water or just showering, the floor will be clean enough. However, this is a common deception, and you need something more for the post-construction cleaning.
The first thing that you should do is to start by vacuuming the floor. After that, you can fill up a bucket with warm water and mop the floor with the help of a micro-fibre mop and a mild cleanser.
The most important thing here is to avoid using a sponge mop since it's not useful to clean grout tracks. To clean them, use a circular pattern when mopping.
Hardwood floors
Of course, the first step is again to dust the floor. Many of the attachments of the vacuum cleaner can scratch your floor. Therefore it is best to use the floor brush attachment.
Afterwards, you can use warm water to mop with a soft towel. The difference here is that you can, and according to us, you must use a wood polishing product at the end. This way, after you've finished the post-construction cleaning, the dust won't stick again to the floor.
Carpets and rugs
Start by vacuuming. The most important thing here is to use the vacuum cleaner with a new filter bag for maximum airflow and effectiveness and at the highest power level.
Since we are talking only about dust, we don't recommend washing, because instead of cleaning it you can worsen the situation. If it is not done correctly, the dust might soak in the carpet and turn into real dirt.
Laminate floors
Since the laminate flooring is known to be one of the durable surfaces, correspondingly one of the hardest to harm, you have many options here.
You can dust, sweep or vacuum. However, it is similar to the hardwood floors, although tougher, you should not use vacuum attachments that can scratch it.
The more important thing is adding a soft cleanser to the warm water to polish it. But remember to wipe dry it, in order not to leave stains.
Do you need a helping hand?
Hire a professional cleaning team!