Last update: 3 months ago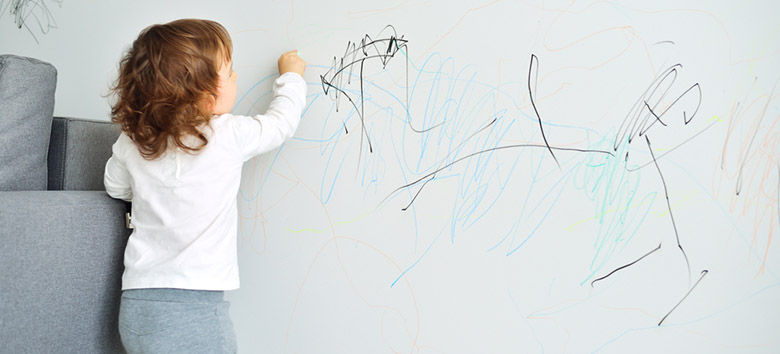 No matter how many sheets of paper or colouring books you offer to your kids, they keep using the walls as a canvas. You love their works of art, but you don't particularly love them on your walls.
Wondering how to get crayons off the walls, and also what is it about the walls that make children want to draw all over them?
We've got the answers to the first one here. However, the second question will always be one of the world's greatest unsolved mysteries.
The truth is that cleaning crayons off walls is pretty easy. However, many people find it hard to clean because they either use the wrong tools or methods. Therefore, we thought our expertise will be helpful to you. We know some of the best ways to clean walls from crayon marks and will gladly share them with you. Soon, you'll make sure that this cleaning job is a lot easier than it seems and you'll be able to enjoy clean walls again. Here are a few tips on how to get crayons off the walls by using different methods.
---
How to get crayon off the walls
---
Penetrating oil spray for cleaning crayons off walls
Penetrating oil spray has many uses. Cleaning crayon marks can be one of them, but it's not one of the best ways to clean walls. You'll achieve the best results if you handle the crayon marks while they are still fresh.
Spray onto the marks and wipe with a clean rag. It should be able to come right off. It will also remove marker and crayon marks from furniture and appliances.
This method is good for small spots, but doing a larger area will most likely make a bigger mess. The spray will leave residue and will smudge the crayon. As for older stains, cleaning them with penetrating oil spray won't work. Papered walls will be an issue because they will absorb the oil.
Eraser sponges for cleaning crayon off walls
Another great way is to use eraser sponges. Lots of people like this method and there is a reason for that. Use warm water, scrub it over the marked surface a few times and watch it vanish.
This method is appropriate for smaller areas, but it can get pretty expensive if you're dealing with big areas. You will definitely wear the sponge down so you may need a number of them to do the job. As well as that, if you're not careful enough you may take off some of the paint.
There are many different tactics on how to clean marks off walls, depending on their type and the wall's type. However, if your wall has a shiny or glossy finish or if it is wallpapered we don't recommend this method for cleaning crayon.
Art eraser for cleaning crayon
This method works well, but it's appropriate for small areas only. It works very well on wallpapered walls. Before you look for more drastic measures try this first, as it won't damage the surface.
Start by using small circular motions. If you start off by rubbing too hard, you will smear the colour. It's a good idea to use this technique prior to some of the other ways, for example, the one with the toothpaste.
The eraser will absorb and lift the crayon but there may be remaining marks. The following method will help you to get rid of them completely. It will be easier to clean the leftover crayon marks, once you've removed the bulk of the colour.
Cleaning crayon with toothpaste
This is another method, which is often used because it's one of the best ways to clean walls from crayon marks. There are two options – either you apply the toothpaste directly on the wall or on a towel first.
The first method isn't the safest. You'll have to use a brush to scrub the crayon marks off the wall and you may damage it. The second method is the one we prefer. You apply the toothpaste on a towel and use gentle circular motions to remove the crayon.
One thing you must keep in mind is that not all kinds of toothpaste give the same results. You must use paste, not gel. Other than that, this is one of the safest methods and works for almost any type of wall. It is very effective for cleaning shoes, too!
Using a blow dryer to clean crayon
This is one extremely effective technique. As the crayon is mostly made of wax you can heat it up in order to make it easier to wipe away. Use the blow dryer cautiously because too much heat on the same spot can damage the wall.
Use a cleaning cloth or a paper towel with a small quantity of liquid dish soap and gently wipe away the crayon marks. After that thoroughly clean the soap off the walls once finished. This method is safe to use on most wall surfaces, but test first on a hidden spot to be sure. You may have to apply some elbow grease to remove crayon from heavily textured walls, but just keep at it and it will all disappear.
---
The best solution to clean crayon from walls
---
Remember the blow dryer? Well, from our experience this is an extremely good method, as crayons are made of wax and heating the marks first works very well. However, we think that this is hardly enough. After you apply some heat, but not too much cause you may damage the wall, use the following mixture:
Baking soda + dish soap + warm water
The mixture must be in the form of a paste. You want it to be very thick and heavy. Therefore, you will need a lot of baking soda, a few drops of dish soap and just enough water to make it into a paste. Dip a clean towel in hot water, after that dip it into the mixture and start applying the paste on the wall.
Once you've cleaned your wall with this paste, the baking soda is definitely going to leave a residue. All you need to do is take a damp cloth and just go over it. Warm water will clean the residue perfectly.
Now that you have the answer to the question of how to get crayon off the walls, go and use it. But before that, our advice is to take a picture of your kids' artwork. Even though at the moment the situation may seem terrible, this will be a great memory. And the picture will be a great addition to your photo albums. After that take a picture of your kid while he is scrubbing the wall in order to remove his scribbles from it. This will be an even better memory.
Bonus tips
Buy washable crayons. Sometimes no matter what you do your kids can't keep their creativity off the walls. This is pretty normal and although it's bad news for your wallpaper, it's good news for your child's development. It strengthens cognitive and motor abilities and provides an emotional release. However, you'll definitely want to prevent a big clean up. So, instead of wondering how to get crayon off the walls, you can just buy your kids washable crayons. Thus, you won't have to stop their inspiration but also you won't have to spend the weekend scrubbing the wall.
Repaint. No, we are not joking. Although the method we recommend is almost absolutely sure to do the job, there may occur some problems. Depending on the type of paint you've used it might fade a little bit. And even if it doesn't, refreshing your colours is always a good idea.
Apply on a small, hidden area first. Although, we already mentioned that a couple of times, we feel like we need to remind you. Always try the methods on a small part of the wall. Preferably, this small part needs to be hidden behind a door or some furniture. This is important because even our personal favourite method may damage your walls, depending on their type. If this doesn't work you can always count on our professional cleaners.
Do you need a helping hand?
Hire a professional cleaning team!