Last update: 2 weeks ago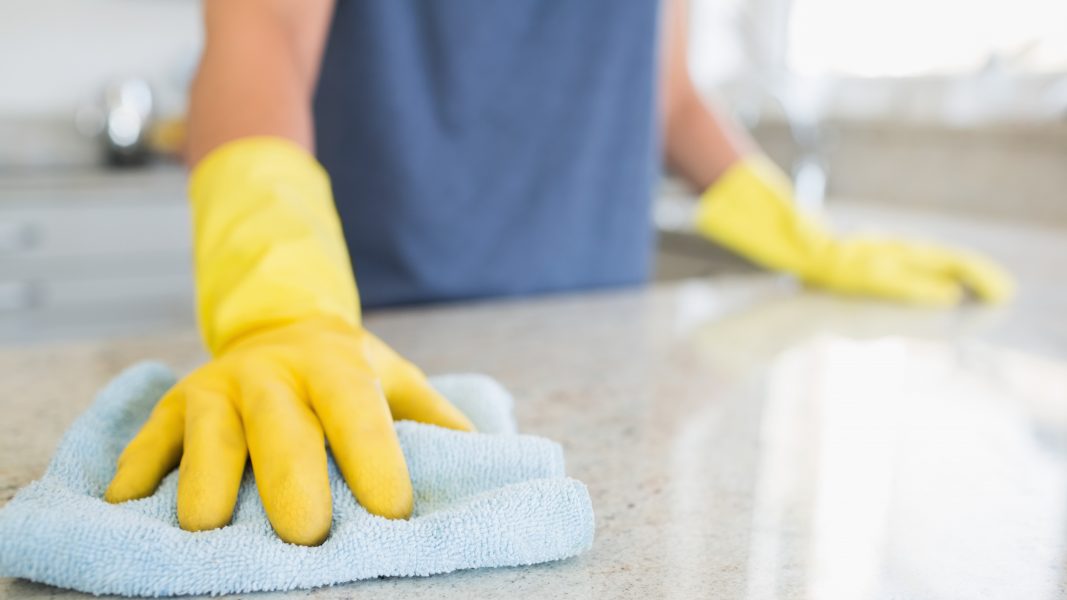 Home is where we should feel the most comfortable, relax after a long day or just spend quality time with family and friends. And part of that comfort is cleanliness.
However, we often don't have the energy to clean the whole house or apartment. It's a feeling that we've all experienced. It's hard to overcome, and with time the chores keep piling up.
This is why we composed a list of cleaning hacks that will show you how to clean your home fast. Keep reading to see what the professional cleaners advise!
House cleaning tips
1. Dust from top to bottom
A common mistake is starting to clean the easiest to reach places. The number 1 tip from professional cleaners is to dust from top to bottom, so you don't undo all the hard work you just put in. If you clean the bottom first, you will inevitably get dust later on when you are cleaning the top. If we've just renovated, take a look at our guide on how to clean up construction dust.
2. Clean your ceiling fan with a pillowcase
The only way to clean your ceiling fan without making everything dusty is to slip on a pillowcase over each blade. Slip it on and pull off. Make sure to let the dust fall in the pillowcase.
3. Use a lint roller to dust off the lampshade
The lampshade can be pretty tricky to dust. Instead, use a lint roller to remove the dust from the lampshade. The way to keep your home tells other people the type of person you are. It's okay to skip sometimes if you are tired, and it's also OK to ask for help from time to time. The idea is never to skip cleaning for too long. Use these 15 tips to make your cleaning fun and easy.
4. Vacuum curtains and upholstered furniture
It's inescapable that this dust won't end up on everything, including the upholstered furniture and curtains. Get a vacuum cleaner with an attachment that's suitable for cleaning them. Another suggestion is to invest in a steam cleaner. This way, you won't have to take down your curtains and put them back on.
5. Move all furniture and clean underneath
Not really a hack, but a reminder. Big furniture like sofas, cabinets and tables can collect quite a bit of dust underneath them. So often, people neglect cleaning there. Wiping the dust from your furniture and vacuuming the floor is the best and easiest way to make your home feel fresh and keeps the house clean for longer.
6. Get rid of wooden furniture scratches by rubbing a walnut on the scratch
Getting your wooden coffee table scratched is something that completely ruins the look of the table. By rubbing a walnut on the scratch, you'll give it back that brown-ish colour. At least a bit.
7. Remove pet odour with baking soda
Every pet owner knows that animals tend to have their odour from time to time. The best way to fight the smell is to spray some baking soda on the animal's bed. Leave it there to soak up for 15 minutes, and then vacuum it.
8. Clean your windows using vinegar
If you're a fan of DIY or you just want to use less detergents while cleaning, then you might like this recipe—mix two tablespoons of vinegar and a gallon of water. Put the mixture in a spray bottle and use the solution on your windows. Then, wipe with a microfiber cloth.
9. Clean dirty bathrooms with household chlorine bleach
Mix it 3/4 bleach with a gallon of water. Be careful when cleaning. The best practice is to section the bathroom. Clean one section, let some time pass (4-5 minutes) and clean. Repeat until the whole bathroom is clean.
10. Clean the bathroom fixtures with a window cleaning detergent
Having a good looking bathroom is always important. If you want a nice looking bathroom, you should regularly shine any fixtures and decorations in your bathroom. The steam and overall moisture of the room may lead to scale stone build-up. In time they will end up nasty looking.
11. Shine chrome faucets with toothpaste
The best way to shine those chrome faucets in the bathroom is to rub a bit of toothpaste on them and then wipe them with a wet sponge to remove any water stains and hard water from them. Want more tips? Take a look at our extensive How to Clean Chrome Taps guide.
12. Clean mirrors with coffee filters
To achieve that flawless look from the movies, clean your mirrors with coffee filters. They are better than towels because coffee filters are lint-free.
13. Unclog drains with baking soda and vinegar solution
The non-chemical way to unclog your drains consists of 1/2 cup of baking soda, 1 cup vinegar and 1 cup hot water. Pour the baking soda down the drain after it the vinegar and the hot water last. Cover the drain with either a wet towel or a plug and wait five minutes. After the time has passed, rinse with boiling water.
14. Remove smell from the garbage disposal with lemon
Every garbage disposal smells terrible from time to time. To solve that problem, rinse some lemon rinds through it and run hot water. The lemon should remove the foul odour.
15. Clean dishwasher with baking soda
It's easy to forget to clean the dishwasher. The thing is, though, that from time to time, the washing machine starts to stink. So shake a bit of baking soda on a damp sponge and clean any surfaces that you can reach.
16. When cleaning your kitchen, leave the stove for last
If you can name one place that is dirty as hell, it's the stove. Leave it to be cleaned last. That way, you won't spread any germs around the kitchen.
17. Use a ball of tin foil to scrub off baking dishes
Having baked-on food on your baking dish can be pretty hard to clean. Use a ball of tin foil and spray some dish soap. Scrub until clean.
18. Clean the outdoor furniture with soap and hot water
Having a lovely garden is always an excellent addition to the house. The outdoor furniture often gets dirty fast. To keep it clean, you'll need a bit of dish detergent and a bowl of hot water. Wash it thoroughly and rinse with the hose after that. Voila – squeaky clean patio furniture!
19. Clean your plants
Clean your plants by wiping them down with a soft cloth. Some plants can even be washed under the shower. That will keep them healthy, as grime can damage their growth significantly. Sooner or later, the dust will find its way to the various pieces of furniture in your home.
Takeaways
Chores can be overwhelming. To put some order, you can start by making a cleaning plan.
Start somewhere. No matter how long your list is, if you start somewhere, eventually, you'll get to the bottom of it.
You can always ask for help. There are companies that offer both regular cleaning services and one-off deep cleaning services.
Do you need a helping hand with your chores?
Hire a professional cleaner to do it while you relax.